Ben Simmons Demolished by a Team in Another Sport
It has been a miserable week for Philadelphia 76ers enigma Ben Simmons. His refusal to even consider shooting the basketball late in Game 7 against the Atlanta Hawks led to the top-seeded team in the Eastern Conference going home shockingly early. Pundits are roasting Simmons. Analysts are dreaming up all sorts of trade scenarios.
Social media has made Simmons a favorite target for years now because of a broader shooting issue, his inability to make 3-pointers, and his reluctance even to consider shooting them. But it's one thing when fans over-react on social media. It's something else when other professional sports entities join in the fun. While Simmons offers theories about his lack of shooting skill, others are critical of his desire to improve.
It's not been pretty in Philadelphia since the end of the Eastern Conference semifinals.
Ben Simmons took his shooting phobia to a whole new level
Dating to his one season at LSU in 2015–16, Ben Simmons has never really looked for the jumper. Even with the shorter line in the NCAA, Simmons attempted only three 3-balls in 33 collegiate games. He made one.
Fast forward to the NBA, and Simmons is not exactly Stephen Curry. He's may not even be Tim Curry. His first career 3-pointer was on Nov. 20, 2019, against the New York Knicks. It only took him 172 career games to get there. For a comparison, Boban Marjanović made his first career 3 in career game No. 176 on his fourth career attempt. Bobi is a 7-foot-4 behemoth who isn't precisely a stretch-5 candidate.
Simmons, however, functions as a point guard in Philadelphia's system. He is 5-of-34 in his four seasons from 3-point range. Simmons has two attempts in 34 postseason games. At first, he didn't succeed. He tried, tried again. And that's about it.
But we've gone from the sublime to the ridiculous. So much so that even teams in other sports are piling on.
Washington Nationals go full savage
Baseball doesn't have a 3-point shot. (It's true, you can look it up!) But that didn't stop the Washington Nationals from having some fun at the expense of Ben Simmons during an afternoon game against the Philadelphia Phillies.
Note to the Nationals' social media crew. That was a great effort, but they score runs in baseball. Not points. Just a little FYI.
Still, it speaks to how large a target Simmons has on his back right now. In less than seven days, he's been thrown under the bus by his coach. Fellow All-Star Joel Embiid pretty much laid the blame for the series loss at Simmons' feet. Sources within the 76ers organizations have fired shots anonymously.
Now baseball teams are taking their cuts. Some friendly advice for Simmons; stay clear of social media for a while. Like, until your jumper is fixed, or forever, whichever comes first.
Ben Simmons faces a tough offseason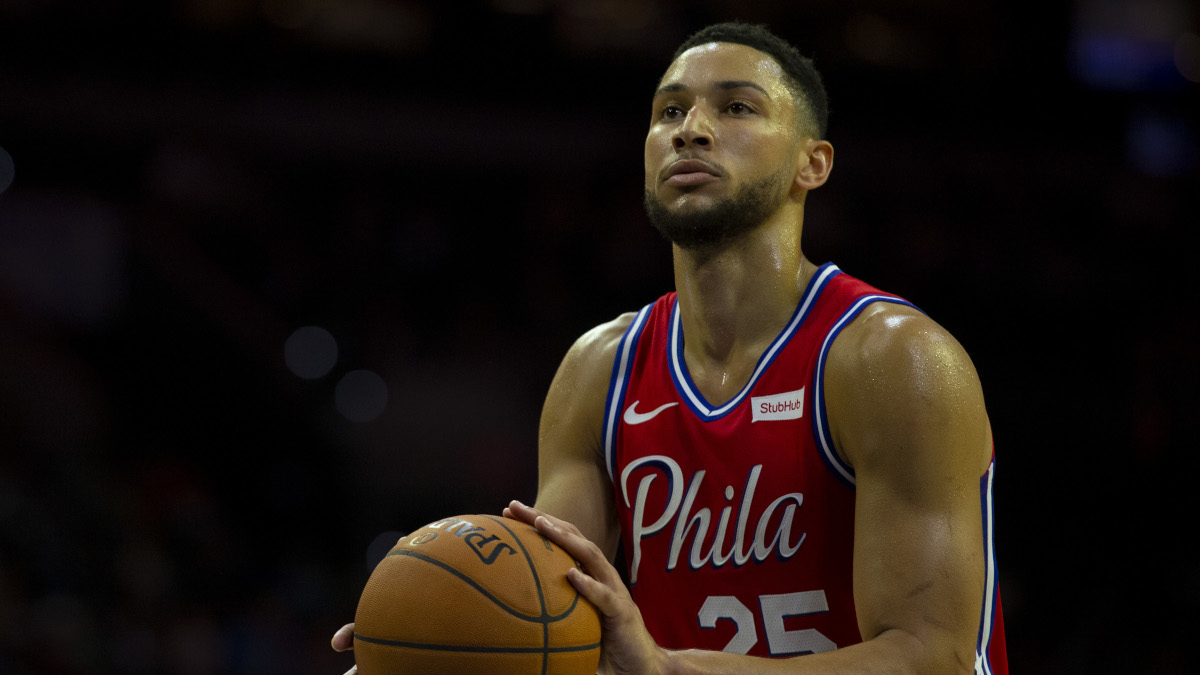 Against the Hawks, Ben Simmons did not attempt a fourth-quarter shot in five of the seven games. The good news is he was 3-of-3 in the fourth quarter. The bad news is that statistic is for the entire series. Ouch.
Simmons also became unplayable on offense late in games because his free-throw shooting went from bad to worse. Simmons is a career 59.7% shooter at the line during the regular season. That isn't good by any measure. For a guy with the ball in his hands as much as Simmons? It's unacceptable.
Entering this year's playoffs, Simmons had made 65.3% from the line in 22 games. Against the Washington Wizards in the first round, however, Simmons managed to make just 10-of-28. That's 35.7% for those of you without calculators.
But he was just getting started. Against Atlanta, Simmons pulled off a feat worthy of another Ben, Hall of Famer Ben Wallace. Among players with at least 1,200 missed free throws, Wallace is the worst of the worst at 41.4%, per Stat Muse. In the Eastern Conference semifinals, Simmons was 15-of-45. When talking about missed free throws, Meat Loaf was wrong: Two out of three is bad. Frankly, it's undeniably awful.
Can Ben Simmons be fixed? Is he willing to do what he needs to do to come up with at least a functional jump shot? The 76ers had visions of the Larry O'Brien Trophy dancing in their heads. Now they face a tough summer full of lots of questions.
Statistics courtesy of Basketball Reference.