Ben Simmons' Dramatic Trade Saga May Finally Be Leading Him to His Ultimate Destination
There seems to be a new development in the Ben Simmons saga every day. Right now, it's a standoff between the Sixers' disgruntled star and Philadelphia general manager Daryl Morey. Morey refuses to deal Simmons unless he gets the return he desires in a trade, but the former LSU star, at least so far, remains steadfast in his decision never to play for the franchise again.
But every story that's made public seems to eliminate another landing spot for the organization's former No. 1 overall pick. Now, all signs seem to be pointing toward one Ben Simmons destination in particular.
The 76ers reportedly want to trade Simmons to a Western Conference team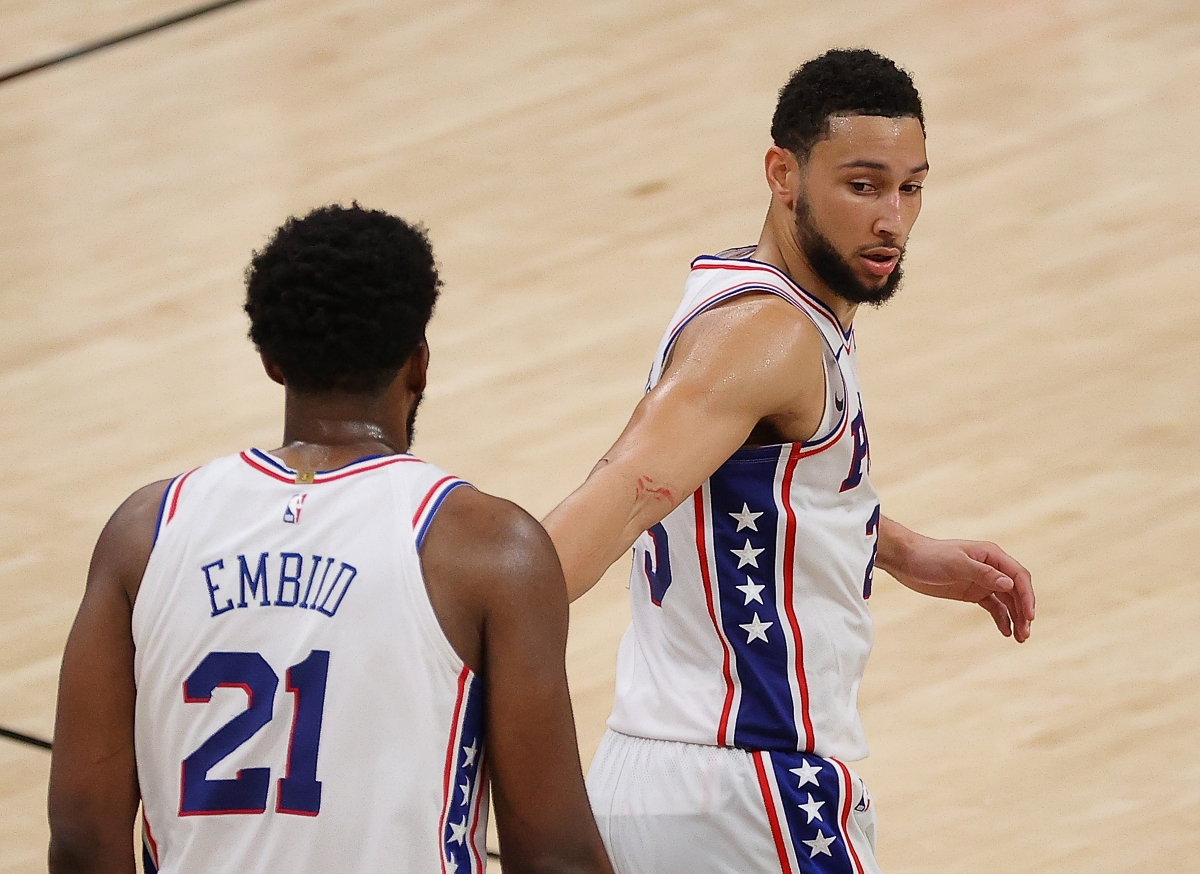 According to a story from USA Today, if the Sixers do indeed finally pull the trigger on a Ben Simmons trade, they would prefer to send him to the Western Conference.
That logic makes sense; why trade a former franchise player to a team you'll be facing multiple times every season?
So by process of elimination: the three-time all-star initially said he wanted to head to California. The Los Angeles Lakers made their move for Russell Westbrook, the LA Clippers don't seem interested, and neither do the Golden State Warriors, who would be a bad on-court fit for Simmons anyway.
The New Orleans Pelicans could possibly be interested if they want to make a splash to please Zion Williamson, but that on-court fit isn't great either and may do more harm than good. Ditto for the Dallas Mavericks. The Denver Nuggets just extended Michael Porter Jr., so they seem set with a big three of Jamal Murray, Nikola Jokic, and Porter.
The Houston Rockets are in a complete rebuild and will want to get their young players as much time on the floor as possible. The Phoenix Suns made the Finals last year and have Chris Paul at point guard.
There are a few other possibilities out west, but all the bread crumbs seem to be pointing toward one specific franchise.
There's a good chance Simmons ends up with the Minnesota Timberwolves
The Minnesota Timberwolves seem to meet all the criteria for a Ben Simmons landing spot. They play in the Western Conference. They're desperate for a playoff berth. They have young players to build around in Karl-Anthony Towns and Anthony Edwards, the 2020 draft's No. 1 overall pick.
The Wolves just fired president of basketball operations Gersson Rosas and hired Sachin Gupta to take his place. Gupta is known to have an affinity for Simmons and worked in the Philly front office when the team drafted him. He could also want to make a big splash now that he's taken over the franchise.
Simmons also fits in with the rest of the team's roster, which isn't the case in many situations. He's a poor outside shooter and can be a complete zero on offense. But with Towns' ability to stretch the floor and play on the perimeter as a big man and Edwards' athleticism and developing offensive game, the 2017-18 Rookie of the Year could slide right in as the team's starting point guard.
At 6-foot-11 with long arms and quick feet, the 25-year-old would immediately become Minnesota's best defender as well, an area in which the franchise has struggled for years.
The biggest hurdle to finding a deal is giving Morey what he wants in return. As a well-known stubborn trade partner, Philadelphia's GM will demand a lot. The Timberwolves would likely offer D'Angelo Russell as the centerpiece of any negotiation. Jaden McDaniels is another promising young player, as is Josh Okogie. Patrick Beverley could be attractive as a veteran point guard for the 76ers.
The T-Wolves also own all of their future first-round picks.
Minnesota could be the team desperate enough to make a huge offer
The Timberwolves haven't found success as a franchise since Kevin Garnett was traded to the Boston Celtics. Towns is the team's building block, but Minnesota has made the playoffs just once since the organization drafted the Kentucky product No. 1 overall in 2015.
If Gupta wants to make an immediate impact, landing Simmons would be the way to do it. Morey could also talk Gupta into giving up more than any other team if Minnesota's new VP of basketball ops is desperate enough.
More teams remain on the table if or when Philly decides to part ways with Simmons. But right now, all signs seem to be pointing toward Minnesota as his ultimate destination.
Like Sportscasting on Facebook. Follow us on Twitter @sportscasting19.
RELATED: Ben Simmons Continues to Make Everything Worse, This Time Hilariously Telling the Philadelphia 76ers It's 'Not His Job to Fix His Trade Value'