Ben Simmons' Future With the Philadelphia 76ers Could Depend on Damian Lillard
The general assumption throughout the NBA this offseason is the Philadelphia 76ers will eventually trade Ben Simmons before the start of the 2021-22 season, but that could hinge on Damian Lillard's status in Portland.
Earlier reports suggested that Lillard wanted out of Portland, only for Dame to clarify he would not be requesting a trade. Yet, it's a long offseason, and Lillard might change his mind in the event the Trail Blazers fail to make significant upgrades to the current roster.
With the Sixers struggling to get big offers for Simmons, they might instead employ a "wait and see" approach in case Lillard eventually wants out.
There is skepticism a Ben Simmons trade happens anytime soon
The 76ers are having a hard time getting what they feel is adequate value for Ben Simmons.
Bleacher Report's Jake Fischer reported the Sixers have "yet to make serious traction" on a Simmons deal despite most executives believing president of basketball operations Daryl Morey hoped to move him by now. Fischer listed the Cleveland Cavaliers, Minnesota Timberwolves, Indiana Pacers, Sacramento Kings, and Toronto Raptors as teams interested in Simmons, but the Sixers haven't gained ground in talks.
One of the reasons Philly could be struggling to move the polarizing star is the asking price. The Sixers reportedly sought a framework including Kyle Lowry, Fred Van Vleet, OG Anunoby, and the No. 4 overall pick in a hypothetical deal with the Raptors. That's absolutely bonkers.
Morey appears intent on getting tremendous value back for Simmons, but he might have to lessen the asking price if he hopes to finalize a trade. The 25-year-old's shaky playoff performance could detract from his value, especially given he is owed well north of $145 million over the course of the next four seasons.
The 76ers might keep Simmons in the hopes Damian Lillard is made available
Executives around the league have hinted at an increasing likelihood the Sixers hang onto Simmons and await a potentially monumental decision on behalf of one of the best point guards in the NBA.
Bleacher Report cited the notion that the Sixers, barring a sizable predraft offer, might elect to retain Simmons to possibly use him in a package for Damian Lillard. As of right now, Lillard is not requesting a trade. He has expressed at least some uncertainty concerning his future in Portland but has yet to give management a clear indication he wants out.
Still, it's not impossible to envision Lillard deciding he wants to embark on a new chapter.
The Blazers have been a fairly stagnant franchise in recent years, one that is routinely unable to make a leap and get to the NBA Finals. Portland also faces some financial hurdles in adding pieces this offseason and is preparing for the first season under new head coach Chauncey Billups. Perhaps Lillard feels a growing desire to skip town as the offseason rolls along.
NBA trade rumors: What a Simmons-Lillard framework might look like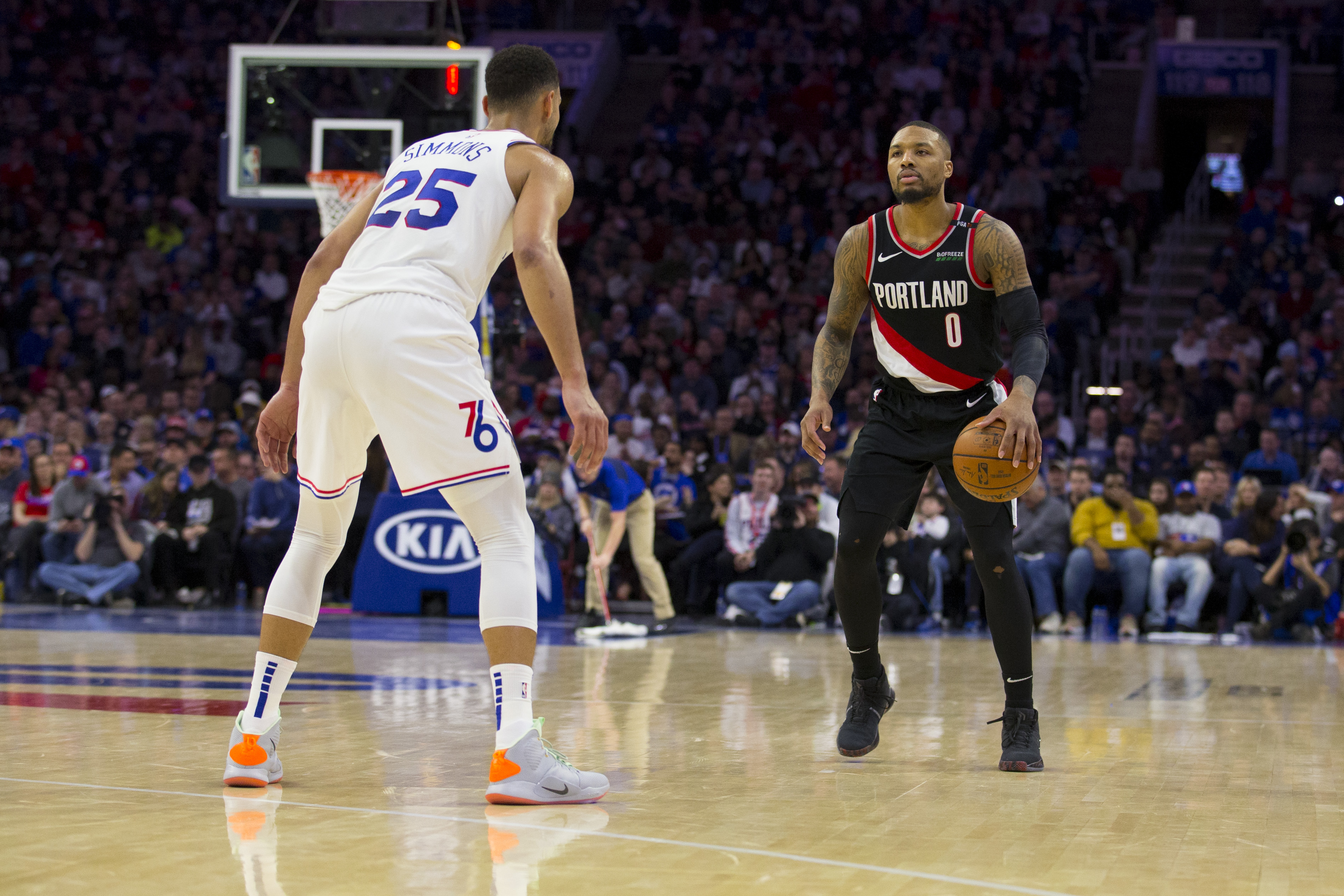 Say Lillard does request a trade, and the Sixers have yet to move Simmons. Philly would be in a decent position to acquire Lillard, though it would have to part with additional assets.
Simmons is an All-Star. He is one of the best defenders in the NBA and boasts tremendous playmaking capabilities for someone his size. Still, he is not Lillard, who rivals Stephen Curry for the league's title of the best point guard.
Lillard has made six All-NBA teams. He ranked fifth in value over replacement player (VORP) this past season, averaging 28.8 points, 7.5 assists, and 4.2 rebounds. The Oakland native is one of the best pure scorers and playmakers in the NBA and would fetch a massive haul on the open market.
The financials match up pretty well in a Simmons-for-Lillard deal. However, the Blazers would be apt to demand more in the way of young players and draft capital. It would not be a surprise if Portland asked for young guard Tyrese Maxey and defensive whiz Matisse Thybulle in addition to Simmons and future draft considerations.
Whether Morey deems that kind of price acceptable is up for discussion, though the Sixers might be keen to add someone like Lillard to a roster primed to win now.
Simmons figures to change locales at some point this offseason. But the timing of his move might ultimately depend on Lillard's willingness to stick it out with the Blazers.
Stats courtesy of Basketball Reference.