Ben Simmons' Hopeless Situation in Philadelphia is Making People Forget His Remarkable Talent
Ben Simmons' situation in Philadelphia is now officially hopeless. There is zero chance of reconciliation between the 76ers organization and their former No. 1 pick. Too much has happened between Simmons and fellow franchise superstar Joel Embiid. Even Philly's head coach, Doc Rivers, hasn't stood up for the former LSU product. But lost in all the rumors and drama is that Simmons is a remarkable basketball talent.
A 6-foot-10 point guard with the capabilities to facilitate and play all-NBA caliber defense is rare. Simmons is tall, long, strong, athletic, versatile, and can create shots for others. Not a single one of those attributes has disappeared since he entered the NBA in 2016.
The Ben Simmons-Philadelphia 76ers situation has become officially hopeless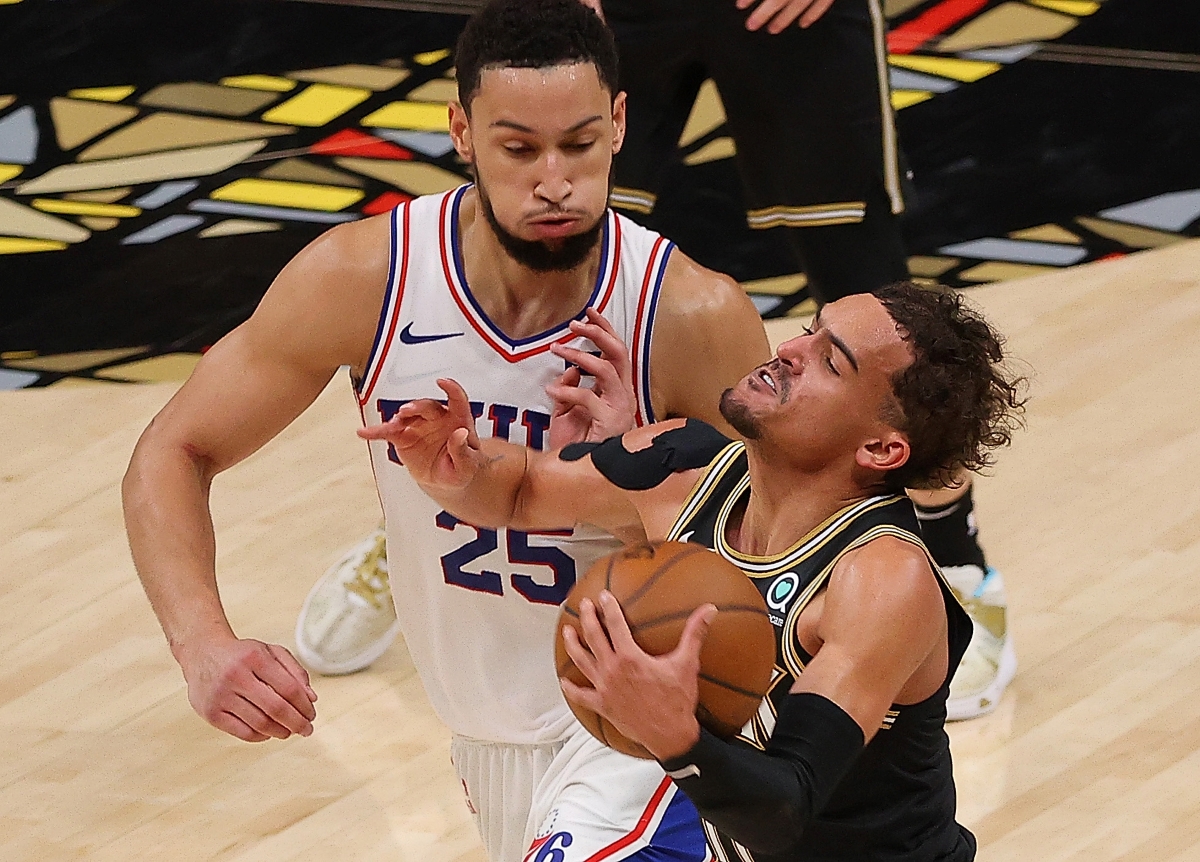 It all started when Simmons passed up a wide-open dunk in game 7 of Philadelphia's Eastern Conference Semifinal series against the Atlanta Hawks. Simmons made a quick spin move and blew past Atlanta's Danilo Gallinari. If he had finished the play and scored, the game would have been tied at 88. Instead, Simmons passed to teammate Matisse Thybulle, who was fouled and went 1-for-2 from the line. The Sixers eventually lost and were eliminated from the playoffs.
Teammate Joel Embiid — who has now become the face of the franchise after signing a max contract extension — didn't shy away from calling his teammate out after the loss, according to SI.com:
"I'll be honest; I thought the turning point was when we—I don't know how to say it—but I thought the turning point was just, we had an open shot and we made one free throw, and we missed the other and then they came down and scored. And we didn't get a good possession on the other end."

Joel Embiid on Ben Simmons passing up a wide-open dunk in game 7 against the Atlanta Hawks
Simmons took three shot attempts during the fourth quarters of that seven-game series. To reiterate: seven fourth quarters of a playoff series, three total field-goal attempts.
The relationship with the organization is so fractured that now Simmons is reportedly willing to hold out and not show up to training camp for the 2021-22 season if the team doesn't trade him.
Simmons' trade situation is making people forget his remarkable talent
The 6-10, 240-pound point guard was the No. 1 high school recruit in the class of 2015. He played one season at LSU and then became the No. 1 pick in the 2016 draft. Simmons' pedigree has been apparent for more than six years.
He was lauded as one of this generation's "unicorns" because of his combination of size and athleticism that accompanied his high basketball IQ and court vision. With his physical traits and playmaking ability, he was compared to LeBron James. He was already projected to be an all-NBA caliber defender and rebounder as well. The idea of someone with Simmons' size and athleticism grabbing a rebound and going coast-to-coast and finding an open teammate was drool-worthy.
Simmons is not a go-to scorer, but he's not a zero on offense either. His career scoring average is 15.9 points per game. His playmaking and rebounding have also translated, evidenced by his per-game averages of 8.1 rebounds and 7.7 assists through his first four seasons. (He sat out his first season in the league with a foot injury). He's averaged 56.0% shooting from the floor so far in his career — granted on just 11.6 attempts per game.
Simmons was also the 2017-18 NBA Rookie of the Year, has made three all-star games, and has been named to the NBA's All-Defensive First Team twice. He was given All-NBA Third-Team honors in 2019-20.
Simmons hasn't gotten any smaller. He hasn't become less athletic. His playmaking ability hasn't disappeared, nor has his rebounding ability. He's been one of the league's premier defenders since he entered the league, and with his size, he can defend all five positions. So why is he suddenly considered a below-average player with little to no trade value?
Ben Simmons needs to get out of Philadelphia to remind people of his basketball talent
The former Tiger's situation with the Sixers is untenable. The fit with Embiid has never been great for either player. Simmons is not a natural scorer and can't stretch the floor. He and Embiid both like to operate near the basket, which doesn't play well in today's NBA. Simmons seems to have developed some mental block in Philly. He needs a new situation, one that suits his skills better.
Simmons has most often been linked to Golden State, Minnesota, and Sacramento in trade rumors. The LSU product wouldn't be a great fit alongside Draymond Green with the Warriors, as they have basically the same skill set. Sacramento is a little more interesting, but it depends on what the Kings would have to give up in a deal. Simmons could certainly help the team defensively.
His fit alongside Karl-Anthony Towns in Minnesota is perhaps the most intriguing as Towns is an athletic center who can stretch the floor and give Simmons room to operate and find open shooters. D'Angelo Russell's ball-hogging tendencies complicate that a bit, however.
To reach his full potential, a team needs to build around Simmons' best attributes. He needs to be able to use his size, defense, and playmaking ability in a high-tempo offensive system surrounded by shooters. He may need to end up with a rebuilding franchise to make that work, someplace like San Antonio. Someone with his playmaking and defensive versatility would fit well alongside Damian Lillard in Portland as well.
The drama around Simmons and the Sixers has blown past the boiling point. But if the 25-year-old can get out of Philadelphia and find a better situation, the abilities that made him one of the most coveted draft picks of the 2010s could resurfacce. Everyone will remember how talented, versatile, and valuable Simmons can be.
All statistics courtesy of Basketball-Reference.