Ben Simmons and James Harden Are Hurtling Down a Path That Could Irreparably Damage the NBA
As James Harden keeps tanking as hard as he can to leave the Brooklyn Nets and Ben Simmons continues to refuse to do anything at all with the Philadelphia 76ers, the NBA world is consumed by a possible swap of the two stars.
Those juicy names and the chance of a league-altering trade are understandably all the rage.
But there's another side to the story — one that's being swept under the rug at the moment but one that could change the landscape of the NBA in a much larger way.
James Harden and Ben Simmons are both begging for a trade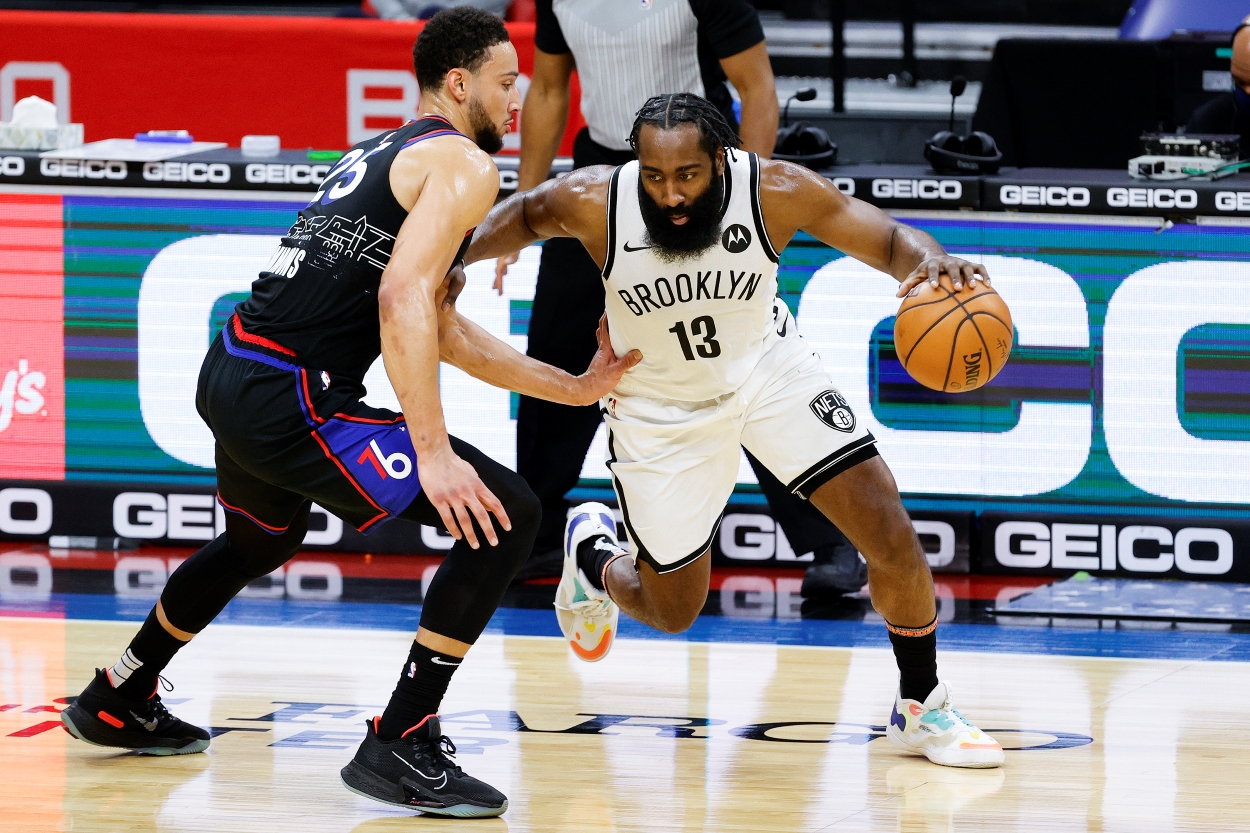 On Feb. 9, ESPN's Brian Windhorst reported the Sixers and Nets are "absolutely" engaged in trade talks revolving around the two superstars. As the end of the Feb. 10 deadline approaches, the possibility of an NBA uber-blockbuster seems more and more likely.
Windhorst also said this about Harden: "I can't tell you how much James Harden wants this. … His actions over the last 10 days are basically a threat to the Nets."
He also added that the former Rockets star (more on that later) "is screaming in every way he possibly can, 'I don't want to be here, get me out of here.'"
There's really no possible way to be any more blunt about The Beard's decision-making process. Except to include that before this report, he was missing games with a hamstring injury. Which came after a few games missed with a hand strain on his non-shooting hand.
He also scored four points with six turnovers in a loss to the Sacramento Kings (yes, those Sacramento Kings). And Bleacher Report ran a story in January that detailed the 32-year-old's unhappiness living in Brooklyn, with Kyrie Irving's part-time playing status, and with head coach Steve Nash's rotations.
So yeah, he dropped a few hints before "screaming" about wanting out.
The Simmons drama eventually quieted down when it was clear he was quitting refusing to play for the 76ers. Philadelphia general manager Daryl Morey (Harden's old GM in Houston) took a hardline stance not to trade the former franchise point guard for anything he deemed less-than-equal value.
But it was Ben's drama that ruled the league all summer and into the start of the season until we all got bored with the stalemate and Joel Embiid played as if (and said as if) he didn't need Simmons anyway.
And now here are we.
This saga is sending the NBA down a dark, possibily dooming path
This isn't even our first time around the block with Harden. The similarities between what he's doing now and what he did to ditch Houston are almost supernatural.
Morey eventually left the Rockets, ironically citing concerns about having to "keep James happy," per an ESPN story that ran in 2021 detailing The Beard's departure from Houston.
The following is a list of the NBA superstars who've demanded a trade (that we know about) and got what they wanted since 2011:
Paul George (twice)
Carmelo Anthony
Kyrie Irving
Anthony Davis
Harden (only once, so far)
Chris Paul (twice)
Anthony Davis
Kawhi Leonard
Jimmy Butler
Each one an All-NBA player, each one unhappy in his situation, each one publicly demanding out, and each one getting traded. Simmons is another All-NBA player who will, presumably, be added to the list at some point.
It's the era of player empowerment. Even a few years ago that felt like it was a good thing. Parts of it still are, but the rest are being taken too far.
Some of these players even had the gall to tell their then-current franchises where they were going to be traded. Davis and his camp told the New Orleans Pelicans that he was going to LA to play with LeBron James and the Lakers, for example, and spoke it into existence.
Then we moved into Harden-Houston territory, which landed him in Brooklyn. The 2017-18 NBA MVP wasn't the first star to publicly make a stink until he got traded (see: Butler, Jimmy, above), but he took it to a new level.
Then we wound up with the Simmons-Philly situation. And now we're in Harden-Brooklyn territory. And that's where this entire player-empowerment thing flips completely.
Where does it finally end?
To recap: We're obsessively talking about a trade that includes one superstar who thought his team was being mean to him and picked up his ball and went home (Simmons) being swapped for another superstar who's thrown public temper tantrums to get out of not one, but two different organizations.
Is "player empowerment" supposed to go this far? It's supposed to be acceptable for Simmons to just quit and go home and refuse to play when he's contractually obligated to play for the Philadelphia 76ers for four more seasons?
And it's supposed to be acceptable to watch Harden do this to the Nets after he already pulled this stunt with another organization?
This isn't even the "these guys are professional athletes, they should play for free and not complain" argument. Both these players worked hard to reach the peak of their profession and they deserve to be paid accordingly. And it's not wrong for them to want a say in which franchise they play for, either.
But it's all gone too far. Based on the way they've acted while in situations originally of their choosing (Harden via trade, Simmons via contract extension), neither player deserves to get what they want. And if that sounds like something you'd say to a toddler — well, that's because it is. Harden and Simmons are acting like two-year-olds who aren't getting what they want and they're going to throw a fit until they do.
Where do we go from here? What's the next step in the evolution of player empowerment? What's the end game? And what impact does it all have on the NBA?
The answers to those questions remain uncertain, but it's already becoming abundantly clear that the NBA is headed down a path it may not be able to come back from.
Like Sportscasting on Facebook. Follow us on Twitter @sportscasting19.
RELATED: Daryl Morey Would Look Foolish Not to Trade Ben Simmons After Joel Embiid's Latest Scathing Comments