Ben Simmons and Kyrie Irving Have Lost Over $13 Million and Counting This Season
Two of the NBA's biggest stories this season have revolved around two players not playing. Both Ben Simmons of the Philadelphia 76ers and Kyrie Irving of the Brooklyn Nets are holding out, each for an entirely different reason than the other. But the two All-Stars are both hurting their teams as well as their bank accounts in the process.
Ben Simmons and Kyrie Irving have yet to play this season
The 76ers and Nets are two of the main threats to dethrone the defending champion Milwaukee Bucks. But each has been dealt the unfortunate hand of a starting point guard who's M.I.A.
Simmons spent the summer requesting a fresh start outside of Philadelphia. However, the Sixers were unable to secure a deal for the 25-year-old. Then, just before the start of the regular season, Simmons told the team he wasn't mentally ready to play yet.
Fast forward to December 15 and the three-time All-Star is still sitting out. While Philadelphia opted to not fine Simmons for missing games at first, the team changed its tune in early November due to his failure to cooperate with team physicians regarding his mental health and for not participating in basketball-related activities.
As for Irving, the enigmatic All-Star is out due to his refusal of the COVID-19 vaccine. While the 29-year-old isn't the only unvaccinated player in the NBA, he plays for a team in New York City, which has a mandate in place requiring proof of vaccination in order to enter large indoor facilities such as sports arenas.
While the Nets could have simply rostered Irving exclusively on the road, they announced ahead of the season that the seven-time All-Star would be banned from all team activities until he is vaccinated — or until the mandate is lifted. Additionally, Kyrie has been financially penalized for all of his missed home games.
How much money have Ben Simmons and Kyrie Irving lost this season?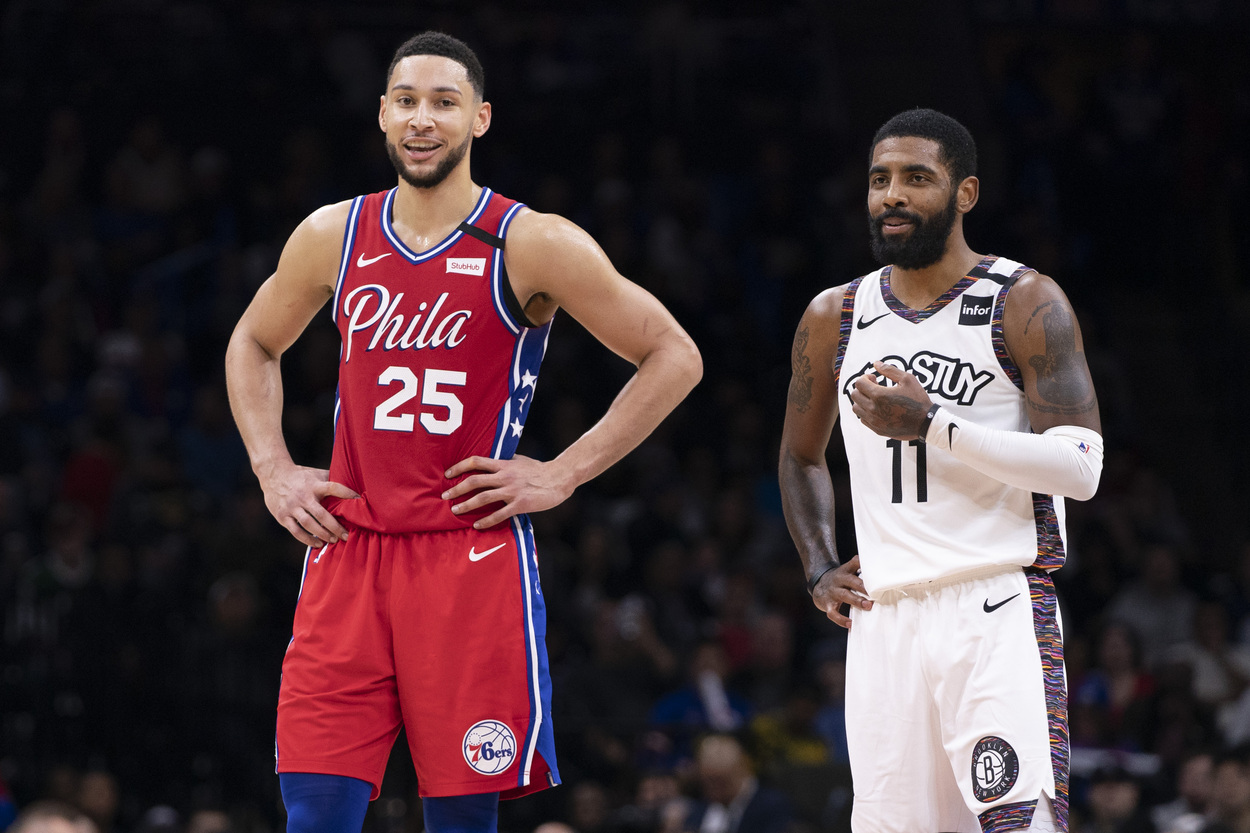 Both Irving and Simmons are costing their teams precious wins the longer their holdouts continue. Unsurprisingly, they are costing themselves a pretty penny too.
Simmons' first fine came on October 4 when he missed Philly's first preseason game. The absence cost the 6-foot-11 guard $360,305. He was fined that amount in each of the remaining preseason contests as well as the 17 games he missed since the team reinstalled fines, thereby losing out on $7,566,405.
Kyrie, on the other hand, missed a pair of preseason games, each costing him $381,181. Combined with the 14 home games he didn't receive payment from, Irving has given up a total of $6,098,896.
Add those numbers together, and you're looking at $13,665,301 left on the table. Not a small amount of money no matter who you ask.
The amount of lost money for Irving and Simmons will only go up
With Simmons and Irving losing around $7.5 and $6 million respectively, one would think they'd each be focused on getting back on the court as soon as possible. But all signs show the fines rising little by little as the season soldiers on.
It appears increasingly likely Simmons will sit out until the Sixers trade him to another team. If it happens soon, you can expect the former Rookie of the Year to suit up and resume the paycheck collecting. But should Philly be unsuccessful in its pursuit of a trade, Simmons will lose the vast majority of the $33 million he was due to receive during the 2021-22 season.
With Irving, NYC lifting its vaccine mandate could allow the 11-year vet to play at home, thus resulting in Brooklyn's team rules being waived off. But as coronavirus rages on, so does the mandate. Barring a significant change in principles, Kyrie will lose half of the $34.9 million he was expected to net this season.
Both players effectively decide when they want to return to action. But based on how things look right now, Simmons and Irving are fully content with sitting out and tossing away what a common person sees as a life-changing amount of money.
All contract figures courtesy of Spotrac.