Ben Simmons Can Make $16.1 Million Even if the Sixers Continue to Bungle His Trade Value: 'He Is Going to Have a War Chest if He can Just Sit This Out'
The narrative surrounding Ben Simmons this offseason generally suggests the Philadelphia 76ers will trade him whenever they so desire, seemingly giving Philly all the leverage in this potentially contentious situation. In reality, it's the complete opposite.
Simmons could be fined up to $1.3 million if he does indeed intend to skip training camp. But that figure is irrelevant because the Sixers will owe him a massive sum of money once October 1 rolls around.
In other words, Simmons can sit around and wait for Philly to trade him. The ball is in Daryl Morey's court.
The Sixers owe Ben Simmons $16.1 million on October 1
Ben Simmons doesn't just have a big contract. It's also a unique one.
On Wednesday, Brian Windhorst of ESPN reported there is a stipulation in Simmons' contract whereby he is owed half of his salary for the 2021-22 season on Oct. 1. He could thereby make $16.1 million without ever taking the floor for the Sixers again. Or, as Windhorst put it, Simmons might have a treasure trove.
Why does this matter? Well, because Simmons no longer wants to play for the Sixers.
Simmons reportedly had a meeting with Morey, co-managing partner Josh Harris, general manager Elton Brand, and head coach Doc Rivers in which he expressed a desire to be traded. He has since made a point of trolling the Sixers, including posting an Instagram story at a barbershop of himself in a chair cloth imprinted with the logo of all 30 NBA teams.
Simmons seems to have a pretty firm grasp of the situation. Anyone in his position would almost assuredly wait it out and take the money when it comes.
Either the Sixers trade the disgruntled star in the next three weeks, or they risk paying him to essentially keep poking fun at them. Morey must act decisively, but he's been pushing Simmons' trade value to the extreme and appears to be hoping an unlikely situation eventually develops.
Daryl Morey is putting forth big asking prices in Simmons trade packages and keeps angling for Damian Lillard
The clock is ticking for the Sixers, but there haven't been many indications suggesting Morey is willing to lower the steep asking price for Simmons.
Last month, David Aldridge of The Athletic reported that the Sixers wanted an All-Star-caliber player and four first-round picks in any Simmons trade package. That came on the heels of numerous reports suggesting Morey wanted Godfather offers. More recently, Sam Amick of The Athletic reported that talks between the Sixers and Sacramento Kings broke down because of the asking price.
Another element is Philly's apparent obsession with Damian Lillard. Morey is reportedly intent on acquiring the Portland Trail Blazers star point guard, but Dame has continued to insist he is staying with the Blazers at least through this season.
It was wise for Morey to try to sell high early. But he hasn't been able to goad rival executives into giving him the value he so desires. Suddenly, the Sixers are getting to the point of desperation in terms of trading Ben Simmons.
When will a Ben Simmons trade materialize?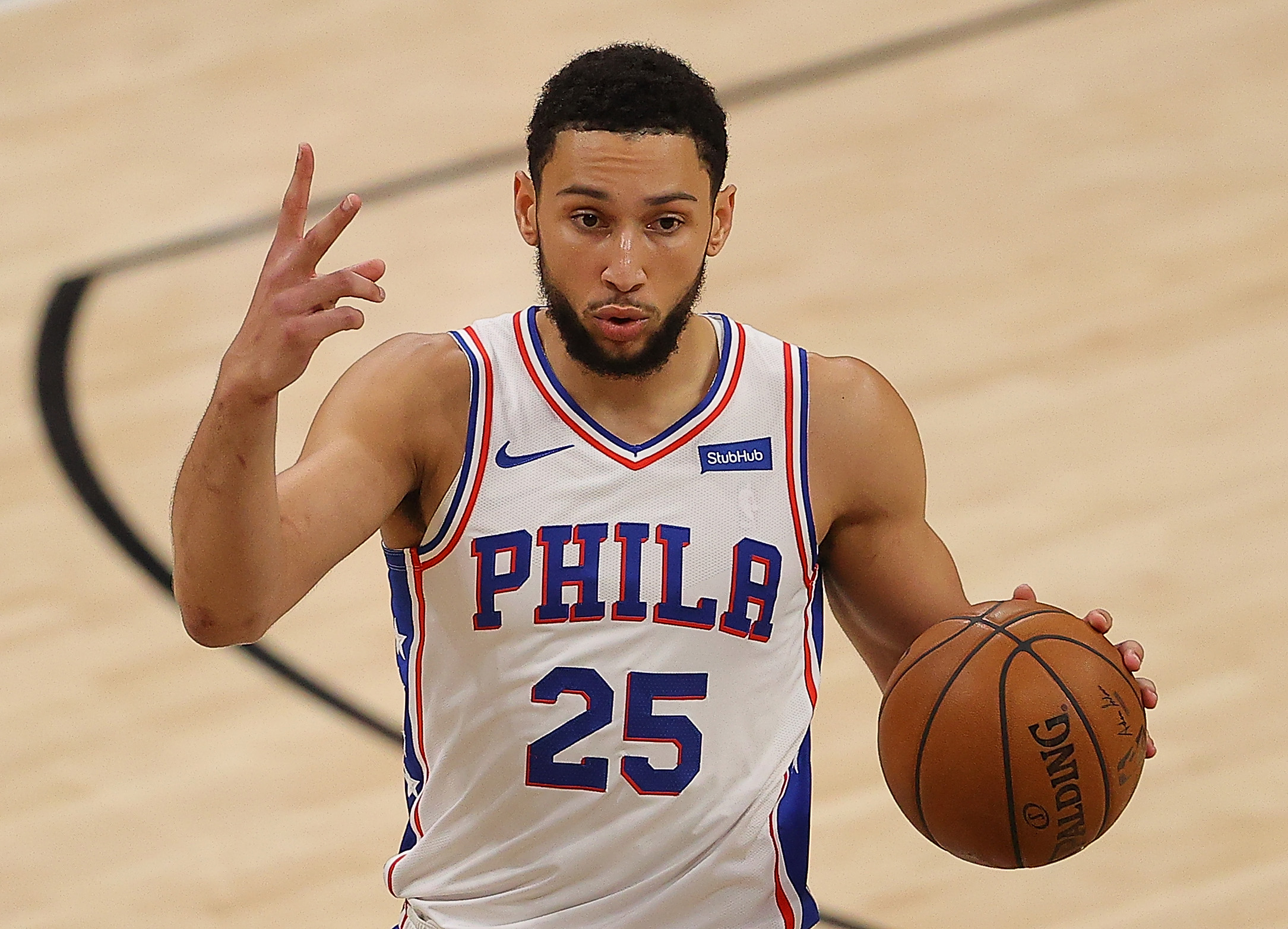 The Sixers are rapidly losing all their leverage in Ben Simmons trade talks. Things have devolved further amid reports that Simmons' agent, Rich Paul, also wants Philly to move second-year guard Tyrese Maxey, another Klutch Sports client.
Opponents are apparently becoming more and more aware that Philly is losing bargaining power, as well. There is still fairly widespread interest in Simmons, including from teams like the Cleveland Cavaliers and Minnesota Timberwolves, but the fact that a deal still hasn't gotten done is telling.
Morey should feel a bit more pressed to swing a deal. He and the Sixers have $16.1 million reasons to trade Simmons within the next three weeks.
RELATED: Ben Simmons' Trade Demand Could Help the Philadelphia 76ers Score the Missing Piece of Their Championship Puzzle