Ben Simmons Receives Massive Praise From a Former NBA All-Star Who Thinks He Can Become an 'MVP Candidate': 'He Will Be a Champion'
The Philadelphia 76ers' situation with Ben Simmons is getting messy, to say the least. It appears Simmons is hellbent on never playing for the organization again, but the team's reportedly high asking price may result in the 2016 No. 1 overall pick staying on its roster for the time being.
In reality, the Sixers may never get what they're looking for in a Simmons deal. His stock isn't as high as it was maybe a year ago, especially following a season where he averaged a career-low in points in 2020-21. Simmons' jump shot continues to be less-than-stellar as well.
No matter what team he plays on in the future, though, a former All-Star still seems to have all the faith in the world in him. That former All-Star is Metta World Peace, and he recently made a bold proclamation about the 25-year-old point guard.
Ben Simmons is in a messy situation with the Philadelphia 76ers
The moment the Sixers' 2020-21 season ended, it seemed that Ben Simmons' future with the team was in question. He only posted 11.9 points per game in 12 postseason contests for Philly, and he averaged just 9.9 points in the Eastern Conference semis. His disappointing play led to the 76ers falling to the Atlanta Hawks in seven games in that semifinal round.
Rumors about his future then flew around from every direction during the months that followed the loss, and reports have since surfaced that he has, in fact, told team management that he doesn't ever want to play for Philly again. The standoff has culminated in Simmons not showing up to training camp and the team withholding $8.25 million from him, per ESPN.
It's unclear how far Philadelphia has gotten in trade talks with any potential suitors, although multiple teams are reportedly interested in him. But no matter what team he plays for, Metta World Peace seems to have significant confidence in Simmons.
Metta World Peace thinks Ben Simmons can become an 'MVP candidate'
Metta World Peace, also known as Metta Sandiford-Artest and Ron Artest, knows a thing or two about successful basketball players. He earned an All-Star selection and a Defensive Player of the Year award himself, but also played with stars like Kobe Bryant.
World Peace has spoken highly of Simmons in the past, and he recently took it a step further while talking to TMZ Sports.
"You don't become third-team [All-NBA] in 2020, and then in 2021 and 2022, you become worse," World Peace said. "This kid is gonna be an MVP candidate. The thing about it is, just because he's a superstar doesn't mean he needs to be a shooter. Gary Payton was starting to shoot the ball late in his career. You look at guys like Jason Kidd, [he was] just like Ben Simmons. Later in his career, Jason Kidd became an all-time great 3-point shooter. … Remember when Jason Kidd couldn't shoot?"
World Peace then went on to say that not all players can be like Stephen Curry in terms of his ability to shoot the ball from anywhere on the court. Simmons is just a different type of player and has other strengths, including his ability to defend.
"Never will we let our close alumni of elite defenders be disrespected; there's only a few of us, and Ben Simmons is one of us," World Peace said. "And we will not let him go down and be disrespected. He will be an MVP candidate, and he will be second-team All-NBA; he will be a champion, hopefully in Philly with my good brother Elton Brand."
World Peace did caution Simmons on requesting a trade, but he still seems confident in the LSU product's potential.
Is he right, though?
Can Ben Simmons still become an 'MVP candidate' in the NBA?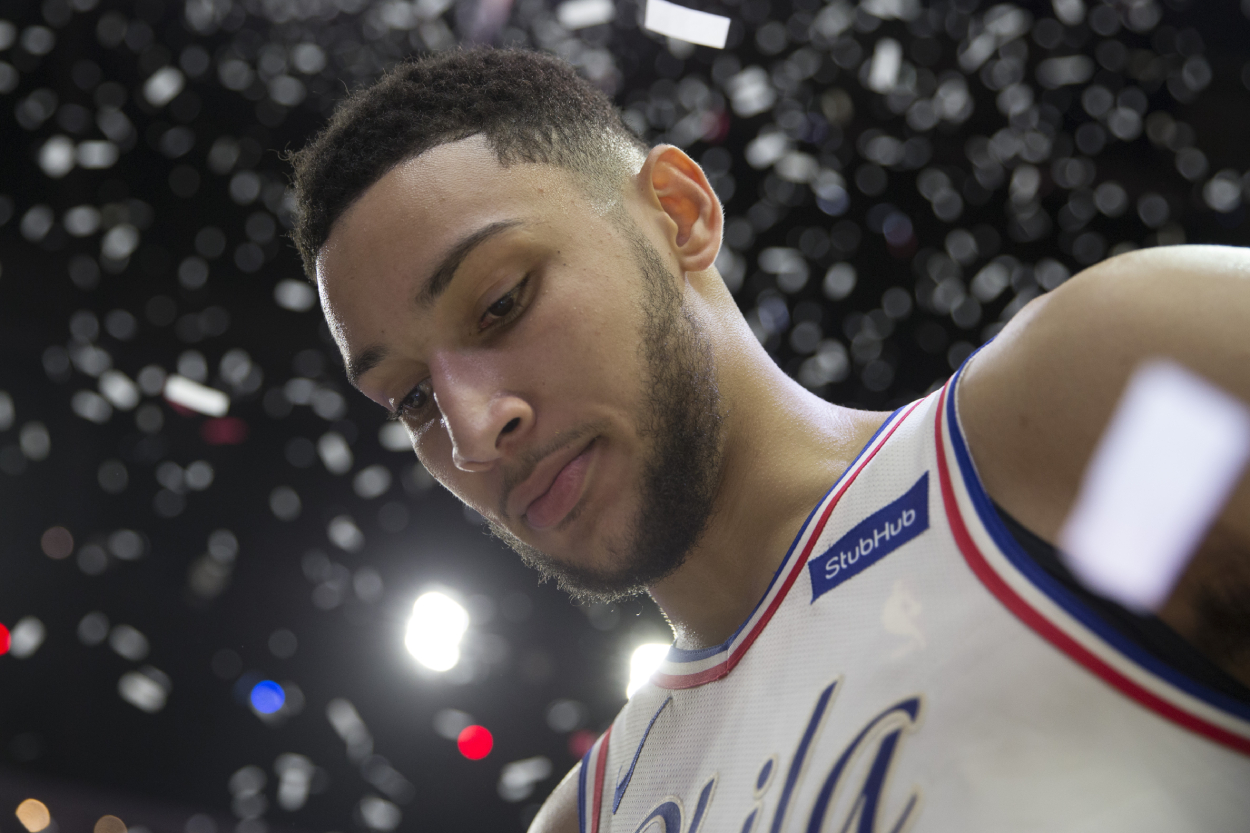 World Peace's stance on Simmons is certainly bold, but it's not entirely wrong. The 2017-18 Rookie of the Year has proven that he has the potential to be great, as some even thought he could be the next LeBron James. His height at the point guard position is rare and has led to him becoming a terrific defender but also someone who can average a near triple-double. 
Simmons recorded 16.4 points, 8.0 assists, and 7.8 rebounds per game in 2019-20. If he can increase his scoring numbers while continuing to find his open teammates, crash the boards, and defend at an elite level, Simmons can certainly put his name up there with some of the greatest players in the game today.
Where World Peace is wrong, though, is that the 6-foot-11-inch guard needs to develop some sort of jumper. The way the game is currently played, he has to be capable of making jump shots if his team needs him to, and during the playoffs last season, he simply didn't have the confidence to do that.
As of right now, Simmons' stock is down, and it's that way for a reason. But if he can develop a jumper, the two-time All-Defensive Team honoree can become that "MVP candidate" World Peace expects him to be. It won't matter what team he's on, either.
Stats courtesy of Basketball Reference
RELATED: Joel Embiid's Not-so-Subtle Jab at Ben Simmons Is Only Pushing the Disgruntled PG Further Out the Door: 'We Just All Gotta Grow Up'