It's Been a Process, but the Philadelphia 76ers Have Developed Into a Better Team Without Ben Simmons
Like sands through the hourglass, these are the days of Philadelphia 76ers fans' lives. It's been nearly five months since Ben Simmons passed up a wide-open dunk in Game 7 of the Eastern Conference semifinals against the Atlanta Hawks. The soap opera stemming from that decision still rages on as the world turns.
While that drama continues to take the headlines, the Sixers are in "the process" of proving they don't need Simmons on the court to win games. They're in "the process" of developing into a more complete, well-rounded team.
And that starts with the guard who took Simmons' place in Philly's starting lineup and has improved more in one season than Simmons has in his entire career.
The Philadelphia 76ers are finding ways to succeed without Ben Simmons
Philly began the year 8-3 without their supposed franchise point guard. Joel Embiid had already usurped Simmons as the face of the Sixers long ago, but now Philly's center is also on the shelf after testing positive for coronavirus (COVID-19).
JoJo has missed the team's last two games. Unsurprisingly, the 76ers have lost both contests.
Still, with an 8-5 record, the team is in the top half of the Eastern Conference standings. Philly is treading water without either of Simmons or Embiid and once the team's leading scorer and rebounder returns, it stands to reason the Sixers can get back to the way they were playing with Troel as the centerpiece.
But it's been a team effort thus far in 2021-22 while Simmons continues to do his thing off the court.
Tobias Harris has stepped in to act as the Robin to Embiid's Batman. Seth Curry is having a career year, as are Furkan Korkmaz and Georges Niang. Matisse Thybulle is still locking down the perimeter as one of the league's best defenders.
But it's Maxey — Big Ben's replacement as the team's starting point guard — who's taking a legitimate star turn this season.
Tyrese Maxey has improved more in one season than Simmons has in his entire career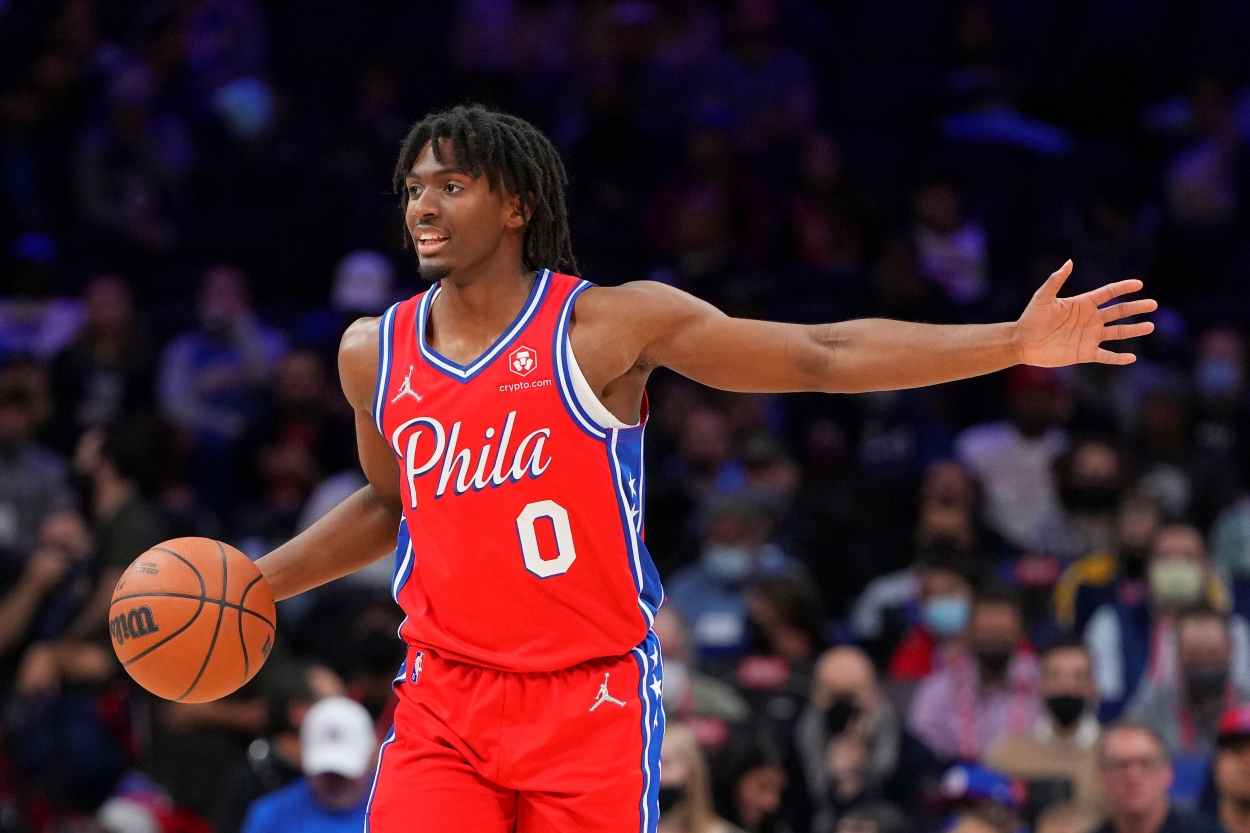 Just by a look at the surface stats, Maxey isn't necessarily destroying the league. But outside of Embiid, he's been the Sixers' most important player.
The 21-year-old has stepped in to fill Simmons' shoes, starting all 13 of Philly's games at the point guard spot and playing 35.7 minutes per night. The Kentucky product doesn't provide the same level of defense and playmaking that Simmons would, but he's a noticeable upgrade offensively.
Maxey is scoring 17.1 points per game on 50.6% shooting from the floor. He's knocking down 38.1% of his 3-point attempts, shooting 87.2% from the free-throw line, and averaging 4.7 assists and 3.8 rebounds in Simmons' stead.
Compare that to the 6-foot-2 guard's rookie season when he averaged 15.3 minutes off the bench with averages of 8.0 points, 1.7 rebounds, and 2.0 assists. He also shot just 30.1% from three.
Maxey improved in scoring, rebounding, assists, steals, blocks, and true shooting percentage from year one to year two, according to StatMuse.
Simmons, on the other hand, regressed in every single one of those categories from his rookie season to last year, his fifth in the league. His scoring dipped from 15.8 points per game to 14.3. His rebounding numbers declined from 8.1 to 7.2 per night.
Assists, steals, blocks — all down from the LSU product's rookie season. Somehow, Simmons was better as a 21 year old in the NBA than he was as a 24 year old.
It also feels like a safe bet that Maxey will attempt at least one shot during the fourth quarter of a playoff game, but that's purely speculation.
Maxey is developing into a better player than Ben Simmons
An eventual trade to get the unhappy Simmons out of Philadelphia seems like a logical endpoint for Sixers general manager Daryl Morey. To this point, though, Morey has been his stubborn self and not found what he thinks is an acceptable return for the 25-year-old three-time All-Star.
But Maxey is proving that it doesn't matter whether or not Simmons stays with the Sixers. Most of the knocks on Ben surrounded his inability to add anything to his game. He never improved as a shooter, or realistically at any offensive skill at all.
Maxey has improved. At everything. He's gotten better defensively, as a shooter, and as a facilitator. He's improved everywhere, and that was never really a word that was associated with Simmons.
Maybe that's the only thing that matters. Maxey is in "the process" of developing, and not to take another jab at Sixers' fans, but their former point guard never seemed like he even attempted to finish his process.
All statistics courtesy of NBA.com.