Ben Simmons Rumors Indicate He Wants to Find a Fix for His Ailing Shot With the San Antonio Spurs
While the San Antonio Spurs may not have any players on Philadelphia 76ers president of basketball operations Daryl Morey's wish list, embittered point guard Ben Simmons may be eyeing Texas as a potential new home. A report indicated Simmons is interested in going to San Antonio for one specific reason.
The Spurs are on pace to miss the playoffs for the third straight season after a record-tying 22 consecutive postseason bids from 1998–2019. But San Antonio still has a solid organizational culture. That's something Simmons could benefit from after mountains of controversy over the last several months in Philadelphia.
The status of Ben Simmons remains unchanged
Ben Simmons skipped training camp before eventually reporting to the 76ers during the preseason. But he hasn't played this season, and there's been very little in the way of new information coming out of Philadelphia in recent weeks.
Simmons is receiving mental health treatment but is not practicing with the team. In mid-November, Sam Amick of The Athletic reported that Simmons had repeated his request that the 76ers trade him. Adrian Wojnarowski reported via Twitter on Dec. 10 that talks involving Simmons have gained momentum.
The San Antonio Spurs are not a team that has come up in Simmons rumors. Morey has a specific list of players he seeks in return for giving up the All-NBA point guard. Whether there are any current Spurs on that list is unknown.
But San Antonio does have one player who could be an attractive target for a win-now team.
Is a Ben Simmons trade to the San Antonio Spurs realistic?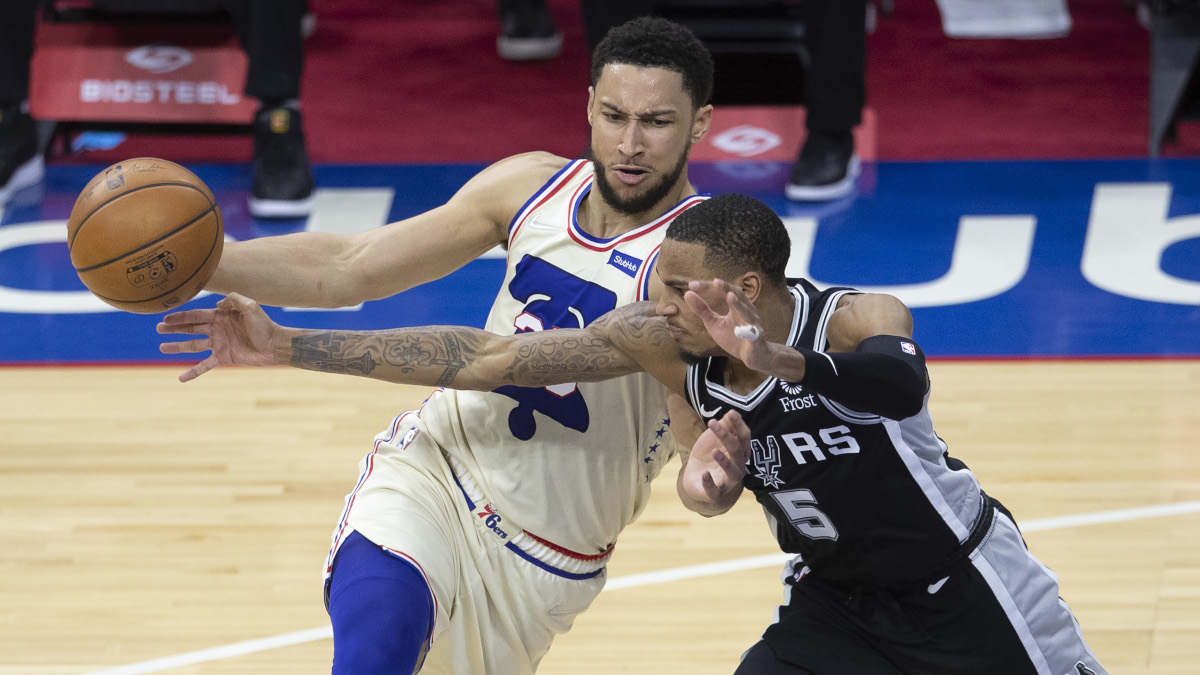 At 9–15, the San Antonio Spurs are 12th in the Western Conference. They trail the 10th-place Sacramento Kings by 1.5 games for the final play-in spot. San Antonio is three games behind the Los Angeles Lakers for sixth, the final spot in the playoff field.
According to Marc Stein on Substack, Simmons is interested in playing for Gregg Popovich in San Antonio. Hey, who wouldn't be? Pop is on the cusp of passing Don Nelson on the all-time coaching wins list. He's also won five NBA championships, and is the backbone of a winning culture dating back to the late 1990s.
The Spurs have a defensive gem in point guard Dejounte Murray, whose offensive game has grown this season by necessity. Murray averages career-highs of 18.9 points, 8.5 assists, and 8.4 rebounds. He also shooting 34.7% from 3-point range on a career-best 4.2 attempts per game.
Murray is the highest-paid player on the Spurs, making $15.4 million this season. That by itself won't get a deal for Simmons and his $33.0 million salary for this season. Simmons is in the first year of a five-year supermax extension he signed in July 2019.
But San Antonio has the expiring contract of Thaddeus Young ($14.2 million) to make the numbers work. Young started his career with the 76ers as a first-round pick in 2007 and played seven seasons in Philadelphia. Young could benefit from a move to a contender. He's playing a career-low 14.4 minutes per game while behind the younger players in San Antonio's rotation.
Why would Simmons thrive under Gregg Popovich?
Perhaps the San Antonio Spurs' biggest attraction for Ben Simmons is shooting coach Chip Engelland.
Known as "The Shot Doctor," Engelland gets the lion's share of the credit for the rapid improvement Kawhi Leonard displayed with his shooting while with the Spurs.
Popovich is a flexible coach who has changed his strategy in San Antonio based on his personnel. He's said he's not a fan of the modern NBA's reliance on the 3-point shot. But Popovich embraced it when he had shooters like Danny Green and Patty Mills.
But he also won with two superstar bigs when he had Tim Duncan and David Robinson.
With Engelland's tutelage, Popovich could unlock Simmons' offensive game by surrounding him with shooters. Those driving lanes are often unavailable in Philadelphia because of Embiid's imposing presence down low.
Simmons has demonstrated the ability to choreograph a successful offense during the regular season. The playoff results haven't been there. The 76ers haven't advanced past the conference semifinals with him running the offense. But Simmons has always had to defer to Embiid and, for a short time, to Embiid and Jimmy Butler.
The Spurs have shooting to put around Simmons, with Doug McDermott, Keldon Johnson, and Devin Vassell shooting better than 37% from deep this season. Jakob Poeltl is a capable pick-and-roll partner. The pieces are intriguing.
Essentially it comes down to whether Murray and salary filler would be enough to get Ben Simmons to the San Antonio Spurs. They might have to surrender a prohibitive amount of draft capital to get a deal done. That's a question only Morey can answer.
Statistics courtesy of Basketball Reference. Contract information courtesy of Spotrac.