The Ben Simmons Saga Continues With a New Sleeper Team That 'Makes a Lot of Sense' as a Trade Destination
The standoff between Ben Simmons and the Philadelphia 76ers continues. The 2016 No. 1 overall pick just lost out on $8.25 million after not showing up to training camp and stands to lose more every game he misses. He's reiterated he's never playing for the franchise again, while Philly general manager Daryl Morey continues his search for trade partners.
Another possible match may have surfaced now to add to the already extensive list of potential suitors. The Indiana Pacers.
Ben Simmons and the 76ers are at a standstill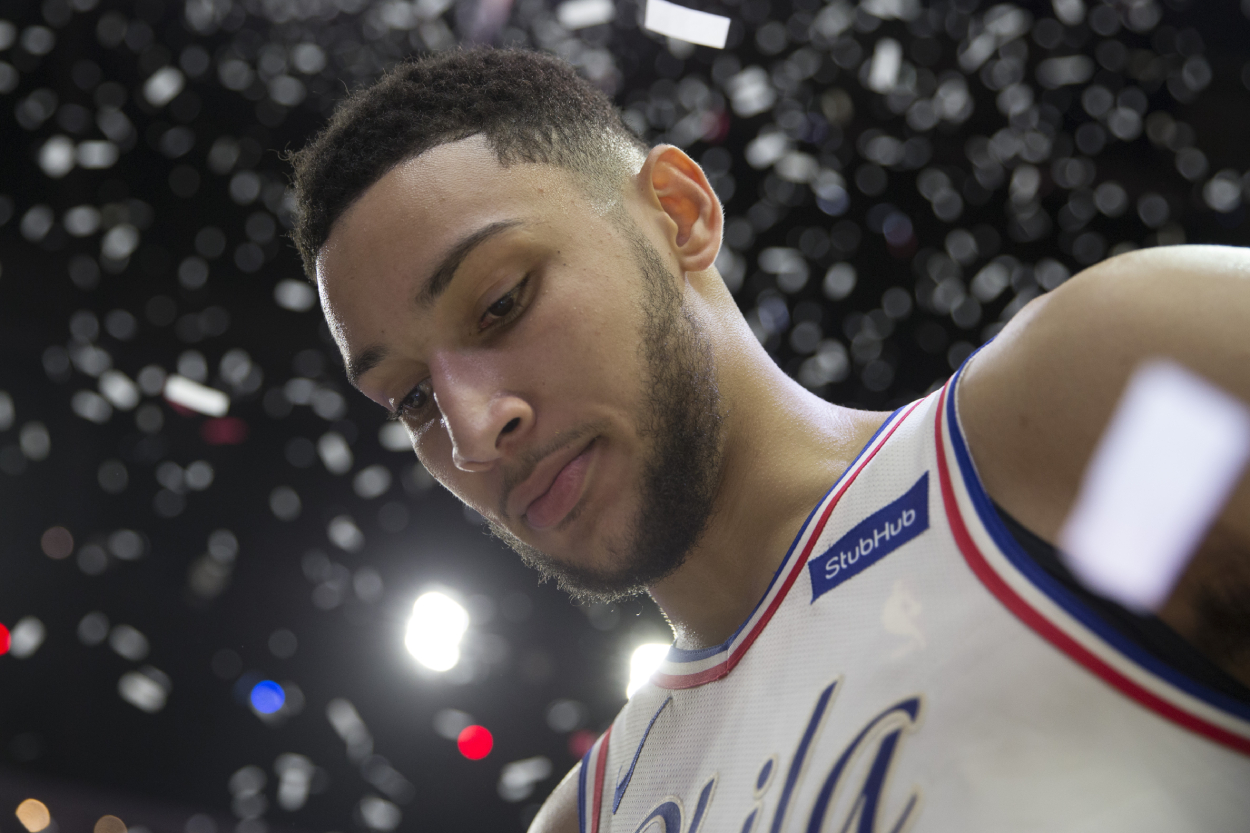 Philadelphia lost its biggest bargaining chip, at least so far, when the former LSU star willingly gave up more than $8 million to stay at home in California rather than report to camp. If the organization was hoping to call Simmons' bluff, it didn't work. The star point guard seems resolute in his decision to move on, no matter what the cost.
Simmons has also maintained he's prepared to lose out on game checks. Preseason games would cost him close to $300,000 and regular-season games even more than that.
But Morey is also standing his ground. Philly's GM is known for his need to "win" trades, and shipping his former franchise guard off for pennies on the dollar isn't a move he's going to make.
Until Simmons decides to go back to the team or Morey finds a deal worth his liking, the standoff will continue.
The Indiana Pacers have now entered the fray as a sleeper destination for Simmons
At one point, the list of destinations for the disgruntled former Tiger included as many as nine teams — Golden State, the Los Angeles Lakers, Minnesota, Toronto, Cleveland, Indiana, Sacramento, Portland, and San Antonio. A handful of those teams have dropped off. Reports also mentioned that Philly wants to trade Simmons to a Western Conference team.
But according to ESPN's Brian Windhorst, who appeared on The Jump, the Pacers seem to fit the bill right now as possibly the No. 1 Simmons destination:
"I think the sleeper team in this whole situation is the Indiana Pacers. First off, I know that they don't have an All-NBA player to trade, I realize that, but they have a bunch of really good players. … They love the idea of being able to trade for player like Ben Simmons, who they would have team control over.

"I still think they're just in the middle of the pack in the Eastern Conference, and they've got a premium coach now in Rick Carlisle. You can try to add a premium talent there. I think they are sitting there waiting for the Sixers to come to terms with making the best deal they can, because I think they can put forth an offer that few teams could rival."

Brian Windhorst on the Simmons situation with the Indiana Pacers
Windhorst also mentioned that the Pacers are never a free agent destination because they're a small-market franchise and therefore prefer to deal for players who are under team control.
Indiana could put together a package surrounding Malcolm Brogdon, Caris LeVert, Myles Turner, or Domantas Sabonis. The Pacers also have enticing young players like 2020 first-round pick Goga Bitadze and 2021 first-round pick Chris Duarte.
The team also has complete control of all its picks, which could be even more enticing to Morey.
One of the parties will have to cave eventually
As Windhorst said, Indiana and other organizations around the league are waiting for Morey's asking price to come down. There's a chance it never does, but at some point, someone has to blink.
This scenario is one of the oddest in recent NBA memory. Simmons still has four years left on his deal, so Philadelphia could theoretically just do nothing and wait for the 6-foot-11 point guard's contract to expire. On the flip side, if Simmons and his camp truly believe it's not his responsibility to increase his trade value, but rather the Sixers' job to find the best available package, he might not give in anytime soon either.
Until something happens, trade rumors and possible destinations will continue to surface. Indiana is just the latest.
Like Sportscasting on Facebook. Follow us on Twitter @sportscasting19.
RELATED: Ben Simmons Seems Totally Clueless That He's Repeatedly Tanking His Own Trade Value, This Time With Another Hilariously Awful, Immature Decision