The Ben Simmons Saga Continues as a 'Small-Market' Mystery Team Is Now After the Young Star
It feels like the Ben Simmons-Philadelphia 76ers drama has been beaten to death over the past few months — but just when it seems like nothing new could possibly happen outside of an actual trade, something else pops up. The latest news is that there's a new trade suitor for Simmons, one that hasn't been discussed yet. This small-market mystery team just adds further tension to the situation for all parties involved.
As small-market teams in the NBA often have trouble luring in free agents, trading for a star is usually the best course of action. Now it seems like one of those organizations is trying to do just that in order to add Simmons as a key piece of its roster.
The Ben Simmons drama continues with a small-market mystery team now in the running to land the Sixers' star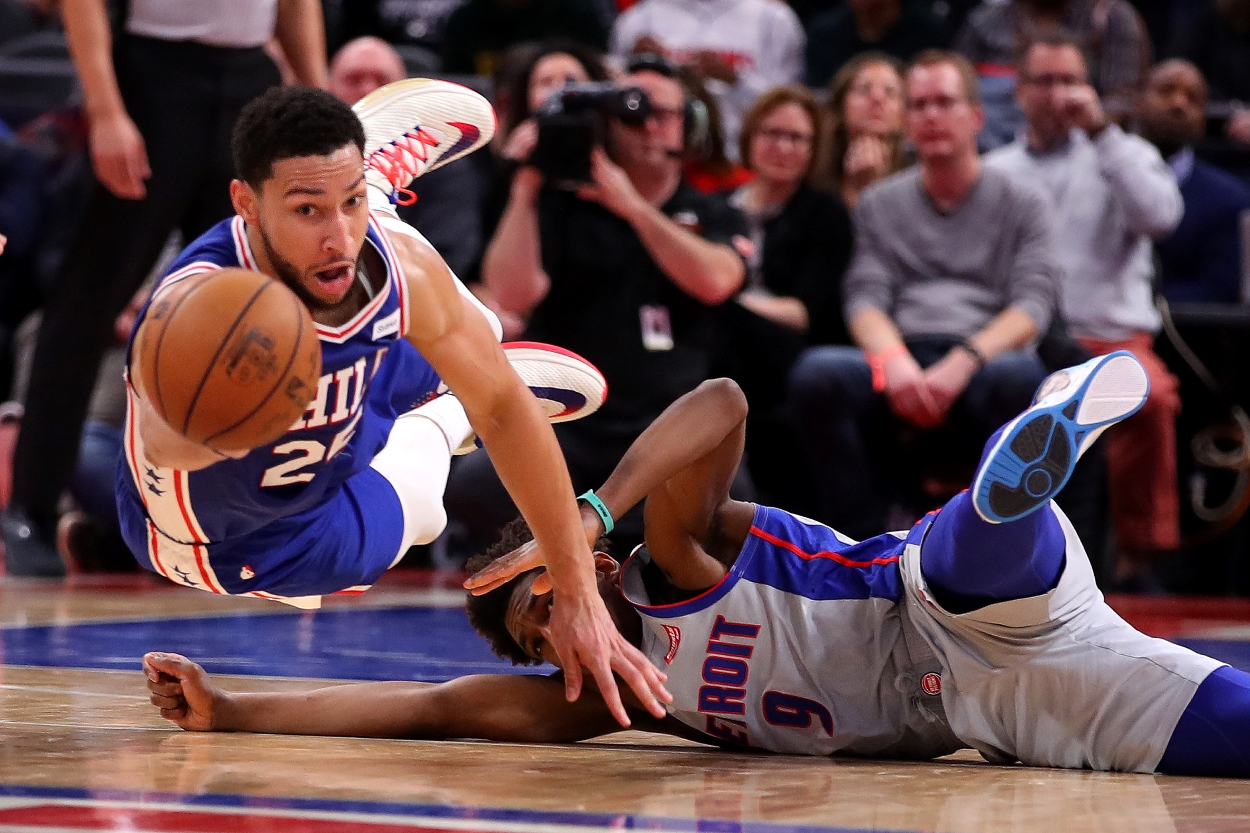 Philadelphia doesn't want Simmons, and Simmons doesn't want Philadelphia. The two sides are at a complete and total impasse, with the 2016 No. 1 overall pick telling the organization he won't show up to training camp if he isn't dealt.
Simmons has even gone so far as to say that it's not his job to fix his trade value, instead telling the Sixers it's their responsibility to find the best deal for themselves, even when his value is at its lowest.
The newest development is that a new team is in the running to land Philly's ex-franchise superstar, according to ESPN's Brian Windhorst via The Scoop podcast:
"You can definitely see why teams would have interest in him, and why small-market teams wouldn't necessarily be able to sign a player like this, like the Wolves, and would have a lot of interest. Because how else are you going to sign a player like this with four years left on his contract?

I don't mean to be evasive, I've just got to be careful with what I say. I know of at least one other team who is a small-market team, that has made an offer for him and has a lot of interest in him. It just hasn't gotten public yet."

ESPN's Brian Windhorst on the continuing Ben Simmons trade drama
Simmons has already been connected to a number of organizations, so what small-market franchise could be the new mystery team?
The list of supposed trade destinations for the former LSU star is already extensive. Philly is rumored to have had discussions with Golden State, the Los Angeles Lakers, Minnesota, Toronto, Cleveland, Indiana, Sacramento, Portland, and San Antonio.
A handful of those franchises can be considered "small market." So who's left?
The Memphis Grizzlies have the pieces to work out a deal, but is Simmons a good fit alongside Ja Morant? Defensively he would help, but spacing would be an issue as neither are good outside shooters.
The New Orleans Pelicans could legitimately be the team Windhorst mentioned as they try and make a splash to keep Zion Williamson content. But again, the fit with Williamson and/or Brandon Ingram isn't great. The Oklahoma City Thunder is always a possibility and would be a good destination for the 2017-18 Rookie of the Year as he would have a chance to essentially run his own team as the featured star without any pressure of winning.
The Utah Jazz likely wouldn't mess with their core. Ditto for the Charlotte Hornets. The Orlando Magic could be a possible destination. The Detroit Pistons would be really interesting as a landing spot to put Simmons next to the 2021 draft's No. 1 overall pick, Cade Cunningham. After Detroit, we get into the "larger market" franchises.
Simmons is on his way out of Philadelphia, but the most interesting mystery team could be Detroit
The Pistons could offer a package surrounding Jerami Grant (which would help match salaries) and young players like Killian Hayes, with some draft picks thrown in. A trade with Portland involving CJ McCollum would be a better return for the 76ers, but if the Trail Blazers aren't offering him in a deal, a Detroit package could be Philly general manager Daryl Morey's best option.
Regardless of the destination, Simmons won't be suiting up in a Sixers uniform again. Now with another "mystery team" added to the mix, Philadelphia has another option as a landing spot for the disgruntled point guard.
RELATED: Shaquille O'Neal Tells Damian Lillard to Leave the Portland Trail Blazers if He Wants to Win: 'I Don't Really Like Guys Teaming up, but 'It's Just the Way It Is These Days'