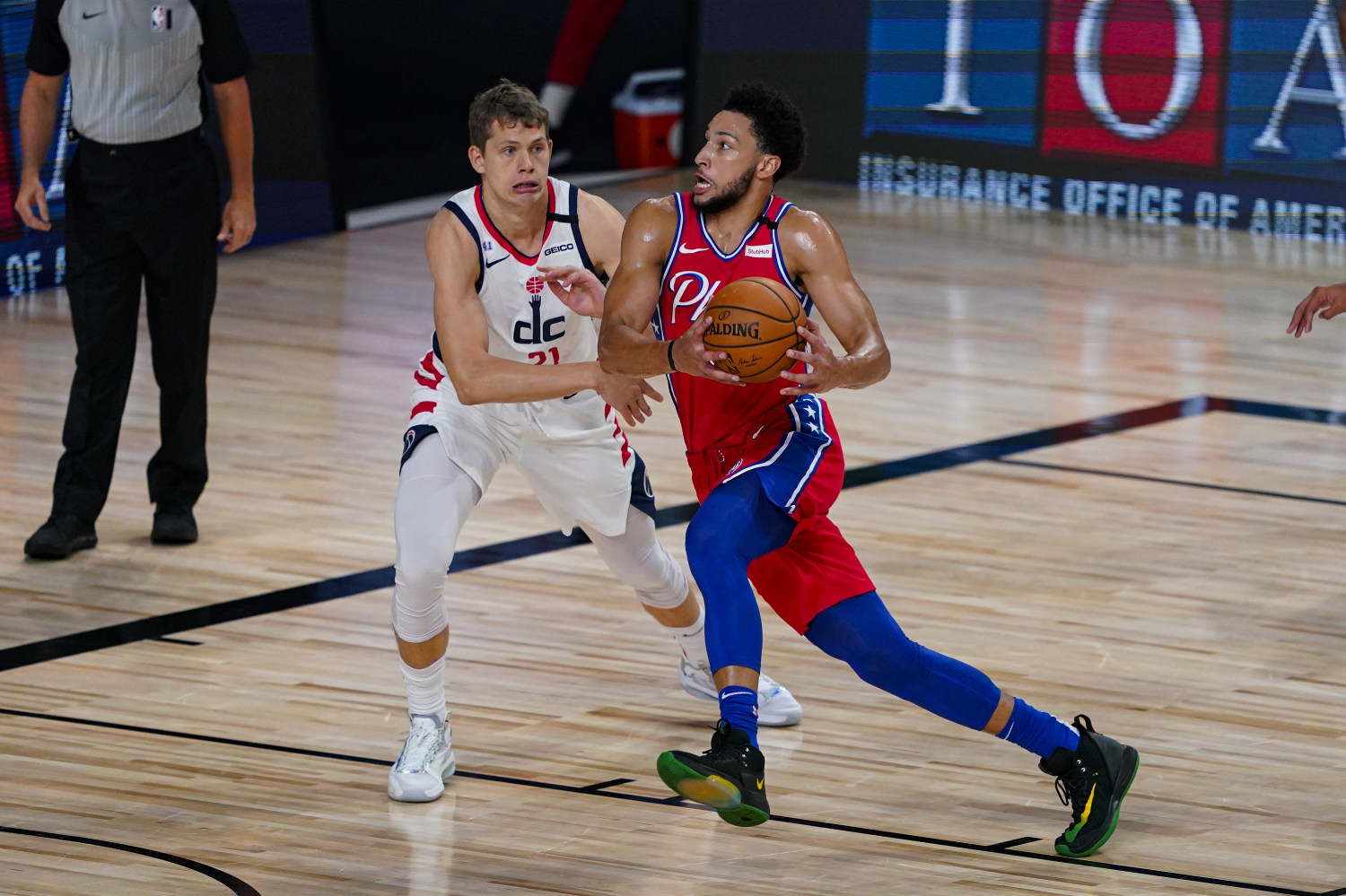 Ben Simmons Struggling to Shake Off the Injury Bug
Philadelphia 76ers point guard Ben Simmons just can't seem to shake off that injury bug that's plagued him since his rookie season.
Death, taxes… and Ben Simmons getting injured. Simmons' health has to be a concern for Philadelphia 76ers fans. Back in February, Simmons was sidelined with a nerve impingement issue in his lower back. It wasn't known if/when he'd be able to return this season. During the NBA's four-month hiatus, Simmons was able to recover to play in the restart, but he's already sidelined with another injury.
Ben Simmons' NBA career
Ben Simmons played his college basketball at LSU and was the first player selected in the 2017 NBA draft. The Philadelphia 76ers selected the 6-foot-10, 230-pound point guard with that No. 1 pick, but had to wait quite some time to see if their selection paid off. Simmons missed his entire rookie season while nursing a foot injury.
Simmons bounced back nicely in his second season, playing in 81 regular-season games He was also very productive, averaging 15.8 points, 8.1 rebounds, and 8.2 assists per game. Simmons was named the NBA's Rookie of the Year.
In the next two seasons, Simmons was named an NBA All-Star. He averaged better than 16 points in each season and this year, he was leading the league in steals per game at 2.1. Simmons, in his three years of NBA action, has been widely criticized for his outside shooting. In 217 games, Simmons has made just two 3-pointers. He's attempted 24.
Simmons' injury history
After Ben Simmons was taken with the first overall pick in the 2017 NBA draft, he rolled his right ankle at the tail end of training camp. He underwent an X-ray and MRI and it was determined that he suffered a fracture of the fifth metatarsal bone, according to NBA.com. He was expected to miss up to four months. After re-checking the injury, it was determined it hadn't healed properly and he missed the entire season.
According to CBS Sports, a nerve impingement in his lower back kept Simmons on the bench prior to the NBA shutdown. At the time, it was unknown how long the Sixers point guard would be sidelined. It was questionable whether or not he'd return for the playoffs.
Four months later, Simmons was back on the court. Simmons took those four months off from the pandemic and put them to good use. He rehabbed his back injury and was able to return for the restart. He was expected to be a big part of a playoff run for Philadelphia.
Simmons suffers another injury
On Wednesday against the Washington Wizards, Ben Simmons got hurt once again. It was unclear exactly how Simmons was hurt, but the injury happened late in the third quarter. Simmons pulled down an offensive rebound and passed the ball to Al Horford, who was called for an offensive foul. Simmons was seen flexing his left leg and then checked himself out of the game.
According to CBS Sports, Simmons suffered a partial dislocation of the left knee cap. He underwent an MRI, which showed no ligament damage. An immediate timetable for his return was not available, although teammate Josh Richardson spoke to Simmons on Wednesday night and said he was in good spirits. He said Simmons was "optimistic" about returning this season.
"In relation to sort of being incredibly down about it, I'm not," Sixers coach Brett Brown said to ESPN. "When I think too long about it, probably, I can go there. But I feel numb to it. I feel conditioned, that we've gone through this type of thing before. There is a level of faith I have in the rest of the team that we can hold the fort until we can get hopefully him back."