Why a Ben Simmons Trade to the Golden State Warriors Will Never Work
Since their playoff run ended abruptly, there has been a non-stop stream of trade rumors surrounding the Philadelphia 76ers and their embattled star, Ben Simmons. There is one team consistently in the mix regarding those rumors, but a new report raises questions about whether there would be a good fit. Simmons is said to want to go to one of three teams in California, so the Golden State Warriors are a match in that regard. But is there a desire by the Warriors to make it happen?
Golden State has missed the playoffs both seasons since Kevin Durant left for the Brooklyn Nets. It's not a coincidence that super-shooter Klay Thompson has missed both of those campaigns with injuries. While Stephen Curry dragged the Warriors into the play-in tournament last season, they fell short with a home-court loss to the Memphis Grizzlies for the eighth seed. Is Simmons the answer to adding a third star to the mix in San Francisco?
If the reports are accurate, Ben Simmons wants out of Philadelphia
Per Keith Pompey of the Philadelphia Inquirer, Ben Simmons doesn't plan on going to the 76ers training camp at the end of September. Further, he wants to go west. According to the report, there are three teams in California that Simmons lists as preferred destinations.
With four NBA teams located in Cali, it's pretty much a lock that the Sacramento Kings are the odd team out. The Warriors are two years removed from a run of five straight NBA Finals appearances and three championships. The Los Angeles Clippers have title aspirations around superstars Kawhi Leonard (eventually) and Paul George. The Los Angeles Lakers have seven former All-NBA players on the roster.
Simmons is only 25 and might not be a candidate for a Lakers team that could have Ensure as a roster patch this season.
The 76ers finished last season as the top seed in the Eastern Conference but lost a Game 7 at home to the upstart Atlanta Hawks. Simmons had a dismal playoff run, averaging only 11.9 points per game and shooting a putrid 34.2% from the foul line. The tipping point was likely when he passed up a wide-open dunk late in Game 7 to get the ball instead to Matisse Thybulle.
While Joel Embiid did some spin control on rumors of a rift, Simmons' agent, Rich Paul, reportedly dug in for a fight with Philadelphia. Are the Golden State Warriors on the radar?
Do the Golden State Warriors work for Simmons?
Earlier in the offseason, Philadelphia president of basketball operations Daryl Morey reportedly made a Ben Simmons proposal the Golden State Warriors laughed off.  If the reports are accurate, Morey wanted 2020 No. 2 overall pick James Wiseman and Andrew Wiggins. Oh, and by the way, four first-round picks, the two Golden State had in July's NBA draft and two future selections.
That's a hefty price for a unique fixer-upper, which is what Simmons is at this point. He's never been a shooter. The Warriors don't necessarily need another shooter. Then again, does any team in the pace-and-space era have enough shooters?
More to the point is the presence on the Golden State roster of another player with a similar skill set. According to Monte Poole of NBC Sports Bay Area, potential redundancy gives the Warriors pause.
Draymond Green isn't at Simmons' level as a creator or scorer. But his traditional role has been a point forward who also takes on key defensive assignments against wings and bigs. Like Simmons, Green isn't much of a shooter (though he is downright Curry-esque by comparison). Simmons may be a generational talent, but he might not fit what the Warriors are seeking.
Ben Simmons doesn't fit in the Bay Area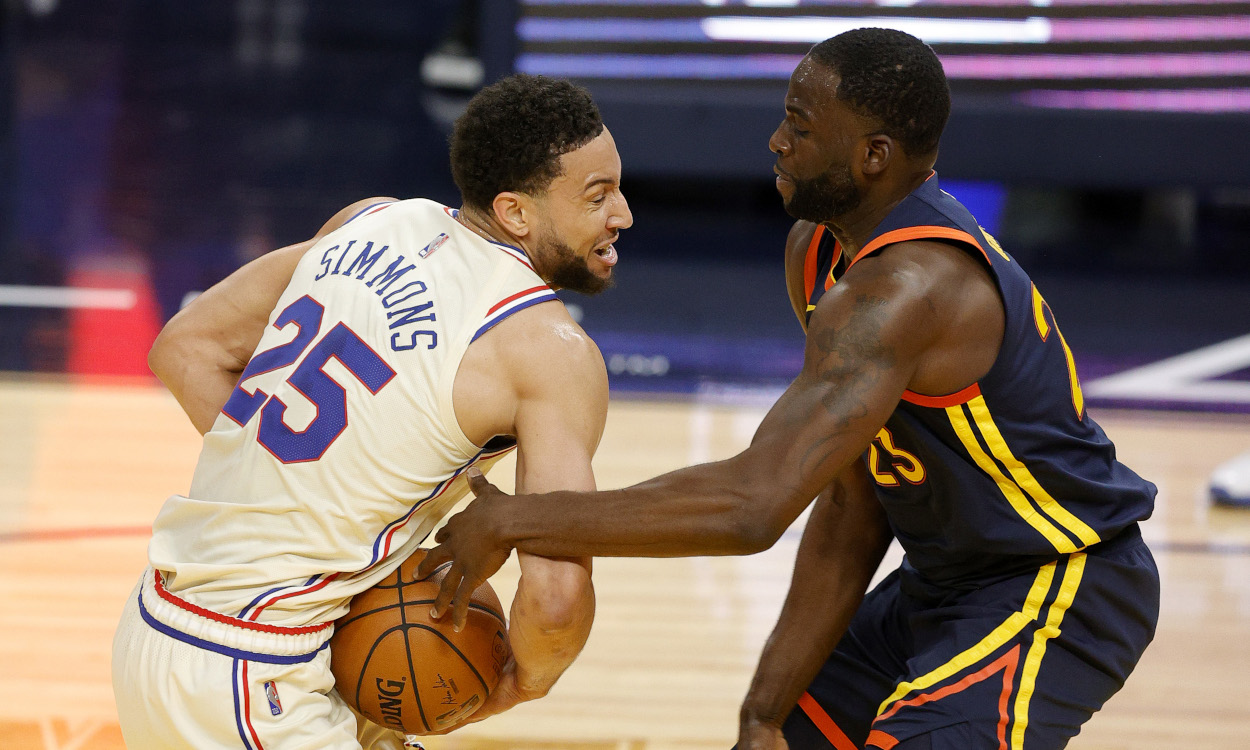 The only way trading for Ben Simmons makes sense for the Golden State Warriors is if Green goes the other way. But that deal doesn't seem to work for the 76ers. If shooting is the concern, why trade one poor shooter for an only slightly better one?
It's not like Simmons has a wealth of options, either. Philadelphia has him under contract for another four years (and $140.4 million). And unlike James Harden last year, Simmons isn't coming from a position of strength. The 76ers are frustrated, their fan base is furious, and the reality is that a Harden-like return isn't coming their way for Simmons.
If forced into cutting their losses, it makes more sense for the 76ers to take the best offer they can find. Making Ben Simmons happy doesn't enter the calculus from Philadelphia's perspective.
Statistics courtesy of Basketball Reference.