Ben Simmons Trade Rumors: Could Trae Young and the Disgruntled Sixers Star Become the Atlanta Hawks' Backcourt of the Future?
It's been Ben Simmons trade rumor season since the summer. And now it's NBA trade rumor season. Putting the two together is combustible (but, admittedly, really fun). And now the Philadelphia 76ers star has a new rumored destination: the Atlanta Hawks and a spot next to Trae Young.
Upon first thought, Young and Simmons appear like oil and water (the opposite of combustible).
But is that really the case, or do the two make sense together? And is there a path to a real deal for Atlanta and Philly?
The Ben Simmons trade rumors aren't going away
Big Ben has been linked with almost every NBA franchise since rumors started during the summer. That includes, but is not limited to:
The Cleveland Cavaliers, Sacramento Kings, San Antonio Spurs, Indiana Pacers, Minnesota Timberwolves, Los Angeles Lakers, and Portland Trail Blazers.
Some have made legitimate sense. Others, not so much.
According to Marc Stein, the latest potential suitor is Atlanta.
"It was suggested to me this week by one league source to keep an eye on Atlanta as an emerging suitor for Philadelphia's Simmons," Stein said on The Stein Line podcast (h/t) CBS Sports.
"The Hawks don't appear to have an available star on the Lillard/Beal level to make the sort of offer Philadelphia seeks for Simmons, but they have numerous enticing trade pieces to try to bring in other teams and expand the options in a theoretical multi-team trade construction."
The rumors are still here, and apparently, more teams are being added to the list.
But Atlanta is perhaps one of the more interesting ones to pop up in a while.
Simmons makes legitimate basketball sense with Trae Young and the Atlanta Hawks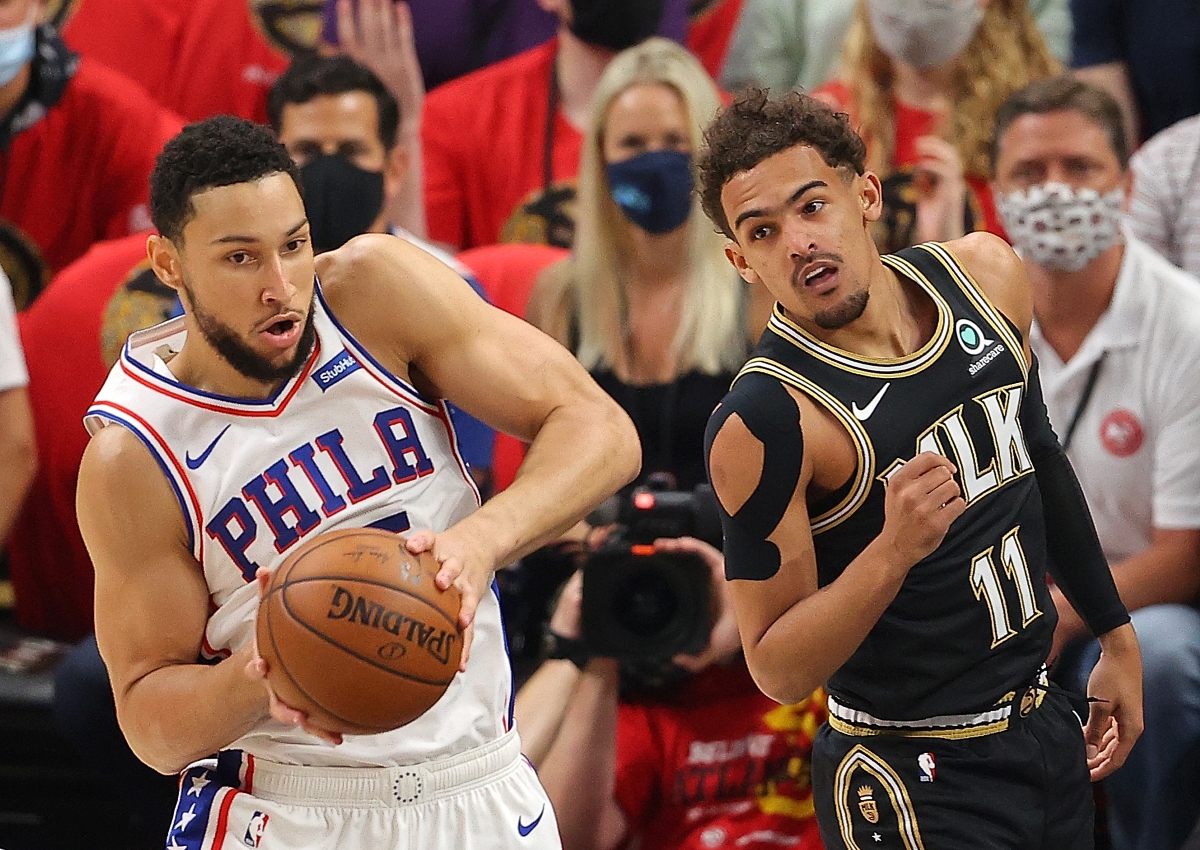 The Hawks are 17-21 and sit 12th in the Eastern Conference through almost half the season, A disappointment for a team that played in the Eastern Conference Finals a season ago.
Atlanta is seventh in the league in offense, scoring 111.3 points per game. That end of the floor isn't usually the issue with a Young-led team. However, the team is also 26th in defensive rating at 113.1.
Not to mention the team's general manager, Travis Schlenk, essentially said his team's open for business, via The Athletic:
"Every team we play goes out and gets 130 (points)," Schlenk said. "There are only (three) times we can make changes: the draft, free agency and the trade deadline. It's my responsibility to put a product on the floor that can win, and right now, I'm questioning whether or not I've done that."
So Simmons could very well be on the minds of Schlenk and the Hawks' brass.
What would he bring to Atlanta that Schlenk is looking for, and would it mesh with Trae?
First of all, he would help the Hawks not allow "every team" they play to score 130 points. The 6-foot-11 guard has been named First-Team All-Defense twice, including 2020-21 when he last took the floor.
Young is a sieve on that side of the ball, as well as short and slight, and he can't rebound. Simmons is the opposite of all those things and does all three at a high level.
On the other hand, the former franchise centerpiece in Philly isn't a threat to shoot and can't space the floor. Young certainly isn't hurting for confidence in either of those categories.
As Stein noted, it would take some wheeling and dealing from both sides, but a backcourt pairing of Trae and Ben could work as both guards would cover for the other's exact most significant weaknesses. Young is one of the best offensive guards in the NBA. Simmons is one of the best defensive players, regardless of position.
The fit is there between the two stars.
If a deal does happen, what do both teams look like moving forward?
Atlanta has too much depth if there is such a thing. Schlenk and the Hawks decided to run it back with last year's team, but there are too many players competing for minutes.
Consolidating multiple assets in return for one is the move the Hawks need to make anyway. Cam Reddish, De'Andre Hunter, Danilo Gallinari, Onyeka Okongwu, Lou Williams, and Kevin Huerter would all be expendable in this scenario.
If it added Simmons, Atlanta would still be able to add him to a core of Young, John Collins, Clint Capela, and Bogdan Bogdanovic. And the Hawks' defense would improve ten-fold, which is what's currently preventing them from making another deep playoff run.
It goes without saying for Philly and general manager Daryl Morey — the franchise gets to move on from this entire saga, and if a deal happens, presumably it finally finds what it wants in return.
And hey, Ben won't get in the way of any of the 30-footers Trae wants to fire off. He'll just grab the offensive rebounds when he misses.
All statistics courtesy of NBA.com.