Ben Simmons Trade Rumors: What Daryl Morey Sees as His Biggest Asset Is a Big Problem
Daryl Morey continues to be patient with Ben Simmons' situation. With the Feb. 10 NBA trade deadline approaching, the big question continues to be whether Morey's patience will extend the standoff with the Philadelphia 76ers star into the offseason. It's also possible that what Morey sees as a critical piece of bargaining leverage is an albatross hanging around his neck.
Simmons hasn't played for the Sixers this season and is in the second year of the five-year, $177 million supermax extension he signed in July 2019. That means a team trading for Simmons has the three-time All-Star under team control through 2024–25.
Morey is using the contract as a feature accentuating Simmons' value. The reality might not align with that view.
Ben Simmons has considerable value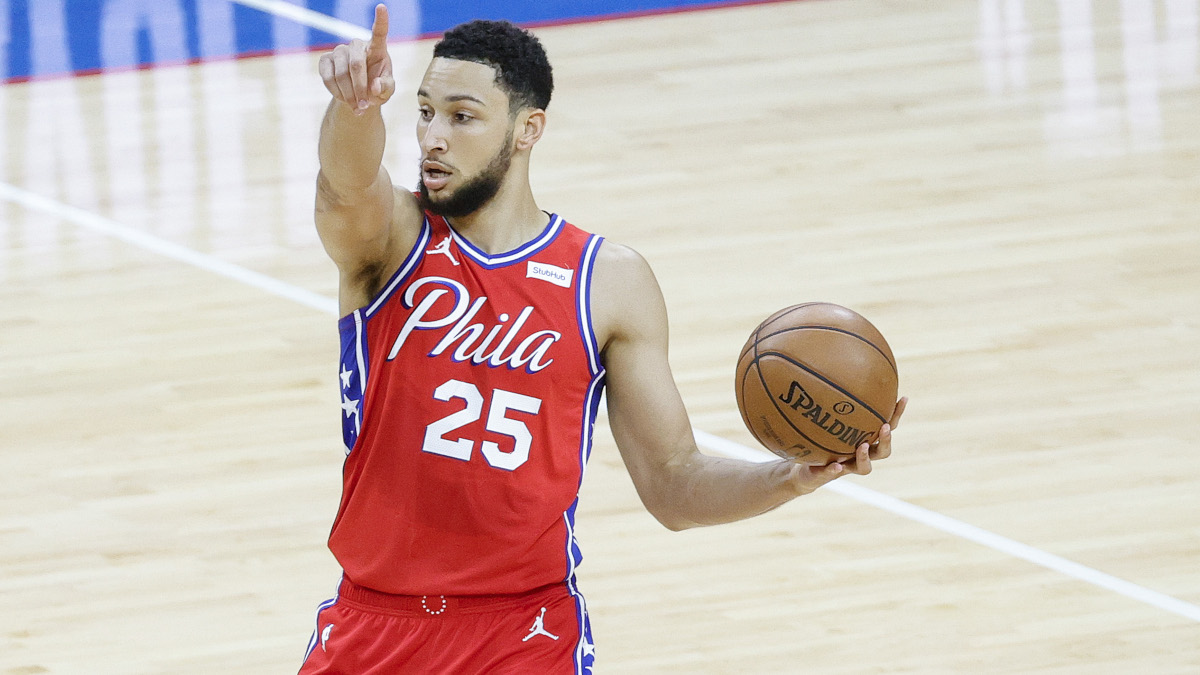 For all his struggles in the 2021 NBA Playoffs, Ben Simmons checks many boxes as an impact player.
Defensively, he's everything a coach could want. He's got center size at 6-foot-11 and 240 pounds to go with the quickness and agility of a wing. Simmons is the rare player who can legitimately guard any position on the floor.
Offensively, he's a creative playmaker and a devastating finisher at the rim. He's a career 71.6% shooter in the restricted area and makes a credible 41.1% from floater range (inside 10 feet).
He's a big with point guard skills as a ballhandler and passer. What's missing is the jump shot. And that's part of the problem. For several offseasons, Simmons teased with video clips of him draining 3-pointer after 3-pointer.
But when the uniforms were on, and the buzzer sounded, the jumper wasn't there. Only 1.1% of Simmons' career attempts are from 3-point range. He has made five of 34 career attempts from deep.
Opposing defenses don't have to guard Simmons on the perimeter. Instead, his man can sag into the paint and clog things up for Joel Embiid.
In the postseason, that problem gets worse.
Simmons' reluctance to shoot peaked in last year's Eastern Conference semifinals. He didn't attempt a shot in the fourth quarter over the final four games of the series. Throw in his dismal free-throw shooting, and coach Doc Rivers didn't even have the confidence to have him on the floor in late-game situations.
The contract isn't as attractive as Morey thinks it is
Morey, president of basketball operations for the 76ers, views Ben Simmons' contract as a feature. But other executives around the NBA see it as a bug.
According to Sam Amick of The Athletic, the remaining three years and $108.8 million on Simmons' deal make it more challenging to make a trade, not less:
"The length (and size) of his contract, which has been seen by the Sixers as a major leverage point and justification for the steep asking price because the threat of free agency delayed, is actually a concern to some."
Opposing general managers are hesitant to commit that much cap space to a player with such glaring holes in his game.
As skilled as Simmons is, Philadelphia hasn't gotten beyond the second round of the playoffs with him at point guard. The Atlanta Hawks dared the 25-year-old to shoot during last year's playoffs. He didn't take the bait, even famously passing up a wide-open dunk in the fourth quarter of Game 7 to pass to a teammate who was covered.
Teams have other concerns about Ben Simmons
According to Amick, the concerns around Ben Simmons aren't just about the shooting. Instead, multiple factors are scaring away potential suitors.
Fair or not, Simmons has a reputation of losing his confidence. That, in turn, drags down his performance.
According to some of the executives cited by Amick, the mental-health concerns for which Simmons is seeking treatment are separate from the on-court issues.
Simmons' public silence since last season's inglorious finish is also a red flag. It doesn't make for an attractive profile, particularly given that Morey reportedly wants a top-30-level player in return.
Then there are the recent reports that Morey wants to package the remaining two years and $79.4 million on Tobias Harris' max deal with Simmons in a potential trade. From an opposing front office's point of view, it's like asking for maximum value to take two bad contracts off Morey's hands.
Shams Charania of The Athletic reported five teams are pursuing Simmons. The Atlanta Hawks reportedly shut down when Harris' name entered the conversation. The Sacramento Kings, Portland Trail Blazers, Minnesota Timberwolves, and Indiana Pacers also reportedly have varying degrees of interest.
It's sounding like Morey isn't reading the market correctly regarding Ben Simmons. That sets up a scenario in which the situation drags on indefinitely, not ideal for an organization such as the 76ers with championship aspirations.
Statistics courtesy of Basketball Reference. Contract information courtesy of Spotrac.
Like Sportscasting on Facebook. Follow us on Twitter @sportscasting19.
RELATED: NBA Trade Deadline: The Philadelphia 76ers Need to Quickly Reconsider Their 'Growing' Asking Price for Ben Simmons
Related post url: