Kendrick Perkins Claims Ben Simmons Is Willing to Skip Training Camp to Force a Trade: '[Simmons] Will Sit out However Long Until He Gets out of Philly'
Ben Simmons struggled during the 2021 NBA Playoffs; there's little debating that. On more than one occasion, the 24-year-old point guard removed himself from the Philadelphia 76ers' offense, flat out refusing to shoot the basketball. It was a frustrating experience for Sixers fans, especially those who suffered through Philadelphia's "process era."
While Simmons wasn't the only reason the Sixers departed the postseason in the second round, he was definitely one of them. Simmons' unwillingness to shoot the basketball put a large target on his back, which has led to nonstop trade rumors.
Early indications suggested that trading Simmons was a conclusion president of basketball operations Daryl Morey and the rest of the Sixers front office had reached. However, it now appears Simmons himself would welcome a move out of Philly — and would go to great lengths to orchestrate one.
Ben Simmons is willing to skip training camp to force a trade away from the Philadelphia 76ers
Simmons is historically a reticent individual who doesn't like to stir up controversy during the offseason. However, it seems he has reached a breaking point regarding his relationship with the 76ers organization.
On the outside looking in, all the Sixers have done to frustrate Simmons is ask him to shoot the basketball. They've happily accommodated him up to this point, even going as far as to pay him a max contract.
With that said, one can only assume negative interactions have occurred behind the scenes between Simmons and the Sixers. Immediately after the team's postseason exit, both Joel Embiid and head coach Doc Rivers took jabs at Simmons and his lack of shot attempts, something that surely upset Simmons.
The 76ers also reportedly offered Simmons to Houston in exchange for James Harden during this past regular season, another incident that likely frustrated him and his agent.
Simmons would like to play for a new NBA team moving forward
Simmons hasn't been returning phone calls from the Sixers this offseason either. Coaches, front office members, and players alike — Simmons appears to have zero desire to mend relationships with anyone in Philadelphia.
Such an ugly situation explains why he'd be willing to skip training camp.
Simmons' name has been mentioned frequently in trade talks this summer, with Portland's Damian Lillard being the most talked-about target on Philadelphia's end. Simmons has expressed a desire to play in California moving forward, which signals that a three-team trade of sorts could be looming.
Multiple NBA teams should be calling the Philadelphia 76ers about their point guard's availability.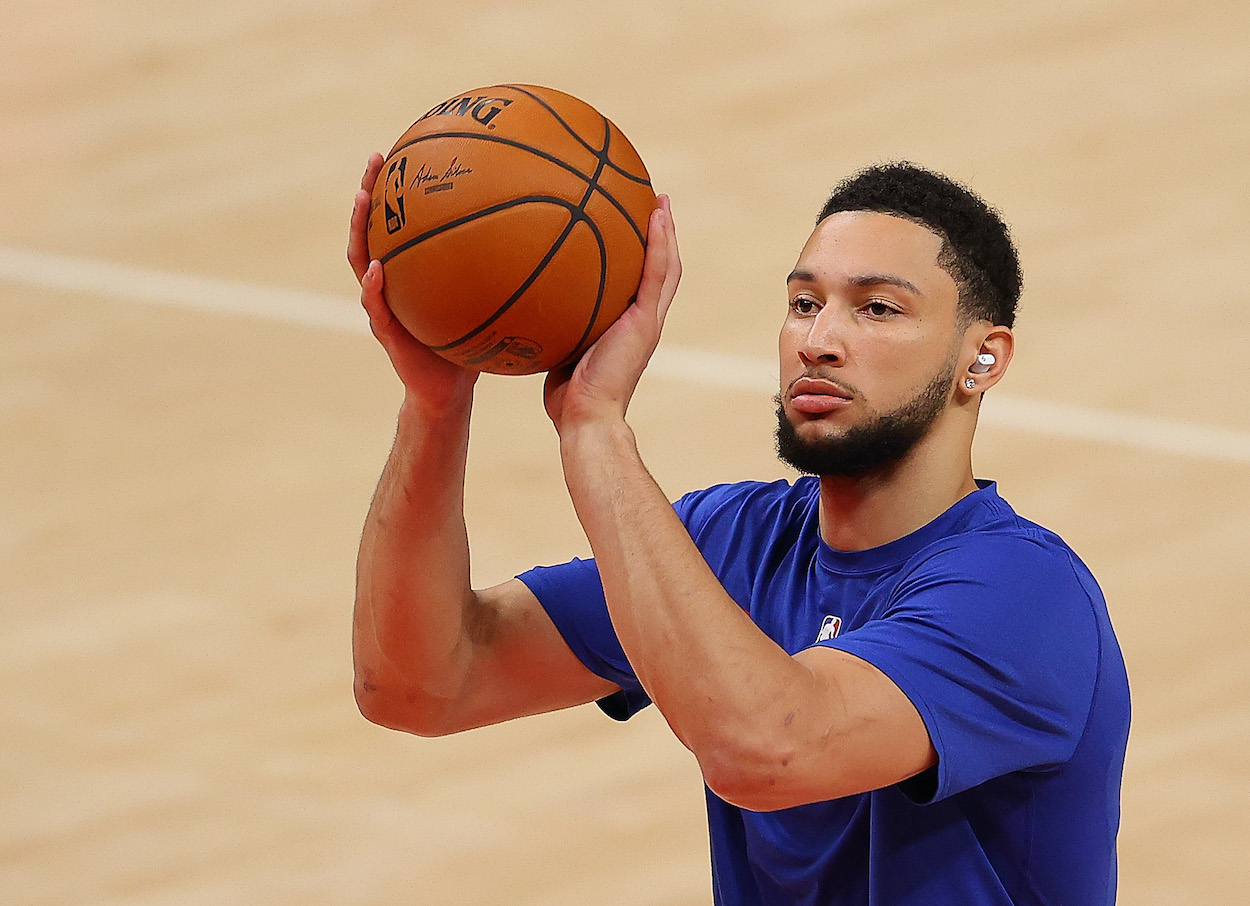 Simmons has been on the receiving end of a ton of criticism over the past few weeks, but he should be viewed as a precious asset to other teams around the league. A three-time All-Star at just 24 years old, Simmons is also one of the NBA's premier perimeter defenders.
Simmons nearly won the league's Defensive Player of the Year award in 2021 due to how elite he was on that side of the ball.
With Simmons having excommunicated himself from Philly, the time for a rival organization to pounce is now. The Sixers' leverage is waning with news breaking of a training camp holdout — they should be feeling pressure to make a deal.
All stats courtesy of Basketball Reference.
RELATED: Dwight Howard Fires a Subtle Parting Shot at Ben Simmons on His Way Out the Door With the Sixers