Ben Wallace's Hall of Fame Journey Began by Getting Cut Twice
Ben Wallace became the fifth member of the vaunted 1996 NBA Draft class to enter the Hall of Fame with his induction on Sept. 11, 2021. But unlike the other four legends, Wallace was not among the NBA players taken in the draft. Five of the top 15 picks in that draft are in Springfield, led by No. 1 overall pick Allen Iverson. The others are Ray Allen (fifth overall), Kobe Bryant (13th), and Steve Nash (15th).
Ten made at least one All-Star Game. Besides the four listed above, Shareef Abdur-Rahim, Zydrunas Ilgauskas, Stephon Marbury, Jermaine O'Neal, Peja Stojaković, and Antoine Walker earned selections. Not all the 58 players taken on June 26, 1996, in East Rutherford, New Jersey, were stars. The first round included notable misses like Dontae' Jones, Efthimios Rentzias, Martin Müürsepp, and Priest Lauderdale. Eleven players taken in Round 2 never played an NBA game.
Wallace wasn't enough of a prospect to select over any of them.
Ben Wallace's long road started from humble beginnings
Ben Wallace proved the doubters wrong, and then some. Only four players taken in 1996 played more than Wallace's 1,088 NBA games (Bryant, Allen, Nash, and Derek Fisher). Only Bryant, Allen, Nash, and Iverson exceeded his 93.5 Win Shares.
Not heavily recruited out of Central High School in Hayneville, Alabama, in 1992, Wallace played two years at Cuyahoga Community College in Cleveland before transferring to Division II Virginia Union for his final two seasons. Despite being a first-team All-American as a senior, the NBA overlooked Wallace on draft night.
One NBA team gave Wallace a look. And while he made an impression, it wasn't enough of one.
Wallace didn't make it out of a summer league appearance and washed out in Europe
Per The Boston Globe, Ben Wallace was one of 20 players the Boston Celtics invited to their rookie camp at Brandeis University in July 1996. There was a vast disparity among the attendees. Boston's two draft picks were there, first-round selection Antoine Walker and second-rounder Steve Hamer. So too were future NBA players Isaac Austin, Kevin Ollie, Kevin Salvadori, and NBA veterans Jeff Grayer, Ray Jackson, and Adonis Jordan.
Wallace impressed coach/general manager M.L. Carr with his rebounding. The Boston Globe reported that he was one of the 15 players sent to a rookie league in New York, but Wallace didn't make the cut.
How different would his career have been if Carr saw the potential? Then again, Carr authored the worst season in franchise history in 1996–97, a 15-win disaster that ended with Rick Pitino taking over both roles.
After Boston bounced him, Wallace went to Italy for a tryout with Viola Reggio Calabria. That club wasn't impressed enough to sign him, either. Eventually, the Washington Bullets brought him to training camp, and a 16-year NBA career followed.
Not bad for a washout from Lega Basket Serie A.
Ben Wallace made the most of his opportunity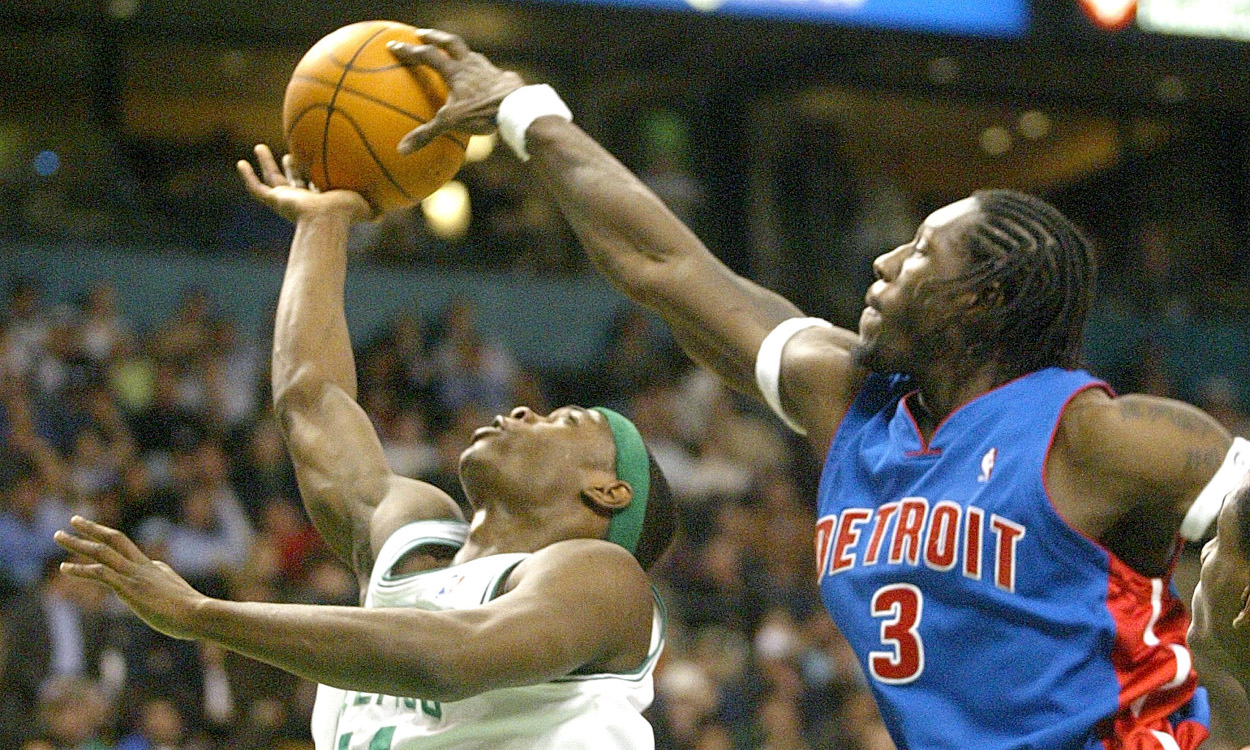 In 1996, Ben Wallace joined a crowded frontcourt with the Bullets, including former Fab Five stars Chris Webber and Juwan Howard, veteran Harvey Grant, and reigning Most Improved Player Award winner Gheorghe Mureșan. Washington made the playoffs with a 44–38 record before being swept by the defending champion Chicago Bulls in a tough first-round series.
After playing only 197 minutes as a rookie, Wallace's role grew over the next two seasons, enough to earn him his first big contract. He got $34 million over six seasons from the Orlando Magic before his inclusion in the package sent to the Detroit Pistons in the summer of 2000. The Magic acquired free agent superstar Grant Hill in a sign-and-trade arrangement that ended less than magically.
Big Ben flourished in Detroit. He was a four-time Defensive Player of the Year and five-time All-NBA selection despite providing nearly no offense. He didn't have to. Wallace was the backline of defense for a Pistons team that played in four straight Eastern Conference Finals from 2003–06, reached the NBA Finals in 2004 and 2005, and won it all in 2004 against a heavily favored Los Angeles Lakers squad.
Despite scoring just 5.7 points a game in his career, the lowest ever for a Hall of Famer, Ben Wallace battled his way to Springfield on the back of his rebounding and defensive prowess.
Statistics courtesy of Basketball Reference and USBasket.com, contract information courtesy of Spotrac.
RELATED: Ben Wallace Is a Hall of Famer, but His Signature Shoe Belongs in the Hall of Shame