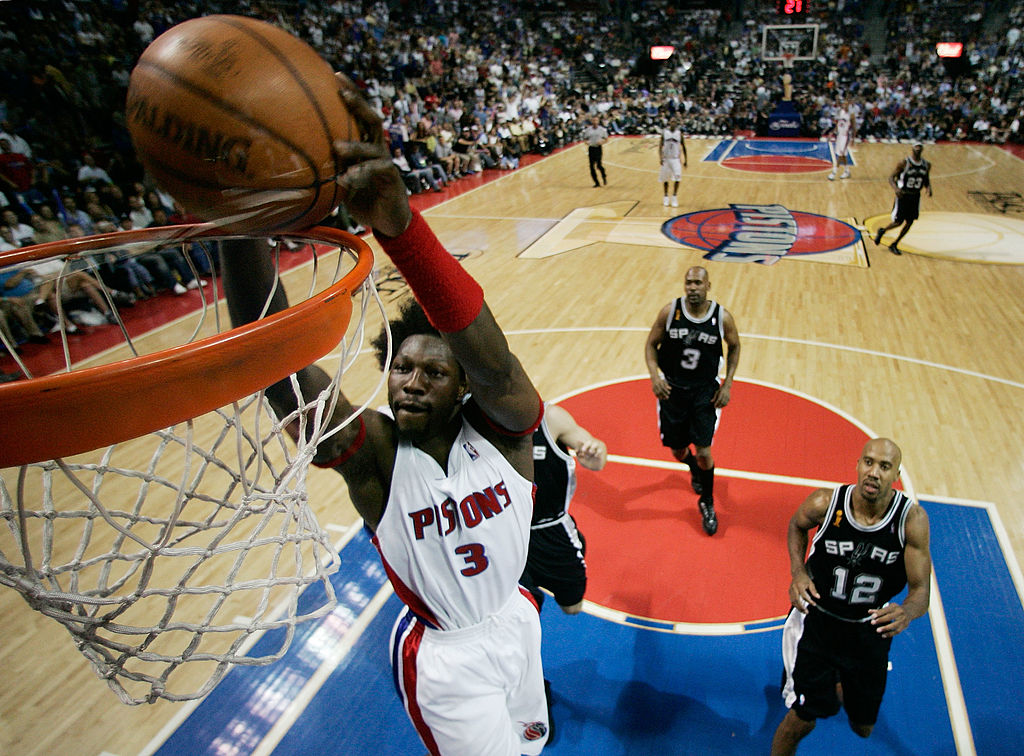 Ben Wallace Says Carmelo Anthony Would Have Been a 'Bad Fit' for Pistons' Title Teams
Detroit Pistons legend Ben Wallace believes the Detroit Pistons benefitted from not drafting Carmelo Anthony in 2003. Here's why.
Ben Wallace prefers not to play around with hypothetical what-ifs. Portland Trail Blazers forward Carmelo Anthony recently said he would have won two or three championships if the Detroit Pistons selected him with the No. 2 overall pick in 2003.
Wallace, a four-time NBA Defensive Player of the Year whose number is retired by the Pistons, threw cold water on that idea in a podcast interview.
Ben Wallace went so far as to say the Pistons may not have won any titles if they drafted Carmelo Anthony nearly 20 years ago. Here's why the defensive legend feels that way.
Ben Wallace thinks the Pistons benefited from not having Carmelo Anthony
The Cleveland Cavaliers didn't waste time with the No. 1 overall pick in 2003. Cleveland selected teenage phenom LeBron James and watched him become the best player of his generation and one of the greatest players of all time.
The Pistons held the second pick and, controversially, took teenage big man Darko Milicic over Anthony, a star forward who led Syracuse to a national title. Milicic lasted just three years with the Pistons,
Still, Ben Wallace believes everything happened for a reason. Wallace told the 120 Watts podcast the Pistons' core may have struggled by adding a hungry and eager rookie in Carmelo Anthony.
"Melo wanted to play right away. It would have had the potential to disrupt the team chemistry… By drafting Darko, he came in and said that he is not ready to play on this team. Who I am going to play in front of. I'm not ready, and by him doing that and accepting his role, it allowed us to build and grow and get stronger and eventually win a championship."
Wallace pointed out how important Tayshaun Prince was to the Pistons' title hopes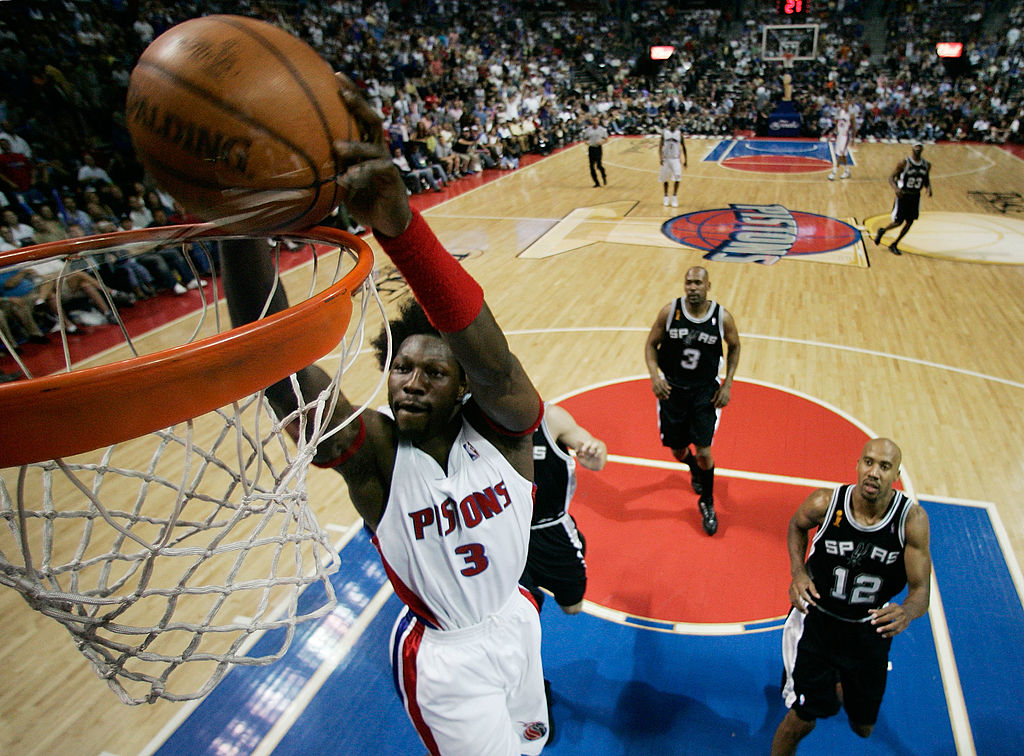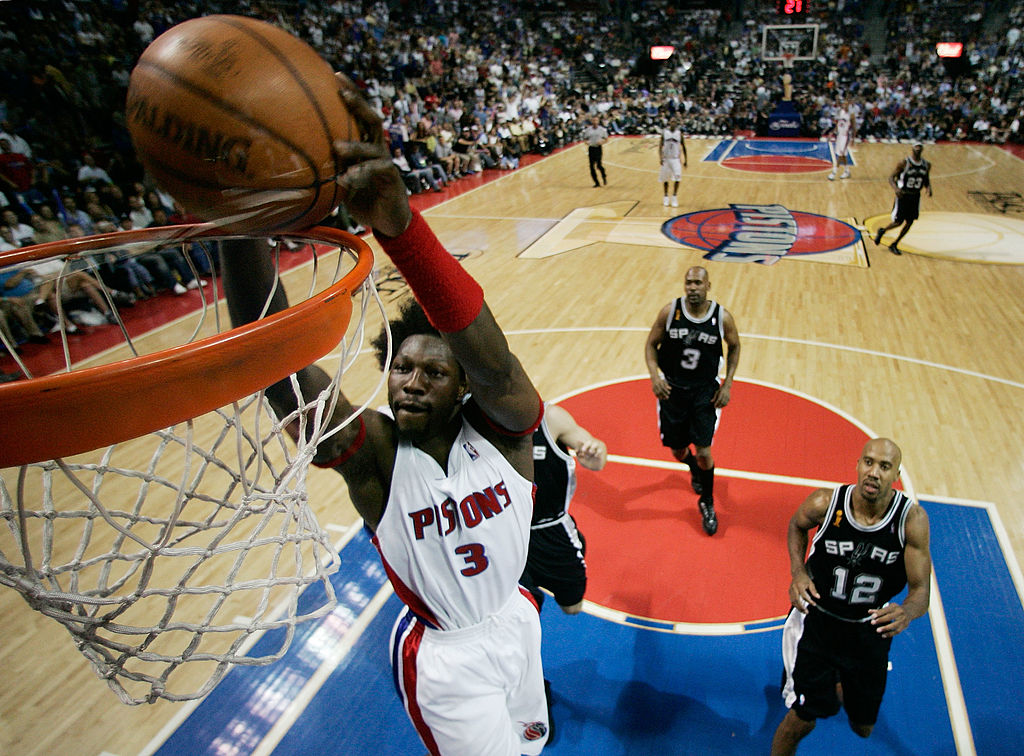 Had the Detroit Pistons drafted Carmelo Anthony instead of Darko Milicic, Anthony would have likely joined the starting rotation at small forward early in his rookie year. Anthony was one of the best prospects in a loaded 2003 NBA draft class and will almost certainly be inducted into the Hall of Fame on his first try.
Ben Wallace believes drafting Anthony would have prevented Tayshaun Prince from "blossoming" into a perennial all-defensive player. Prince famously blocked Pacers legend Reggie Miller in Game 2 of the 2004 Eastern Conference Finals to seal a Pistons win.
Prince's defense on Kobe Bryant in the NBA Finals helped the Pistons to a championship. Tayshaun Prince became a Detroit Pistons hero.
Prince played in Detroit from 2002-13 and made four all-defensive second-teams in that time. The Pistons will likely retire his No. 22 in the coming years.
Former Pistons star Chauncey Billups says the Pistons needed Carmelo Anthony
One of Ben Wallace's former teammates disagreed with him. Longtime Pistons point guard Chauncey Billups said the Pistons would have won three championships with Carmelo Anthony.
Billups played with Anthony in Denver and with the New York Knicks. He knows first-hand what Carmelo Anthony brought to those teams and the impact he would have played in Denver.
Still, Ben Wallace and the Detroit Pistons did something Carmelo Anthony is yet to do: win the NBA Finals. Anthony can change that if the NBA season returns this year.