Bengals CB Mike Hilton Seemingly Uses 1 Tweet to Try to Get Joe Burrow Protection
The Cincinnati Bengals' run to Super Bowl 56 was pretty incredible, especially considering how inept their offensive line was throughout the year.
Quarterback Joe Burrow had a tremendous season, winning the NFL AP Comeback Player of the Year Award. However, he didn't hoist the Vince Lombardi Trophy due the lack of time he had in the pocket.
Protection should be at the top of Cincinnati's to-do list this offseason, and the players seem to know it.
In fact, cornerback Mike Hilton just seemingly used one tweet to try to get his QB some help.
Hilton tweeted Houston Texas offensive lineman Laremy Tunsil.
The Houston Texans could part ways with offensive lineman Laremy Tunsil
Laremy Tunsil has become a premier NFL tackle. He went to the Miami Dolphins with the No. 13 overall pick in the 2016 NFL Draft, but he has played for the Texans the last three seasons.
The Ole Miss product appeared in just five games due to a thumb injury in 2021, but he earned Pro Bowl selections in 2019 and 2020. He also didn't give up a single sack in his 262 offensive snaps this past season (h/t Pro Football Focus).
Someone like that could help the man with many nicknames, Joe Burrow, tremendously, and there's a chance Tunsil could be on the move.
According to Sports Illustrated's Mike Fisher, the lineman's unhappiness in Houston has been an "open secret." Spotrac's Mike Ginnitti then reported on Feb. 21 that Texans trades involving Deshaun Watson, Tunsil, and wide receiver Brandin Cooks are "inevitable" at this point, per NFL.com's Lance Zierlein.
So, could Tunsil take his talents to Cincy soon?
Mike Hilton seemingly used one tweet to recruit Laremy Tunsil to the Bengals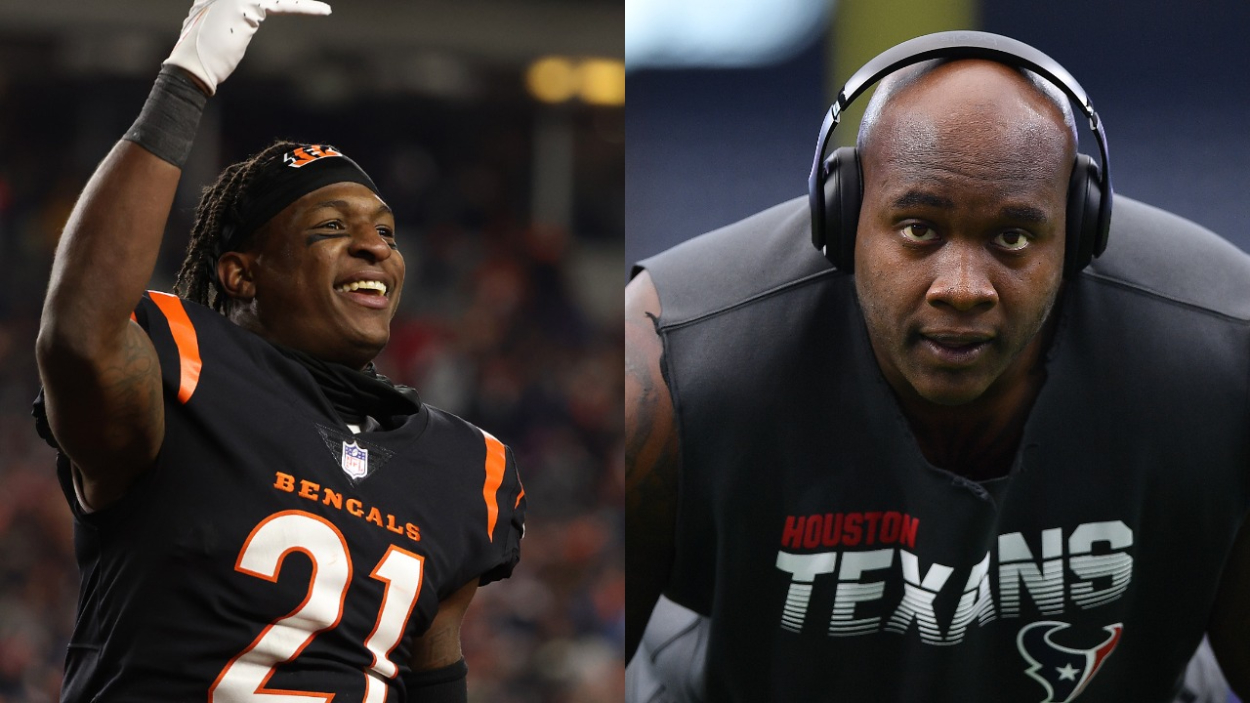 On the same day Mike Ginnitti's reported that the Texans could trade Laremy Tunsil, the six-year NFL vet tweeted, "Is there more?"
So, fresh off his Super Bowl appearance with the Bengals, cornerback Mike Hilton shot a tweet Tunsil's way.
"My dawg [eyes emoji], we need to talk!" he sent to his former college teammate in Tunsil.
The latter then responded with a laughing emoji and said, "bet."
No, Hilton didn't outright say, "Come to the Bengals." But given the context of the situation, it's reasonable to assume that he is trying to recruit his fellow Ole Miss alum to Cincinnati.
And Tunsil would be a significant help for Burrow.
Laremy Tunsil could be the help Joe Burrow and the Bengals need to hoist the Lombardi Trophy
Laremy Tunsil has proven he can protect his quarterback. He only allowed three sacks in 915 snaps in 2019 before allowing just two in 817 in 2020, per PFF.
Burrow, on the other hand, threw for an incredible 4,611 yards, 34 touchdowns, and 14 interceptions this year, but opposing defenses sacked him an NFL-leading 51 times. The LSU product also went down a postseason-record nine times in the AFC Divisional Round against the Tennessee Titans before taking seven sacks in the Super Bowl against the Los Angeles Rams.
He overcame pressure most of the season, but it became too much in the Super Bowl. Had his line given him time to make just a few more throws, the Bengals could have left with the win given that they only lost 23-20.
Joe Burrow has proven he's one of the best young quarterbacks in the NFL, but he can't find success if he's constantly on the ground. Laremy Tunsil could help keep him upright, and the Bengals should do whatever it takes to acquire his services.
It could be the difference between them winning their first-ever Super Bowl and continuing their ringless ways.
Stats courtesy of Pro Football Reference
RELATED: Sportscasting Interview: Mohamed Sanu Discusses Tom Brady, NFL Career, and More