Bengals Coach Zac Taylor Should Still Be Really Concerned About His Coaching Future if Recent Rumors Prove To Be True
Zac Taylor has had an awful start to his head-coaching career with the Cincinnati Bengals. After going 2-14 in 2019, the Bengals finished the 2020 season 4-11-1. They didn't really look like a team fighting to save their head coach's job in the final game of the season, either, as they lost to the Baltimore Ravens 38-3.
The Bengals, however, announced on Monday that Taylor will, in fact, be there in 2021. If recent rumors are true, though, then Taylor should still be very concerned about his coaching future in Cincinnati.
The Cincinnati Bengals have been awful under Zac Taylor
RELATED: Cris Collinsworth Recently Made Some Bold Comments About His Former Team
The Bengals certainly weren't world-beaters by any means prior to the Zac Taylor era. After five consecutive trips to the playoffs and six trips in seven years from 2009 through 2015, the Bengals missed the playoffs in three consecutive seasons from 2016 through 2018. They weren't horrible in those three years; they just weren't a good football team as they went 6-9-1, 7-9, and 6-10.
After the 2018 season, the Bengals then parted ways with head coach Marvin Lewis, who had been the head coach in Cincinnati since 2003. They then hired Zac Taylor, which was a move questioned by many, especially in the city.
Taylor had never been a head coach. His previous job before the Bengals was with the LA Rams in 2018 as a quarterbacks coach. He was also the offensive coordinator for the city's college team, the Cincinnati Bearcats, in 2016, and that team's offense took a pretty big step backwards with Taylor in charge.
The Bengals have since been one of the worst teams in the NFL with Taylor.
Cincinnati went 2-14 in his first season there, and their offense — his specialty — was atrocious. The Bengals were 30th in the NFL in points per game in 2019.
Taylor and the Bengals then selected Joe Burrow with the No. 1 overall pick in the 2020 NFL draft, and Burrow was ultimately incredible in 2020. However, Cincinnati didn't address its offensive line in the draft, which led to Burrow taking a ton of hits throughout the year until he ultimately suffered a season-ending injury in Week 11.
The Bengals ended up going 4-11-1 in 2020. They didn't show much fight in their final regular-season game, either, as they lost to the Baltimore Ravens, 38-3.
Zac Taylor should still be really concerned about his coaching future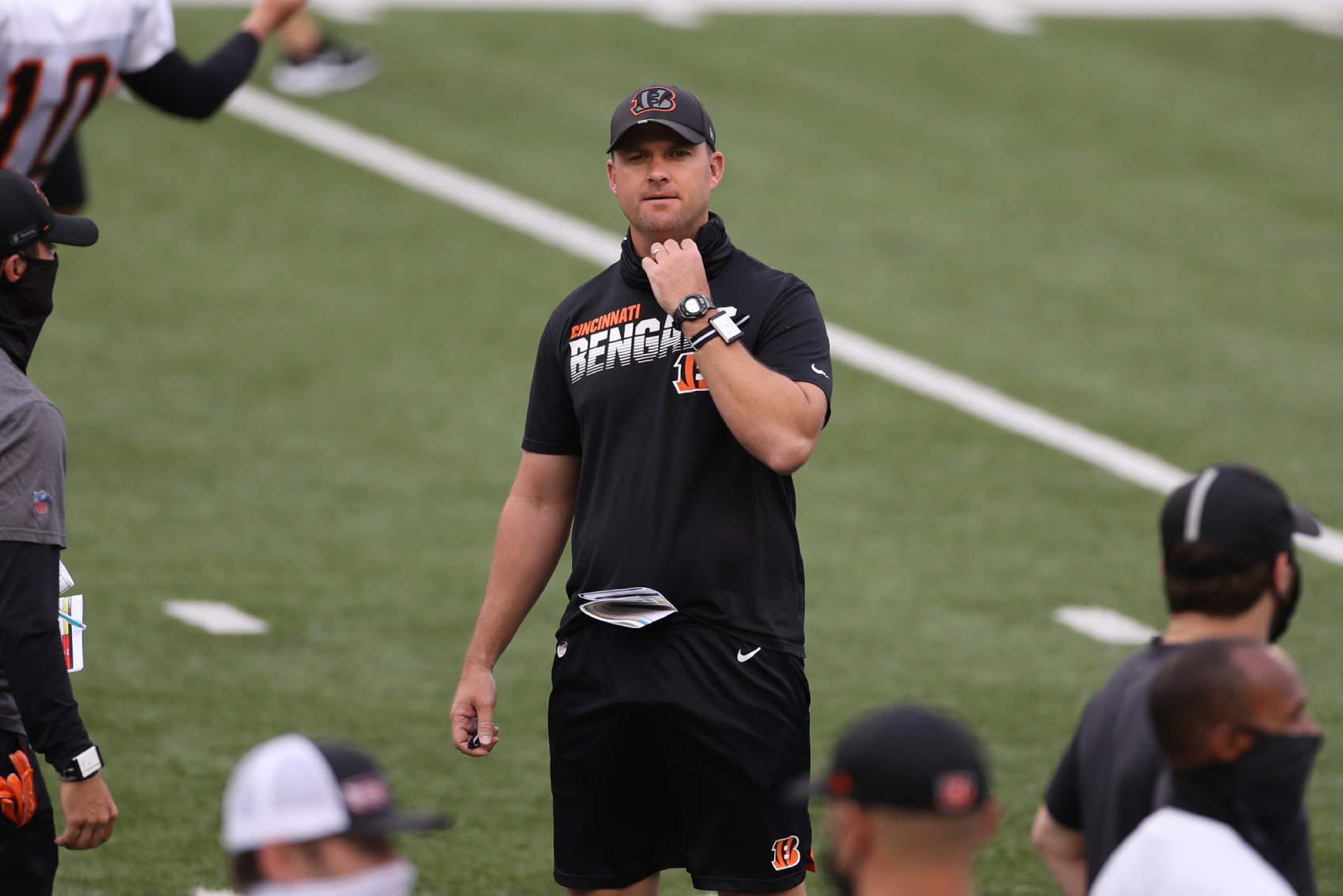 RELATED: Dwayne Haskins Once Admitted That He 'Couldn't Stand' Joe Burrow While at Ohio State
No, the Bengals don't have a ton of talent, so Taylor hasn't had a lot to work with. The fact that he was a questionable hire to begin with, though, has led to many fans calling for his job pretty quickly. Cincinnati has rarely had any fight under Taylor. The team has also somehow gotten worse than it was prior to him becoming the head coach.
Cincinnati, though, ultimately announced on Monday that Taylor will be back for the 2021 season. That, however, doesn't quite mean that he should be too comfortable. Prior to the Bengals' announcement, rumors had been flying around that Taylor's job could be in trouble.
According to a report from Pro Football Talk's Mike Florio, rumors had been going around that the Bengals were potentially going to part ways with Taylor after two seasons.
Of course, they ultimately didn't decide to do that, but the fact that it was potentially under consideration means that he shouldn't feel too comfortable moving forward. If the team continues its path as one of the NFL's worst teams under Taylor, they could easily say goodbye and not look back.
A reason that it could also be so easy for them to do this is that they might already have someone in mind to take his place. Florio didn't just report on the rumor about Taylor's job potentially being in jeopardy. He also threw out a name that the Bengals could be interested in going after.
The rumored links to Joe Brady make too much sense to ignore
RELATED: Cris Collinsworth Once Tried Canceling a Media Responsibility Because of a 'Massive Zit'
Florio also reported this: "Working against Taylor is the possibility of reuniting Burrow with former LSU offensive coordinator Joe Brady, who currently serves as offensive coordinator in Carolina. The Bengals may need to move now or risk seeing Brady get serious consideration for a head-coaching job elsewhere."
Brady would be a much better hire than Taylor.
He was LSU's passing game coordinator in 2019 and helped develop Joe Burrow and the LSU Tigers into one of the most explosive juggernauts of all-time. LSU scored 48.4 points per game in 2019. Burrow also ultimately threw for an unreal 5,671 yards, 60 touchdowns, and six interceptions that season. Brady has since been the offensive coordinator for the Carolina Panthers this season.
Taylor might not be too worried due to the fact that the Bengals kept Marvin Lewis at head coach longer than many people thought that they should have. However, with the way his team has played in the last two seasons, and with Joe Brady being out there, Zac Taylor should still be very nervous about his coaching future.
Stats courtesy of Pro Football Reference