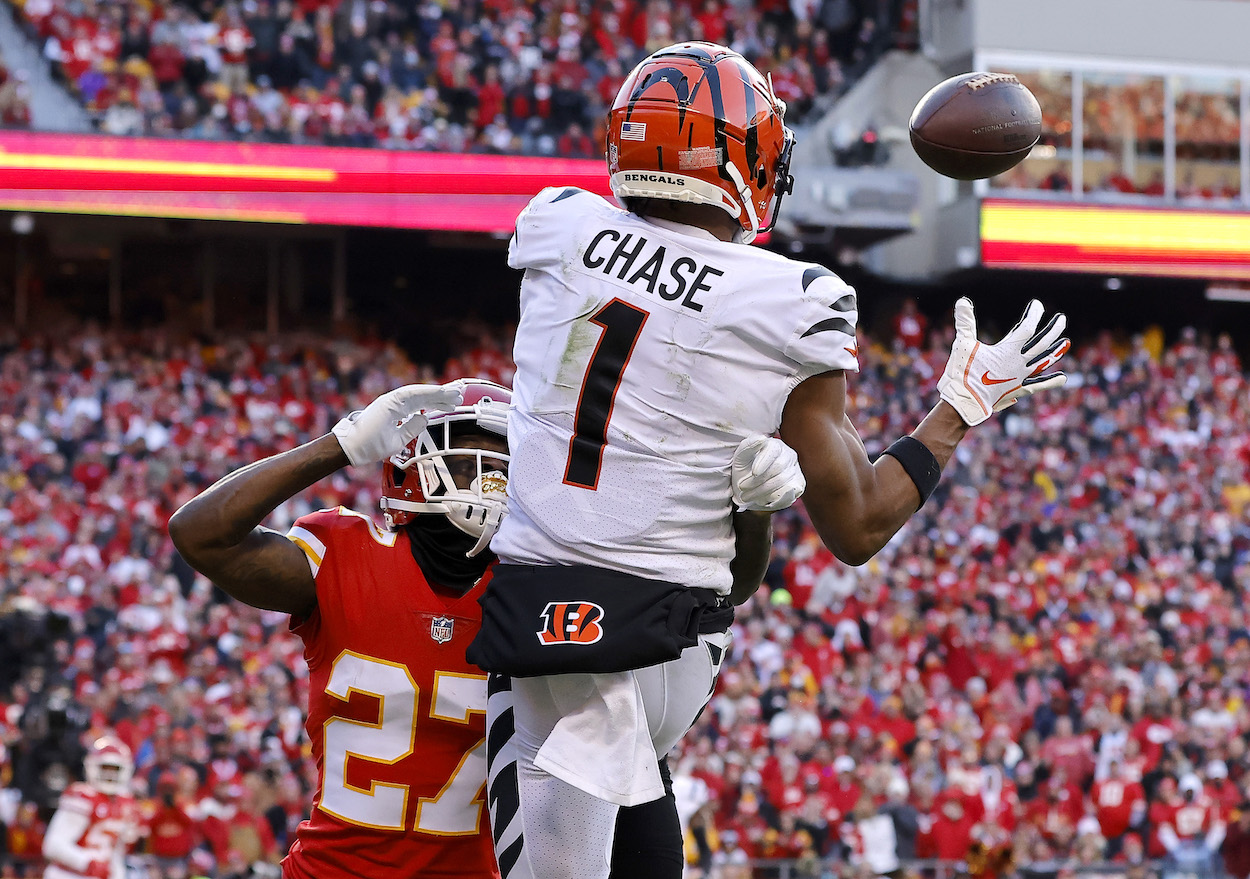 Bengals' Ja'Marr Chase Just Revealed the Legendary WR He Models His Game After
Bengals WR Ja'Marr Chase just revealed which former receiver he modeled his game after the most growing up as a kid.
The moment he stepped on an NFL field, Cincinnati Bengals wide receiver Ja'Marr Chase has been the talk of the town. He exploded onto the scene with record-shattering numbers at every turn, rekindling his strong relationship with former LSU teammate Joe Burrow.
Chase racked up 81 catches, 1,455 receiving yards, and 13 touchdowns during the regular season. Without him, it's hard to imagine the Bengals would be playing in the Super Bowl this weekend.
Bengals WR Ja'Marr Chase revealed he models his game after Dez Bryant
Media coverage during the week leading up to the Super Bowl is always comparable to that of a frenzy, and this year was no different. Chase gave multiple interviews this week, including one to The Herd's Colin Cowherd.
When questioned about his inspiration growing up, Chase revealed he tried to model his game after long-time Dallas Cowboys wide receiver Dez Bryant.
"Yeah, so the main person I was watching growing up was Dez Bryant," Chase said on The Herd. "You know he was always somebody I always watched when he was with Tony Romo. Back then, that's when we had Marques Colston on the Saints. I was always watching Dez Bryant … I stayed with it, learned from it. That's when I started to watch other receivers and just take their stuff." 
Has Ja'Marr Chase already passed Dez Bryant from a production standpoint?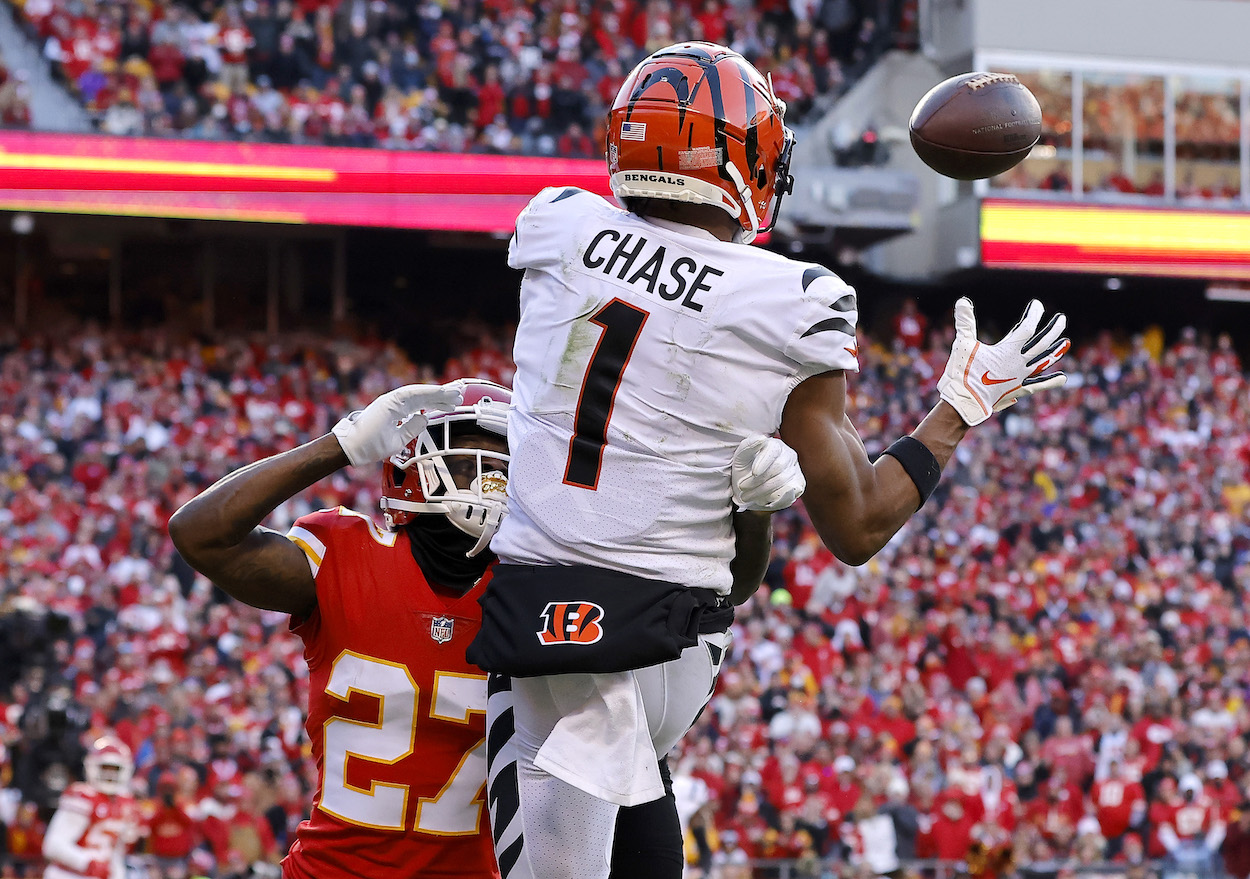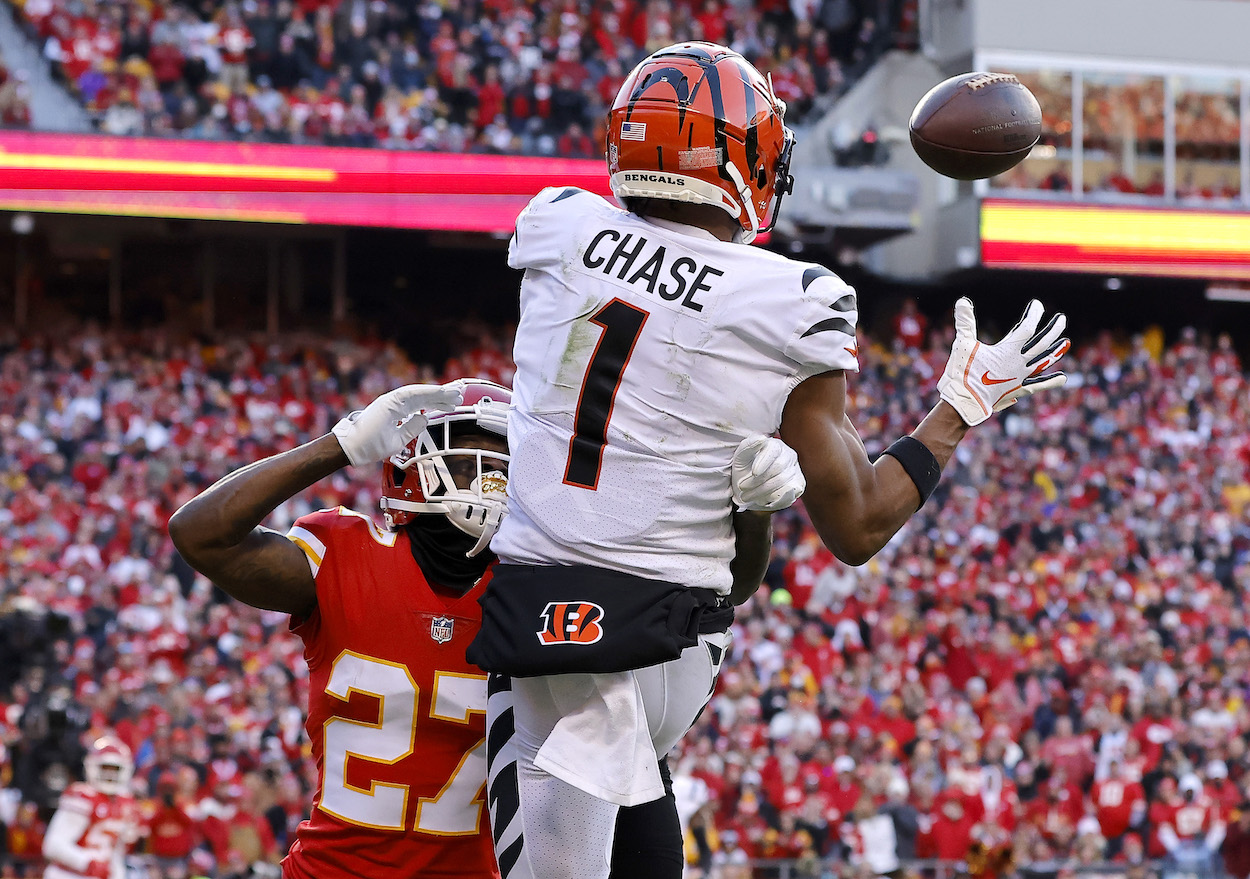 Chase attempting to model his game after Bryant makes a lot of sense. Both are 6-foot-plus players who thrive on contested catches and jump balls while simultaneously being lethal running after the catch.
However, it's worth pointing out Chase may have already surpassed his childhood idol. Bryant has a long list of 1,000-plus yard seasons to his name, but Chase put up more yards as a rookie than Bryant ever did in a single season.
Bengals Wire looked at the comparison in greater detail, further highlighting Chase's accelerated success rate compared to Bryant.
Bryant, a big-bodied, yards-after-catch machine, scored 15 touchdowns over his first two seasons (27 games) and scored 75 times over 119 appearances. From 2012-2014, he had three straight years of at least 1,200 receiving yards with 41 touchdowns.

Chase, over his first 16 games, has a record-breaking 1,429 receiving yards with 13 scores while averaging 18.1 yards per catch. No word on if he'll play in the season finale against the Browns before suiting up in the playoffs, but regardless of when fans see him again, they'll see more shades of Dez in Bengals stripes.

Chris Rolling, Bengals Wire
The Bengals WR1 faces his biggest challenge yet
Up to this point, Chase has looked unstoppable at every turn. Even during his first career playoffs, Chase comfortably averaged 93 yards per game.
However, in the Super Bowl, he'll face his biggest challenge yet. The Los Angeles Rams are expected to shadow Chase with Jalen Ramsey, who most believe is the best corner in the game.
Burrow will likely look Chase's way regardless of who's covering him. The pressure is on Chase to get open and make contested catches when asked to do so.
All stats courtesy of Pro Football Reference.