Bengals QB Joe Burrow Earned the Ultimate Praise From a Former Pro Bowler: 'You're Watching a Modern-Day Joe Montana'
The Cincinnati Bengals have overachieved through the first six weeks of the 2021 NFL season. Quarterback Joe Burrow is a big reason for the team's success. Former Super Bowl MVP Phil Simms gave the Bengals signal-caller the ultimate praise, comparing him to Hall of Fame quarterback Joe Montana.
Bengals QB Joe Burrow is exceeding expectations in his return from injury
The hype train was full steam ahead for Joe Burrow and the Bengals heading into the 2020 season.
After a record-setting season with the LSU Tigers, Cincinnati selected Burrow as the No. 1 overall pick in the 2020 NFL Draft. Expectations were sky-high for Burrow after he went ahead of Tua Tagovailoa and Justin Herbert.
The Ames, Iowa native was off to a strong start to his rookie season. Burrow threw for 2,688 yards, 13 touchdowns, and five interceptions while completing 65.3% of his passes. His season was cut short by a devastating knee injury.
Heading into the 2021 season, it was difficult to gauge how Burrow would perform. A torn ACL and MCL aren't the easiest injuries to overcome.
The Bengals' quarterback has played well through the first six games. He's thrown for 1,540 yards and 14 touchdowns while completing 70.7% of his passes. Burrow has thrown seven interceptions, but he's shown flashes of brilliance.
Outside of Dak Prescott, he's probably the Comeback Player of the Year.
Phil Simms compared Burrow to Joe Montana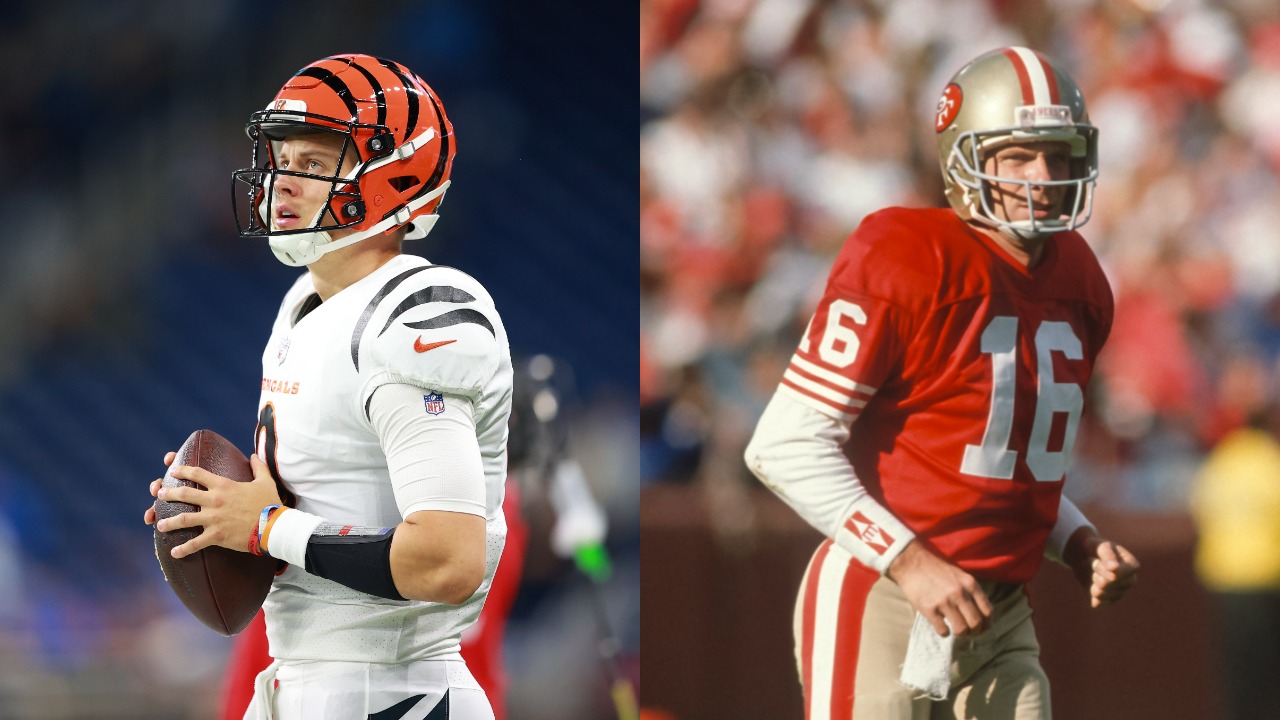 Even though Joe Burrow hasn't played a full NFL season, he's already garnering high praise from people in and around the league.
CBS Sports analyst and former New York Giants quarterback Phil Simms is a huge fan of the second-year signal-caller's game. He reminds Simms of a Hall of Fame quarterback.
"When you're watching Joe Burrow, you're watching a modern-day Joe Montana," said the former Super Bowl MVP per CBS Sports.
Joe Montana is one of the greatest passers in NFL history, so even being in the same conversation as him is high praise.
"Smooth, graceful, great feet. Really knows how to move in the pocket. Throws the ball in tremendous rhythm," Simms added. "Joe Montana is one of the greatest quarterbacks of all time. Joe Burrow's a little quicker, probably a little more athletic, and maybe a little bit of a stronger arm than Joe Montana."
Simms also praised Burrow's "uncanny ability just to know how to play the game."
The Bengals have a bright future with Burrow
The Cincinnati Bengals are currently sitting at 4-2, entering a crucial Week 7 AFC North clash against the Baltimore Ravens. Zac Taylor's offense appears to be in great hands under the leadership of Joe Burrow.
The LSU product is making great strides and showing no adverse effects of the gruesome knee injury that abruptly ended his rookie campaign.
It helps that Cincinnati surrounded their franchise quarterback with quality talent. Joe Mixon, Ja'Marr Chase, Tee Higgins, and Tyler Boyd combine to form one of the most dynamic groups of skill players in the NFL. Other franchises should take notes.
The biggest concern for the trajectory of Burrow's career is the Bengals' offensive line. The team failed to protect their investment in year one. Cincinnati put a band-aid on it in 2021, but moving forward, they will need to continue to improve the Burrow protection plan.
As a pure passer, Joe Burrow is as good as they come in the league today. The Bengals are heading in the right direction. If he continues to take the next step, Cincinnati could be contending sooner than anyone expected.
The Joe Montana comparison makes sense. Now, let's see if he can get bring home some hardware like the 49ers' legend.
All stats courtesy of Pro Football Reference.
RELATED: Joe Montana Jokes That Tom Brady Can Elude Father Time Because the NFL and His Teammates Won't Let Him Get Touched