Bengals QB Joe Burrow Can Make Unprecedented NFL History in the 2022 Super Bowl
Joe Burrow. Joe Cool. Joe Brrr. Joe Sheisty. Whatever you want to call him.
The Cincinnati Bengals electric second-year quarterback is set for the biggest stage in sports with Super Bowl 56 taking place against the Los Angeles Rams. The NFL's new Comeback Player of the Year led the Bengals to an AFC North title, then three straight playoff victories — including two against the top two teams in the AFC.
Burrow can add a Super Bowl trophy to his already-impressive resume in his football career. While he could join Joe Namath and Joe Montana as the only players to win the Super Bowl and a national title, Burrow can make an exclusive club with only his name in there.
Joe Burrow can make unprecedented NFL history if the Bengals defeat the Rams
During his final season at LSU, Burrow won the Heisman Trophy and the College Football National Championship — with Ja'Marr Chase and Justin Jefferson as his teammates.
However, Burrow can join a company of his own with a Super Bowl victory over the Rams by becoming the first QB in NFL history to win all three — and this is just his second season in the league.
Burrow has been magnificent all season long, and the young, cool kid who rocked the stunner shades has everybody buzzing — especially people in Cincinnati.
Burrow is cool, calm, collected, poised; you name it. He defines all of those things, and he didn't back down against the top-seeded Tennessee Titans despite being sacked nine times. He didn't buckle against Patrick Mahomes and the Kansas City Chiefs despite the defending AFC Champions using the home-field advantage of Arrowhead Stadium.
Can Burrow join this club and become the only QB to do so?
Three other players have done this in NFL history, but the Bengals superstar would be the first QB
Technically speaking, Burrow would join this group of players if he wins the Super Bowl against the Rams. But, no QB has ever accomplished this feat — which is pretty hard to believe.
Nonetheless, this is quite the group to be a part of. After all, these three guys each have shrines and busts in the Pro Football Hall of Fame.
Burrow should have one as well unless he suffers a massive drop-off. But at this point in his young career, he isn't going anywhere. With Tom Brady and Ben Roethlisberger retiring, the new wave of young superstar QBs will take over the league: Josh Allen, Mahomes, Burrow, Lamar Jackson, and Justin Herbert as the headliners of this star-studded group.
Anytime you can put your name with guys like Charles Woodson and Marcus Allen, you know you are doing something right. But anytime you can set yourself apart from everybody else in NFL history, that says a lot.
Burrow can do just that in the Super Bowl, and while the stage might be a big one, it isn't anything new to Burrow.
Can Joe Burrow lead the Bengals to a long-awaited Super Bowl victory?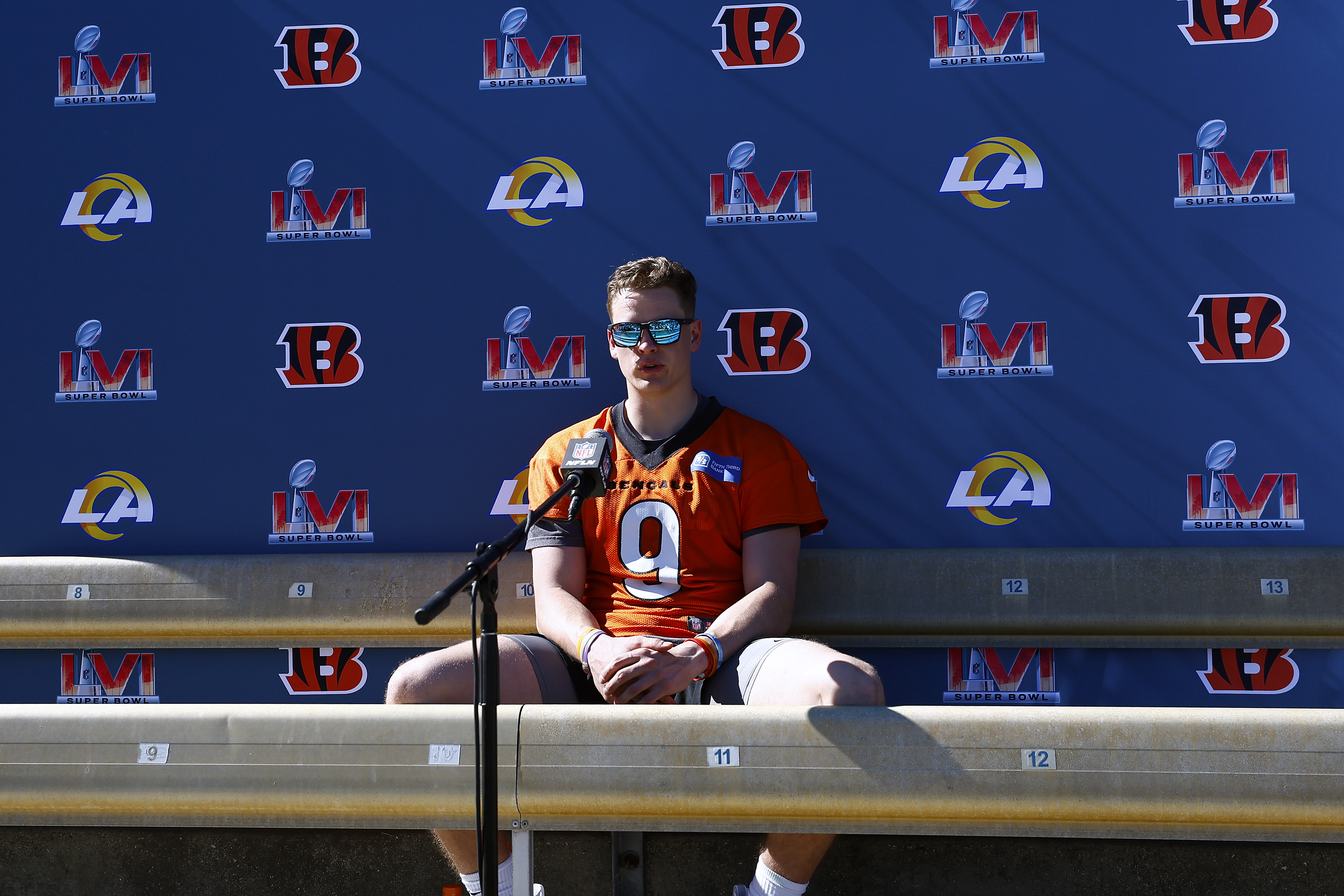 Burrow is already a hero for Bengals fans. Before this year's playoffs, Cincinnati hadn't even won a playoff game since 1990, before Burrow was even born.
Now, the Bengals have won three straight, an AFC North title and an AFC Championship with a Lombardi Trophy on their minds.
Although the Bengals made a pair of Super Bowls, they have yet to win the Big Game. So, even more pressure on the shoulders of Burrow — although that doesn't appear to make a difference for the youngster.
The Bengals faithful showered him with MVP chants before they departed for LA, and one can only imagine the reception he will get if the Bengals win the whole thing.
Sure, the Rams have the luxury of playing in their stadium, but the Bengals are red-hot, the Cinderella story, the underdogs, and they have Burrow running the show.
What more could you want?
If Burrow can complete this unprecedented trifecta, he will live forever in NFL lore — and it probably won't be broken for a long time.
Stats Courtesy of Pro Football Reference
RELATED: Joe Burrow Could Join Joe Montana and Joe Namath in a Little-Known Joe Club With a Super Bowl 56 Victory