Bengals Star Joe Burrow Reveals He Wanted to Play a Football Position Other Than Quarterback Growing Up: 'Probably a Pipe Dream'
Joe Burrow's second NFL season has gone better than anyone could've expected. The Cincinnati Bengals star has turned many heads in 2021 and will be playing in the Super Bowl, a year removed from an ACL tear.
While Burrow makes a living carving up opposing defenses in the pocket, he admits he didn't always want to play quarterback. The LSU product had a different dream early on.
Joe Burrow wanted to play running back or wide receiver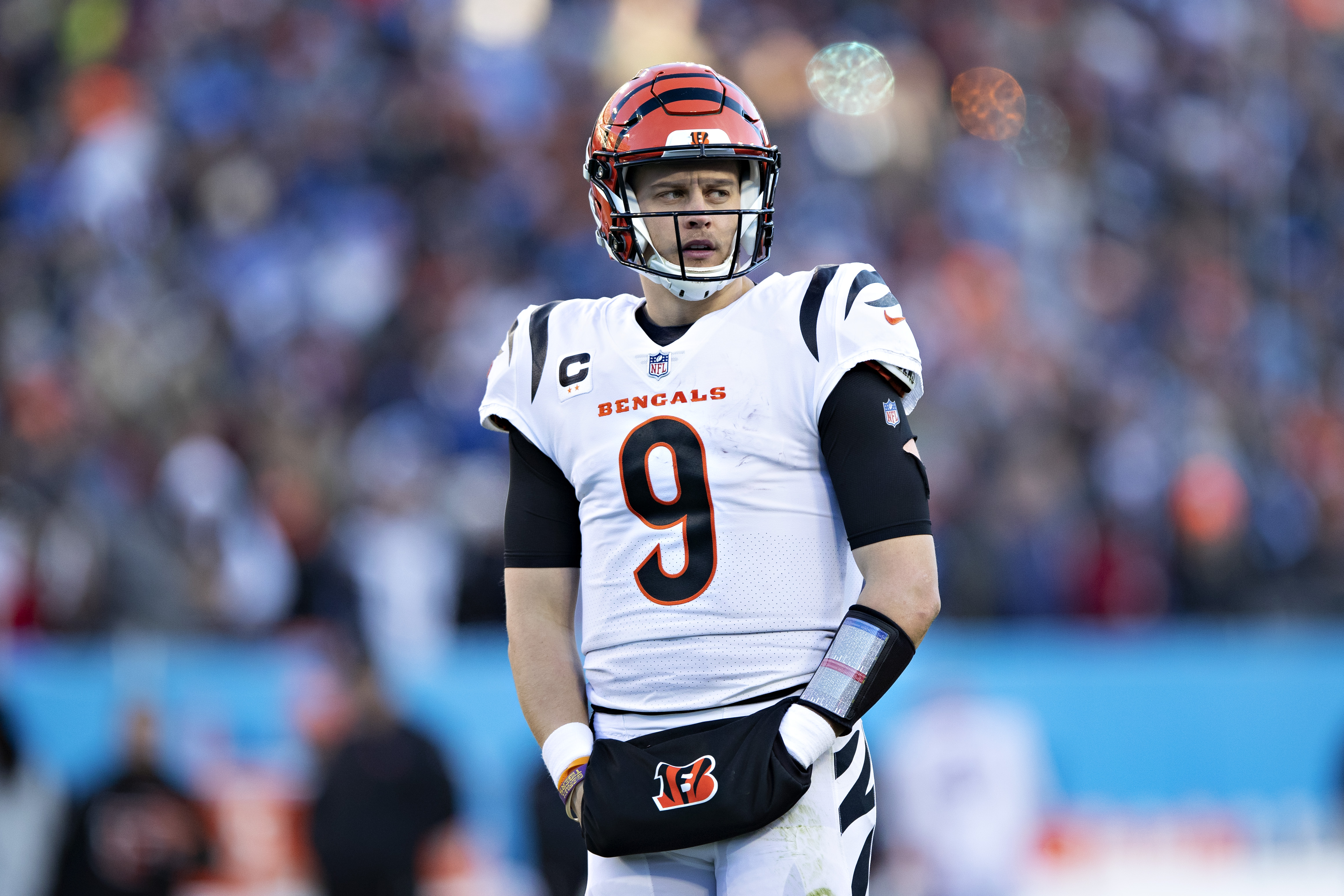 Let's be real — Joe Burrow is a pretty good quarterback. The Cincinnati Bengals quarterback has all the tools to be the best the NFL has to offer. However, the position was not his first choice when he started playing as a kid.
"I wanted to be a running back or a receiver," Burrow said per NFL.com's Kevin Patra. "I don't know why. Guess I thought in peewee football we weren't gonna throw the ball very much, so I wanted to have the ball in my hand."
Burrow passes the eye test as a quarterback. Given his skill set, it's difficult to imagine him playing any other position. Seeing how well things have panned out, the Bengals signal-caller wouldn't have it any other way.
"Obviously, I'm glad it worked out the way that it did," he added. "This is my career. I don't know if I'd be an NFL wide receiver, that's probably a pipe dream, but I can play quarterback pretty well."
Burrow also revealed what he enjoys most about playing quarterback.
"There are great players at every position in the NFL," he added. "But I think only a few really affect the game in a drastic way. I think quarterback is the one position on the field that can really affect the game on every single play, and I like having the ball in my hands every play and being able to win or lose with me."
The Bengals are glad the Heisman Trophy winner decided on quarterback
Regardless of his dreams of being a running back or wideout, Joe Burrow appeared destined to play quarterback. It's certainly worked out for him and the Cincinnati Bengals up to this point.
Cincinnati took the Ames, Iowa native with the No. 1 overall pick in the 2020 NFL Draft. Burrow entered the league coming off one of the most impressive individual college football seasons in recent memory. He took home the Heisman Trophy and led the LSU Tigers to a National Championship victory.
Burrow enjoyed a solid rookie season until he suffered a season-ending ACL injury. As a result, Zac Taylor's squad finished with a 4-11-1 record. It was unclear how Burrow would return in year two, but he proved that he was fully healthy early in the 2021 season.
Burrow threw for 4,611 yards, 34 touchdowns, and 14 interceptions in the regular season while completing 70.4% of his passes (league-high). He continued his strong play in the NFL playoffs, and now the Bengals are heading to Super Bowl 56.
The sky is the limit for Burrow in the NFL
Joe Burrow is a man of many nicknames — Joe Brrr, Joe Shiesty, Cool Joe, the list goes on. His legend continues to grow, and a Super Bowl win would cap a phenomenal second NFL season.
Although Burrow and the Bengals have taken the league by storm, they seem only to be scratching the surface of what they can become together.
Cincinnati won the AFC North with a 10-7 record. Yet, Zac Taylor's crew knocked off some formidable teams on the way to the Super Bowl, including Derrick Henry's Titans and Patrick Mahomes' Chiefs.
The Bengals front office built a foundation to set the franchise up for sustained success over the next several years. Burrow spearheads an explosive offense featuring Ja'Marr Chase, Joe Mixon, Tee Higgins, and Tyler Boyd. The defense has improved from a year ago and plays with plenty of swagger.
This version of the Bengals is significantly different than the squads tormented by the Baltimore Ravens and Pittsburgh Steelers twice a year. These guys are legit, and the change starts with Joe Burrow.
Burrow's poise on and off the field sets the tone for this football team. He's only 25 years old, but he's mature beyond his years. The second-year signal-caller has the arm talent with the intangibles to match. He has as much upside as any of the young quarterbacks in the NFL today, if not more.
Joe Burrow is the real deal, and it's a good thing he decided to play quarterback.
All stats courtesy of Pro Football Reference. 
RELATED: Sam Hubbard Reveals the Cincinnati Bengals' Inspiration to Win the Super Bowl…and It's Harambe: 'Sweet Prince. That's Our Guy. That's Our Hero'