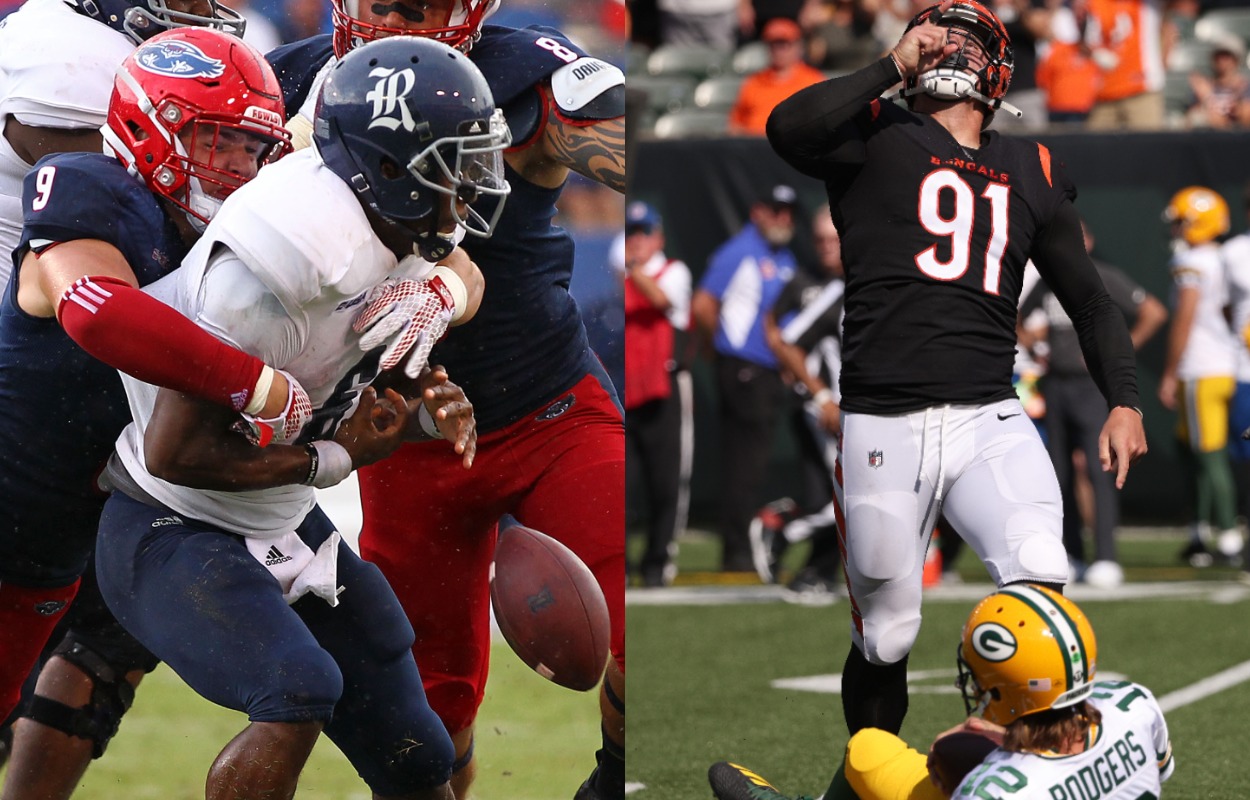 Those Who Knew Bengals Star Trey Hendrickson in College Aren't Shocked by His Rise to Pro Bowl Pass-Rusher: 'Keep Getting Used to His Name'
Those who knew Cincinnati Bengals star Trey Hendrickson in college, including his former defensive coordinator, Roc Bellantoni, told Sportscasting they're not surprised by his NFL achievements.
Article Highlights:
Those who knew Cincinnati Bengals star Trey Hendrickson in college told Sportscasting they're not surprised by his NFL achievements.
The Pro Bowl pass-rusher's former teammates explained what made him so special at mid-major Florida Atlantic University
Former FAU defensive coordinator Roc Bellantoni told Sportscasting the growths he saw Hendrickson make as a player and person in college
Seemingly every Sunday throughout the NFL season, former Florida Atlantic University defensive lineman Ray Ellis had one word — and in all caps, no less — he wanted his Twitter followers to know.
"HENDRICKSON."
The short declaration refers to Cincinnati Bengals pass-rusher Trey Hendrickson, Ellis' former college teammate and a 2021 Pro Bowl selection. Long before he sacked the likes of Green Bay Packers star Aaron Rodgers and Kansas City Chiefs icon Patrick Mahomes in packed NFL stadiums, Hendrickson spent four years at FAU, persevering through three consecutive losing seasons, sparse crowds, and double-teams to earn an opportunity to play professional football.
Ahead of Super Bowl 56, Sportscasting spoke with those who knew Hendrickson in college to better understand how an under-recruited prospect from Apopka, Florida, became one of the NFL's most prolific sack artists and a significant piece of the Bengals' championship hopes.
Hendrickson's former college teammates and coaches remember him as a raw but determined young player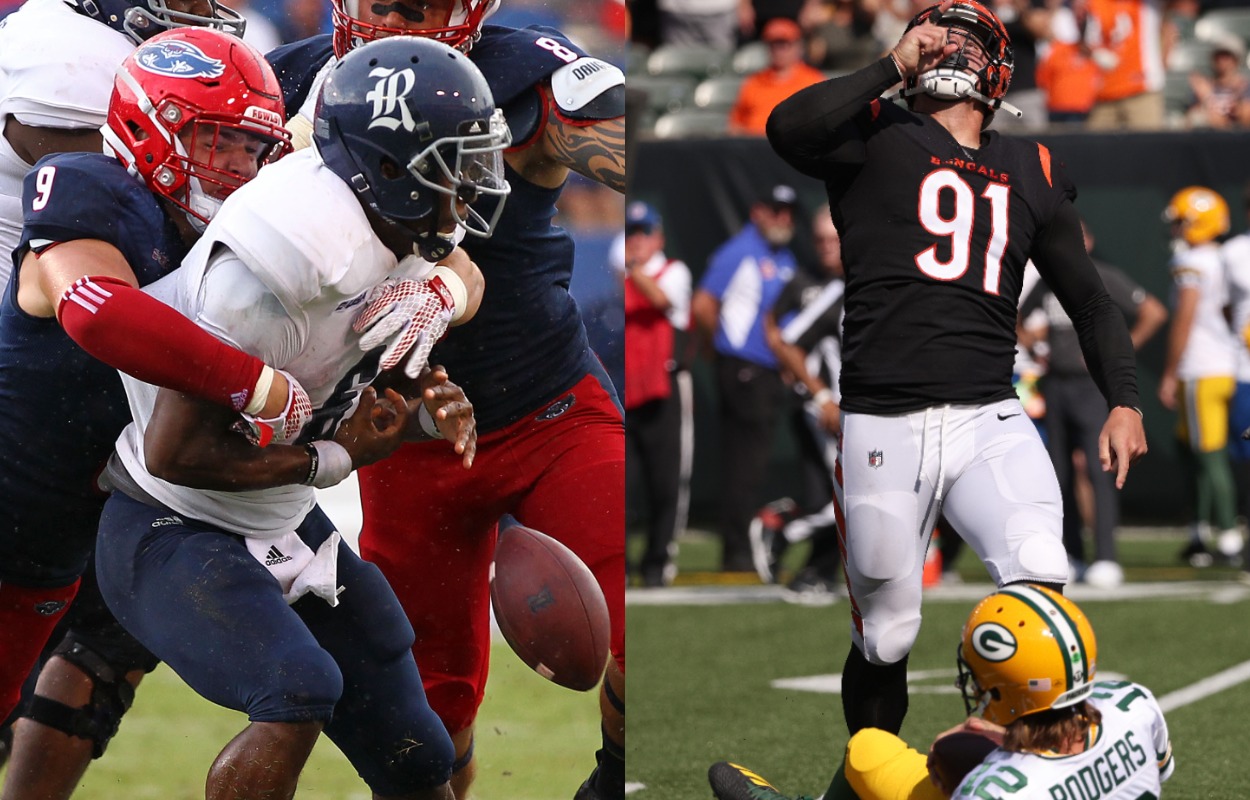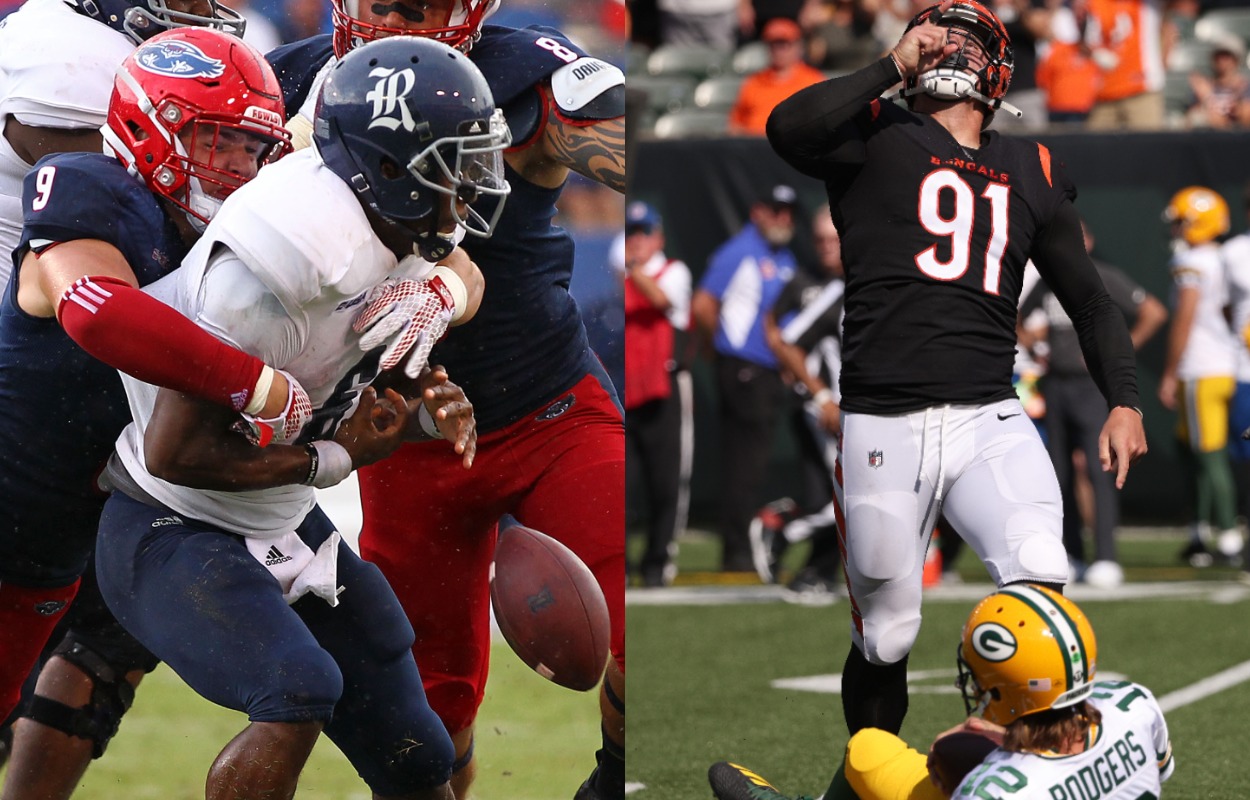 Scouting services weren't the highest on Hendrickson, who played tight end and defensive end at Apopka High in the early 2010s. 247 Sports rated him a 2-star prospect and the country's 101st-best weak-side defensive end in the Class of 2013; Rivals also graded the 6-foot-4, 222-pound high school senior as a 2-star after he signed with FAU in 2013.
Hendrickson, who chose FAU over New Mexico and Western Kentucky, totaled nine tackles and one sack in 12 games as a true freshman. The Owls started 2-6 but won their final four games following head coach Carl Pelini's resignation. Despite finishing 6-6, FAU failed to reach a bowl game.
The next time Hendrickson played on a non-losing team, he was a rookie on the New Orleans Saints.
Ellis, a 6-foot-2, 243-pound defensive tackle from Egg Harbor Township, New Jersey, was among those in the 2014 signing class — the first of three under new head coach Charlie Partridge — who came away extremely impressed with Hendrickson's potential.
"I realized the kind of motor he had, and he was so raw compared to how he was at the end of his collegiate career, but you just knew he could take football as far as he wanted to."

Ray Ellis
Roc Bellantoni, who served as FAU's defensive coordinator from 2014-16, remembered the young Hendrickson as a raw but determined pass-rusher.
"He was super intense and competitive," Bellantoni said. "He didn't like to lose a rep. We thought he had a chance to be a really good player."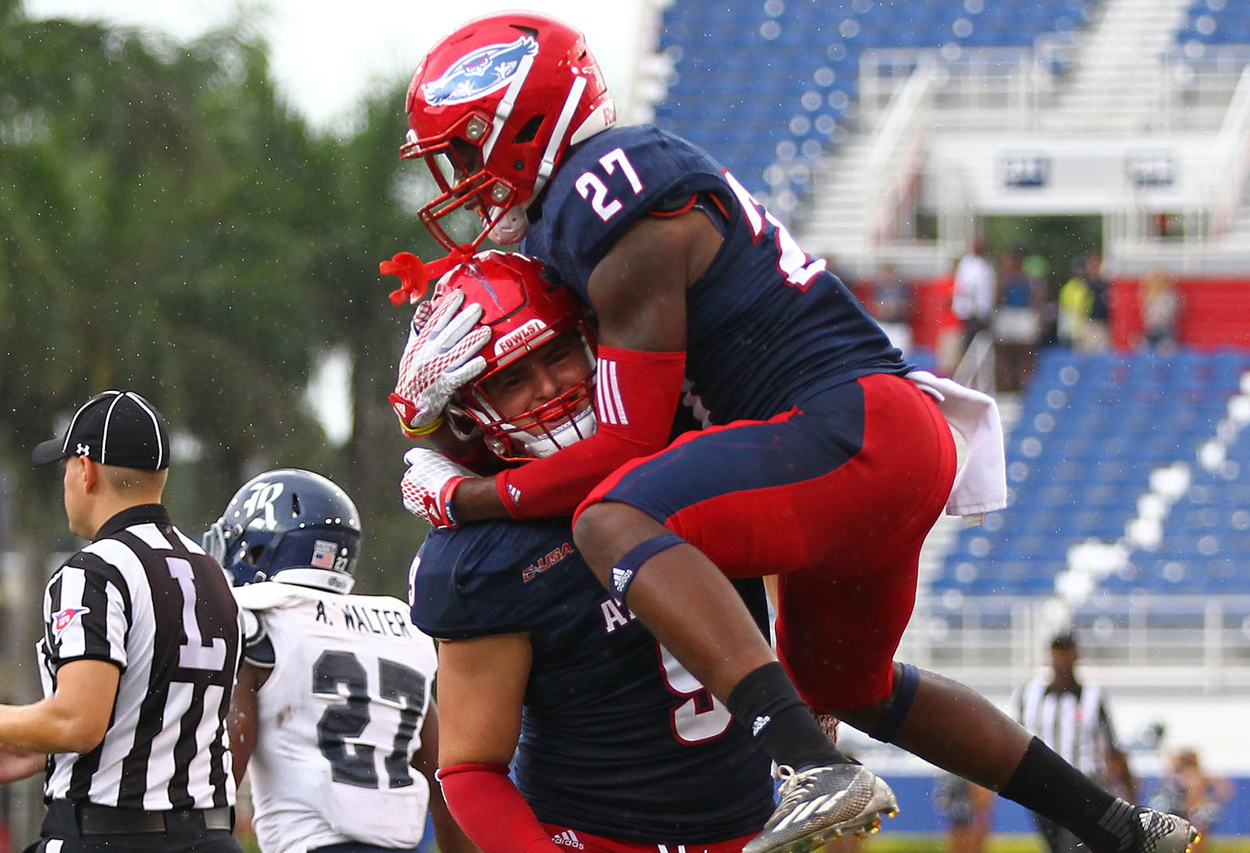 Another member of the 2014 signing class, cornerback Raekwon Williams, recalled wondering if every college defensive lineman was as "cocky and snappy" as Hendrickson.
"Trey would never hold his tongue about how he would outcompete you," Williams told Sportscasting via instant message. "I thought it was all trash talk. Seeing that he was very big, I'm like, 'Man, I know he's slow as dirt.' I couldn't wait until the first practice."
Williams said he and Hendrickson once raced 5-yard split against one another, but the talented defensive end beat him all three times. The cornerback finally won when they switched the contest to 10-yard splits.
"Trey is a fearless competitor who never stops!" Williams said. "He keeps going. It's like he has a switch on his mind that cuts on and off between the lines! Never seen [anything] like it!"
Bellantoni said Hendrickson's dominant 2015 season served as a wake-up call
Hendrickson opened the 2014 season as a starter and recorded two tackles in a blowout loss to No. 22 Nebraska. He improved throughout his sophomore season and ended the year with five sacks, 10 tackles for a loss, and two forced fumbles.
Then came his junior season, one that Bellantoni remembers fondly. Hendrickson totaled 13.5 sacks, 15 tackles for loss, and forced five fumbles in FAU's second consecutive 3-9 finish.
Of all of Hendrickson's performances in 2015, his dominant performance against No. 8 Florida that November still holds a special place in Bellantoni's heart. The third-year defensive end had five tackles, two sacks, forced a fumble that freshman defensive back Ocie Rose brought back for a game-tying touchdown, and even blocked an extra-point in overtime against the heavily-favored Gators.
Although FAU failed to pull off the upset that afternoon, Bellantoni believed that day cemented Hendrickson's chances of playing in the NFL.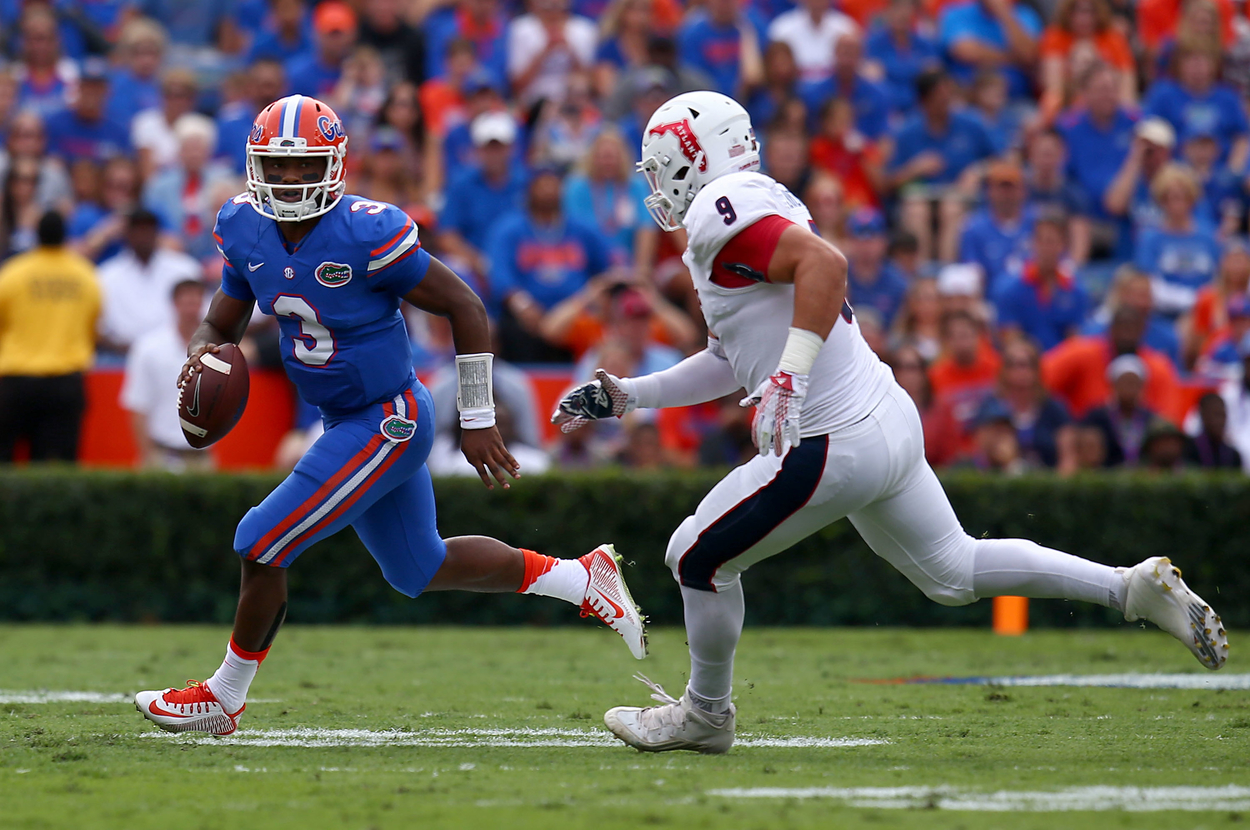 "I think that's when we realized the guy was special as a player and had a chance to be a good NFL player," Bellantoni recalled. "Then he started getting traffic from scouts, and we knew he had a good chance."
Although opposing offensive lineman double and triple-teamed Hendrickson throughout the 2016 season, he registered 9.5 sacks, 15 tackles for loss, and blocked four kicks en route to winning C-USA Defensive Player of the Year. However, FAU finished 3-9 for the third straight and fired Partridge.
The next, as they say, is history. Alabama offensive coordinator Lane Kiffin replaced Partridge, won two C-USA titles in three seasons at FAU, and is considered arguably the greatest head coach in the program's short history. As for Hendrickson, he was off to the NFL after the New Orleans Saints selected him 103rd overall in the 2017 draft.
Those who knew Hendrickson in college are grateful to see how far he's come with the Bengals
Everyone who spoke with Sportscasting expressed gratitude for being able to have watched Hendrickson's development. Former FAU defensive end Haiden Nagel told Sportscasting, "It's a blessing to see all his hard work come to life."
After three years as a rotational defender for the Saints, Hendrickson broke out for 13.5 sacks in 2020. The Bengals signed him to a four-year, $60 million contract in free agency and watched the fifth-year defender total 14 sacks and three forced fumbles for the AFC North champions. He added 2.5 sacks and forced a fumble in the Bengals' first three playoff games.
Hendrickson has regularly credited his faith and his wife, Alisa, for his stellar play. Despite signing a lucrative contract and becoming a household name, the FAU great has tried pivoting all attention to the team's overall success and his hunger to win.
None of that surprises Bellantoni in the slightest.
"He would admit to you he cared more about himself early in his career, but the last year we were with him, all he cared about was the team and trying to help us get it turned around. I heard an interview where he said the Bengals only care about winning, and I heard him say that a million times our last year at FAU. He didn't care about sacks and stats. He wanted to win."

Roc Bellantoni
Ellis doesn't want anyone to believe Hendrickson is a two-year wonder who will be content with his success.
"Knowing him, he's nowhere near done working on himself and his craft," Ellis said. "So I'd say keep getting used to his name."
If how Hendrickson played in 2021 is a sign of things to come, Bengals fans won't forget his name anytime soon. Not by a long shot.
Like Sportscasting on Facebook. Follow us on Twitter @sportscasting19.