The Best (and Worst) of Tom Brady's Super Bowl Performances
These days, Tom Brady's name is synonymous with the Super Bowl. He's won six of them and appeared in nine. But which ones featured his best games and which ones featured his worst? Let's take a closer look at all nine of Brady's Super Bowl appearances, ranked in terms of performance. (All stats courtesy of Pro Football Reference.)

9. Super Bowl XLII: Giants 17, Patriots 14
When Plaxico Burress predicted the Giants would win this game 23-17, Tom Brady famously laughed, incredulously asking, "We're only going to score 17 points?" Burress got the score wrong, but he actually spotted the high-scoring Patriots three points too many. This was easily Brady's most disappointing Super Bowl, as the loss spoiled their undefeated season. The juggernaut offense the Patriots had assembled came up short, with Brady looking befuddled by the Giants fearsome pass rush.

8. Super Bowl XLVI: Giants 21, Patriots 17
Four years after Tom Brady and the Patriots lost to the Giants, they found themselves with another opportunity to beat the franchise that robbed them of an undefeated season. Unfortunately for Brady, the result was similar. Brady threw an interception and was sacked twice while throwing for 276 yards in his second loss to the Giants in the Super Bowl. 

7. Super Bowl LIII: Patriots 13, Rams 3
Last season's Super Bowl was a boring game on the offensive side of the ball. Brady threw zero touchdowns, one interception, and fumbled the ball twice. He also only threw for 262 yards. The Patriots won in a defensive struggle, but the Pats' game plan didn't call for Brady to do anything spectacular. 

6. Super Bowl LII: Eagles 41, Patriots 33
Tom Brady did everything he could to win it for New England, throwing for 505 yards and three touchdowns. It wasn't enough, unfortunately, as Nick Foles and the Eagles avenged the organization's 2004 Super Bowl loss. Brady went 28 for 48 in this game for a completion percentage of 58.8% — his worst in a Super Bowl.

5. Super Bowl XXXIX: Patriots 24, Eagles 21
In what was Brady's last Super Bowl victory for a decade, he threw for 236 yards and two touchdowns. The Patriots withstood a late drive by the Eagles to hold on to win. Brady completed 11 of his passes to Deion Branch, and the receiver who won MVP of the game.

4. Super Bowl XXXVI: Patriots 20, Rams 17
Brady's first Super Bowl was also one of his less outstanding in terms of on-field performance. He completed 16 of 27 passes for only 145 yards. But this was a different Patriots team and a different Brady. This was before Brady earned his confidence on the field as a leader and Bill Belichick only asked him to be a game manager. 

3. Super Bowl XXXVIII: Patriots 32, Panthers 29
Brady's second Super Bowl victory was his first great statistically productive Super Bowl as well. He had 354 yards passing and three touchdowns for a QB rating of 100.5. Brady's stellar play during the game set up Adam Vinatieri to kick his second Super Bowl-winning field goal as time expired.

2. Super Bowl XLIX: Patriots 28, Seahawks 24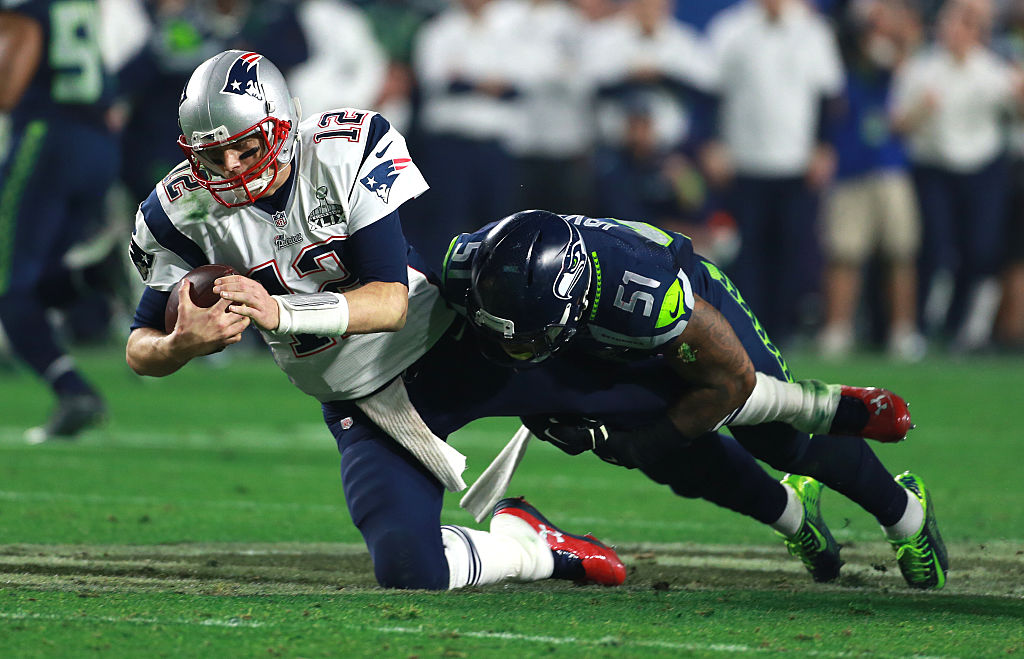 It had been ten years and two Super Bowl losses since Tom Brady had won a Super Bowl, but in 2014 he did it again by barely edging out the Seattle Seahawks for the Pats' fourth Super Bowl victory. The game was more well known for the final drive where the Seahawks opted not to put the ball in Marshawn Lynch's hands. Russell Wilson threw the game-clinching interception to Malcolm Butler. During the game, Brady passed for 328 yards and four touchdowns.

1. Super Bowl LI: Patriots 34, Falcons 28
Early in the game, this looked like easily Brady's worst Super Bowl. The Patriots trailed 28-3, and the QB threw a devastating pick-six. That was before Tom Brady engineered the greatest comeback in Super Bowl history, however. He'd lead the team to a 34-28 victory in overtime.