10 Best College Football Quarterbacks of 2016
No matter the level, quarterback is the most important position on the football field. When it comes to big-time college football, having a game-changing quarterback can elevate a program from a mediocre team that struggles to make a bowl game to a legitimate national title contender. College football has undergone a massive offensive evolution since the turn of the century. Gone are the days of pro-style and triple option attacks being the game's prevailing offensive schemes. In are the days of uptempo, spread offenses dominating college football Saturdays.
As a direct result, the way the quarterback position is played at the college level has changed dramatically. Most teams like to recruit dual-threat quarterbacks who can make plays through the air and on the ground. This makes pocket passers who are ready to make a quick, easy transition to the National Football League few and far between in the college ranks. It is not uncommon for the most successful college quarterbacks to have short-lived NFL careers.
On a similar note, history proves that some of the quarterbacks who are best equipped to play professional football experience mediocre stats and minimal success during their college days. Two players in today's game who fit this mold are Josh Rosen of UCLA and Brad Kaaya of Miami (FL). Rosen may be the best pro prospect in all of college football, but his performance up to this point leaves something to be desired.
Likewise, Kaaya oozes potential. However, he hasn't truly taken over a game by himself — despite his team looking better in 2016. For this reason, we left both players off our list of the best college football quarterbacks in 2016. As the current season progresses, this list could change. For now, these are the 10 best college football quarterbacks (in no particular order).
Note: We only considered players from Football Bowl Subdivision schools.
1. Deshaun Watson, Clemson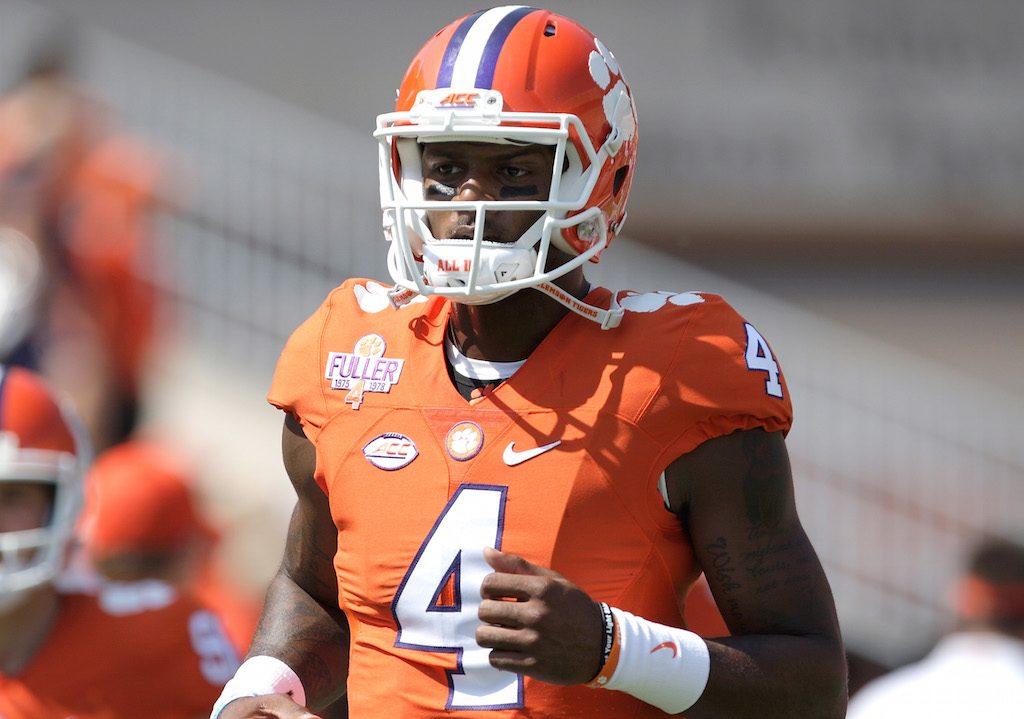 In 2016, Deshaun Watson hasn't produced at the same level he did in 2015. However, he is still one of the best college football quarterbacks in the entire country. The Clemson signal caller is a true dual-threat with the ability to almost singlehandedly take over a game. Watson finished third in voting for the 2015 Heisman Trophy. Most NFL scouts expect a team to select him in the top 10 of the 2017 NFL Draft.
2. Chad Kelly, Ole Miss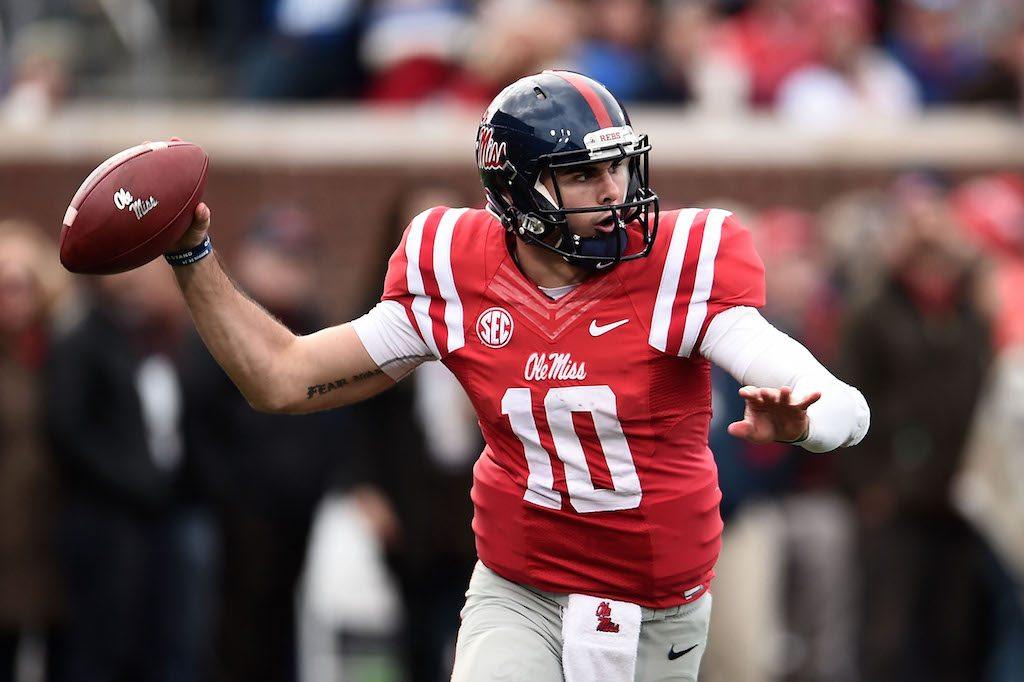 After all the success Chad Kelly experienced at Ole Miss until this point, people forget that he actually began his career at Clemson. In 2015, the 6-foot-2, 224-pounder threw for 4,042 yards, 31 touchdowns, and 13 interceptions, while accumulating 509 yards and 10 touchdowns on the ground. This led to an offseason full of hype. As of right now, Kelly hasn't disappointed — even though the Rebels already dropped two games.
3. Lamar Jackson, Louisville
Simply put, Lamar Jackson is unquestionably the best player in college football this year. The 19-year-old is our current favorite to win the 2016 Heisman Trophy. At Jackson's current pace, the sophomore signal caller will throw for close to 4,000 yards, rush for nearly 2,000 yards, and account for upwards of 70 total touchdowns. Maintaining his current statistical tear is unlikely, but Jackson still has a chance to experience one of the greatest single seasons in college football history.
4. DeShone Kizer, Notre Dame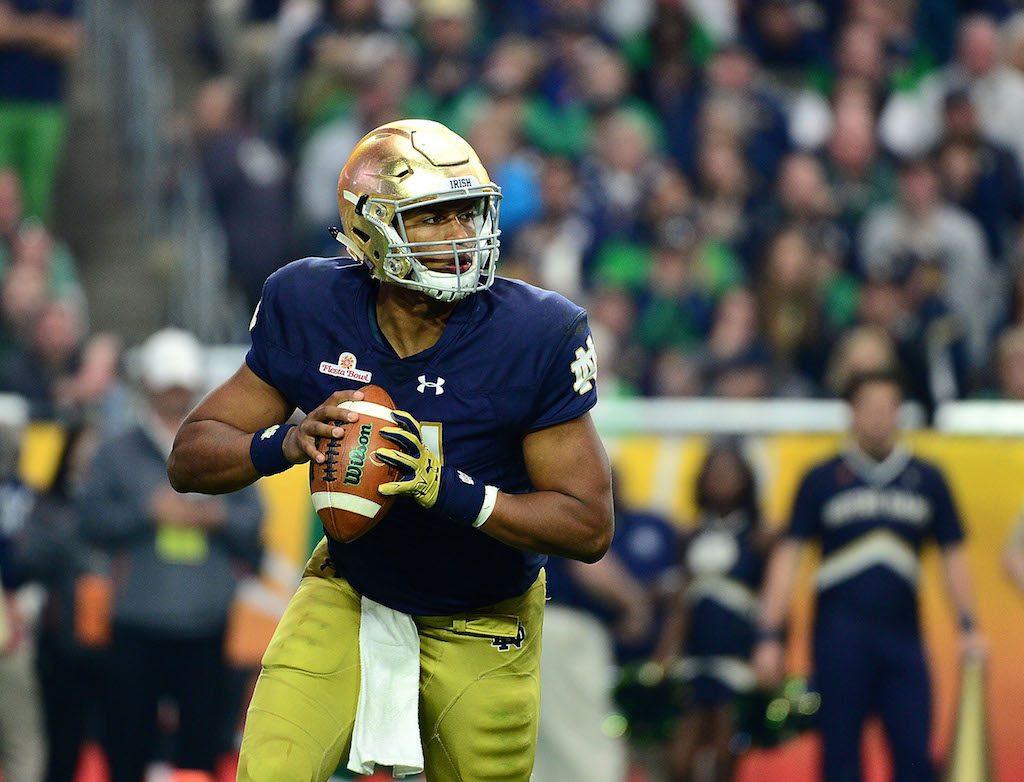 DeShone Kizer began the season as a Fighting Irish co-starter with Malik Zaire, but it quickly became clear that the latter gives Notre Dame the best chance for success. The Ohio native is more of a thrower than a runner — which is why NFL scouts love his potential — but the 6-foot-5, 230-pound junior can still make plays with his feet. Were it not for Notre Dame suffering two tough losses to Texas and Michigan State, Kizer would be in the thick of the Heisman Trophy race.
5. Patrick Mahomes II, Texas Tech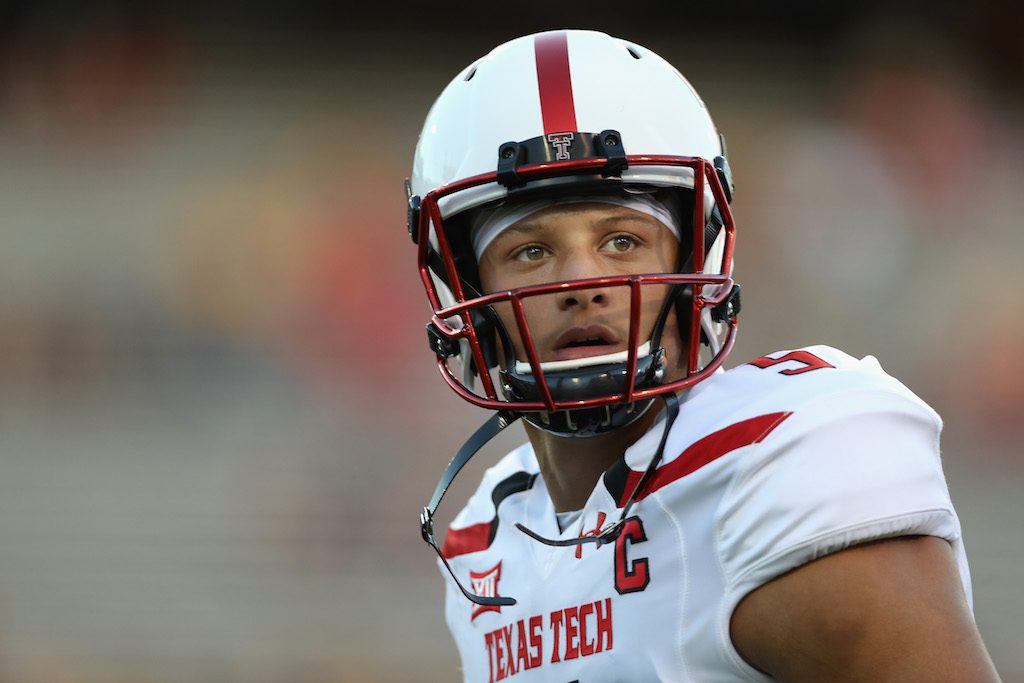 Patrick Mahomes II plays in an extremely quarterback-friendly offense, but there is no denying that he would excel in practically any scheme with his impressive skill set. The 6-foot-3, 230-pound junior is on pace to have a huge statistical season in 2016. In a wide-open Big 12 race, Mahomes could lead the Red Raiders on a surprise run.
6. J.T. Barrett, Ohio State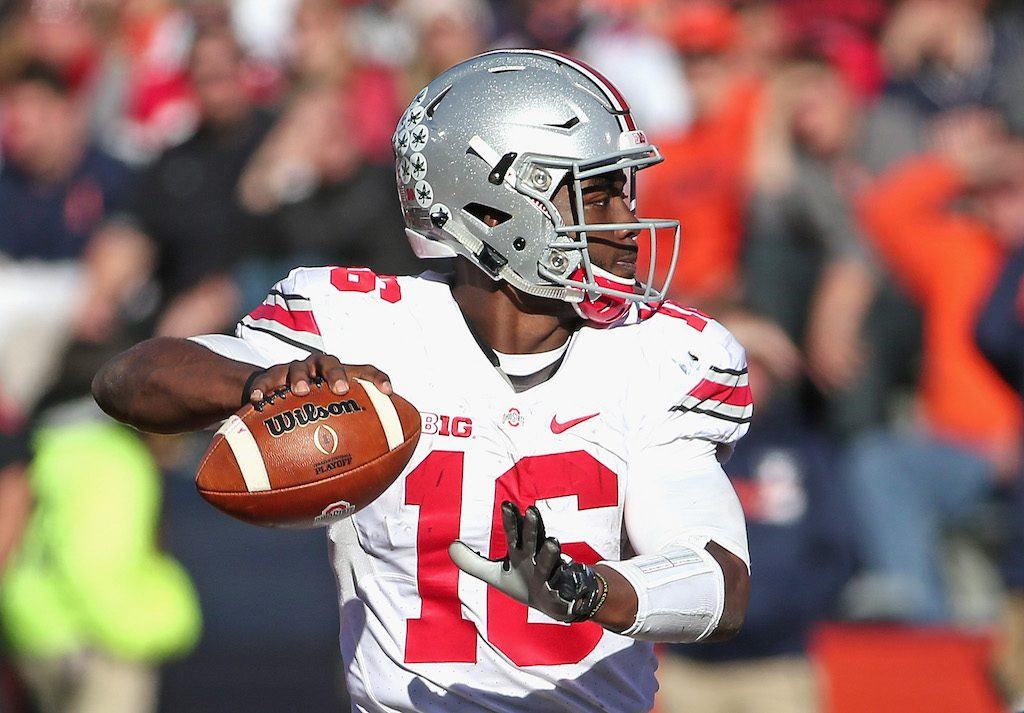 We are among those who thought it was extremely foolish of Urban Meyer to start Cardale Jones over J.T. Barrett to open the 2015 season. Now that Jones moved to the NFL, Barrett is the Buckeyes' clear-cut starter — and he is on pace to have another huge season in 2016. The 21-year-old may not have the NFL potential other players have, but he is one of the best college football quarterbacks (and players in general). In our eyes, Barrett is one of the top two or three Heisman Trophy contenders in the country.
7. Baker Mayfield, Oklahoma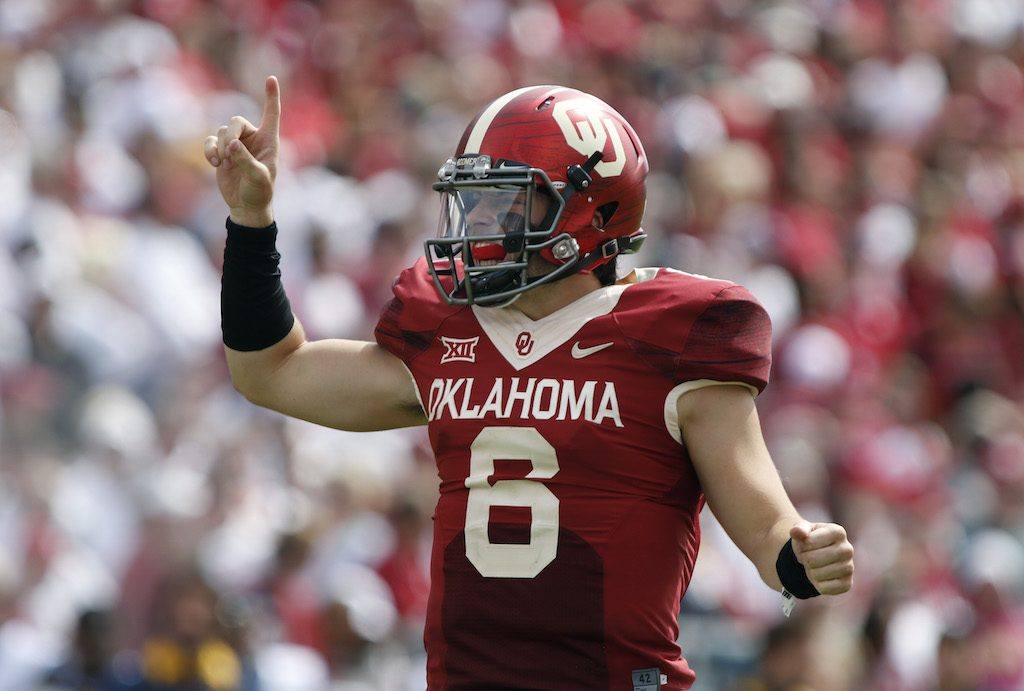 Baker Mayfield's 2016 season didn't get off to the start he (or anyone associated with the Oklahoma football program) hoped for. However, there is still no refuting the fact that he is one of the most impactful players in all of college football. The redshirt junior is a fiery competitor who has the ability to beat teams with his arm or his legs.
In our opinion, his skill set won't transition well to the National Football League. The Sooners' national title hopes are dead at this point, but if he can go on another tear, Mayfield could end up in the top five of voting for the Heisman Trophy for the second year in a row.
8. Greg Ward Jr., Houston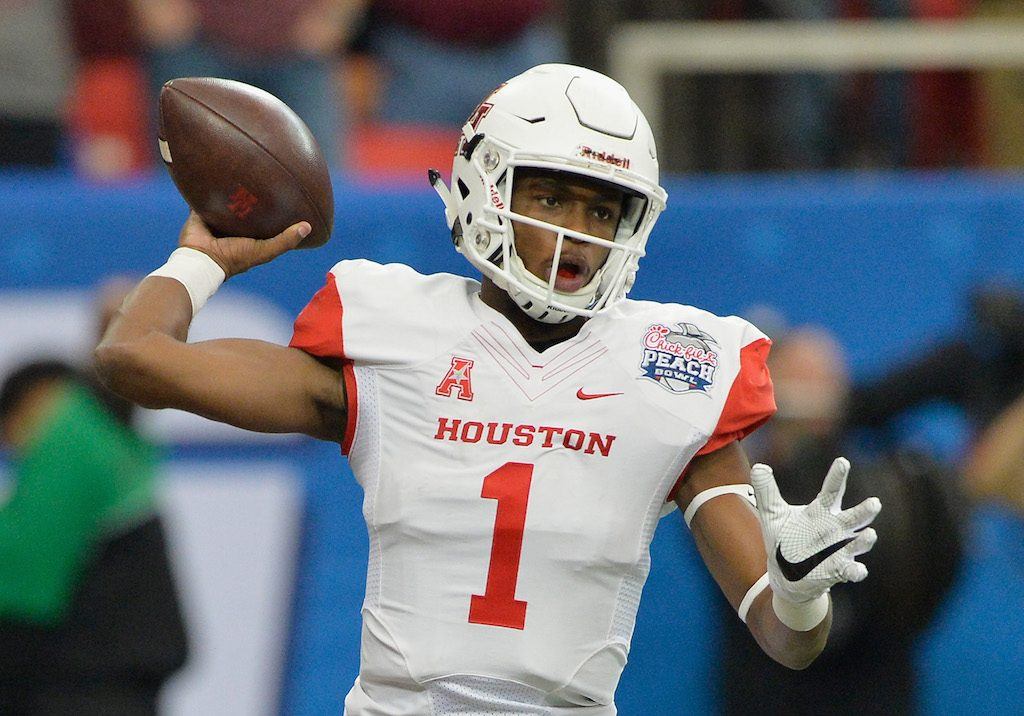 Greg Ward Jr. is one of the most electrifying players in college football. He has Houston, a non-Power Five program, in College Football Playoff contention. Ward is an adequate passer, but his speed and elusiveness make him almost impossible to contain. With that being said, recent reports suggest that Ward has a definite NFL future. Sadly, there is virtually no chance that he plays quarterback at the game's highest level. Expect to see the 5-foot-11, 185-pounder at the Heisman Trophy ceremony this December.
9. Luke Falk, Washington State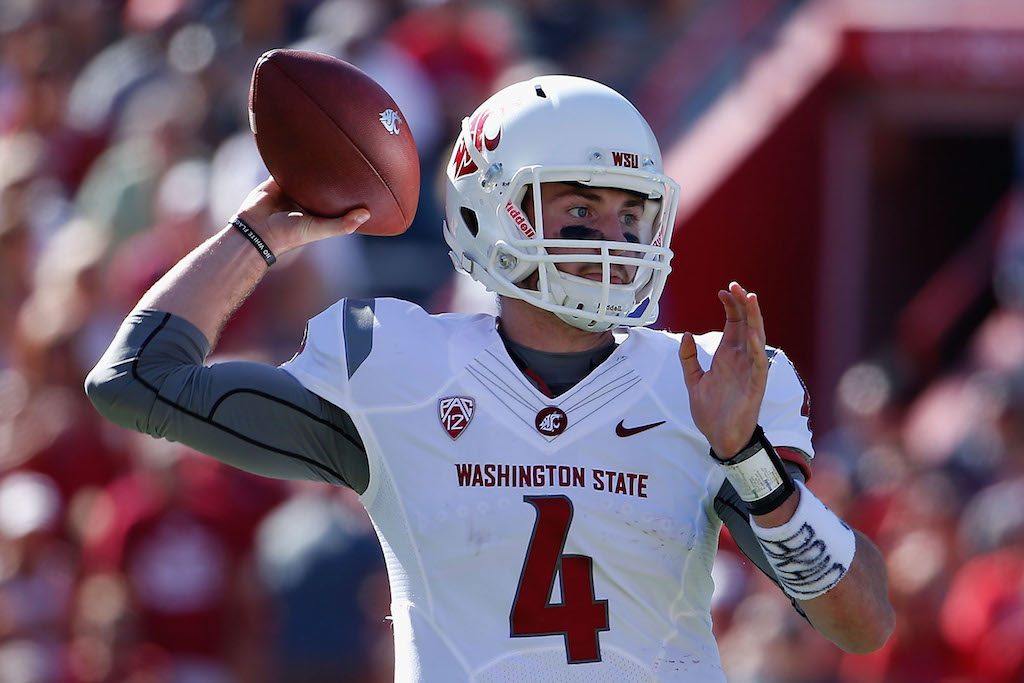 To be honest, playing in Mike Leach's high-flying offense can make any quarterback look like an All-American. Still, we firmly believe that Luke Falk is the type of signal caller who could excel in any offensive system. The 21-year-old is one of the most accurate pure passers in the country, proving he can handle the pressure of big games and critical situations. Expect to see Falk end up with 40 or more touchdown passes and over 4,000 yards passing in 2016.
10. Jake Browning, Washington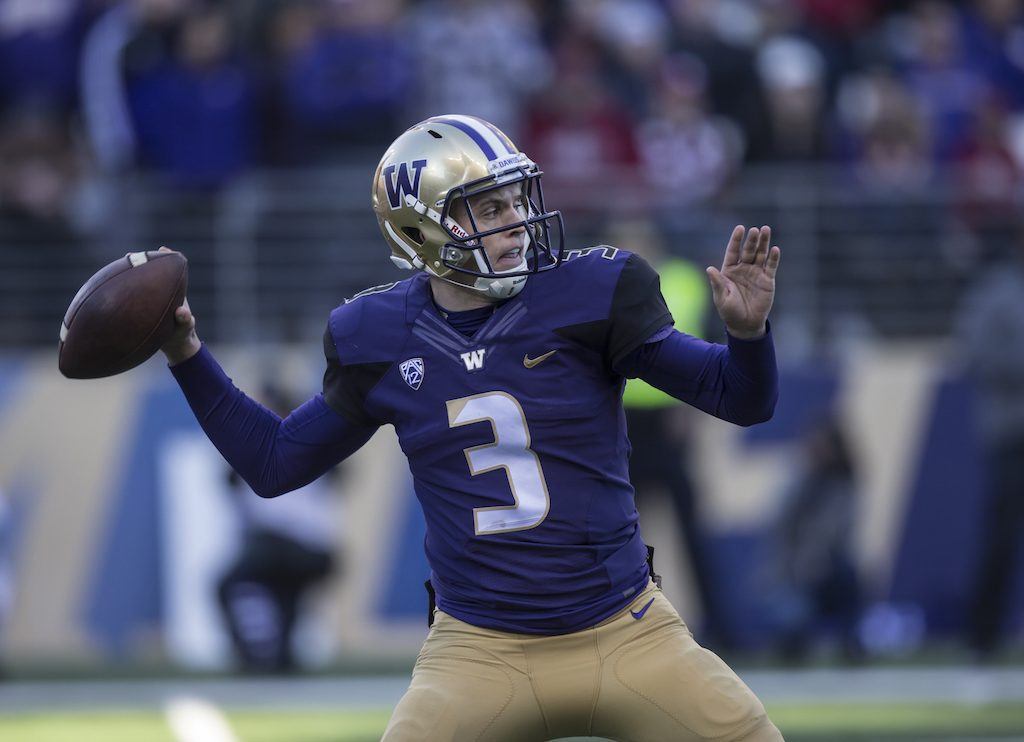 Washington has emerged as a bona fide top-10 program in 2016, with the play of Browning one of the main reasons why. The 6-foot-2, 209-pound sophomore is one of the national leaders in ESPN's Total QBR ratings. He is quickly proving his elite throwing accuracy.
Browning is on pace to throw for close to 40 touchdowns and 4,000 yards and complete nearly 72% of his passes. If he can lead the Huskies past Stanford in late September, there is a good chance they will find their way into the 2016 College Football Playoff.
Statistics courtesy of Sports-Reference.