The 26 Best MLB Free Agents of 2017
Yoenis Cespedes got a lot of money in free agency, returning to the New York Mets on a four-year, $110 million deal. Dexter Fowler, Aroldis Chapman, Kenley Jansen, and others got big contracts too. So who is out there that could be getting a big contract next offseason? No matter the time of year, it's always good to start looking at who will be available in free agency to help a team improve their roster, whether it be big stars or minor bargains. Here are the 25 best free agents of the 2017 offseason, as projected by stats and information received prior to the end of 2016.
26. Lance Lynn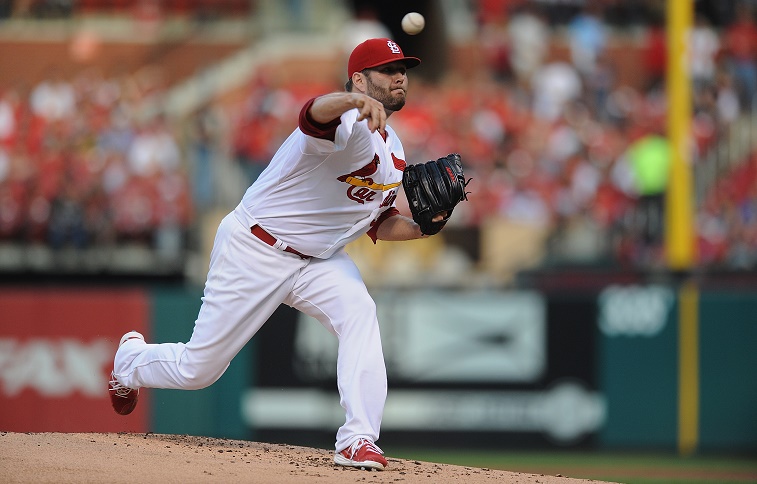 Last we saw of St. Louis Cardinals starting pitcher Lance Lynn, he was making a brief relief appearance against the Chicago Cubs in the 2015 NLDS. The Cardinals lost that series, 3-1, and Lynn missed all of 2016 following Tommy John Surgery. He's still only 30 years old, in the midst of his prime, and has been an excellent pitcher in his career so far. Lynn has a 3.37 ERA in 791 1/3 innings in his career, and a 2.87 ERA in 379 innings over his last two seasons. If the right-hander bounces back well from surgery, he'll be in demand.
25. John Jaso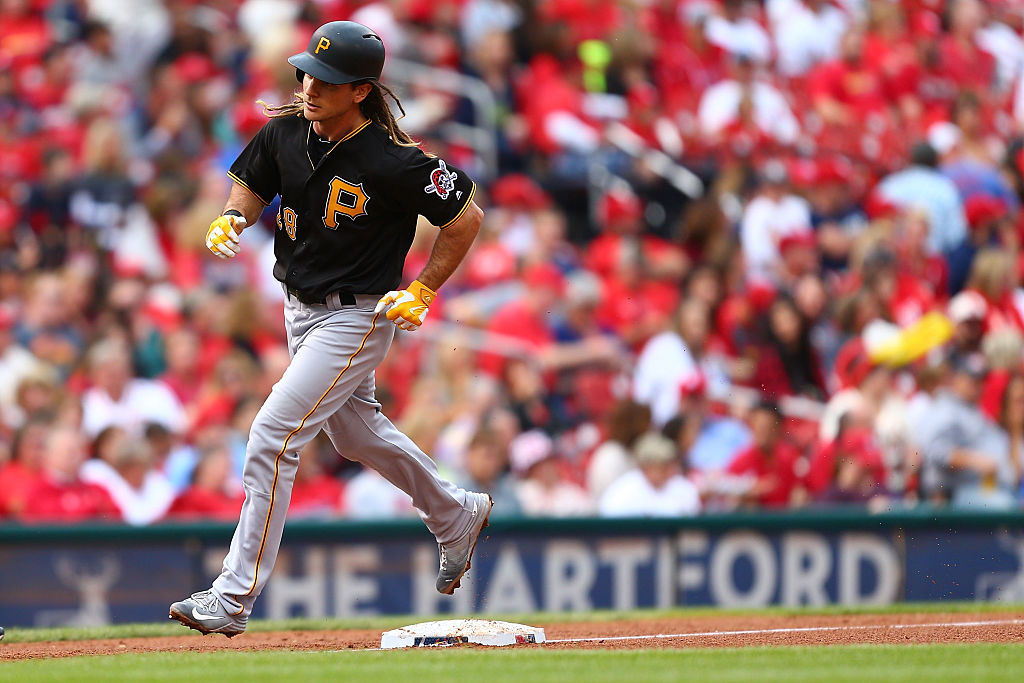 When John Jaso signed with the Pittsburgh Pirates prior to the 2016 season (two years, $8 million), he had just five total innings of experience at first base. He got 748 more innings of experience last year, getting on base at a .353 clip and posting a .766 OPS. He's still learning the mechanics of playing his position, but Jaso has proven to be a quality hitter against right-handed pitching over the course of his career.
24. Welington Castillo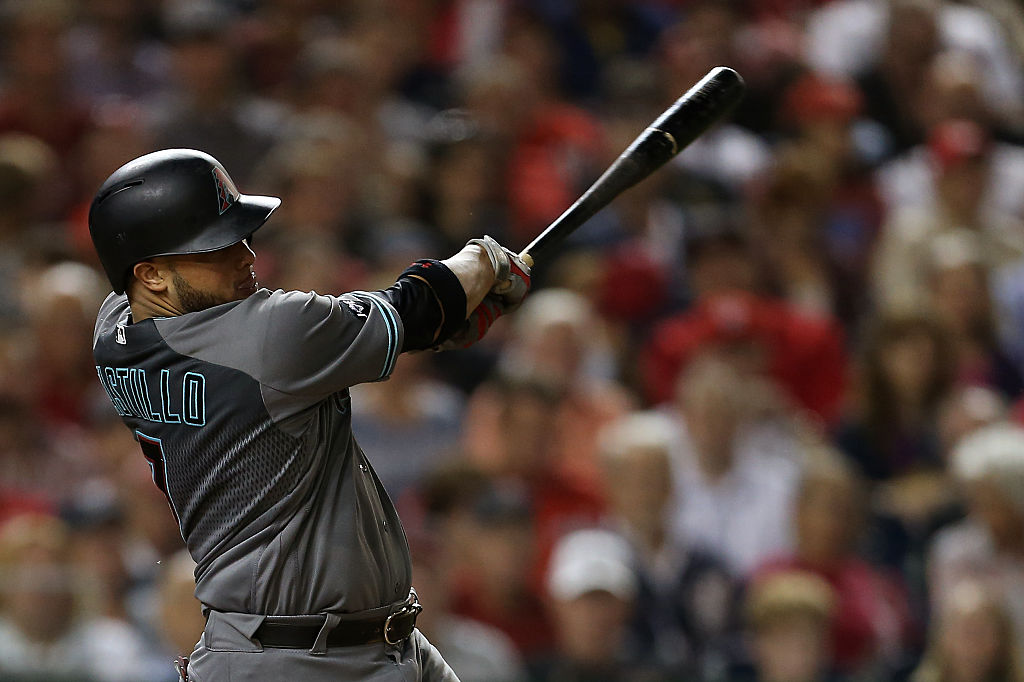 Catcher Welington Castillo has a player option for 2018 worth $7 million, but there's a decent chance that he won't be exercising it. Since joining the Arizona Diamondbacks at midseason in 2015, Castillo has played 193 games (760 plate appearances), hit 31 home runs, and has 3.8 WAR. Those are really good numbers, and being designated for assignment following a 2016 season in which he had 2.4 WAR and a .742 OPS was a head-scratcher. If he's healthy and performs for the Baltimore Orioles this year, he could be one of the best catchers available on the market.
23. Hyun Soo Kim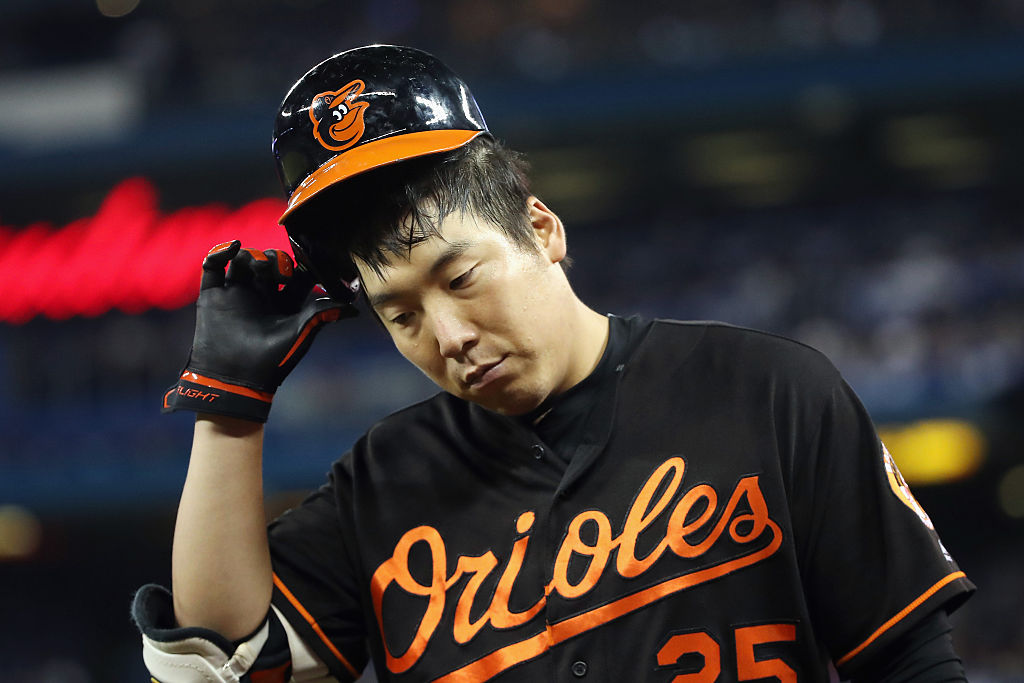 Left-handed outfielder Hyun Soo Kim had a nice, although abbreviated, first season in the major leagues at the age of 28. Playing for the Orioles, Kim saw 346 plate appearances in 95 games and hit .302/.380/.420. But those numbers look even better when you discount his 0-for-17 against left-handed pitchers. Looking solely at the platoon outfielder's numbers against right-handers, .321/.393/.446, Kim has a ton of value as a part-time player.
22. Jay Bruce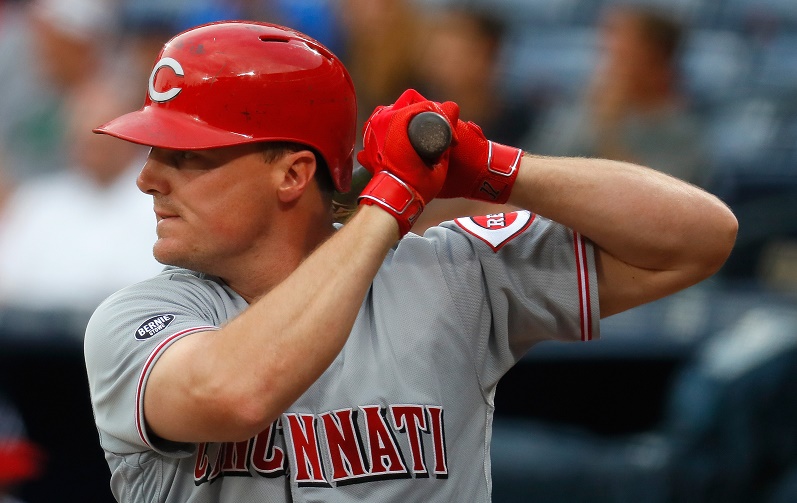 How far up or down this list Jay Bruce moves before November will depend on which version of himself the 30-year-old outfielder resembles. Will he be the .875 OPS player that hit 25 home runs in 402 plate appearances with the Cincinnati Reds in 2016 or will he be the .685 OPS player that he was down the stretch with the New York Mets? Regardless, he is a poor defender that was worth just 0.6 WAR in 2016 despite hitting 33 home runs with a .815 OPS. If he hits well again somebody will give him money to be a left-handed bat in the middle of their lineup.
21. Mitch Moreland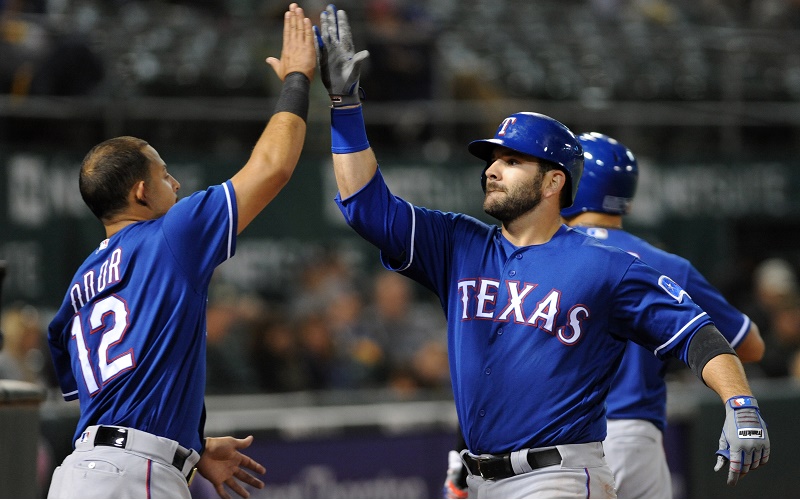 Last season, Texas Rangers first baseman Mitch Moreland more closely resembled the player he was in 2013 than the breakout player of 2015. Despite being a solid defensive player that won his first Gold Glove last year, Moreland saw his batting average slip to .233 and his strikeouts rise to a career-high 118. He still slugged 22 home runs, but hit only 43 total extra-base hits in 147 games for the Rangers. If he can perform closer to his 2.2 WAR season of 2015, Moreland will have some serious bidders next offseason.
20. Carlos Gomez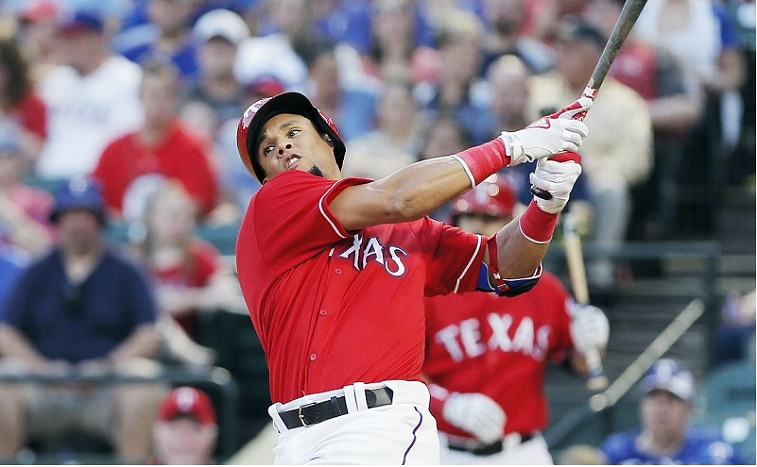 Another player whose ranking may change is center fielder Carlos Gomez. Is he the .619 OPS hitter that he was in 126 total games with the Houston Astros, or the .905 OPS hitter that he was in 33 games with the Texas Rangers? He signed a one-year deal with the Rangers to take over for the departed Ian Desmond, so he'll get a chance to prove himself again in 2017. If he can get closer to the player he was in 2014 with the Milwaukee Brewers (4.8 WAR, .833 OPS), the 31-year-old will find himself rising up the list.
19. Pedro Strop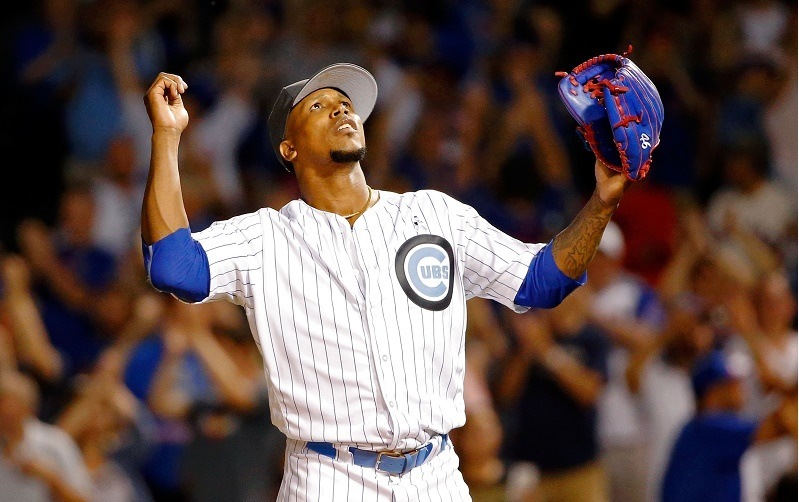 One of the more unsung relievers in the game is Chicago Cubs right-hander Pedro Strop. He's the less-mentioned name that came to Chicago in the oft-mentioned "Jake Arrieta for Scott Feldman" deal, and he's been phenomenal in his time with the Cubs. In 211 1/3 innings pitched since arriving in July 2013, Strop has a 2.68 ERA, 5.5 H/9, 3.4 BB/9, and 10.8 K/9. Those are some outstanding numbers and if he can continue on that path as a 32-year-old in 2017, he's going to get some serious money as a free agent.
18. Mike Moustakas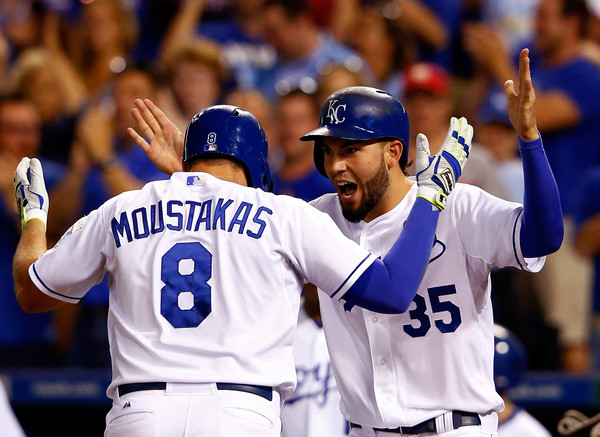 In 2015, then 26-year-old third baseman Mike Moustakas broke out for the Kansas City Royals. He made his first All-Star team, hit .284/.348/.470 with 22 home runs, had a 4.4 WAR, and won a World Series ring. But he got hurt and missed most of the 2016 season, finishing with a .801 OPS in 27 games played. The kind of contract the talented young man will get will be heavily dependent on how he returns to the field in 2017. If he has another four-plus WAR type of season you can expect that he'll be paid handsomely.
17. Addison Reed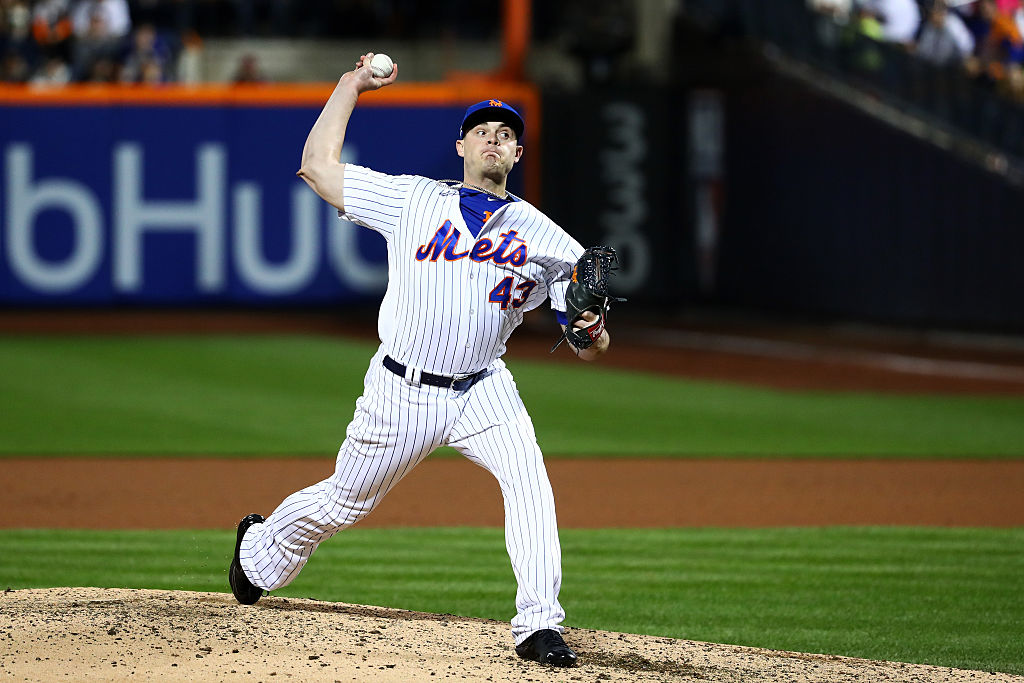 27-year-old reliever Addison Reed had a 4.01 ERA coming into the 2016 season. He had pitched well for the New York Mets down the stretch in 2015, although in limited action. But Reed and his excellent stuff finally broke out this last season, posting a 1.97 ERA in 77 2/3 innings, striking out 10.5 batters per nine innings with a 1.5 BB/9. He may not be as dominating again in 2017, but if he comes anywhere close to that he'll be getting some serious money as a 28-year-old on the free agent market next offseason.
16. Tony Watson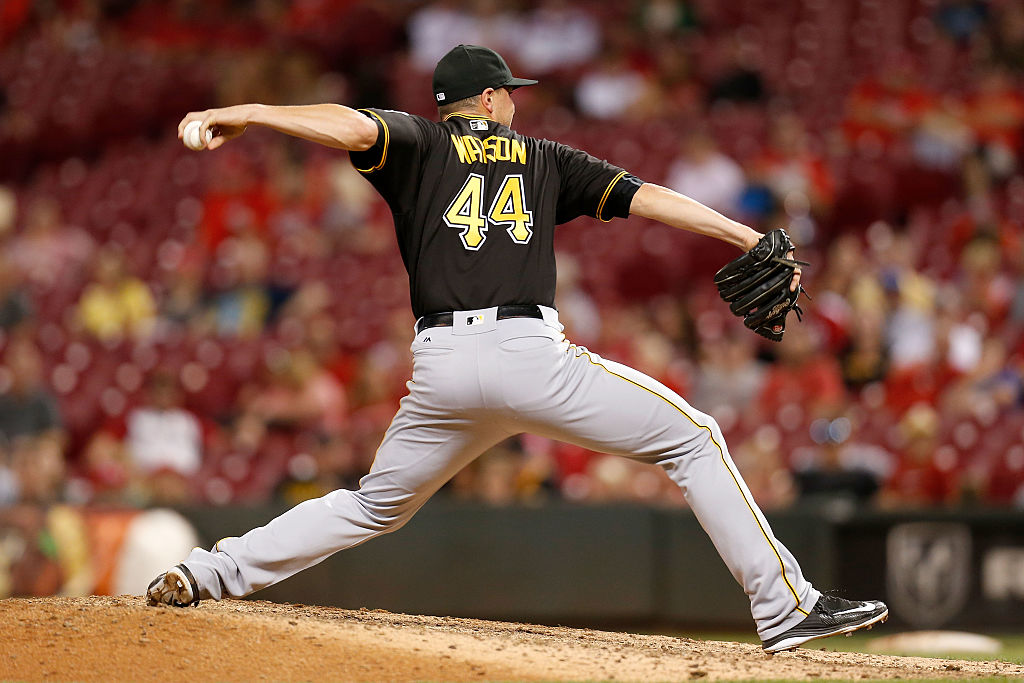 Left-handed reliever Tony Watson saw his numbers slip a little bit in 2016. After posting ERA's under 2.00 in the previous two seasons, the 31-year-old Pittsburgh Pirates reliever had a 3.02 ERA and 4.37 FIP in 67 2/3 innings in 2016. This is in large part due to a jump in the home runs he allowed, up from 0.4 HR/9 to 1.3. There's no reason to believe he won't bounce back and be great again in 2017, which will place him as the best available left-handed reliever on the free agent market. Just ask Brett Cecil what that might mean for Watson's bank accounts.
15. Danny Valencia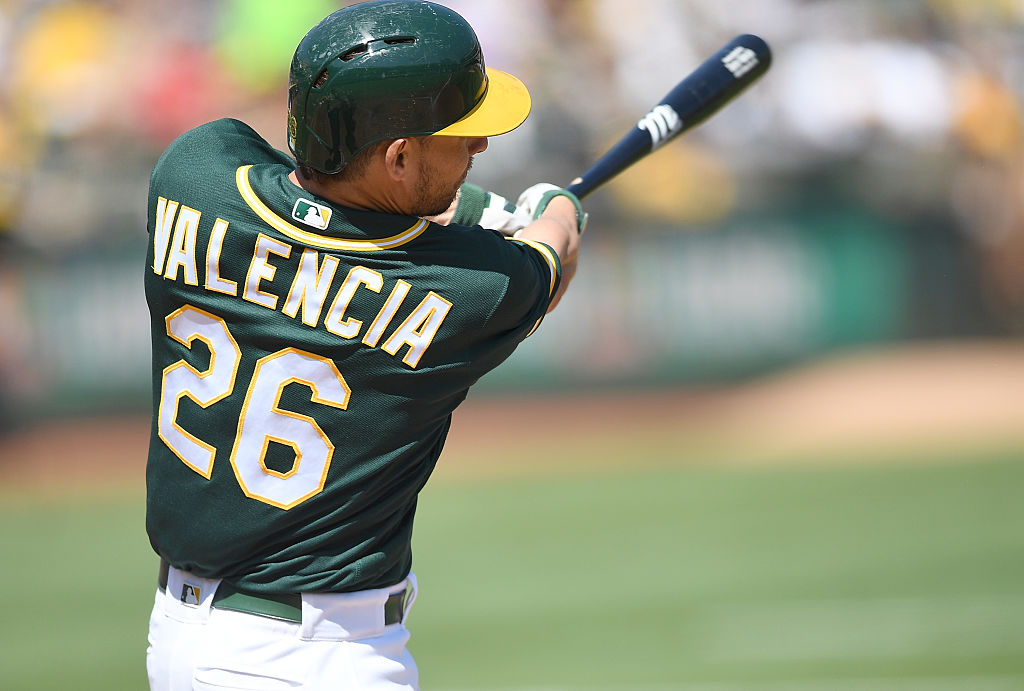 Utilityman Danny Valencia has had a couple of excellent seasons with the bat the last two years. While he's moved around quite a bit, playing a total of five different defensive positions, he's had 35 home runs and a .822 OPS in 893 plate appearances for the Toronto Blue Jays and Oakland Athletics. The 32-year-old has been traded to the Seattle Mariners, where it seems likely that he'll settle in for more regular time at his best defensive position — first base. Another decent season could earn Valencia a nice payday.
14. Neil Walker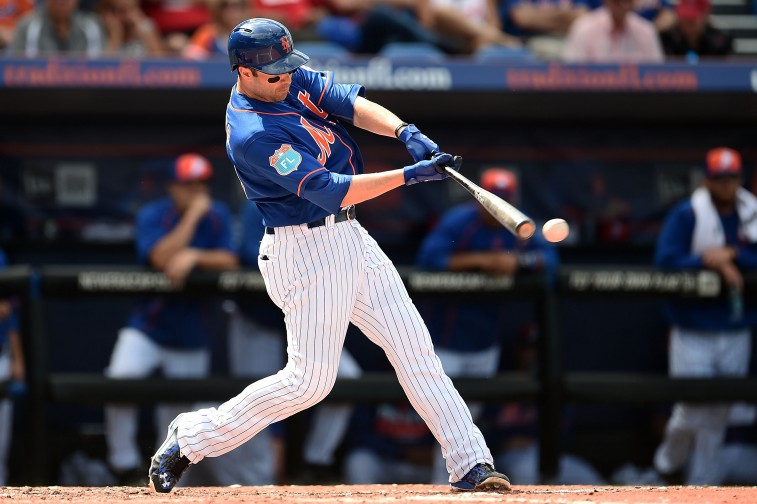 30-year-old New York Mets second baseman Neil Walker hit a career-best .476 SLG% in 2016, helping him tie a career-high with 23 home runs in just 113 games played. Walker has been worth at least two WAR in every year going back to 2010, making him one of the best and most consistent players at his position in all of baseball. He'll earn $17.2 million in his final season with the Mets in 2017, and if he plays anything like he has the last few years he's going to get a significant contract next offseason.
13. Todd Frazier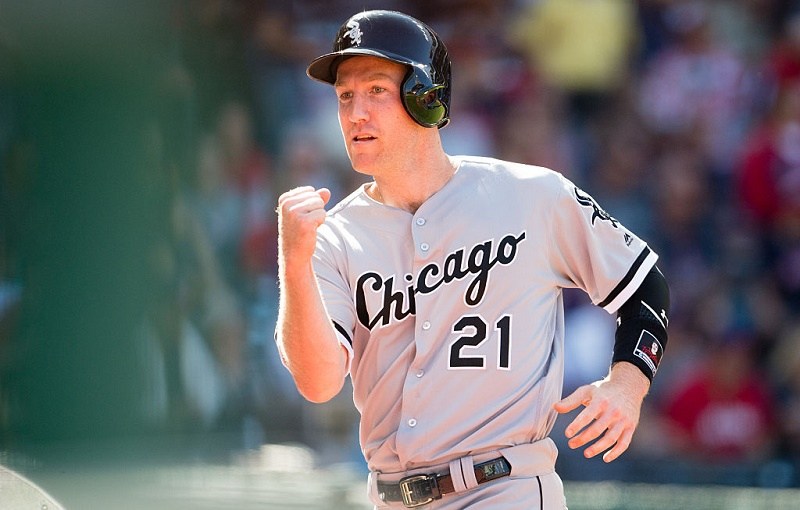 In 2016, Chicago White Sox third baseman Todd Frazier hit career-bests in home runs (40) and RBI (99), but also had a career-high in strikeouts (163) and a career-low batting average (.225). There are few players in the history of the game that have had a more mediocre overall season while hitting 40 or more home runs. Even still, Frazier is only going to be 31 in 2017 and represents both a decent trade chip for the rebuilding White Sox and one of the best third base options on the free agent market.
12. Wade Davis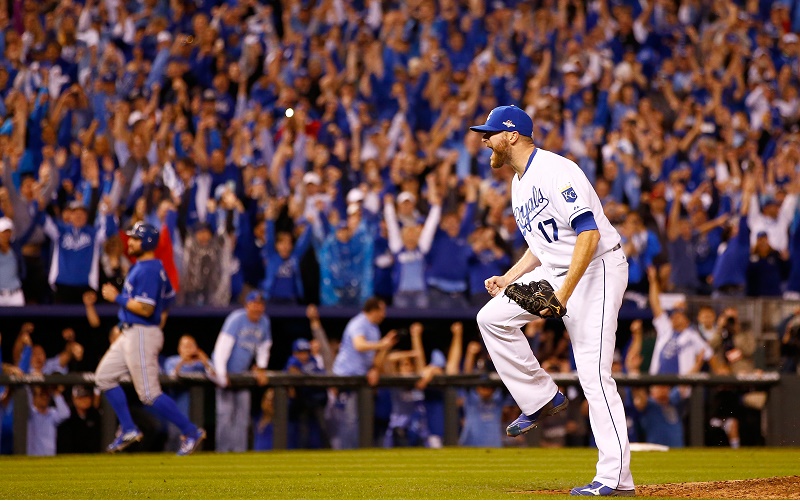 Over the last three seasons, there's been no better relief pitcher in all of baseball. In 182 2/3 innings for the Kansas City Royals, Wade Davis has a 1.18 ERA and 234 strikeouts. He'd be higher up on this list, but his forearm injury late in 2016 has left questions about his health heading into the season. Davis was traded to the Chicago Cubs for outfielder Jorge Soler, and if he comes out and performs like he has the last three years you can expect that he'll rise several spots on this list.
11. J.D. Martinez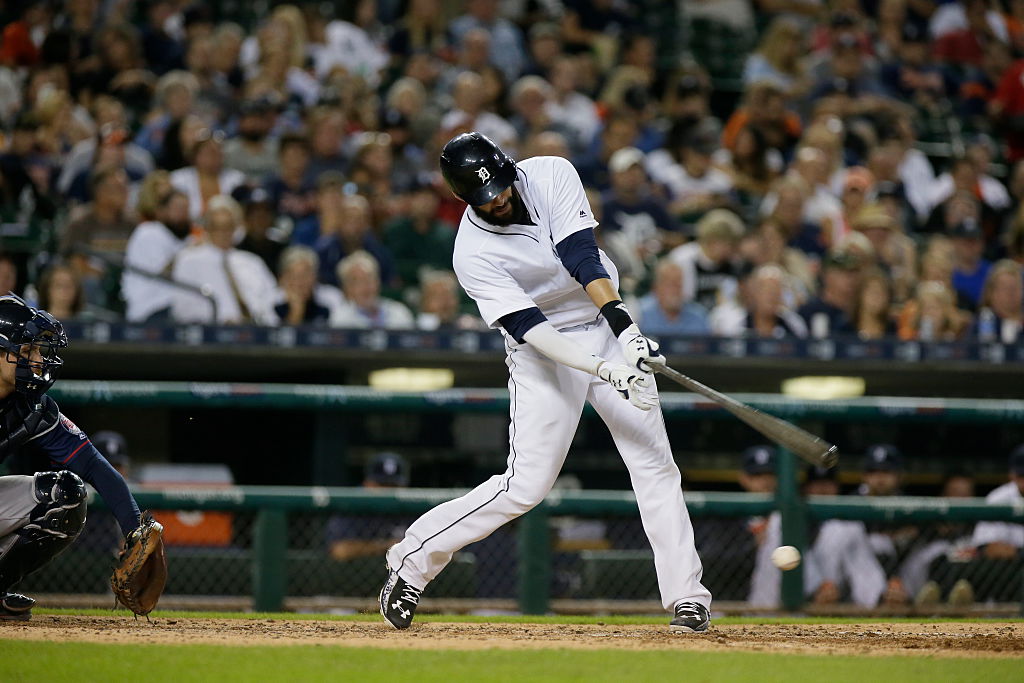 Since joining the Detroit Tigers after being released by the Houston Astros, J.D. Martinez has been one of the better hitters in the game. He's slugged 83 home runs with a .299/.357/.540 slash line, accumulating 11 WAR over three seasons. Martinez is just okay on defense in the outfield, and in two of the last three years has dealt with an injury that has cost him a decent amount of games. But if he performs well again at age 29 in 2017, he's going to end up getting a serious contract from somebody looking for a guy that gets on base and hits the home run ball.
10. Chris Tillman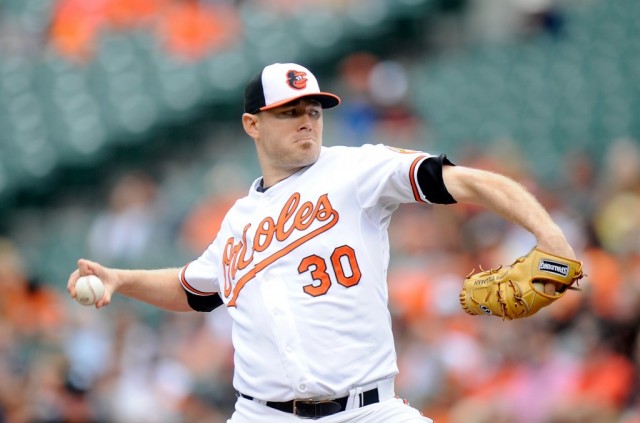 It was back in 2012 that Orioles starting pitcher Chris Tillman finally established himself as a big leaguer. Since coming back to the big leagues that year, Tillman has started 143 games for Baltimore with a 3.81 ERA and 4.27 FIP. He's never met the "ace" label that was placed on him at a young age, but he's been a very good starting pitcher in one of the toughest divisions in which to be one. He'll hit free agency at the age of 29, meaning he'll probably have teams lining up to pay him.
9. Danny Duffy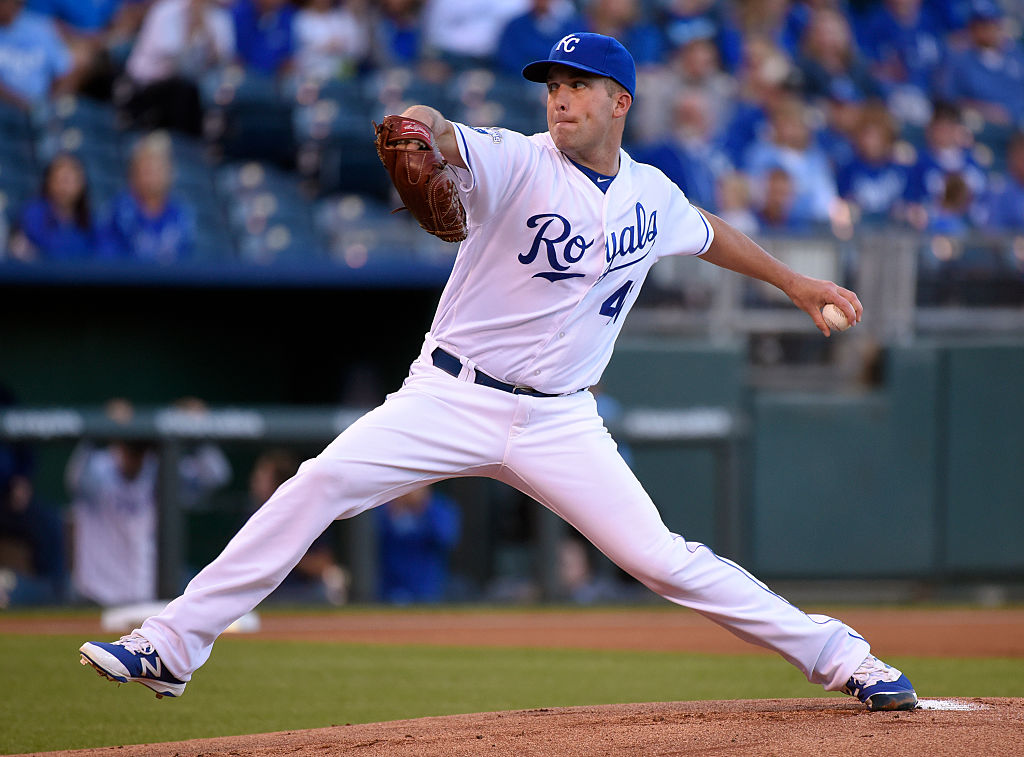 Since the start of the 2013 season, 27-year-old left-handed starter Danny Duffy has a 3.29 ERA in 490 innings for the Kansas City Royals. He pitched incredibly well for the Royals for a long stretch this season, posting a 2.61 ERA from when he joined the starting rotation in mid-May until the latter portion of August. If Duffy can have a full, consistent season as a starting pitcher again in 2017, he's going to be a hot name on the free agent market.
8. Carlos Santana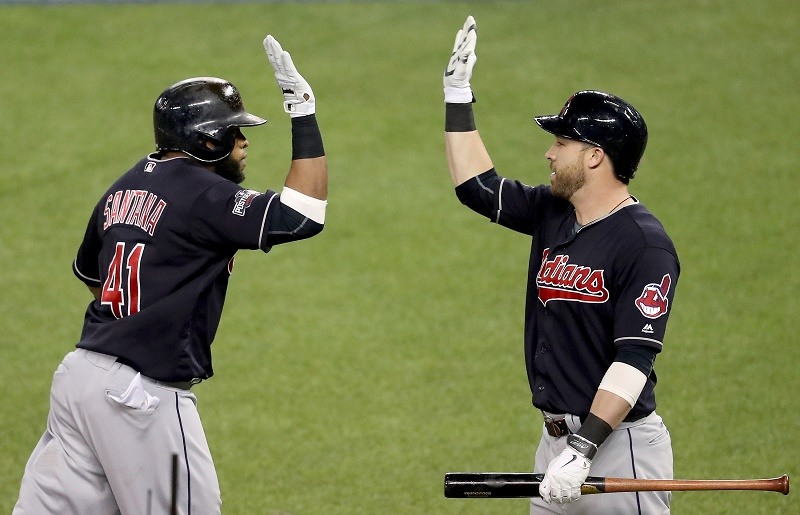 The first baseman/DH will have less suitors available to him because of the lack of National League teams that would be willing to sign him long term, but that won't prevent  him from getting a big payday. The 30-year-old had his best season in 2016, slugging 34 home runs for the American League champion Cleveland Indians and walking as many times as he struck out (99). He's stayed remarkably healthy throughout his career, walks a bunch, and hits the ball out of the park. Those types of hitters will always be in demand.
7. Carlos Gonzalez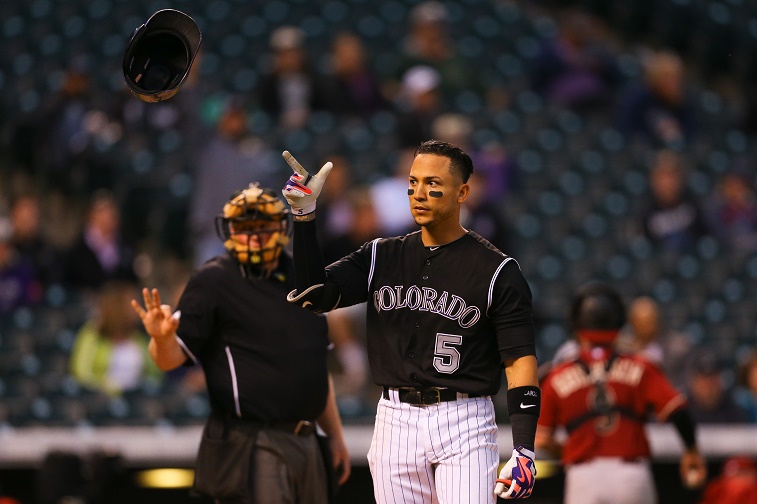 In the last seven seasons, Colorado Rockies outfielder Carlos Gonzalez has had 184 home runs and a slash line of .296/.353/.535 to go along with 21.3 WAR. Those are good numbers, but not helped by the fact that CarGo plays at Coors Field, where he has a career 1.008 OPS versus .750 on the road. There's no doubting that he's a quality hitter, however, and the fact that he's stayed healthy the last two seasons will help bolster him in free agency as well.
6. Yu Darvish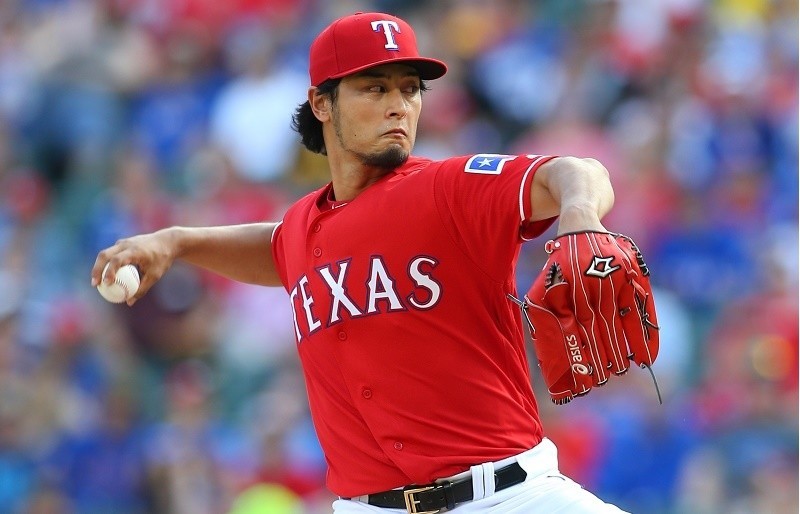 Through the first three seasons of his contract with the Texas Rangers, right-handed starting pitcher Yu Darvish was one of the best pitchers in the game. He made three straight All-Star teams, pitching 545 1/3 innings with a 3.27 ERA. But in 2014, his season ended prematurely when he needed Tommy John Surgery on his pitching elbow. He missed all of 2015 and part of 2016, returning and throwing 100 1/3 innings with a 3.41 ERA and 3.09 FIP. If he's healthy and returns to his pre-TJS form in 2017, he'll cash in next winter.
5. Jake Arrieta
This is a guy that could either rise to the top of this list or completely fall off of it, depending on what happens in 2017. Jake Arrieta had a historic season in 2015 for the Chicago Cubs, finishing with a 1.77 ERA in 229 innings and taking the National League Cy Young Award. After a strong start to 2016, including his second no-hitter in less than a year, Arrieta struggled down the stretch to a 3.10 ERA and a rising 3.5 BB/9. He pitched well enough to win two games in the World Series for the Cubs, and he could bounce back with a solid season again at age 31 to earn the biggest payout of anyone next offseason.
4. Lorenzo Cain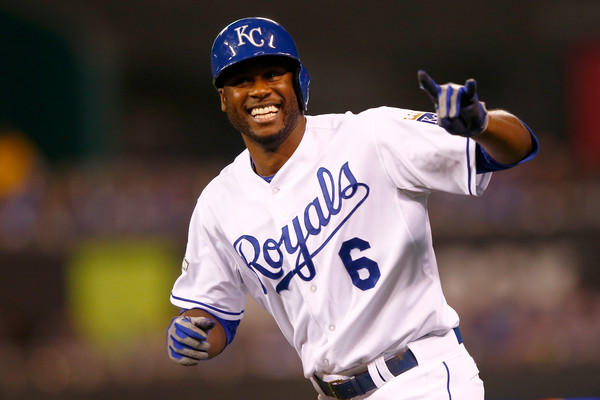 Yet another Kansas City Royals player to be a free agent after the season is center fielder Lorenzo Cain. Despite being limited to just 376 games over the last three seasons, Cain has hit .300/.347/.436 with 15.2 WAR accumulated. That WAR number is a testament to what a great defensive player he is, being worth 18 defensive runs saved in 2015. He'll be 31 years old when he hits free agency, so he needs to continue his trend of quality play and actually stay healthy and on the field this year. If he can do that, Cain will find himself heavily pursued next winter.
3. Jonathan Lucroy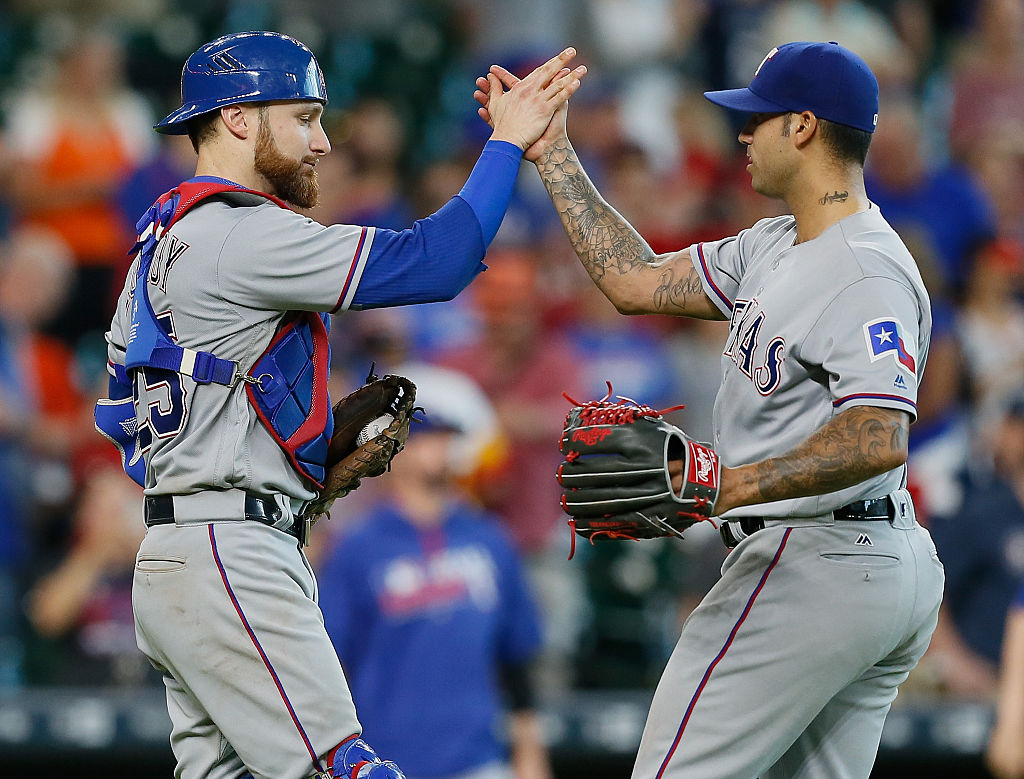 There's no doubting that Jonathan Lucroy is one of the best catchers in the game. After being dealt from the Milwaukee Brewers to the Texas Rangers at midseason, Lucroy finished strong with a 24 home run, .855 OPS, 3.8 WAR season at the age of 30. He has one more year under contract with the Rangers before becoming a free agent, and it would be hard to imagine him falling off in a big way after putting together 18.2 WAR over the last four years. If Lucroy can stay healthy, he's going to be pursued by multiple teams.
2. Masahiro Tanaka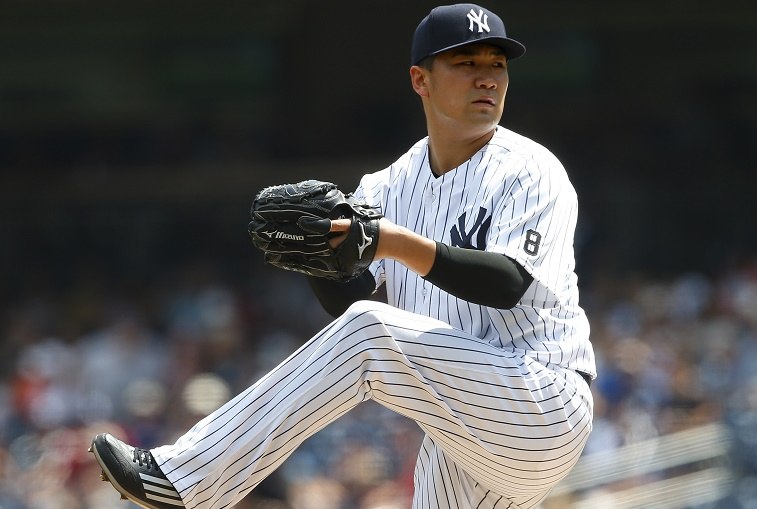 There's a chance that New York Yankees starting pitcher Masahiro Tanaka doesn't actually hit free agency, but we think it's a better bet that he will. After staying healthy, throwing 199 2/3 innings with a 3.07 ERA in 2016, the 28-year-old pitcher will have the option of canceling the remaining three years, $67 million on his original deal with New York. If he has another strong, healthy season, he'd be foolish not to do it. At 29 heading into 2018 and one of the top pitchers in the American League, Tanaka could end up with a nine-figure deal.
1. Johnny Cueto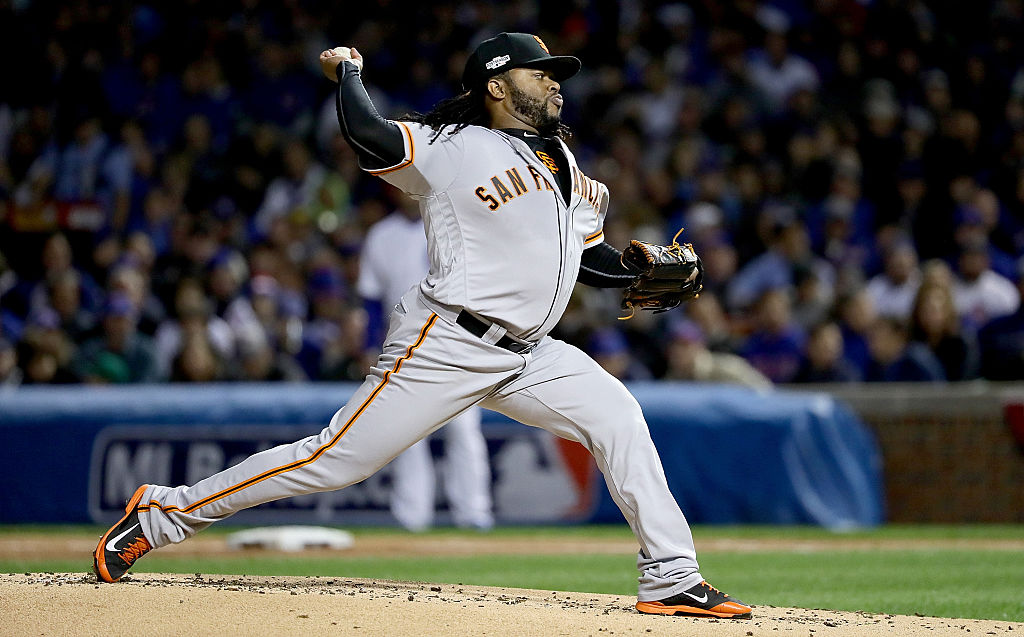 San Francisco Giants starting pitcher Johnny Cueto is in a similar place as Tanaka, with four years and $87 million remaining on his contract and the ability to opt out after 2017. If he has a season similar to his 2016, in which he had a 2.79 ERA in 219 2/3 innings with five complete games and two shutouts, he could probably go ahead and opt for free agency without a second thought. He'll be 32 in 2018, meaning he'll be on the latter portion of his career, but there's no doubt that somebody would give him better than four years and $87 million as the best pitcher available on the open market.
All stats courtesy of baseball-reference.com.