Who Is the Best NBA Finals Closer Among Superstars? The Answer Might Come as a Surprise
When you think of the biggest winners in NBA Playoffs history, the Hall of Fame is full of them. Bill Russell with his 11 championships. Michael Jordan won six, as did Kareem Abdul-Jabbar. Magic Johnson is one of several players with five. But with a chance to close out an NBA Finals, none of those luminaries is near the top of the list with the best winning percentages.
Thirty-one Hall of Famers or likely Hall of Fame members never lost when they had a chance to clinch the NBA title. Of that group, however, only seven got that chance more than once. The lone player who went 3–0 in potential NBA Finals clinchers may come as a surprise. As for how the "likely" Hall of Famers were determined? Players with at least a 50% probability according to Basketball Reference's Hall of Fame Probability index were included (sorry about that, Manu Ginobili).
Three modern-era players posted 80% winning percentages or better
While winning four championships with the Los Angeles Lakers and Miami Heat, Shaquille O'Neal took the court five times with a chance to pop the champagne corks. He won four of those games. With the Heat, Lakers, and Cleveland Cavaliers, LeBron James is similarly 4–1 when he has a chance to clinch a championship.
One ahead of those legends is the late Kobe Bryant. He was successful five times in six tries to close out an NBA Finals.
Three other players, all with ties to the Boston Celtics dynasty of the 1950s and 1960s, checked in with more than 70% success rates. Tom Heinsohn played in 11 potential clinching games, and the Celtics won eight of those. For Sam Jones, the numbers are 10 wins in 14 tries. Frank Ramsey played in 10 such contests, and Boston came out with the trophy seven times.
The man who never lost in three tries to clinch an NBA Finals
Though he was a member of a team that lost in the NBA Finals, Dwyane Wade and the Heat never had a chance to clinch in 2014. They trailed 3–1, and the San Antonio Spurs closed them out in Game 5.
Three times, however, Wade and Miami stepped onto the court for a chance to get that problematic fourth win and capture the championship. The Heat did just that every time.
Wade played varying roles in those three victories. En route to NBA Finals MVP honors in 2006, Wade scored 36 points in Game 6 as Miami finished its comeback from a 2–0 deficit to win the franchise's first title. In 2012, Wade had 20 points and eight rebounds in the clincher in beating the Oklahoma City Thunder. When the Heat closed out San Antonio the following year, his contributions were 23 points and 10 boards.
Wade shot 28-of-51 in those three games, never hitting less than 50%. Dallas Mavericks fans still lament the 21 free throws he attempted in Game 6 (after taking 25 in Game 5), but Wade averaged 39.3 points in Miami's four wins in the 2006 NBA Finals. Heady stuff, indeed.
As for those other superstars, sometimes that NBA Finals clincher eluded them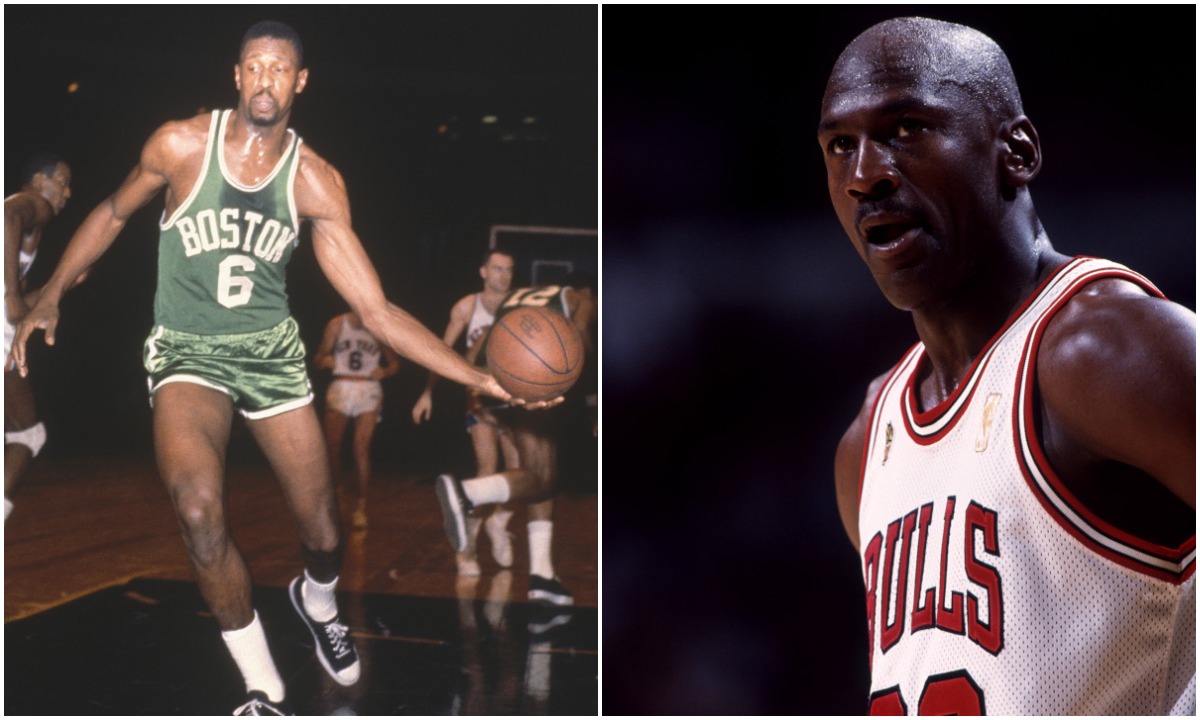 Russell won 11 NBA titles, more than any other player. But five times, Russell's Celtics had a chance to finish off an opponent and failed to do so, including twice in the 1966 NBA Finals against the Lakers.
Jordan (and, by extension Scottie Pippen) lost four games with the trophy waiting in the wings. Two of those came in Seattle in 1996. The SuperSonics rallied to win Games 4 and 5 at home after falling into a 3–0 hole.
On the other end of the spectrum, you have two of LA's biggest stars. Jerry West played in seven games in which the Lakers could have locked up an NBA championship. He lost six of those. Longtime teammate Elgin Baylor also lost six times with a title to be won. Unlike West, he never got the win. Ouch.
This list isn't complete without mentioning the Hall of Fame trio of Bob Davies, Bobby Wanzer, and Arnie Risen. All members of the Rochester Royals in 1951, those three played for the only team in NBA Finals history to play four potential clinchers in a single series. Yes, the Royals took a 3–0 lead over the New York Knicks. Then they watched in horror as the Knicks came back to tie things up in Game 6. Only a 79–75 Game 7 victory saved them from a brutal fate.
Instead, the 2016 Golden State Warriors had the biggest NBA Finals collapse, losing three straight games after taking a 3–1 lead. Fortunately for Stephen Curry and company, hardly anyone noticed.
Statistics courtesy of Basketball Reference.
RELATED: Larry Bird Was Convinced That David Stern Rigged the 1984 NBA Finals: 'The League Needed the Money'