The 5 Best NBA Players from the 2015 Draft
The 2015 NBA Draft already proves to be one of the more solid talent hauls in recent years. Although this class will never approach the star power of 2003, when teams took LeBron James, Carmelo Anthony, Dwyane Wade, and Chris Bosh off the board with the first five picks, it is still a dramatic improvement over 2013, when Anthony Bennett went first overall to Cleveland.
For 2016–17, Bennett will join his fourth NBA team in four years, after just getting called back up to the Brooklyn Nets from a short stint in the D-League. As a sign of the times, the top of the 2015 draft class was dominated by heavily recruited one-and-done college phenoms, along with a few other basketball prodigies who plied their trade overseas, before cashing in for NBA dollars.
The constant media exposure makes it is easy to forget that all of these young talents have yet to turn 21. With age, the five following players will likely develop into perennial All-Stars and franchise cornerstones. In 10 year's time, one of these special players just might polish off a Hall of Fame resume that includes multiple MVP awards and championship trophies.
5. Myles Turner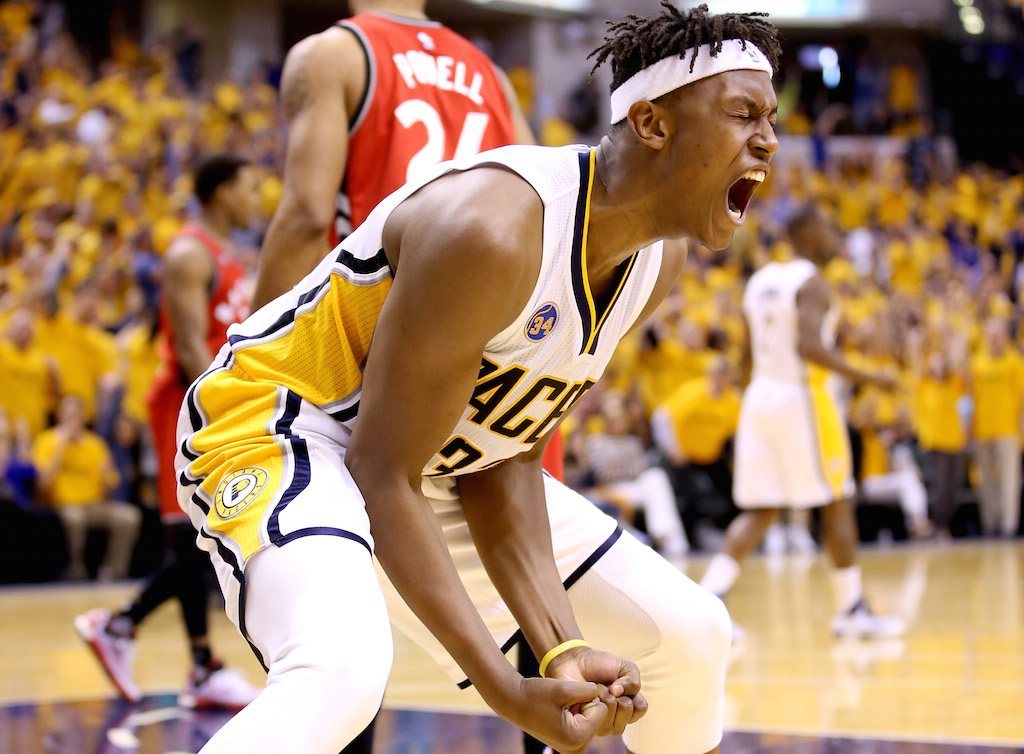 Potentially the most unheralded prospect out of his draft class, Myles Turner played college ball at the University of Texas, a football school notably removed from major East Coast media markets. At the time, Jahlil Okafor grabbed the headlines as the top-rated center coming out of high school. While at Duke, Okafor dropped 17 points per game for a stacked team that ran away with the National Title after a stacked Kentucky squad lost to Wisconsin in the Final Four.
For his part, Turner put up a rather non-descript 10 points and seven rebounds at Texas, before declaring for the NBA draft. The 76ers selected Okafor No. 3 overall in the 2015 NBA Draft after much debate as to whether he or Karl-Anthony Towns was the most polished big man on campus. As a rookie in Philadelphia, Okafor provided post scoring, but little else through 48 starts. Now, he suddenly finds himself as the odd man out of the rotation, with Joel Embiid looking like the second coming of Hakeem Olajuwon and rim protector Nerlens Noel set to return to the lineup.
Meanwhile, Turner has quietly established himself as one of the more versatile bigs in basketball — an ideal fit for the pace and space style of today's NBA. Turner is especially deadly in the pick-and-pop game, where he can knock down the mid-range jump shot or drive the lane for an easy score. Last month, on opening night, Turner blitzed the Mavericks for 30 points, 16 rebounds, and four blocks at home. For the season, he is putting up 15 points, 8 rebounds, and two blocks per game for the Indiana Pacers.
4. Devin Booker
At Kentucky, Devin Booker was the sixth man on the team, behind the Harrison twins. As a backup, Booker dropped 10 points per game for the Wildcats. This Kentucky team went 38-0 before taking its first loss to Wisconsin in the Final Four. Shortly thereafter, seven Kentucky Wildcats hosted a press conference to declare for the NBA draft. At that point, Booker was something of an unknown commodity; he went 13th in the 2015 NBA Draft to the Phoenix Suns.
The Suns have a logjam at guard, with Brandon Knight, Eric Bledsoe, and Booker still all on the roster. The team largely relegated a rookie Booker to the bench, until Eric Bledsoe tore his meniscus last December and was out for the rest of the 2015–16 season. Booker started to come into his own toward the end of last year seeing full-time starter minutes. Last March, he torched the Lakers for 28 points, while dishing out seven assists and hauling in three boards for the 12-point win. With that, NBA analysts began comparing Booker to Klay Thompson.
For 2016–17, a more confident Booker has taken on an increased share of the load and is dropping 19 points per game. As a crafty scorer, he thrives out of isolation sets, where he can beat his man off the dribble and into the paint. In transition, Booker can flare out behind the arc and regularly knock down uncontested threes. With time, he will only improve as a playmaker and likely even serve as the face of the Phoenix franchise.
3. D'Angelo Russell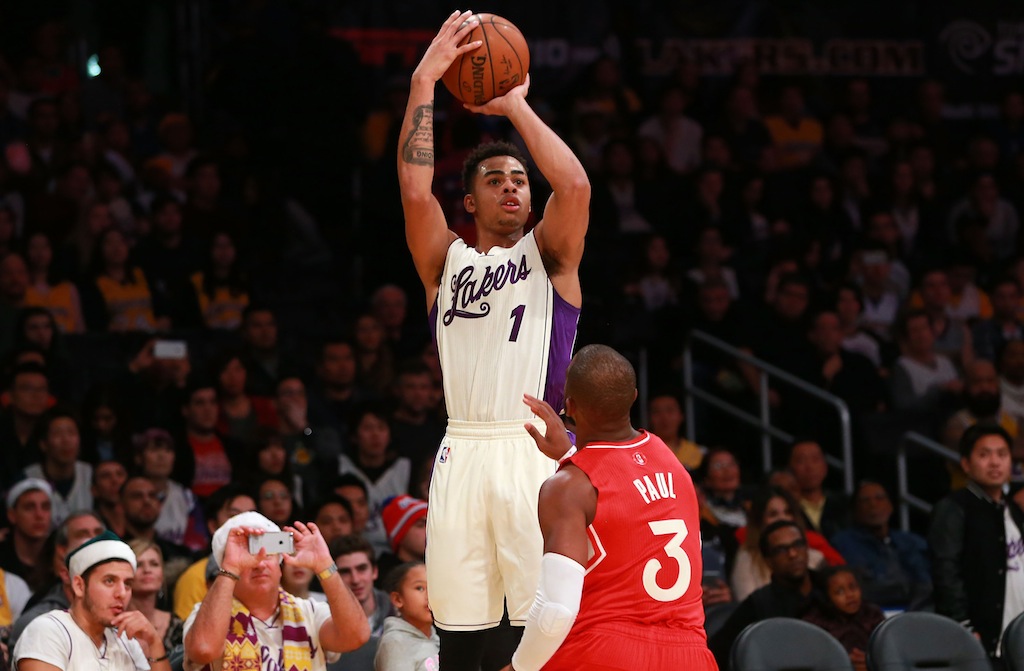 Last year, the Los Angeles Lakers passed on Okafor to select D'Angelo Russell out of Ohio State. At the time, Russell and his flashy style looked like the perfect fit for a Lakers franchise desperate to bring back Hollywood glamour and Showtime. Instead, Russell often stood in the corner as a decoy, while Kobe Bryant completed his Farewell Tour.
When Russell was not in the corner, old school head coach Byron Scott would quickly yank him out of the lineup whenever the young gun had the audacity to go off script and freelance. To add to the drama, Russell baited teammate Nick Young to admit to cheating on then-fiancé Iggy Azalea, before leaking the secretly taped footage.
On paper, Russell averaged 13 points, three rebounds, and three assists — promising numbers for a 19-year old rookie. In reality, however, Russell's first year as a pro was a total disaster. At rock bottom, Lakers personnel refused to even acknowledge Russell's presence in the locker room. They clearly chose to side with Nick Young over the apparent future of the franchise. The 2015–16 Lakers somehow managed to close out the season on a high note, with Kobe dropping 60, before walking off the floor at Staples Center for the final time.
This offseason, Lakers parted ways with Scott and signed Luke Walton to a five-year, $25 million deal. Russell is now thriving and back to his freewheeling style — removed from the constant glares of Bryant and Scott. Russell's stats are up across the board; he's putting up 16 points per game, while also handing out five assists.
Russell is at his best working the pick-and-roll to either score the basketball on his own, or hit a cutting teammate right at the front of the rim. The Lakers are now 10-10 and one of the more surprising teams in the league with Russell leading the charge. Showtime is back in LA.
2. Kristaps Porzingis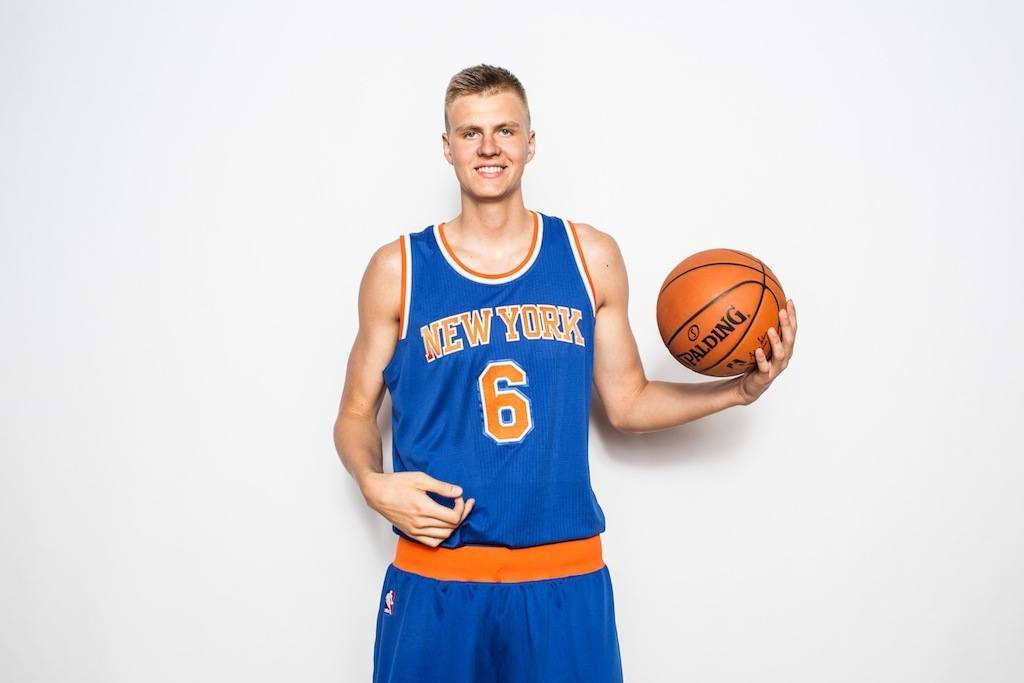 Last year, a chorus of boos greeted Kristaps Porzingis in Brooklyn after the New York Knicks introduced the Latvian as the fourth overall pick in the 2015 NBA Draft. Phil Jackson spent several weeks defending his pick to passionate and knowledgeable fans who'd already been burned by the likes of Andrea Bargnani, a tall and lanky European who went first overall in 2006, but refused to get down and dirty on the low block and quickly flamed out in the NBA.
On draft night, 2015 Knicks fans wanted Justice Winslow, a supposedly proven commodity just coming off his own National Championship run at Duke. Porzingis, however, proved he belonged as early as summer league, when he quickly became the talk of Las Vegas.
Unlike the parade of European busts before him, Porzingis relished the media spotlight, fierce competition, and physical play beneath the basket. For his regular season debut, he bullied his way to 12 free-throw attempts and chipped in with 16 points total. For his rookie year, Porzingis put up 14 points, seven rebounds, and two blocks per game as a seven-footer just as comfortable out on the perimeter as he was banging inside.
For 2016–17, Porzingis has made the leap and is already taking turns with Carmelo Anthony for control of the team. So far, he is averaging 21 points per game, off efficient 49% shooting from the field. On any given night, Porzingis can put together his very own highlight reel of rejections, coast-to-coast ball handling, and hammer dunks. The 21-year-old is already putting up Dirk Nowiztki-type numbers and leading a basketball revolution in New York City.
1. Karl-Anthony Towns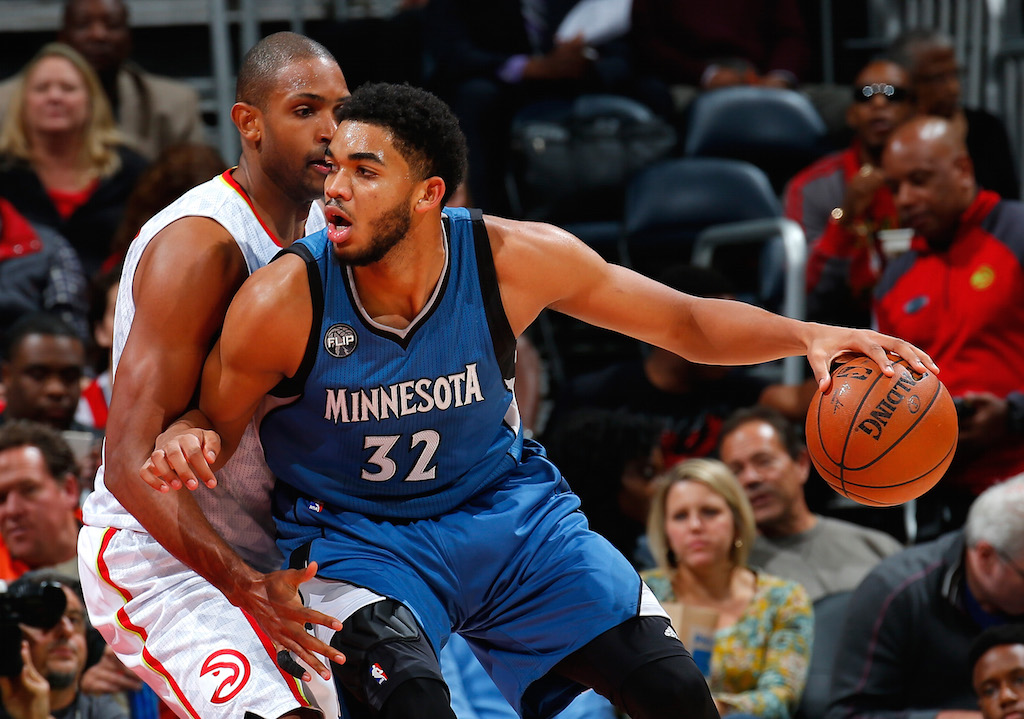 To put his game in perspective, Towns, as a seven-footer, is arguably the best shooter to come out of the 2015 NBA Draft. He's hitting 39% of his three-point shot attempts, which works out to making roughly two triples per game. With this range, KAT is a match-up nightmare for opposing big men, who are forced far out of their comfort zone to chase him around the perimeter off the pick-and-pop. After loosening up the defense, Town will go to work in the post, and finish off a series of moves with his devastating hook shook.
The 21-year-old is suddenly a top rival to fellow Wildcat big men DeMarcus Cousins and Anthony Davis. Many analysts already anointed The Brow as the best player in all of basketball, especially after AD went off for 50 points, 16 rebounds, five assists, seven steals, and four blocks to open the season. Boogie Cousins, of course, is no slouch in his own right; he's racking up 29 points and 10 rebounds this season. Joel Embiid and these three Kentucky big men will own the league for years to come, and may very well stomp all over the small ball revolution.
Last week, KAT showed off his full repertoire as he destroyed the New York Knicks for 47 points and 18 rebounds. This season, Towns is averaging 22 points, 10 rebounds, two assists, and two blocks per game to anchor the most intriguing young roster in the NBA.
Andrew Wiggins and Towns both ran away with back-to-back 2015 and 2016 Rookie of the Year Awards, respectively. Zach LaVine has also picked it up, and is now dropping in 20 points per game, while proving that he is much more than just a sideshow act and slam dunk contestant. With time, NBA fans should expect KAT and this Minnesota group to emerge as perennial contenders out of the rugged West.
Statistics courtesy of ESPN and Pro-Basketball-Reference.