The 5 Best NBA Players Trapped on Bad Teams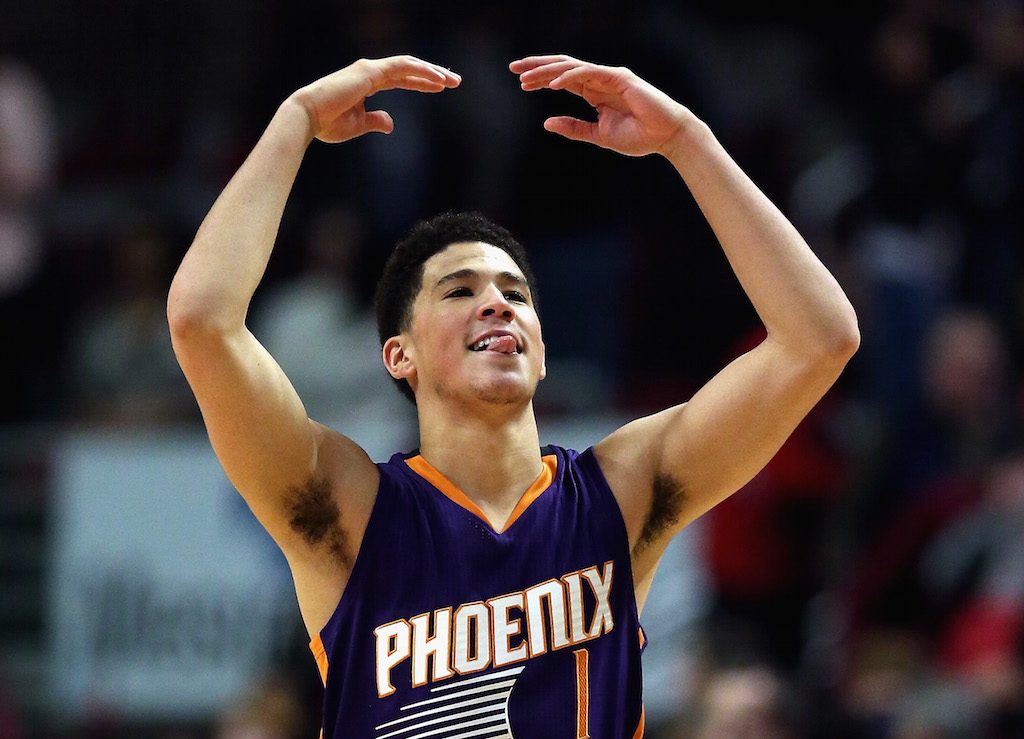 Unfulfilled talent is always a tragedy. In the NBA a star player may rip down a rebound, control the basketball, and push the pace across half-court, where he is immediately double-teamed. At that point, he will make the right basketball play, and whip the rock right over to a wide-open teammate, only to watch hopelessly as the resulting shot clangs right off the back rim.
On the other side of the floor, this perennial All-Star may lock down his own man, while his teammates are beaten repeatedly behind tough screens and weak-side cutters. By the fourth quarter, our workhorse may have racked up a triple-double, yet still he remains on the losing end of another humiliating blowout loss.
Star athletes trapped on horrible teams should all sidestep the old "failed to make his teammates better" cliche. If anything, the following players may eventually test the waters of free agency in order to finally compete for a championship while there is still gas left in the tank. Loyal fans will never forgive ownership and the front office, if the Golden Goose were to skip town for pennies on the dollar, or even nothing at all.
5. Devin Booker
In college, Devin Booker was part of a stacked Kentucky club that went 38-0, before taking its first loss of the year to Wisconsin in the Final Four. Karl-Anthony Towns highlighted this group that ultimately sent six players to the NBA draft. Still, NBA analysts raised their collective eyebrows, when the Phoenix Suns took Booker with the 13th pick in the 2015 NBA Draft, despite him being parked on the bench behind the Harrison twins and even Tyler Ulis as a Wildcat.
As an 18-year old rookie, Booker battled for time early on out of a crowded backcourt that already featured fellow Wildcats Eric Bledsoe and Brandon Knight. This 2015–16 team began the year with known malcontent Markieff Morris at power forward, who went out of his way to wreck team chemistry after his twin brother Marcus was dealt to Detroit. That year, Markieff demanded a trade, threw a towel at the face of head coach Jeff Hornacek, and instigated a shoving mach with teammate Archie Goodwin during a timeout. By midseason, Hornacek was fired, Morris was shipped out of town to Washington, and Bledsoe blew out his knee.
Booker then suddenly found himself starting for the most dysfunctional franchise in the NBA this side of Sacramento. As a starter, Booker quickly established himself as one of the best shooters in the league and the steal of the 2015 Draft. Booker, at 6-foot-6, proved to be a crafty athlete who could create space and score in bunches. In all, Booker closed out his rookie campaign by averaging 14 points off 28 minutes of playing time.
This year, 20-year-old Booker has upped his game, to emerge as the leading scorer on the team, at 20 points per game. These 2016–17 Suns, however, still take the floor with one of the more unbalanced rosters in basketball. The team lacks a traditional point guard, with Booker, Knight, and a healthy Bledsoe taking turns dominating the ball out of isolation. Graybeard Tyson Chandler is now the only veteran, interior presence on a team that lacks real structure and often degenerates into playing pick-up ball out on the floor. These Suns rank nearly dead last in every major defensive category. For Booker to shine, the Suns must clean house from top to bottom.
4. John Wall
John Wall is arguably the fastest man from end-to-end in the NBA. At 26, he is having his best season yet, after adding a real jump shot to his arsenal this offseason. Wall is now hitting 40% of his three-point shot attempts, which is a dramatic improvement over his first three seasons in the league, when he simply refused to elevate in space out on the perimeter. For his sophomore season, Wall went an abysmal .071 (7.1%) from three, with defenses crashing down and daring him to shoot.
This year, Wall is putting up 24 points, four rebounds, and nine assists, as one of the more complete point guards in the game. Wall and the Wizards did take back-to-back trips to the playoffs between 2014 and 2015. In both years, Washington dominated the first round, before collapsing in the Eastern Conference Semifinals. In 2015, Wall wore a cast and watched helplessly from the sidelines, as the Wizards dropped three straight playoff games to the Hawks to close out the season. Still, the Wizards  brought excitement to town that had not been felt for more than one decade, when Gilbert Arenas squared up and went toe-to-toe against a young LeBron James in the playoffs.
Last year, the Wizards, took a step back and finished 41-41 and out of the playoffs. In response, the front office signed Bradley Beal to a maximum contract, despite murmurs of personality clashes between this young swingman and his own point guard. From there, hometown kid Kevin Durant refused to even meet with the front office through his free agent tour, which many delusional fans mistook for a slap in the face. In rolling out the red carpet for Durant, the team even went so far as to hire his former head coach Scott Brooks.
The wheels are falling off in Washington and the team is now 4-9. From here, the Wizards may sneak into the postseason as an eighth seed, only to be blown out in the first round of the playoffs. At worst, the front office will ultimately issue tanking orders and shut down Wall for the rest of the season due to minor injuries. The Bullets, er Wizards, have been rebuilding since the late '70s.
3. Joel Embiid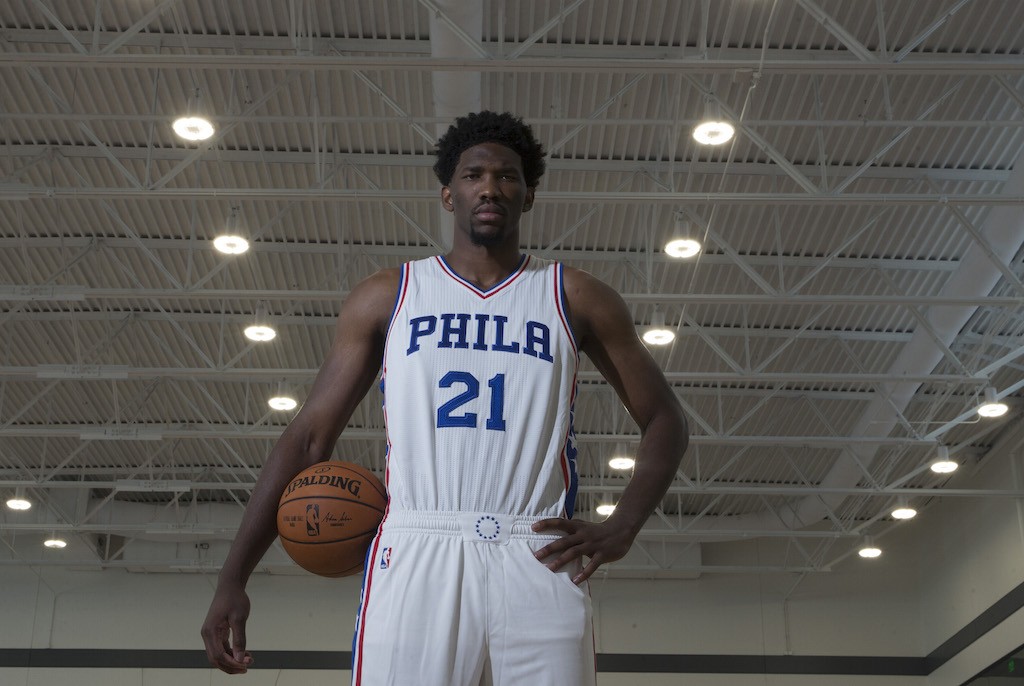 Joel Embiid took on the name "The Process," in reference to former general manager Sam Hinkie, who was run out of town on a rail in April 2016. Hinkie transformed the idea of tanking into that of an art form, by benching starters, purposefully racking up losses, and trading away young talent, with the full intent of stockpiling draft picks and cap space. To top it all off, Hinkie took centers in three straight drafts; Nerlens Noel (2013), Embiid (2014), and Jahlil Okafor (2015).
Embiid, however, missed out on two entire years as a professional, because of the broken navicular bone in his foot. A nervous fanbase compared this supposed franchise center to the likes of Bill Walton, Arvydas Sabonis, Yao Ming, and Greg Oden as talented big men who were all destroyed by a series of foot, knee, and leg injuries.
Embiid finally made his debut on October 26, 2016, and came up with 20 points and seven rebounds through only 22 minutes of action. By his ninth game, Embiid was racking up 26 points, seven rebounds, two assists, and two blocks in only twenty minutes of playing time against the Suns.
In showing off the full repertoire, Embiid completed his very own interpretation of the Dream Shake in the paint, before stepping out behind the arc and going three-for-five. The Philadelphia 76ers are now 3-11, while Embiid is limited to a 25 minutes-per-game restriction and first overall pick and Ben Simmons recovers from a foot injury of his own. At this point, it is still far too early to decide whether The Process was actually worth the wait.
2. DeMarcus Cousins
DeMarcus Cousins was always the best big man on the floor through the 2016 USA Basketball run that resulted in gold. Cousins, like many apparent malcontents before him, suddenly transformed into a fiery leader and team player, when surrounded with elite talent. As a King, Cousins has clashed repeatedly with the likes of George Karl, Rudy Gay, and even Vlade Divac through seven years of perpetual losing, draft busts, and political wrangling to keep the team in Sacramento.
These Kings are arguably the most dysfunctional franchise in all of sports, last making the playoffs in 2006. Still, the otherworldly talents of Cousins cannot be denied. As a defender, Boogie can hedge out on the perimeter to defend against the pick-and-roll, before rotating back into the paint to contest the shot and control the basketball. After taking a couple dribbles, Cousins can effortlessly whip a full-court outlet pass out to his man in stride for an easy transition score.
In half-court sets, Boogie Cousins can either abuse his man on the low block, or step out to the free throw line and go triple threat. As a triple threat, Cousins can knock down the mid-range jump-shot, drive the ball past his man, or hit an open cutter right at the front of the rim. As the total package, Cousins is now putting up 27 points, ten rebounds, four assists, one steal, and one block per game in Sacramento. For added measure, the center is even making 33% of his three-point shot attempts and making one triple each contest.
The Kings, however, are 5-9 and have spoiled the grand opening of their new Golden 1 Center arena with uninspired play and a total lack of team chemistry. Gay has already voiced his intent to opt out of his three-year deal this offseason, and does play and behave with one foot out the door. The Ty Lawson pick-up has also been a disaster, with the former UNC standout only chipping in a mere six points per game, when he does somehow manage to stay sober and make the team flight. At this rate, it will only be a matter of time before Cousins skips town himself, to get paid by a real contender in the 2018 free-agent sweepstakes.
1. Anthony Davis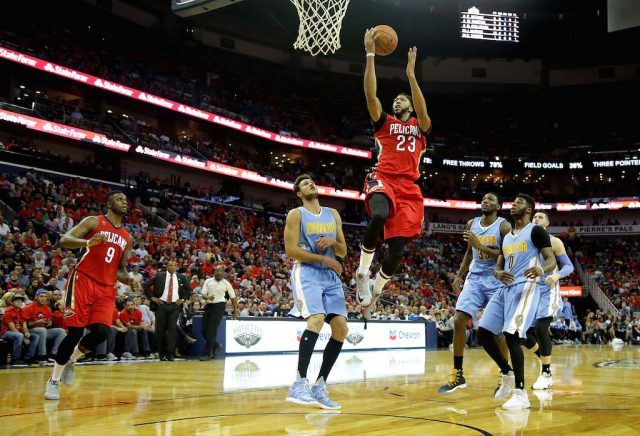 Anthony Davis kicked off the season by dropping in a staggering 50-point, 16-rebound, five-assist, seven-steal, and four-block stat-line in the season opener against the Denver Nuggets. To follow that up, the Brow went off against the Mighty Golden State Warriors to rack up 45 points and 17 boards through the second game of this 2016–17 year. For the season, Davis is averaging 30 points, 11 rebounds, two assists and two steals, to go with his league leading three blocks per game.
On any given night, AD is the best offensive and defensive player on the floor. Still these New Orleans Pelicans managed to drop their first eight games of the season, while Davis reinvented the game of basketball. Davis, at 6-foot-10, is comfortable turning and facing out on the perimeter and driving the lane. On the low block, The Brow has already perfected his own series of drop step, up-and-under, and spin moves. After forcing the defense to commit and pack the paint, Davis can simply step out and rain down mid-range jump-shots.
To top it all off, AD is an 81% free throw shooter; a rare big man who can stay on the floor and control the basketball late in games, without fear of getting fouled. Beyond Davis, the Pelicans field a faceless roster of retreads and complete unknowns to any casual fan. Names like Tim Frazier, E'Twaun Moore, Lance Stephenson, and Omer Asik are all on their second and third acts of their careers, after having flamed out terribly elsewhere. Meanwhile, first-round pick Buddy Hield is struggling to create space and get open at the professional level. He's shooting a woeful 37% from the field.
Against this group, opponents appear to be content to let Davis "get his," while his teammates drop the ball and throw up bricks. The Pelicans are now 5-10 and have regressed sharply since their promising 2015 run, when they went down to the Golden State Warriors in the first round of the playoffs. Interestingly, Davis is the fourth Kentucky Wildcat on this list. For now, perennial losing at the professional level appears to be the direct tradeoff for one-and-done glamour in college.
Statistics courtesy of ESPN and Pro-Basketball-Reference.