5 of the Best NFL General Managers in 2019
In this era of the NFL, it's harder than ever to build a team that contends for a championship. No team can do it without a solid front office led by a calculating general manager. Let's take a look at the five best NFL general managers in 2019.

5. John Schneider, Seattle Seahawks
Schneider and Pete Carroll built a mini-dynasty earlier this decade, winning a Super Bowl and coming within one play of another title. They built a roster stacked with talent: Russell Wilson as the young QB, Marshawn Lynch as the unstoppable running back, and the Legion of Boom defense that gave the great Peyton Manning nightmares in the Super Bowl.
Now? The Seahawks quasi-dynasty is over as the team sheds some of its higher-priced talent. They continue to remain in the playoff hunt, however. Since they've lost the Super Bowl, they've qualified for the playoffs in three of the past four seasons.

The reason they're able to continue competing? Schneider's ability to keep his key pieces in place (Russell Wilson recently signed a big extension) and surround him with adequately talented players keeps the Seahawks competitive year in and year out.

4. Brett Veach, Kansas City Chiefs
Veach has worked in tandem with head coach Andy Reid to overhaul the Chiefs roster in the past few seasons. He took a middle-of-the-road team and turned them into a championship contender. If that doesn't signify he's one of the best NFL general managers, then nothing will.

He drafted Patrick Mahomes when the team had the capable Alex Smith on the roster, which gave Mahomes a year to learn the offense without any pressure. Last season, the team and Veach's patience with Mahomes paid off as he had a historic first year as the Chiefs starter.

They lost to the Patriots in the AFC Championship game, but with Veach's draft strategy favoring versatility and a roster still stocked with talent, they're likely to end up back in the championship picture again very soon.

3. Les Snead, Los Angeles Rams
At this point, Les Snead is practically a miracle worker, and he is definitely one of the best NFL general managers in 2019. It was only a few years ago that the Rams, new to L.A., looked hopeless. They were heading nowhere under a middling coach in Jeff Fisher, and the roster was suspect. Under Snaed's leadership, the Rams reversed course and last season made it to the Super Bowl.

Snead made three great moves that gave the previously moribund franchise a total 180-degree turn:
He stuck with young QB Jared Goff despite a lackluster rookie year under Fisher's tutelage
Snead fired Fisher and replaced him with offensive genius Sean McVay, who went on to revolutionize the Rams offense
He used the money he saved not paying for a big-name veteran QB to load up the defense with high-priced but talented players like Ndamukong Suh, Aqib Talib, and Aaron Donald
2. Howie Roseman, Philadelphia Eagles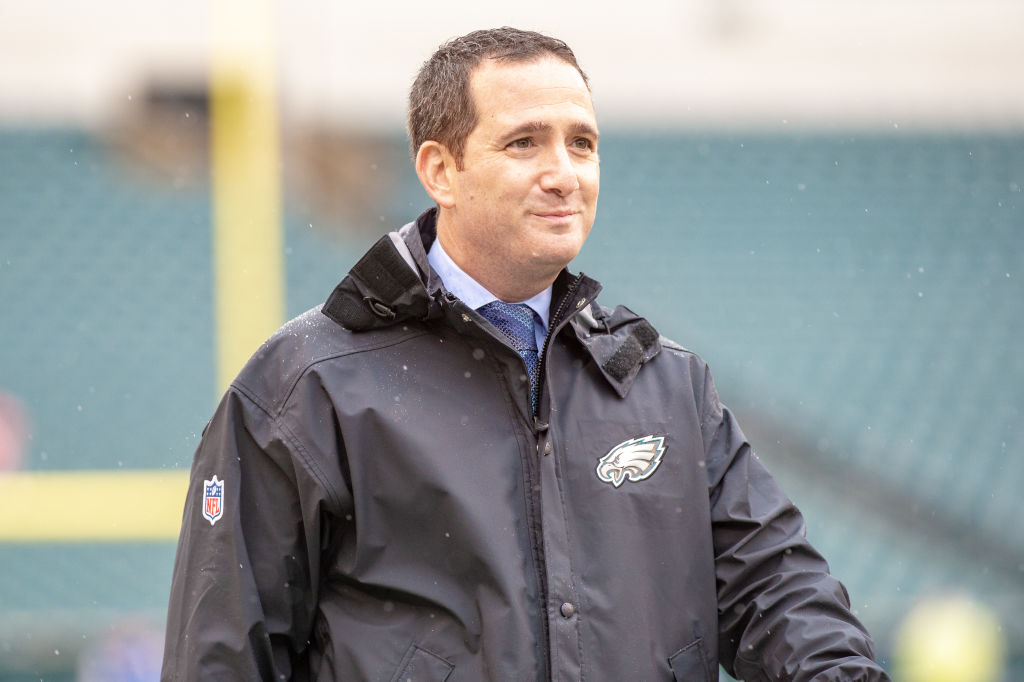 Roseman's Eagles were able to do something only one other franchise has accomplished before: beat a Bill Belichick-led team in the Super Bowl. The fact that he was able to do that with a backup QB is a testament to Roseman's ability to evaluate talent at a high level.

Even before Nick Foles stepped in and won Philadelphia's first Super Bowl, Roseman's selection of Carson Wentz as his QB of the future was another great move. It allowed the Eagles to get excellent performance out of a premium position without having to sacrifice a high salary cap cost. That enabled Roseman to add talent at other positions. With a Super Bowl win two years ago and a decent playoff run last season, the Eagles look set to be contenders for at least a few more years thanks to Roseman's guidance.

1. Bill Belichick, New England Patriots
Yes, Bill Belichick is New England's head. He's also in charge of the team's personnel, and he's not only the best coach in the league but one of the top NFL general managers, too.
It's not just the sheer volume of championships Bill Belichick has won — he has six to his name — it's also the recency of his success. He's won two of the last three Super Bowls and has appeared in all of the last three. Going back even further, Belichick constructed teams have appeared in nine of the last 18 Super Bowls.
Belichick is an aggressive GM. He's able to ruthlessly move on from young talent if he thinks it can help him win now (see: Jimmy Garoppolo) and move on from older veterans if he thinks they're no longer valuable (see: discarding an injured Drew Bledsoe in favor of a young and less-proven Tom Brady).