Is Ezekiel Elliott the Best Rookie Running Back in NFL History?
Very few players are able to enter the National Football League and play at a Pro Bowl level right away. Rookies in the NFL face massive amounts of pressure to live up to the lofty expectations that come with being high draft picks or having record-breaking college careers. Some guys can handle it, others cannot. Even the players that are able to come in and contribute at a high level in their first professional season almost always experience a great deal of growing pains on their road to NFL stardom.
One of the few positions where players can make an almost seamless transition from the college level to the professional level is running back. The simple truth of the matter is that running backs can rely more heavily on their natural running ability and vision than their rookie teammates at other positions. Other position groups have a much more difficult time adjusting to the speed of the game, pro-style schemes, and more complex terminology of NFL offenses and defenses.
Some of the greatest rookie seasons in NFL history have come at the hands of some of the greatest running backs in NFL history. In fact, it is not that uncommon to see ball carriers eclipse the 1,000-yard mark in their first professional season. And after only nine games in his first professional season, Dallas Cowboys running back Ezekiel Elliott has already accomplished that feat.
Here is a quick rundown on Elliott's stats through entering the 2016 postseason:
322 carries
1,631 rushing yards
5.1 yards per carry
108.7 rushing yards per game
15 rushing touchdowns
32 receptions
363 receiving yards
1 touchdown reception
The Cowboys can attribute a great deal of their success this season to the emergence of Elliott. The former Ohio State standout is one of the top three running backs in the league (he's joined by Le'Veon Bell of the Pittsburgh Steelers and David Johnson of the Arizona Cardinals), he has already earned All-Pro honors, and he is very much in contention for the 2016 NFL MVP and Offensive Rookie of the Year awards. With that being the case, is it safe to say that Elliott is the best rookie running back in NFL history?
Here's how his season compares to the previous seven best rookie running back seasons of all-time.
1.  Earl Campbell — 1978
Rookie stats:
302 carries
1,450 rushing yards
4.8 yards per carry
13 rushing touchdowns
12 receptions
48 receiving yards
The Houston Oilers made Campbell the No. 1 overall pick in the 1978 NFL Draft out of the University of Texas, and were anything but disappointed with The Tyler Rose's performance in his first professional season. As a rookie, Campbell led the NFL in rushing yards, was named a first-team All-Pro, won the NFL Offensive Rookie of the Year award, and won the NFL Offensive Player of the Year award. He would go on to play eight seasons in the NFL and was a Pro Football Hall of Fame inductee in 1991.
2.  Mike Anderson — 2000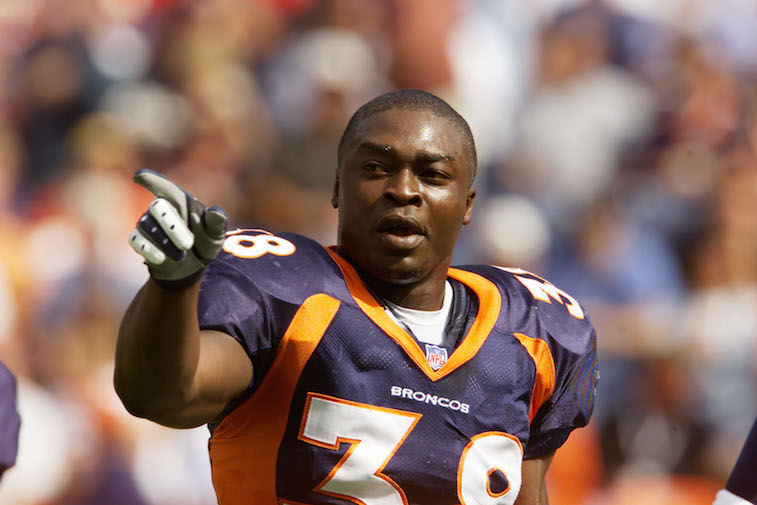 Rookie stats:
297 carries
1,487 rushing yards
5.0 yards per carry
15 rushing touchdowns
23 receptions
169 receiving yards
Anderson took an unconventional road to NFL stardom. After not playing sports in high school, he enlisted in the United States Marine Corps after his high school graduation. Anderson first played football for one the intramural teams within the Marines, where he caught the eye of a junior college coach in California. After completing four years in the Marines, he attended Mt. San Jacinto Junior College and played football both years before transferring to the University of Utah. Anderson was a star in his two seasons at Utah, and went on to be selected in the sixth round of the 2000 NFL Draft by the Denver Broncos as a 27-year-old.
In his rookie season, Anderson didn't assume the Broncos' full-time starting role until a month into the season. When he finally stepped into the starting lineup, Anderson took the league by storm. He would go on to win the NFL Offensive Rookie of the Year award, in what would ultimately end up being the best season of his professional career.
3.  Barry Sanders — 1989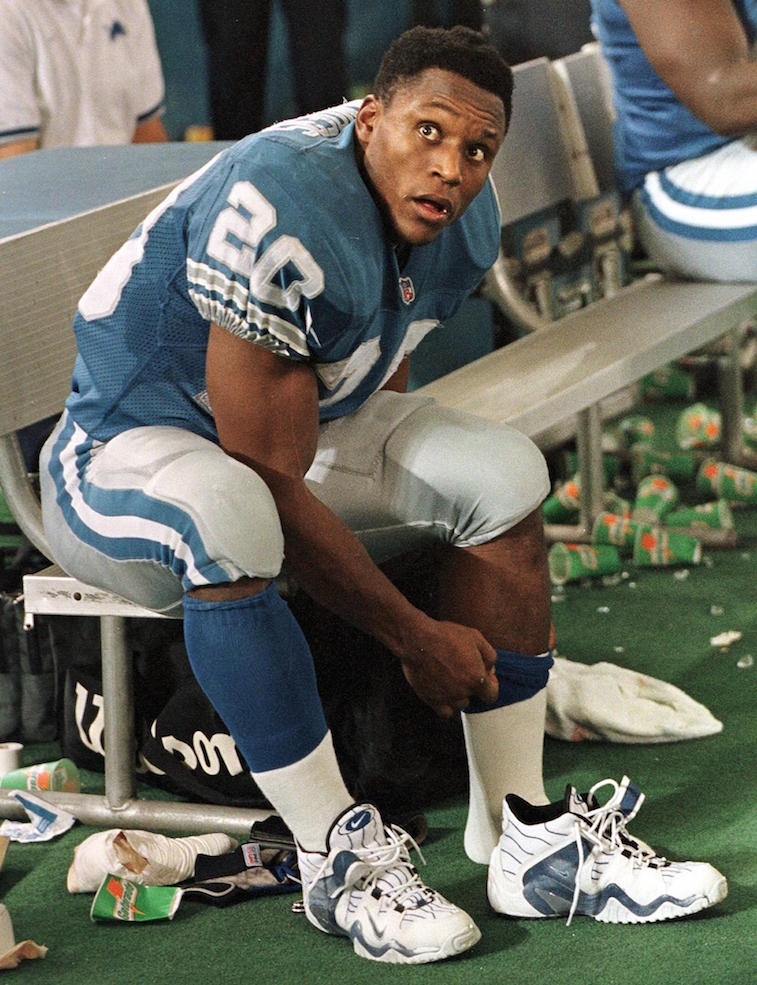 Rookie stats:
280 carries
1,470 rushing yards
14 rushing touchdowns
5.3 yards per attempt
24 receptions
282 receiving yards
It should really come as no surprise to see Sanders's name on this list. In his 10 NFL seasons, Sanders never finished with less than 1,100 yards on the ground, and made the Pro Bowl every year. As a rookie, he came in and dominated right from the start. In addition to putting up ridiculous stats, he also won the 1989 NFL Offensive Rookie of the Year award. Sanders remains one of the most explosive players to ever play in the NFL.
4.  Eric Dickerson — 1983
Rookie stats:
390 carries
1,808 rushing yards
4.6 yards per attempt
18 rushing touchdowns
51 receptions
404 receiving yards
2 touchdown receptions
Dickerson burst onto the NFL scene as a rookie in a big way in 1983. He not only posted what may have been the best season by a rookie – regardless of position – in NFL history, but it was also one of the best seasons by any running back in NFL history. The 1999 Pro Football Hall of Fame inductee led the league in rushing yards with just over 1,800, and ran for career-high 18 touchdowns in his first NFL season. For his efforts, he was named the NFL Offensive Rookie of the Year, the NFL Offensive Player of the Year, and the NFL's Most Valuable Player.
5.  Adrian Peterson — 2007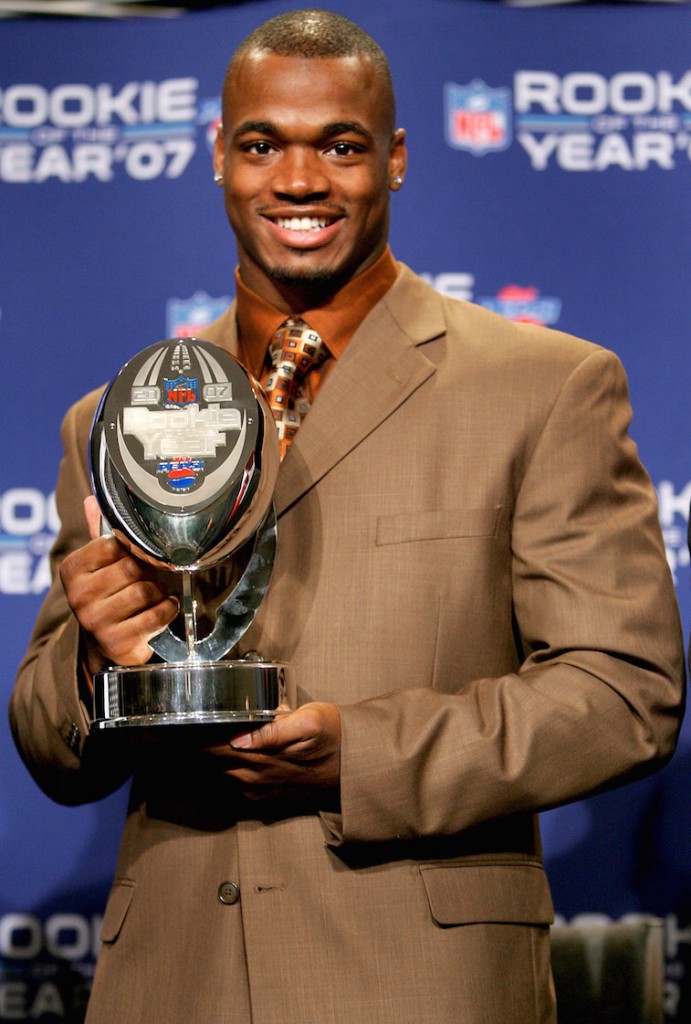 Rookie stats:
238 carries
1,341 rushing yards
5.6 yards per carry
12 rushing touchdowns
19 receptions
268 receiving yards
1 touchdown reception
Peterson appeared in 14 games and only made nine starts as a rookie in 2007, but that was enough for him to rush for over 1,300 yards and take home the NFL Offensive Rookie of the Year award. By the end of the season, Peterson had proven to be one of the premier backs in the NFL. In Minnesota's Week 9 game against the San Diego Chargers, Peterson had one of the best games by a running back in NFL history. He ran for an NFL single-game record 296 yards and added 3 touchdowns on 30 carries.
6.  Edgerrin James — 1999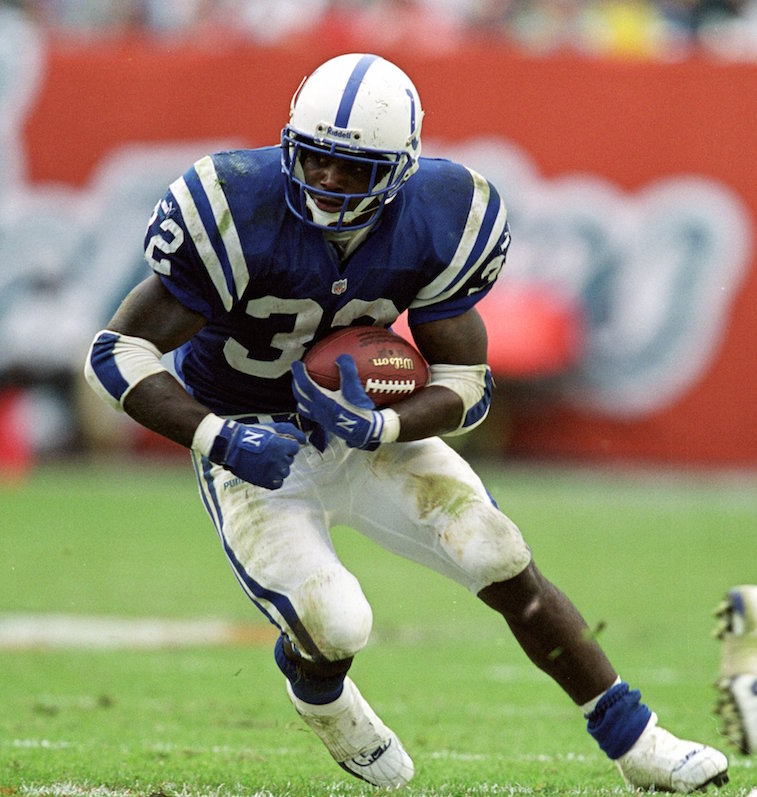 Stats:
369 carries
1,553 rushing yards
4.2 yards per carry
13 rushing touchdowns
62 receptions
586 receiving yards
4 touchdown receptions
The Indianapolis Colts shocked the football world when they drafted James over the much more heralded Ricky Williams in the 1999 NFL Draft. The move paid off in a big a big way for the Colts, as James would prove to be the perfect compliment to Peyton Manning in Indianapolis' high-powered offense. The former Miami Hurricane would go on to earn his first Pro Bowl selection and win the NFL Offensive Rookie of the Year award after putting up over 2,100 yards of total offense and 17 total touchdowns.
7.  Gale Sayers — 1965
Stats:
166 carries
867 rushing yards
5.2 yards per carry
14 rushing touchdowns
29 receptions
507 receiving yards
6 touchdown receptions
14.9 yards per punt return
1 punt return touchdown
31.4 yards per kickoff return
1 kickoff return touchdown
From day one of his NFL career, Sayers was one of the most dominant players in the entire league. As a rookie, he made his presence felt in almost every phase of the game. Sayers was explosive as a ball carrier, as a receiver out of the backfield and in the slot, and as a punt and kickoff returner. In his rookie year, he totaled 2,272 all-purpose yards and was responsible for a total of 23 touchdowns that came in five different forms – rushing, receiving, kickoff return, punt return, and a touchdown pass. The 1977 Pro Football Hall of Fame inductee would earn All-Pro honors and win the NFL Rookie of the Year award.
All statistics courtesy of Pro-Football-Reference.