Ranking the Top 10 Wide Receiver Duos in the NFL Today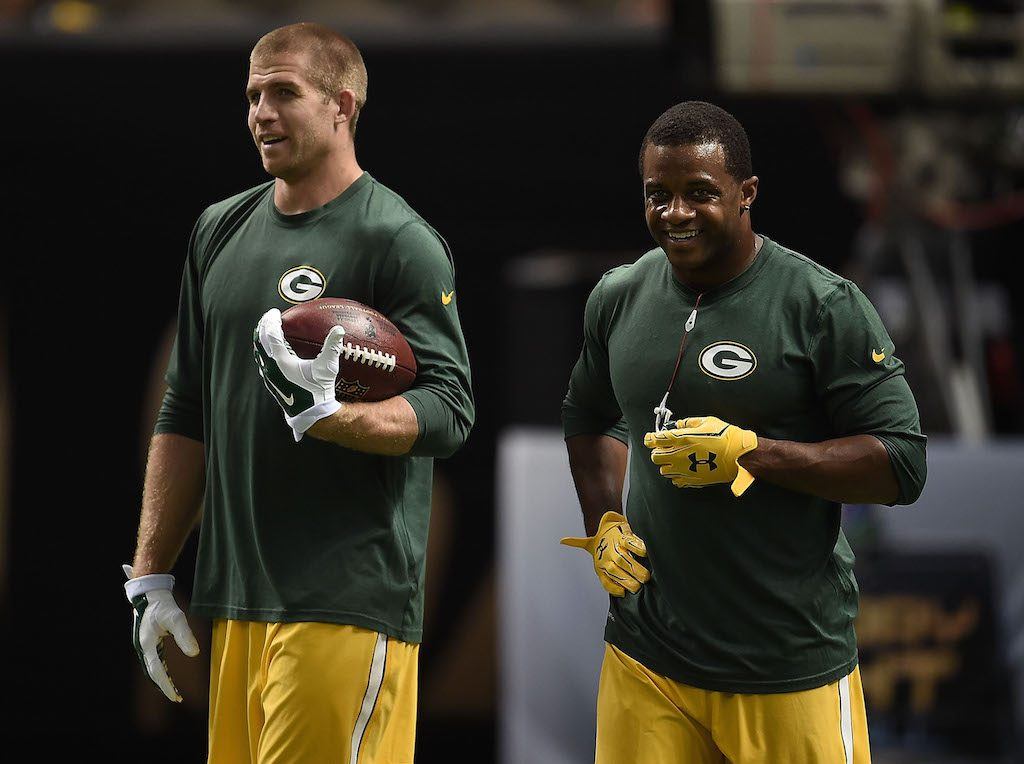 Over the last couple of decades, offensive schemes in the National Football League have changed dramatically. Gone are the days (for the most part) of offenses built around a punishing rushing attack and a workhorse running back. In today's NFL, there are still teams that place a heavy emphasis on the running game, but it is far more common to see an offense that is built to beat their opponents through the air with a high-flying passing attack. With that being the case, it can be said that wide receivers and running backs have now basically swapped roles when it comes to expectations for offensive production. Knowing this, it should come as no surprise that most teams have now made it a priority to build a roster that features at least two standout players at the wide receiver position.
One team that has done just that is the Green Bay Packers. They have two legitimate Pro Bowl wide receivers in Jordy Nelson and Randall Cobb, and when you consider the fact that they have All-Pro quarterback Aaron Rodgers throwing them the ball, it almost seems unfair for opposing defensive backs. Be that as it may, you aren't going to find the Packers on our list of the top wide receiver duos in the league today.
In case you missed it, Nelson is coming off of a torn ACL he suffered during Week 1 of the 2015 season, and he has yet to fully participate in any of Green Bay's training camp practices. Since we don't know if he will be healthy for the start of the 2016 season, we chose to leave the Packers off of our list for now. If Nelson returns to his pre-injury form, it will instantly elevate the Packers into one of the top two spots in our rankings.
Now that we have that out of the way, here is a look at our rankings of the top 10 wide receiver duos in the NFL today.
* Note: New England Patriots tight ends Rob Gronkowski and Martellus Bennett would have easily made our list, but we chose not to factor in tight ends.
10. Dez Bryant and Terrance Williams – Dallas Cowboys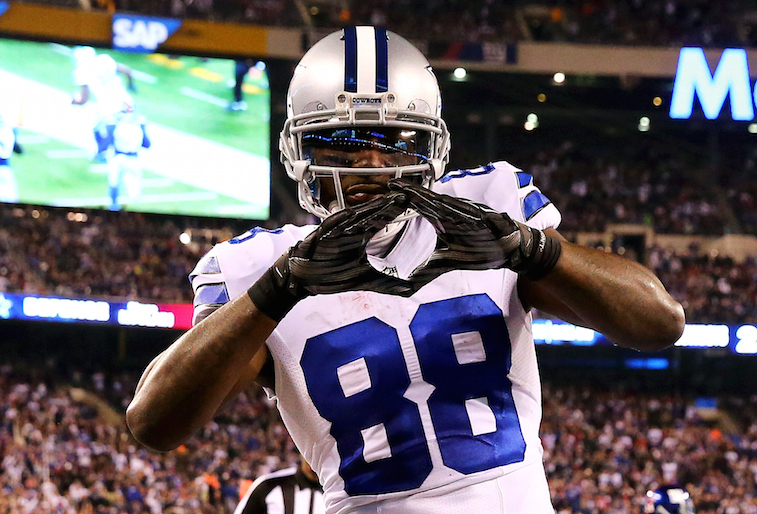 The Cowboys only had Bryant on the field for nine games in 2015, and it was painfully obvious that his absence contributed significantly to their 4-12 overall record. With Bryant out, Williams stepped up nicely and hauled in 52 passes for 830 yards and three touchdowns. And with both players on the field in 2016, the Cowboys should be much better on the offensive side of the ball. Expect to see both players come close to the 1,000-yard plateau this year.
9. Travis Benjamin and Keenan Allen – San Diego Chargers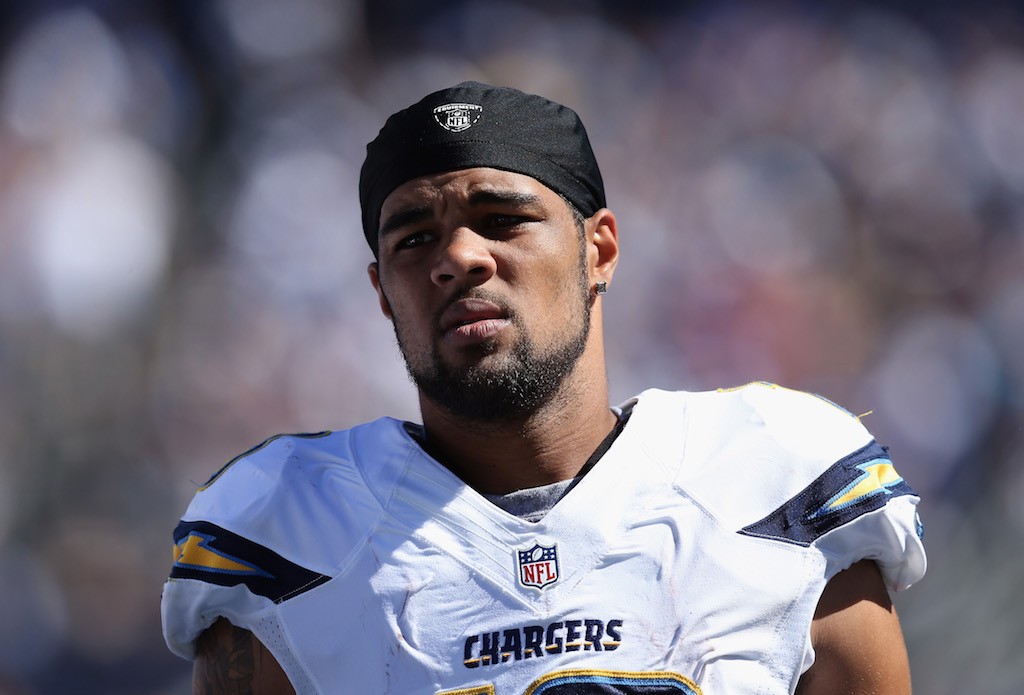 This wide receiver duo has flown under the radar all offseason, but could ultimately prove to be one of the most productive in the league when it's all said and done. Last year, Allen (pictured above) was on pace to have an All-Pro caliber season before landing on the Chargers' injured reserve list with a lacerated kidney. And Benjamin, who is diminutive but explosive, is a new face in San Diego after signing with the team during free agency this offseason. If the Chargers can do an adequate job of protecting Philip Rivers, expect to see both of these guys catch 80 or more passes for over 1,000 yards in 2016.
8. T.Y. Hilton and Donte Moncrief – Indianapolis Colts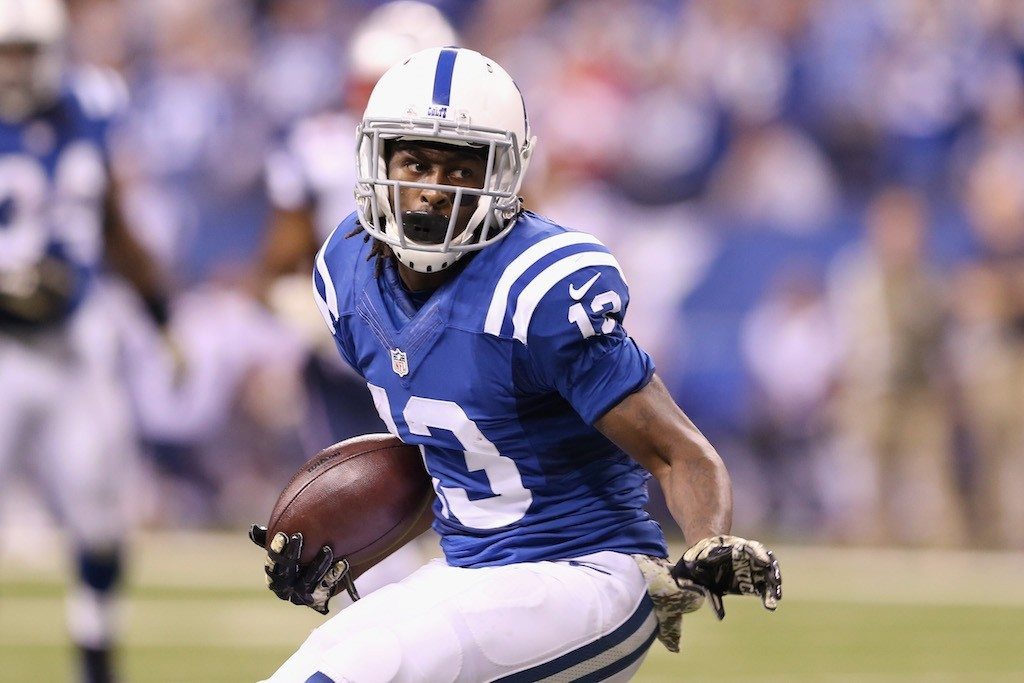 With Andrew Luck back at full-strength, the Colts should have one of the best passing attacks in the NFL this year. And as a direct result, his top-two wide receivers – Hilton and Moncrief – should have big seasons in 2016.
With Luck on the field for only seven games in 2015, Hilton and Moncrief combined to catch 133 passes for 1,857 and 11 touchdowns. Those numbers will almost surely increase substantially in 2016.
7. Larry Fitzgerald and John Brown – Arizona Cardinals
While Fitzgerald, who is a future Hall of Famer, and Brown were the Cardinals top-two receivers in 2015, they actually have a third player, Michael Floyd, who wasn't far behind them. Last year, both Fitzgerald and Brown went over the 1,000-yard mark, and Floyd finished the season with 849 yards. All three players are extremely physically gifted, and with Carson Palmer throwing them the ball, we fully expect them to replicate those numbers in 2016.
6. Amari Cooper and Michael Crabtree – Oakland Raiders
The future finally looks bright in Oakland after the Raiders have spent the last 13 seasons as bottom-feeders in the AFC. One of the main reasons for the optimism in Oakland is the dynamic wide receiver duo of second-year pro Amari Cooper, who has the look of a future All-Pro, and seven-year NFL veteran Michael Crabtree. Both players are close to being the complete package when it comes to their skillsets as wide receivers, and they will have a rising star in quarterback Derek Carr throwing them the ball.
5. Julio Jones and Mohamed Sanu – Atlanta Falcons
Despite releasing veteran Roddy White, who holds almost every career franchise receiving record, the Falcons will again have one of the best wide receiver duos in the league in 2016. Julio Jones, who many people believe is the best player at the position in the NFL, is leading the way, and the Falcons went out and added Mohamed Sanu to compliment him during free agency. Jones will likely again contend for the league-lead in receptions, yardage, and touchdowns, and we wouldn't be surprised if Sanu has a career-year in 2016 as well.
4. Antonio Brown and Markus Wheaton – Pittsburgh Steelers
The Steelers would rank even higher on this list if Martavis Bryant weren't suspended for the entire season. Fortunately for the Steelers, they should be just fine without Bryant. They have the best all-around wide receiver in the game today in Antonio Bryant, and fourth-year pro Markus Wheaton has emerged as a legitimate No. 2 NFL wide receiver over the last couple of years. We wouldn't be surprised if both players are selected to the Pro Bowl in 2016.
3. Allen Hurns and Allen Robinson – Jacksonville Jaguars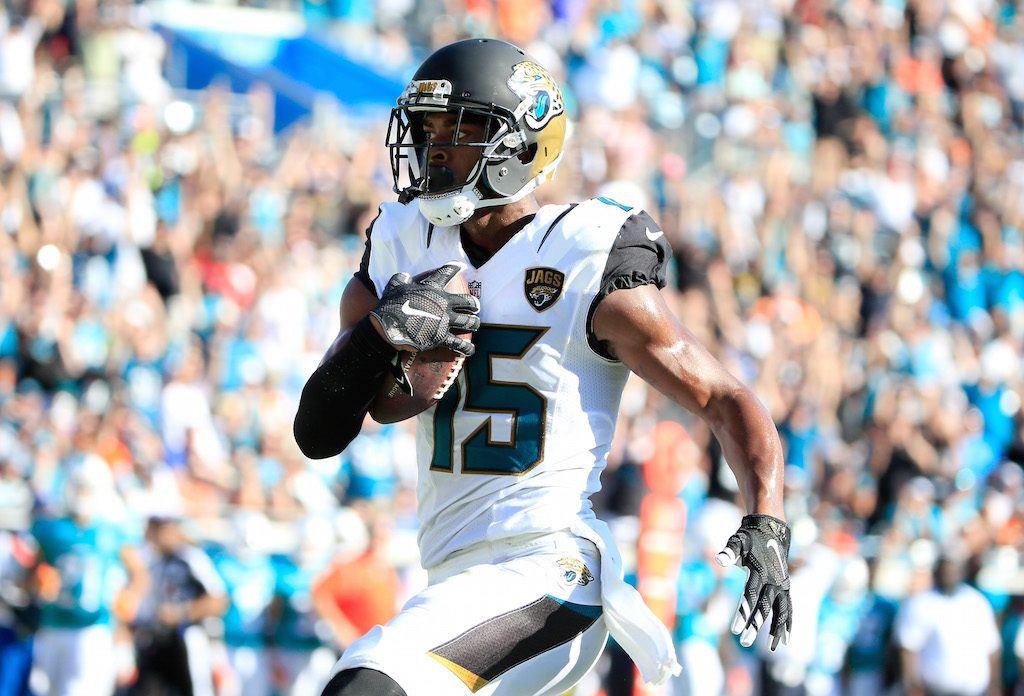 You may be surprised to see Hurns and Robinson (pictured above) this high on our list, however we just couldn't ignore their growth and production in 2015. Granted, they benefitted (statistically) from playing from behind for most of the season, but there is no denying that both Hurns and Robinson are premier NFL wide receivers. Both players are physically imposing, explosive, and excellent route runners. If their quarterback, Blake Bortles, can continue his development, Hurns and Robinson will each have Pro Bowl caliber season in 2016.
2. Brandon Marshall and Eric Decker – New York Jets
We thought it was extremely foolish of the Jets to pay big money to sign Decker back in 2014, as the six-year veteran simply does not have the skillset to be a No. 1 wide receiver in the NFL. Now that they have paired him with Marshall, who is a legitimate No. 1 wideout, Decker is in a much better position to succeed. In 2015, Marshall and Decker teamed up to catch 189 passes for 2,529 yards and 26 touchdowns.
Both players possess great size, and are excellent route runners. And if this list were a ranking of best red zone duos, Marshall and Decker would rank No. 1.
1. Emmanuel Sanders and Demaryius Thomas – Denver Broncos
The fact that the Broncos have two All-Pro caliber wide receivers that are both in the prime of their respective careers often gets overlooked by the team's uncertainty at the quarterback position. Thomas is coming off of a disappointing season (by his standards) in which he caught 105 passes for 1,304 yards and six touchdowns, while Sanders had 76 catches for 1,135 yards and six touchdowns in 2015. To put some perspective on their greatness, Thomas and Sanders posted those numbers while playing with arguably the worst quarterback in the league last year. Expect to see both players improve statistically in 2016.
All statistics courtesy of Pro-Football-Reference.