Best of the Worst: The 7 Lamest Thursday Night Football Games Ever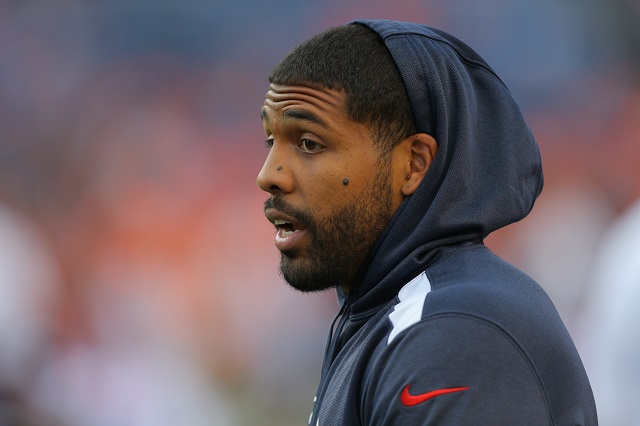 Arian Foster has been nothing if not vocal over the 2014 NFL season, and his astute observations have served as a nice reminder that professional football players are, in fact, aware of the things swirling around them, even if they don't typically address those issues in ways that are picked up by those not inside the loop. So, when Foster told The Houston Chronicle that, "Thursday Night Football is pretty annoying for players, [and] I don't know one player that likes it. I really don't know a fan that likes it, either. I think it's just the league's way to try to generate more revenue but that's what they are here for." He also went on to point out that the four days of recovery time between a Sunday game and a Thursday game weren't adequate, given the physical demands of an NFL game.
Foster's totally right, by the way. He's also a guy who has spent a chunk of his career nursing one injury or another, and knows exactly what's at stake for a guy in a position to be the number one target for an opposing team all game long. Not only is TNF sort of (and always) going to be the runt of the litter when it comes to the weekly slate of football games, lacking as it does the pomp and circumstance of Monday Night games and the religious overtones over Sunday's slate, but the games typically aren't all that good. Here, then, are the seven least exciting Thursday Night Football games since the 1970 merger. All stats courtesy of Pro Football Reference.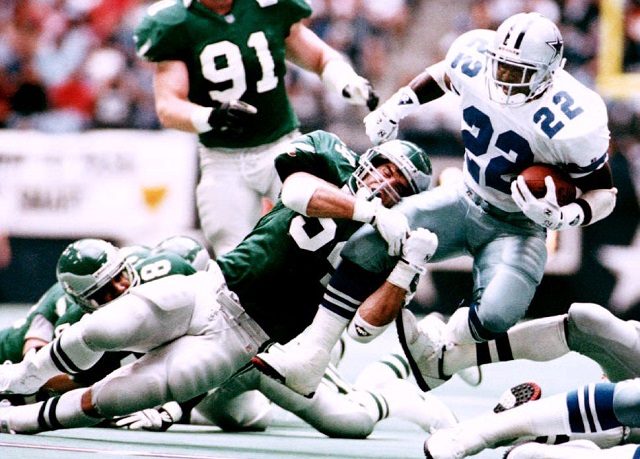 7. Philadelphia at Dallas — November 23, 1989
Don't be caught up in the photograph — that depicts the Dallas Cowboys when they were good, as evidenced by the visual of Emmitt Smith fighting his way to a first down. In 1989, the Cowboys were not good, and on their way through a rough season that saw them win just one game. They wound up getting pummeled 27 to zero on their Thursday night stint against Philadelphia. It saw Troy Aikman throw for just 54 yards and three interceptions, while none of their running backs managed to break 50 yards.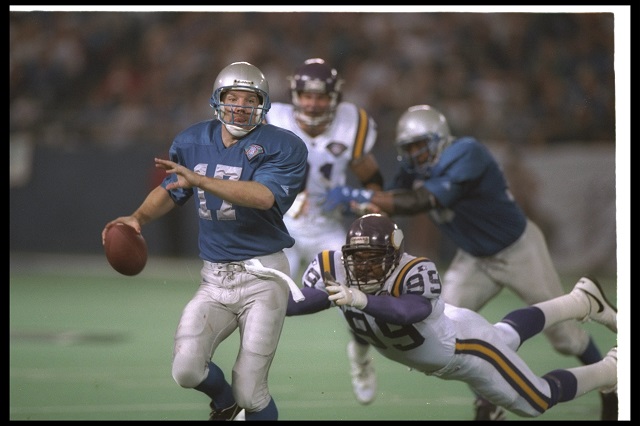 6. Minnesota at Detroit — November 24, 1988
There's nothing quite like watching a closely contested game turn into a complete blowout in the span of one quarter, but after a scoreless first, the Vikings hung 20 unanswered points on the Lions (who finished that season with a very Lions-y 4-12 record) before the half. After half time, it was the same song, second verse, as the Lions ultimately lost by 23 points and never managed to find the end zone.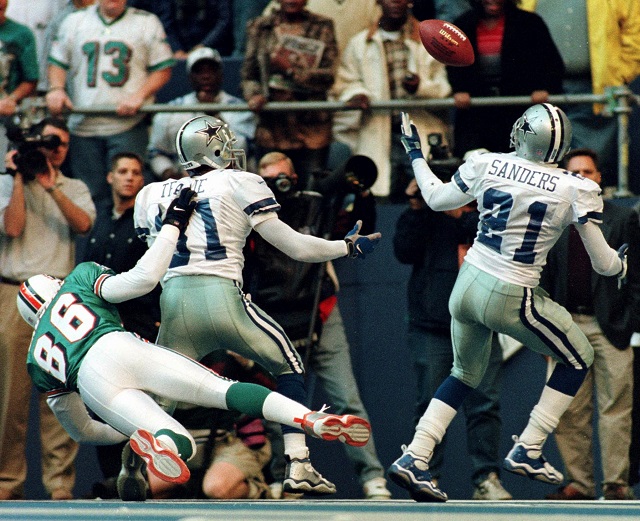 5. Miami at Dallas — November 25, 1999
The image you see above you is a Dallas interception from that fateful day in 1999 when, unlike the Prince record of the same day, no fun was had by anyone, ever. What was a tight, scoreless game in the first half quickly gave way to an eventual 20 point loss on the side of Miami, with Troy Aikman and company hanging 17 points on the hapless Dolphins in the fourth quarter.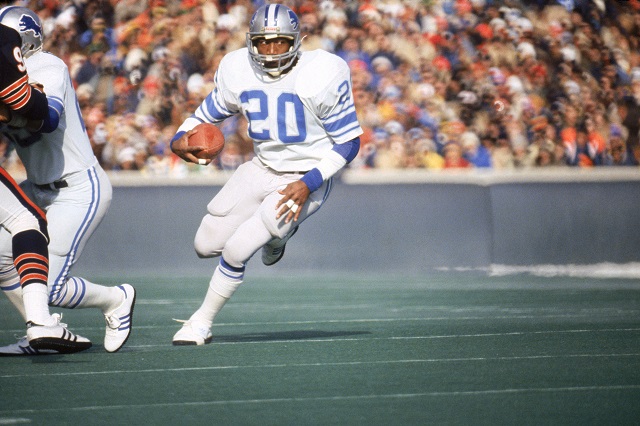 4. Chicago at Detroit — November 22, 1979
As a bright spot in an otherwise unremarkable 1979 season, the Detroit Lions, who would go 2-14 that year, managed to hit a field goal early in the first quarter, then another (and a touchdown) before halftime, leading the way into the break with a 13 point lead. After a fourth quarter touchdown, the Lions would wind up winning it 20 to zip, as Chicago managed to move up and down the field all right — totaling over 250 all purpose yards — but couldn't find the end zone.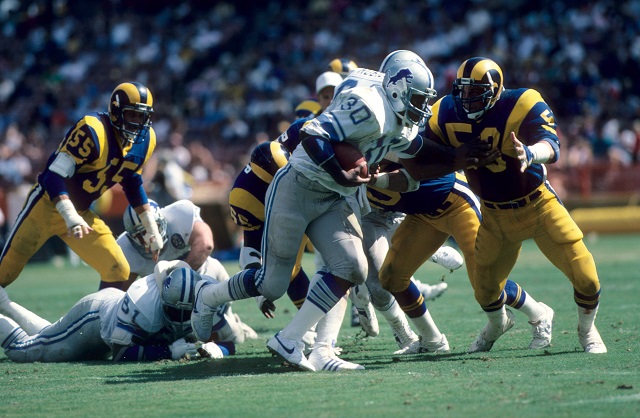 3. Los Angeles at Detroit — November 27, 1975
Poor Detroit, they just can't seem to catch a break — and no, this isn't the last time they show up on this list. While the 1970s may have been the apex for the Michigan metropolis in many ways, the performance of the Lions wasn't one of the contributing factors, as they got roundly stomped by the Los Angeles Rams, now based in St. Louis, to the tune of 20 to nothing. They gave up a touchdown in each quarter save the second, and only a flubbed extra point saved them from losing by 21. They only managed 12 first downs the entire game. That's rough.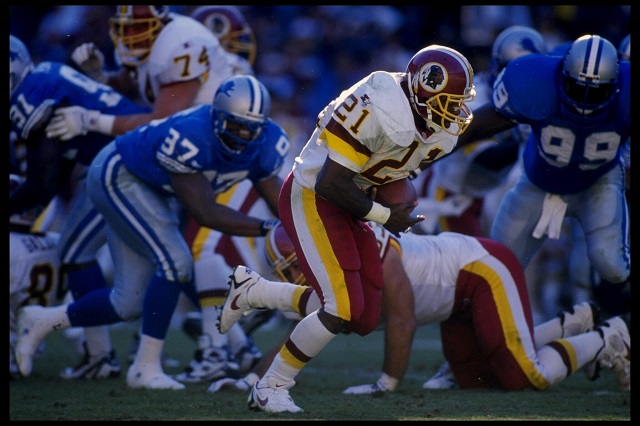 2. Washington at Detroit — November 22, 1973
Another slide, another moment in '70s Lion history. The Detroit team wound up losing this game 20-0 against Washington in a bout that saw the team give up points in every quarter save the fourth, when they ostensibly decided that they should maybe try to keep the other guys from getting points on the board. Maybe. It could help. Those decisions came about two lost fumbles and three other turnovers late, though.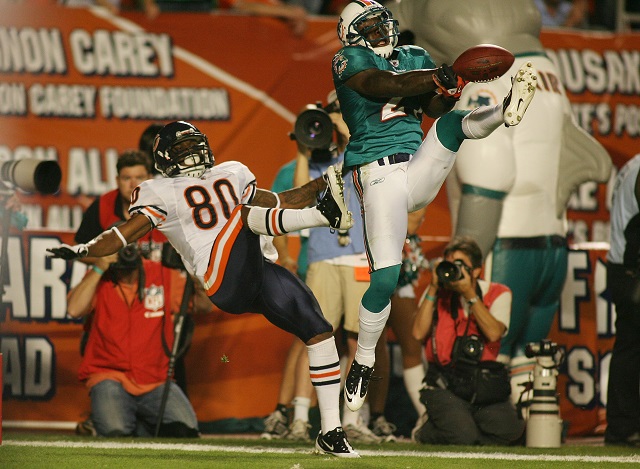 1. Chicago at Miami — November 18, 2010
As the saying goes, a picture is worth a thousand words, and this image of that 2010 Thursday Night Football game between the Bears and the Dolphins is no exception, as Miami's Earl Bennett flubs the catch despite Chicago's Vontae Davis not being in any kind of position to stop it. The Bears would ultimately win the game by 16 points, as the Dolphins failed to find the end zone at all. Remember, though, that this game was so droll that Chicago was only able to scrape together even a pair of field goals by half time. All in all, neither side would do much ball advancing, even if the Bears mercifully managed a rushing touchdown in the third.