5 Best Outfield Throwing Arms in the Majors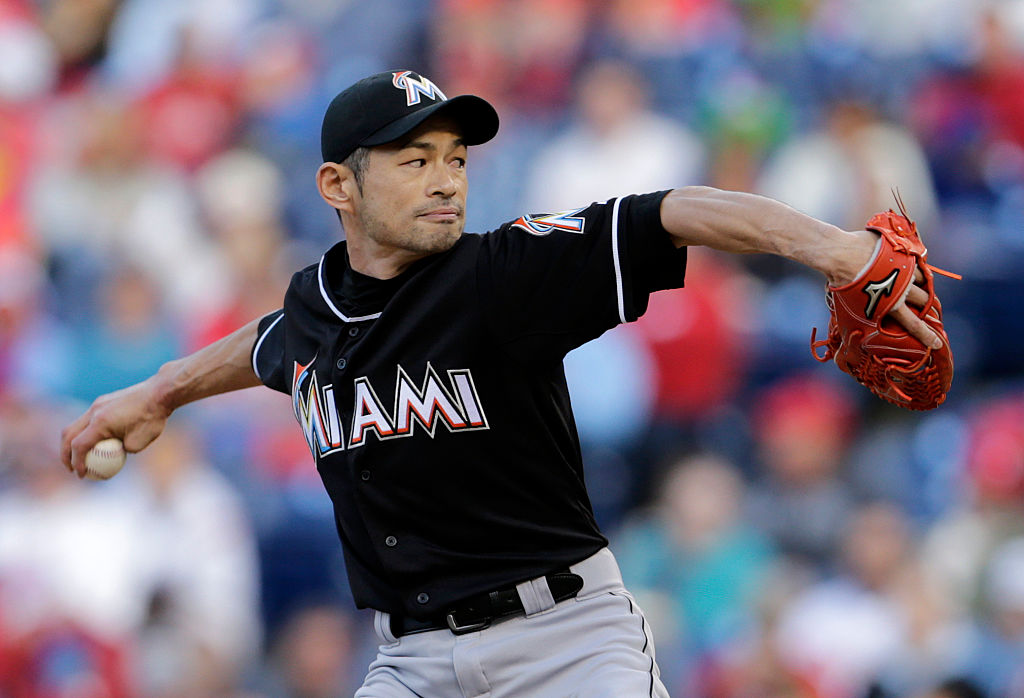 Noting the best throwing arms in the majors is akin to naming the pitchers with the best fastballs. Sure, throwing 102 miles per hour gives one a killer heater, but if the ball has no movement or too much movement (as in "just a bit outside"), things don't go well. These days, with batters having remarkable fast-twitch bat speed, a skilled player can easily slap an Aroldis Chapman fastball down the left field line for a double. The same theory holds true for outfield throwing arms. Would you rather have a cannon in right field a la Yasiel Puig cut loose with a bullet that sails over the head of the third baseman and up into the concession stands or the relatively diminutive Adam Eaton throw with less velocity but far greater accuracy?
Clearly, the best of the best have both power and pinpoint control. Here's where things get tricky when it comes to naming the best outfield throwing arms in the majors. The ability to throw the ball more than 90 miles per hour from the right-field corner makes a great video highlight, but its effectiveness is difficult to measure. It's darned near impossible to put a number to "bases prevented due to an outfielder's reputation."
For example, Ichiro Suzuki has a gun in right field — a low laser that hugs the ground and always seems to get the base a step or two ahead of the runner. In 16 seasons, Ichiro has a surpassingly low number of assists (122, or less than 10 per year) and double plays (27). No runner — short of Billy Hamilton or Terrance Gore — is foolish enough to take an extra base or attempt to tag up on a fly ball hit Ichiro's way. Can we say Ichiro has (or, perhaps, had) one of the best throwing arms in the majors? Let's go with this formula and maybe amend "best outfield throwing arms" to "most dangerous or deadly arms."
If we take the total number of assists — which include the total of nailing runners taking an extra base and runners who attempted to score or move up on a sacrifice fly — and subtract double plays, we'd have a number that indicates strength and accuracy of an outfielder's arm. The net of assists minus double plays equate to runners challenging an outfielder's arm trying to turn a single into a double, double into a triple, or trying to score from second on a single. There may be many ways to arrive at a logical ranking of outfield throwing arms, but assists minus double plays is telling.
To further test our theory, we took three players from the '60s and '70s who were known to have great arms and looked at their A-DP numbers. In 1978, Ellis Valentine, then with the Expos, was considered to have one of the best throwing arms in baseball. His net number of A-DP was 22 (25-3). The same 22 showed up for the late, great Hall of Famer Roberto Clemente (26-4) in 1961 and my hometown favorite, Johnny Callison (26-4) in 1963. Among today's players, we have five standouts. (These A-DP numbers are current as of August 12, 2016.)
1. Starling Marte, Pittsburgh Pirates, Left field, 12, (12-0)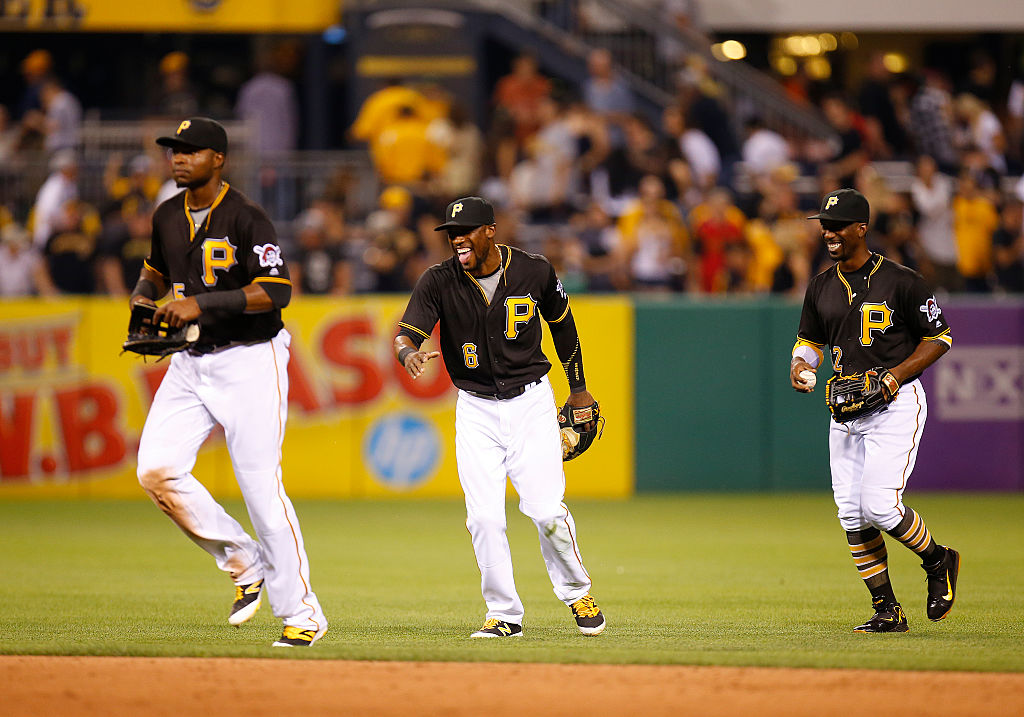 Gerrit Cole owes some of his ERA to the powerful right arm of Starling Marte. As an example, Colorado Rockies Dustin Garneau attempted to score from second on a single by Charlie Blackmon in a game where the Pirates were ahead 2-1. Marte's 100 MPH-plus one hopper to the plate took care of that. In 2015, Marte had a 16-1 number (A-DP) as part of perhaps baseball's best fielding outfield. 
2. Adam Eaton, Chicago White Sox, Right field, 11, (14-3)
As another player the Arizona Diamondbacks gave away, Adam Eaton continually shows himself to be a gritty player whose size (5-foot-8, 185 pounds) has little to do with his on-field play. The combination of accuracy and velocity (95 MPH) comes into play when Eaton fires a one hopper to third and nails Edwin Encarnacion attempting to take the extra base. Previously a fixture for Chicago in center, Eaton now primarily plays right, which has boosted his A-DP numbers. In 2015, in center, he had a paltry six as his throwing number (8-2). Smart move by the Sox.
3. Colby Rasmus, Houston Astros, Left field, 10, (10-0)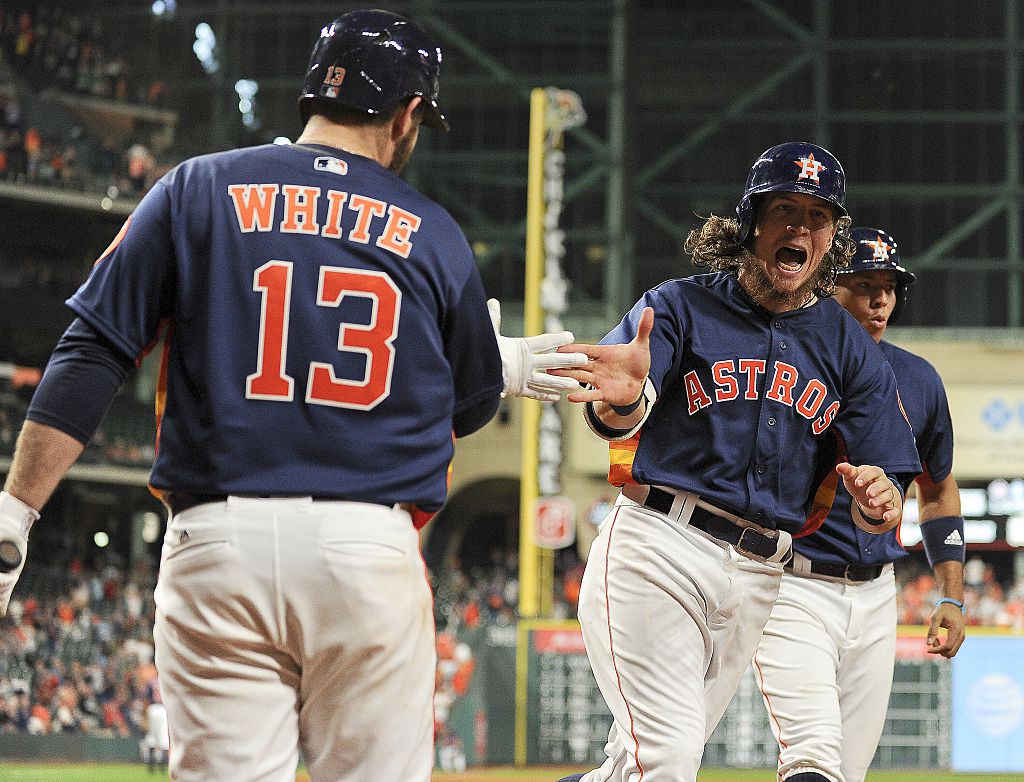 While we're tempted to deploy the writer's prerogative to discard an outlier, Colby Rasmus earns his spot on this list for an accurate yet inconsistent arm. During his time with the Blue Jays, Rasmus played center and often gunned out players taking an extra base, as in this game against the Yankees. In some way, Rasmus benefits from the "halo effect" of being part of a great Astros outfield which Statcast says has the best throwing arms based on sheer velocity. Those numbers have to be somewhat changed given that Carlos Gomez was designated for assignment. Before this season, Rasmus, who previously played for St. Louis and Toronto, never had as many as 10 assists in any season.
4. Jackie Bradley Jr., Boston Red Sox, 9, (11-2)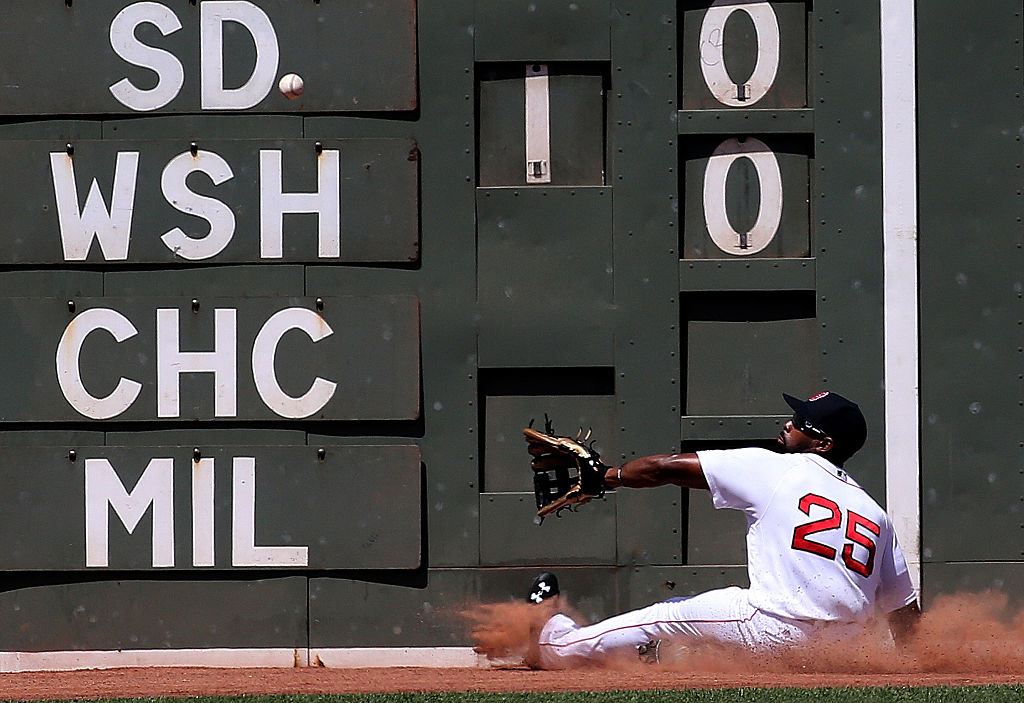 Perhaps destined to be among the elites, the 26-year-old centerfielder showed the Yankees Chase Headley why taking an extra base can be a dangerous gambit. While the ball bounced away from Bradley, the Virginia native had plenty of time to recover and nail the Yankee third baseman at third. Whether he connected or not, Headley began a shouting match with Red Sox pitcher Rick Porcello and benches emptied. Meanwhile, Bradley stood smiling at this accomplishment. A former first-round draft pick, Bradley's hitting is beginning to catch up with his superb fielding. In 2014, Bradley batted .198 but did have 13 outfield assists and a remarkable eight double plays. In 2015, Bradley played only in 74 big league games as he sharpened his five tools in the minors.
5. George Springer, Houston Astros, 9, (11-2)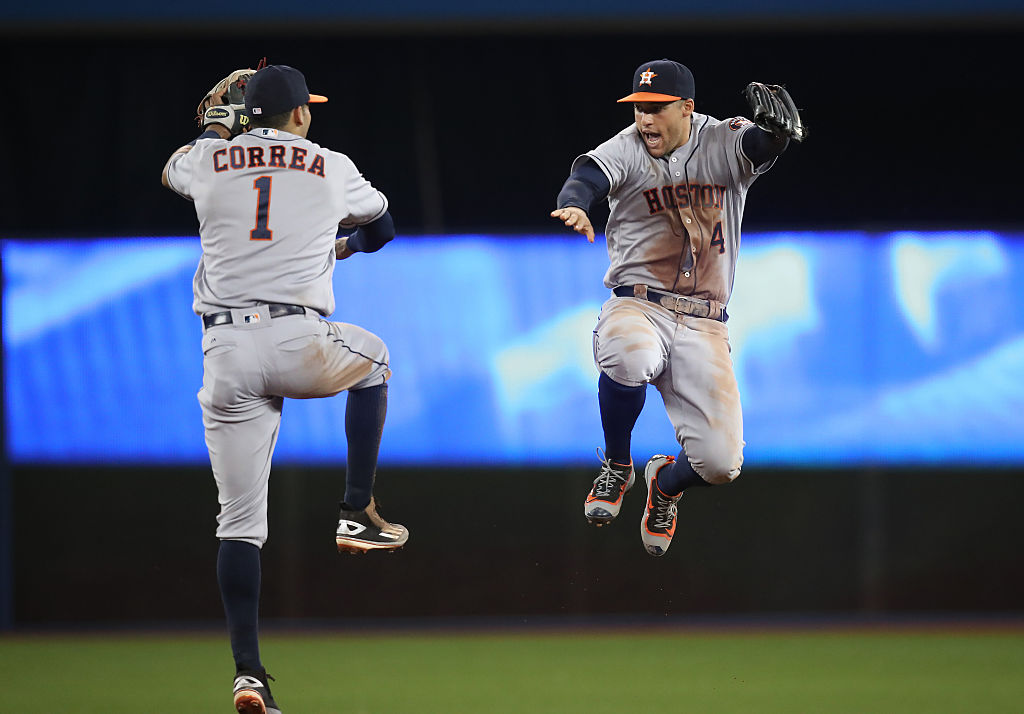 A key part of a super-talented group of Astro players, George Springer has not only emerged as one of the top defense outfielders in a short period of time, but he specializes in the spectacular as well. In one such play, Springer dashed toward the right field line, grabbed the ball on one hop, spun and fired a strike to home plate to gun down the rather fleet-footed Stephen Piscotty. A first-round pick of the 2011 draft, Springer is beginning to build up a strong body of work after a 2015 when he had only six outfield assists. The University of Connecticut standout is also beginning to shine at the plate with 23 home runs and 68 RBIs with more than a month and a half left to go in the 2016 season.