The 25 Best Performances in NBA All-Star History
For true NBA fans, there will always be moments that grab you about NBA All-Star Weekend. Maybe it was a specific dunk during the dunk contest, a player who caught fire in the Three-Point Contest, or a performance in the actual All-Star game. Whether or not the right players make it into the game, there are bound to be some memorable moments every year. We looked at All-Star's past and came up with the 25 best performances in the history of the NBA All-Star Weekend.
25. Derrick Rose (2008
–

09 – skills challenge

)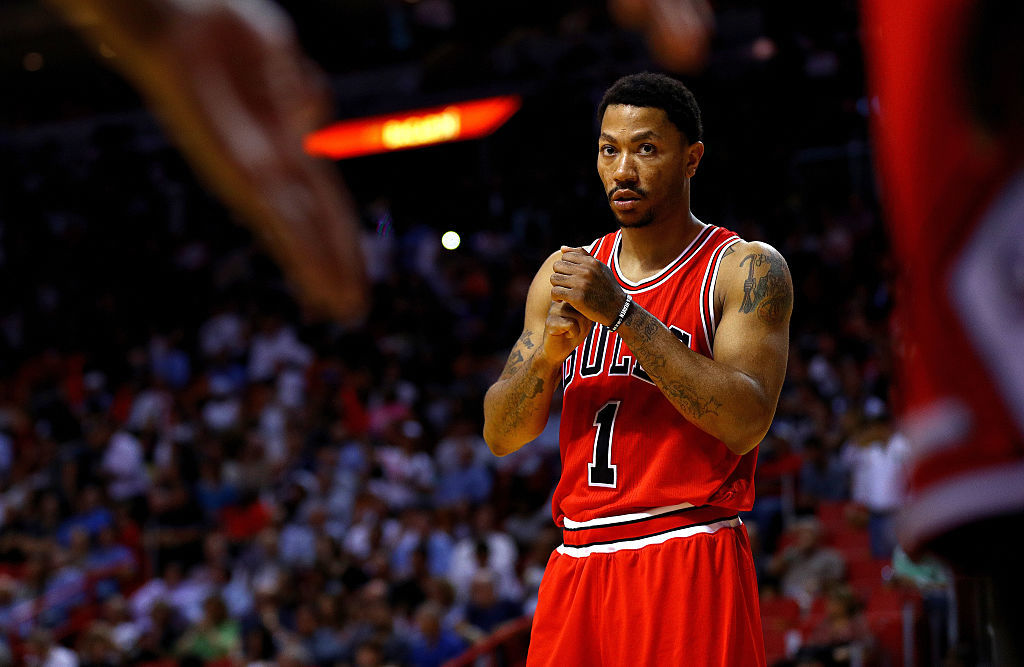 During the Skills Challenge, back in Derrick Rose's rookie season of 2008–09, the Chicago Bulls point guard had his big coming-out party as a rising NBA star. Rose made it through the entire competition without any major errors, easily coming in under the time he needed to win. So how did he finish things off, just needing to make a layup to clinch his victory? The 6-foot-3 Rose threw down a sick, double-clutch reverse jam worthy of the Dunk Contest.
24. Larry Bird (1987
–

88 – three-point contest

)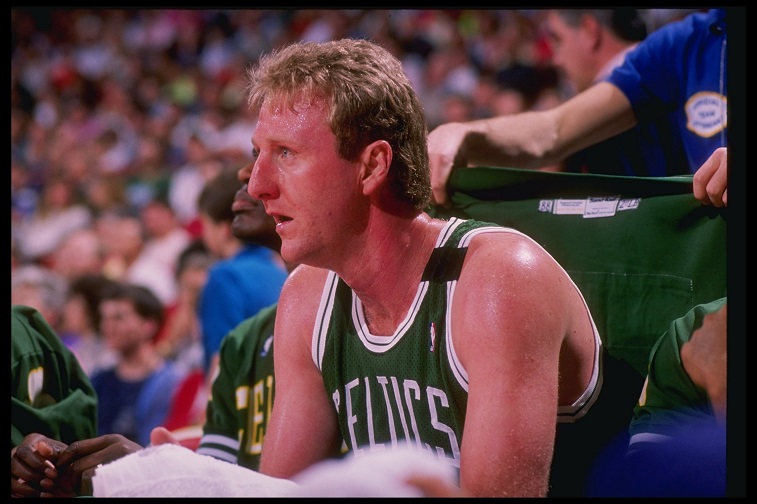 In 1987–88, Boston Celtics star Larry Bird looked for his third title in the three years of the three-point contest's existence. Bird started off rough in the final round, missing a ton of early shots and making things look bleak; he needed 17 points to win. But Bird caught fire, knocking down a ton of late shots and the winning money-ball at the very end. Even before the ball went in, Bird walked off with his finger in the air. It's just part of Larry's legend.
23. Tom Chambers (1986
–

87

)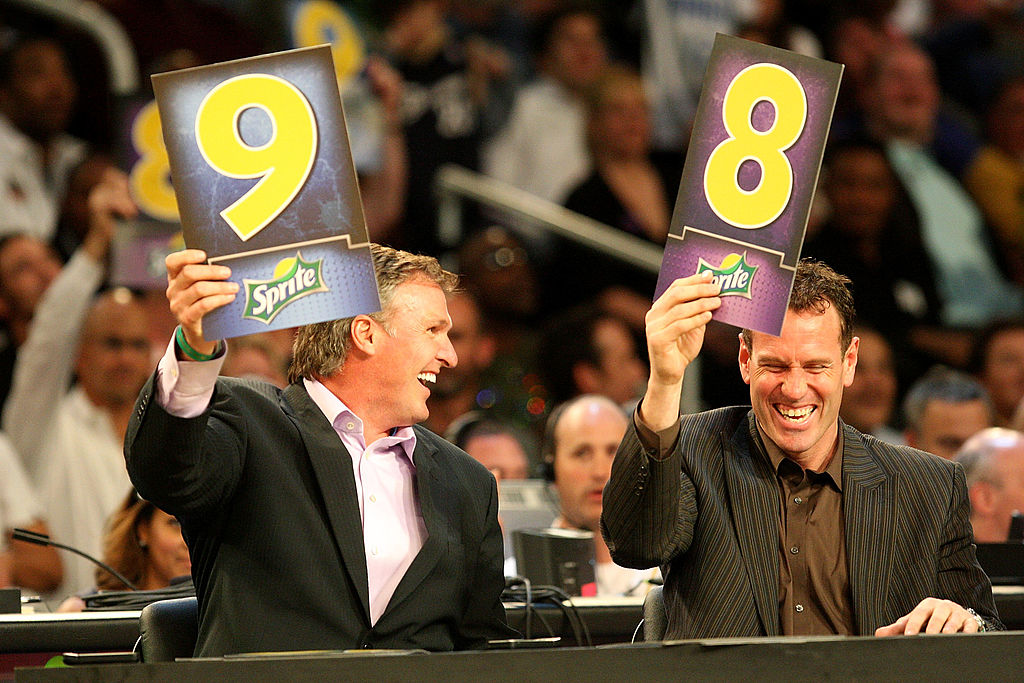 Back in 1986–87, Tom Chambers was a 27-year-old forward for the Seattle SuperSonics and making his first appearance in the NBA All-Star Game as a starter for the West squad. He ended up surprising the world by winning the MVP of the game, dropping a game-high 34 points on the East and leading his team to a 154-149 victory. He only made three more All-Star teams in his long career, leaving 1987 as his shining moment.
22. Michael Jordan (1997
–

98

)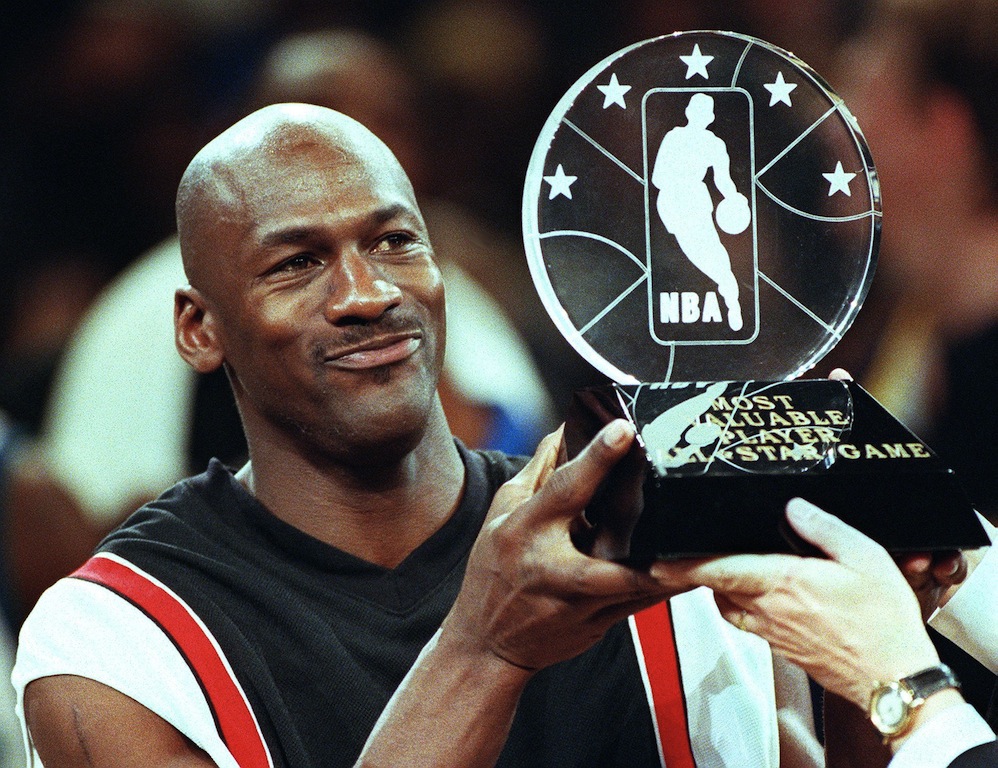 In what most thought would be his final NBA All-Star Game, Michael Jordan led a clearly inferior team in the Eastern Conference to a victory over a star-studded West in 1997–98. Jordan scored 23 points on 10-for-18 shooting, dished out eight assists, and grabbed six rebounds. It was a big-time blowout, 135-114, with Jordan walking away with the MVP award.
21. Craig Hodges (1990
–

91 – three-point contest

)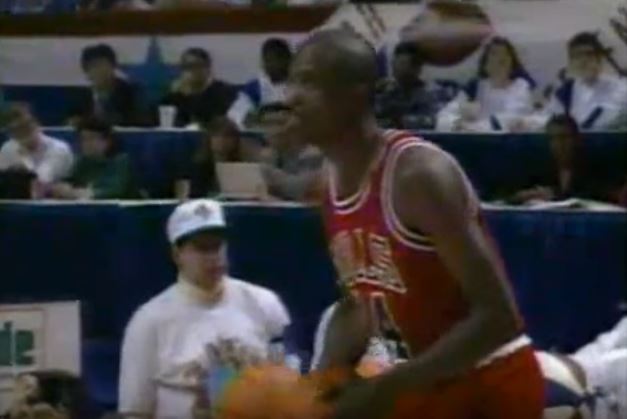 Chicago Bulls guard Craig Hodges won the three-point contest three consecutive times in his career, from 1990–92. But his most memorable performance came in 1991 in Charlotte, when Hodges started the final round with 19 consecutive made shots. He finished with 24 points out of 30 and won the contest, but what really makes it so memorable was the consecutive made baskets, which stands as a record in the competition.
20. Isiah Thomas (1985
–

86

)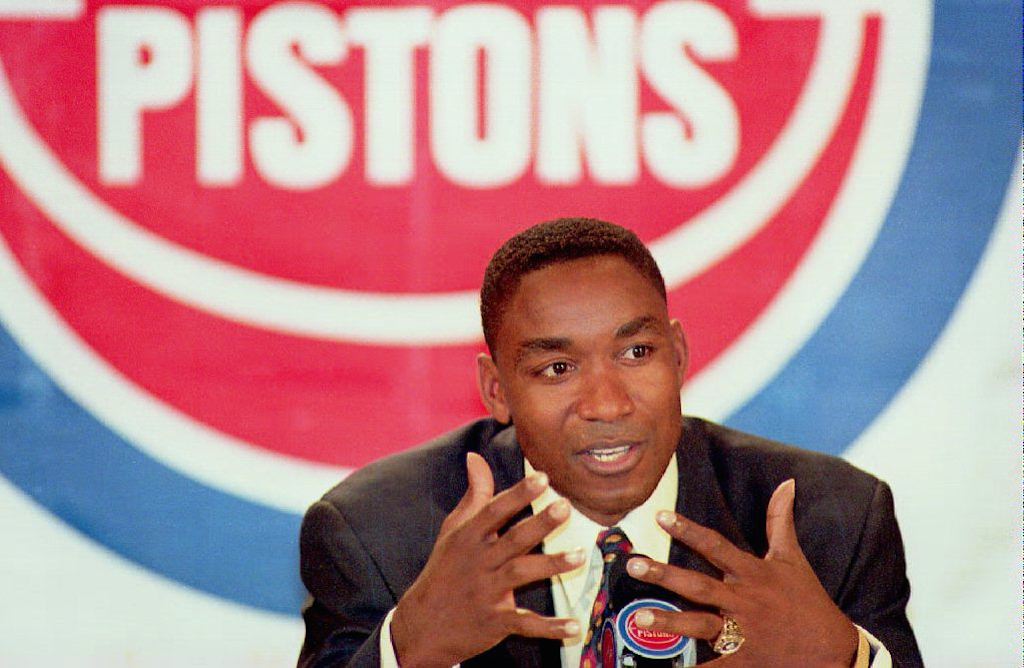 In 1985–86, Isiah Thomas of the Detroit Pistons had his moment in the sun during the NBA All-Star Game. With Michael Jordan unable to play due to a broken foot, it was up to Thomas to lead the East — and boy did he ever. Thomas finished the game with 30 points and 10 assists, shooting 11-for-19 from the field and winning the MVP. The East narrowly won the game, 139-132, after trailing by two points at the end of the third quarter.
19. Blake Griffin (2010
–

11 – dunk contest

)
In 2010–11, Los Angeles Clippers forward Blake Griffin put in some excellent work at the Dunk Contest. His first dunk was nice, a 360-spin earning him a 49 for his score. But what he'll always be remembered for was bringing out a car and jumping over the hood while throwing down his final dunk of the night.
18. Kevin Garnett (2002
–

03

)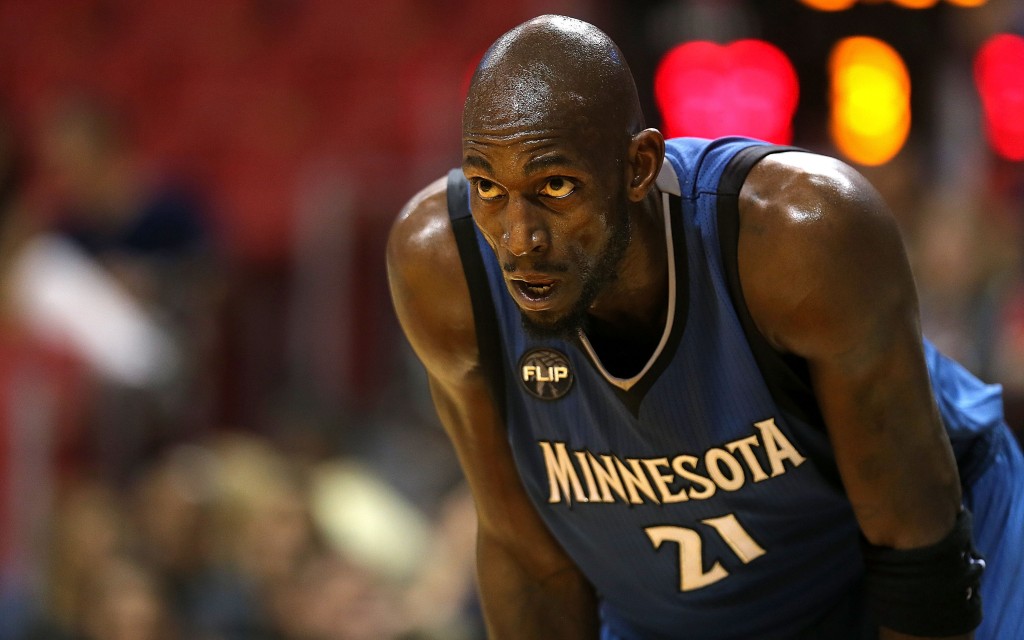 In what was Jordan's actual final NBA All-Star game, Kevin Garnett stole the spotlight. Back in 2002–03, Garnett played 41 minutes for the Western Conference in their thrilling, 155-145, double-overtime win. Garnett shot 17-for-24, scoring a game-high 37 points and grabbing nine rebounds. He was the MVP of the game, completely stealing Jordan's thunder.
17. Nate Robinson (2005
–

06 – dunk contest

)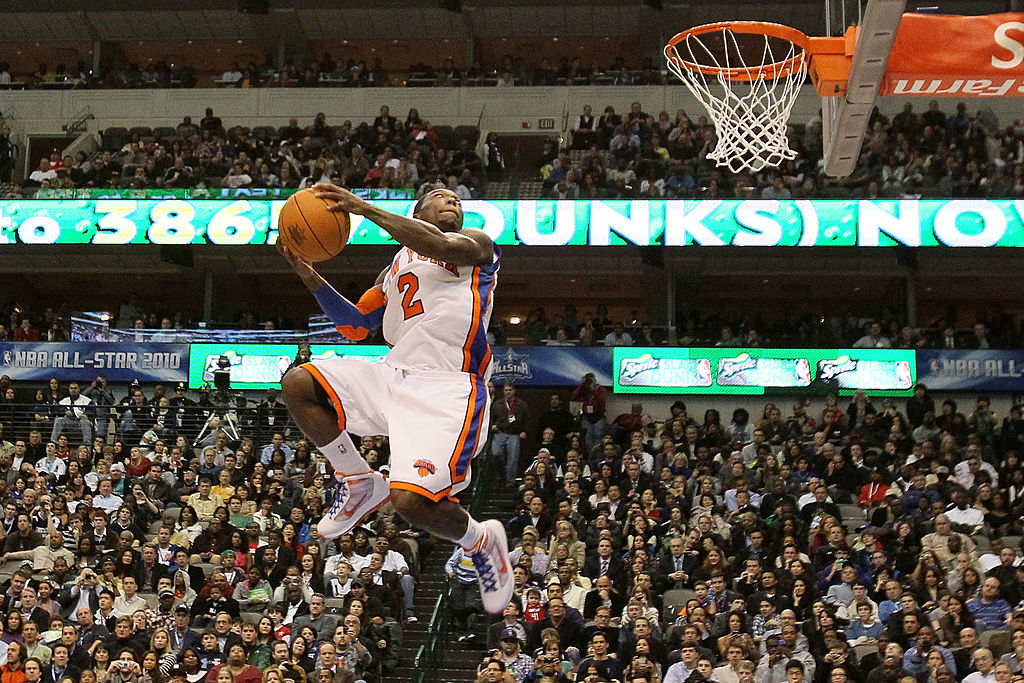 Despite being just 5-foot-9, New York Knicks point guard Nate Robinson was one of the best dunkers in the NBA back in 2005–06. The rookie showcased his skills on All-Star Weekend, taking home the Dunk Contest trophy. He went head-to-head with Philadelphia 76ers forward Andre Iguodala, throwing down several big-time dunks and narrowly taking his first victory in the contest.
16. Spud Webb (1985
–

86 – dunk contest

)
But Robinson isn't even the shortest player to ever win the Dunk Contest. That title goes to the 5-foot-7 Spud Webb, who took the trophy in 1985-86. With Jordan sitting out most of the season with a broken foot, the door was open for anybody to win the contest. Webb dazzled, throwing down amazing dunks that surprised the audience. He beat out the reigning champion and his Hawks teammate, Dominique Wilkins.
15. Allen Iverson (2000
–

01

)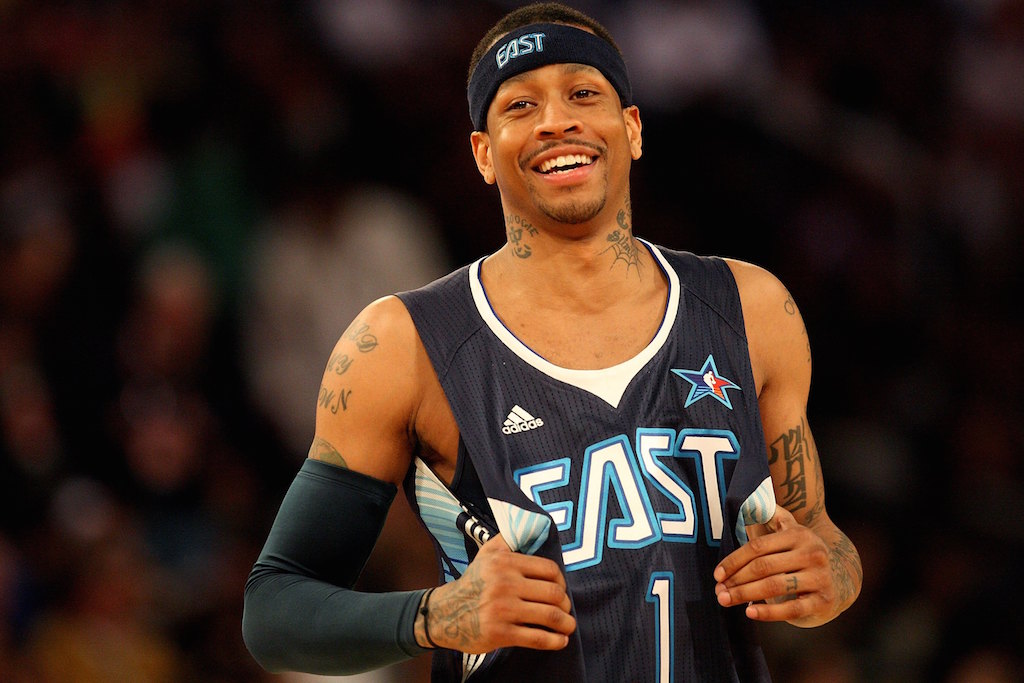 The Eastern Conference went into the fourth quarter of the 2000–01 NBA All-Star Game trailing by 19 points and looking like they'd face a loss. But that's when Allen Iverson and his teammates stepped up. Iverson dropped 15 points in the final quarter, finishing with 25 points in total and leading the East to a jaw-dropping, 111-110, come-from-behind victory. He won the MVP award for the game, which many consider to be the best All-Star Game of all time.
14. Dominique Wilkins (1984
–

85 – dunk contest

)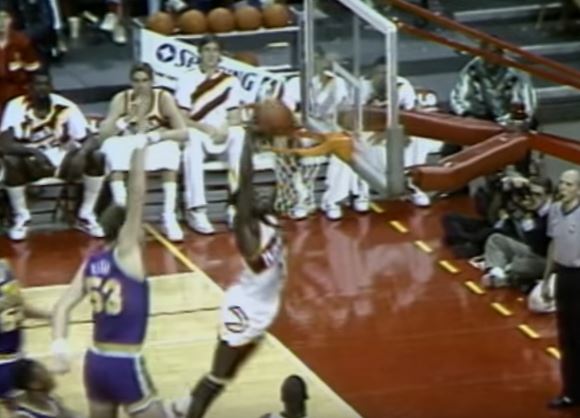 The "Human Highlight Film" back in the '80s was Atlanta Hawks forward Dominique Wilkins, and he showcased it in the 1984–85 Dunk Contest. Going toe-to-toe with Chicago Bulls rookie Jordan, Wilkins put on a dazzling display with reverse jams, powerful one-handed slams, and a memorable double-clutch, two-handed reverse.
13. Michael Jordan (1986
–

87 – dunk contest

)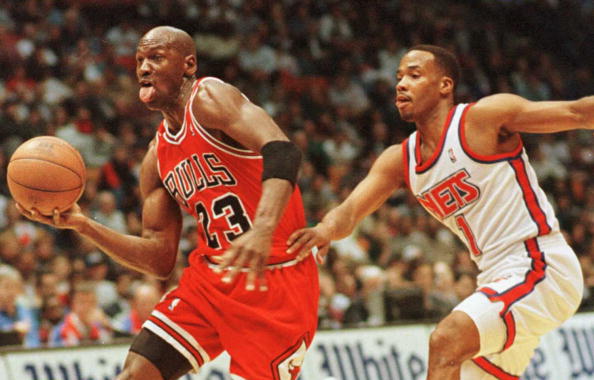 In 1986–87, Jordan took home his first Dunk Contest trophy. Going up against Portland Trail Blazers star Clyde Drexler, Jordan put in several memorable moments. He threw down a one-handed, double-clutch dunk, a floating, double-clutch reverse, and his famous free-throw line jump-and-dunk. Jordan went down as one of the greatest dunkers in the history of the game.
12. Michael Jordan (1987
–

88 – dunk contest

)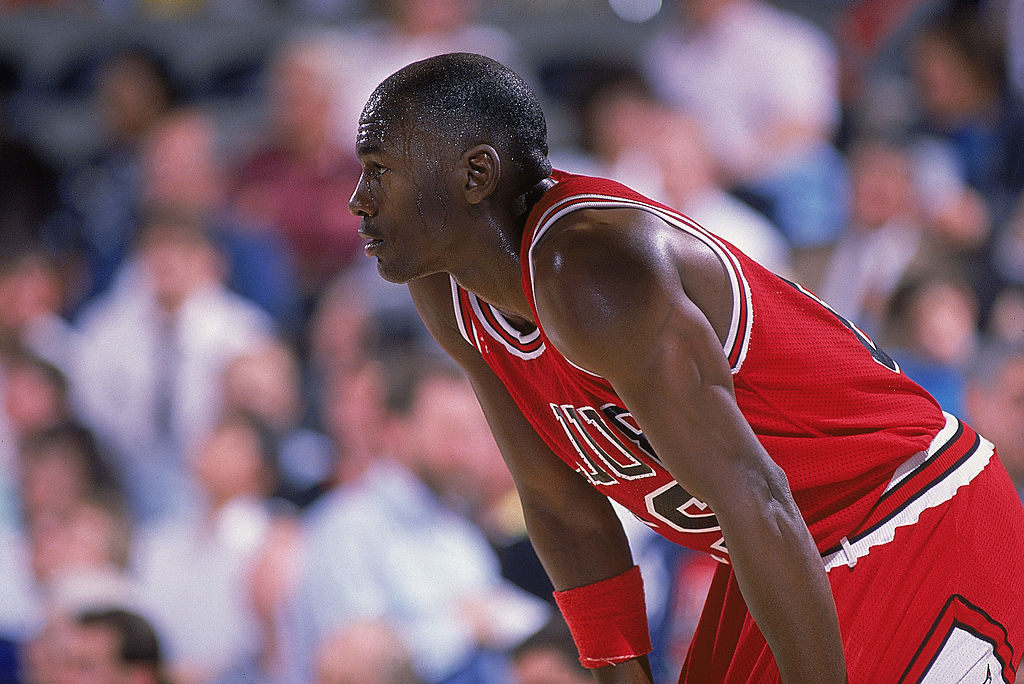 In 1987–88, Jordan returned to defend his Slam Dunk championship title. Again matching up with Dominique Wilkins in the final round, Jordan finally got the best of his rival from Atlanta. Needing a 49 or better to win, Jordan finished out the contest with another jump from the free-throw line. That image of Jordan flying through the air ended up being one of the most recognized symbols in NBA history.
11. Blake Griffin (2013
–

14

)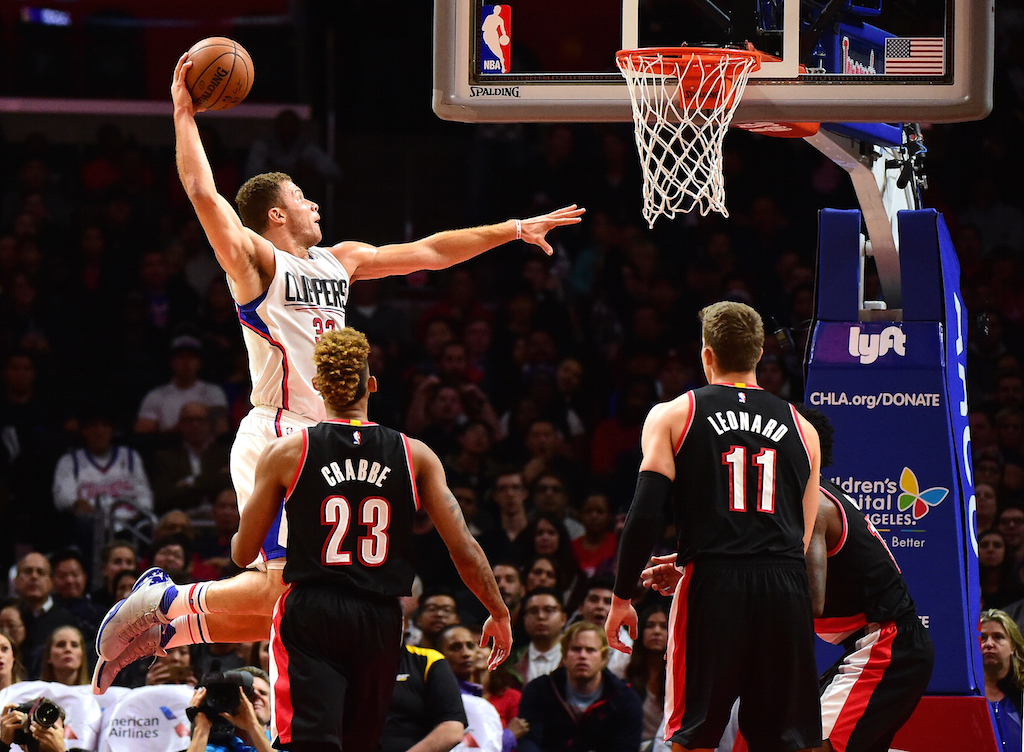 Even though the West lost to the East, 163-155, in the 2013–14 NBA All-Star Game, Blake Griffin still gave one of the more memorable performances in the history of the game. Griffin dropped 38 points, shooting an astounding 19-for-23 from the field and going 0-for-2 on three-pointers, meaning he was actually 19-for-21 from inside the arch. Again, his team lost, so he didn't come away with the MVP. But it's still a magnificent performance.
10. Michael Jordan (1987
–

88

)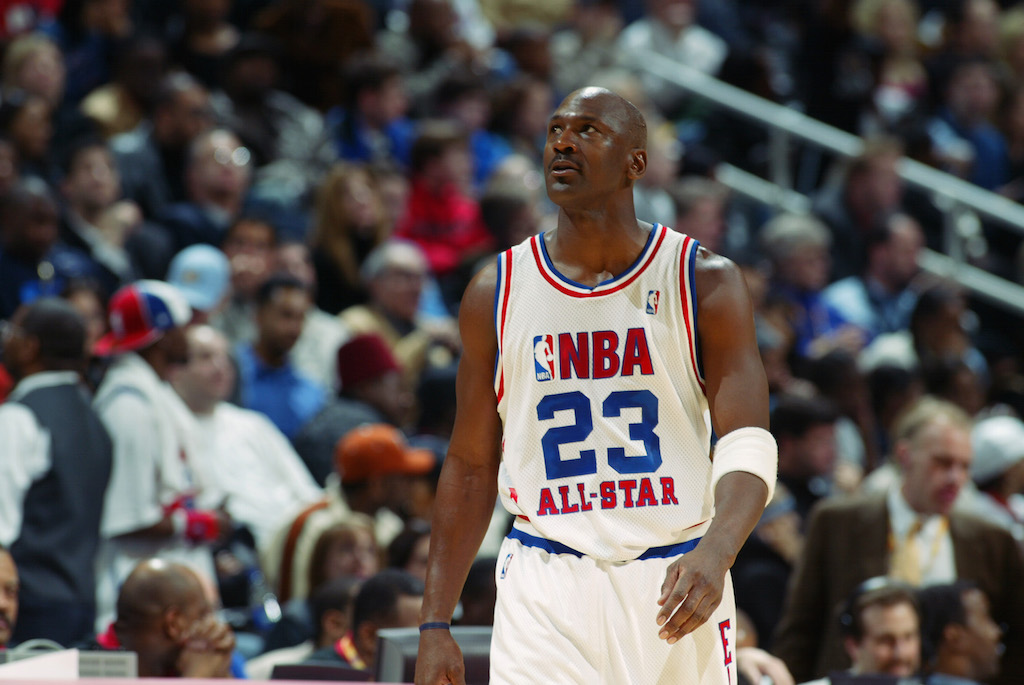 It wasn't just Jordan's dunking that took the world by storm at the 1988 NBA All-Star Weekend. He blew everyone away, dropping 40 points on 17-for-23 shooting and 6-for-6 from the free-throw line and helping the Eastern Conference hold onto a victory over the West, 138-133. Jordan won his first All-Star game MVP award that year, again beating out his rival, Dominique Wilkins, who had 29 points in the game.
9. LeBron James (2010
–

11

)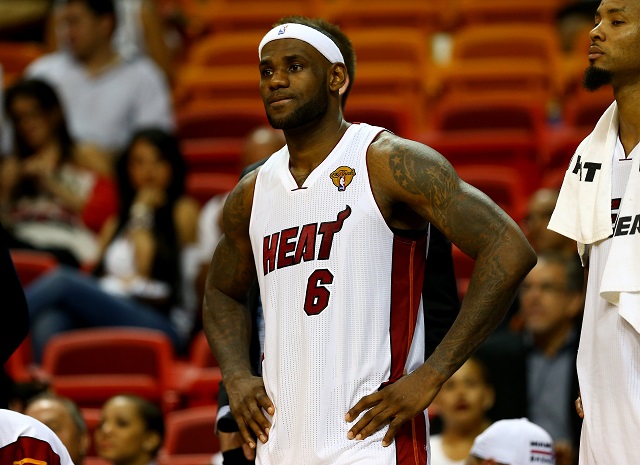 Another particularly memorable losing effort happened back in 2010–11. It was LeBron James's first season with the Miami Heat, making the team as the starting small forward alongside Dwight Howard, Amar'e Stoudemire, Derrick Rose, and Heat teammate Dwyane Wade. James put up a triple-double, scoring 29 points on 10-for-18 shooting, grabbing 12 rebounds, and dishing out 10 assists.
8. Zach LaVine (2014
–

15 – dunk contest

)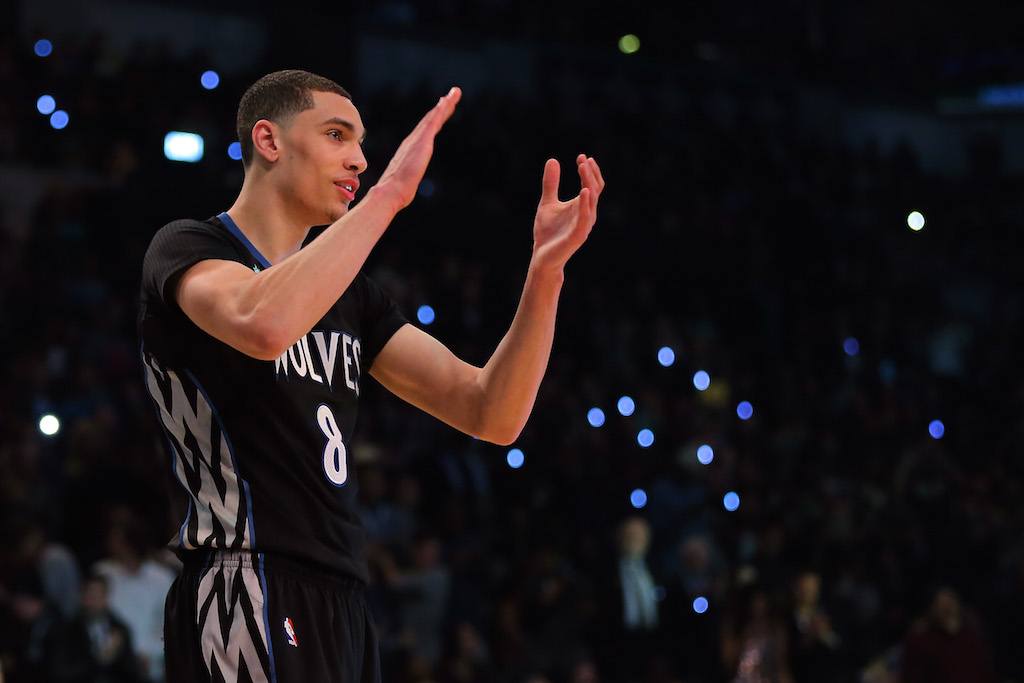 Let's face it: The Dunk Contest got a little stale over the years. Rule change after rule change couldn't bring back the fan interest; all the great dunks seemed completely played out. This is a big reason people got excited about Blake Griffin jumping the hood of a car. But that all changed when Minnesota Timberwolves guard Zach LaVine joined the NBA in 2014–15. He set the world on fire with his athletic, brilliant dunks in his very first Dunk Contest, where he finished as the champion.
7. Vince Carter (1999
–

00 – dunk contest

)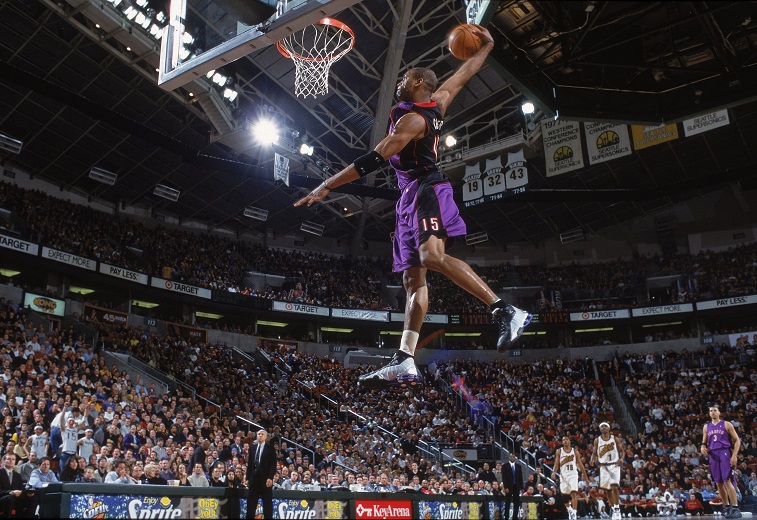 Just one season after Jordan retired from the NBA for the second time, people thought they had found the "air" to his throne — get it? Vince Carter, also a high-flying scorer from the University of North Carolina, came into the NBA as a rookie in 1999 and took part in his first Dunk Contest the very next season. "Half Man Half Amazing" stole the show, throwing down several acrobatic jams and earning a place in NBA history.
6. Michael Jordan (2002
–

03

)
Even though Garnett was the MVP and the East lost the game, Jordan still ends up with the more memorable performance. He didn't have the best shooting performance, going just 9-for-27, but he came on strong in the fourth quarter and hit the spinning, go-ahead basket near the end of overtime. But the West forced another overtime, and Jordan was left with his 20 points in a losing effort. However, that's secondary in what we'll always remember as Jordan's final NBA All-Star Game.
5. Gordon vs. LaVine (2015
–

16 – dunk contest

)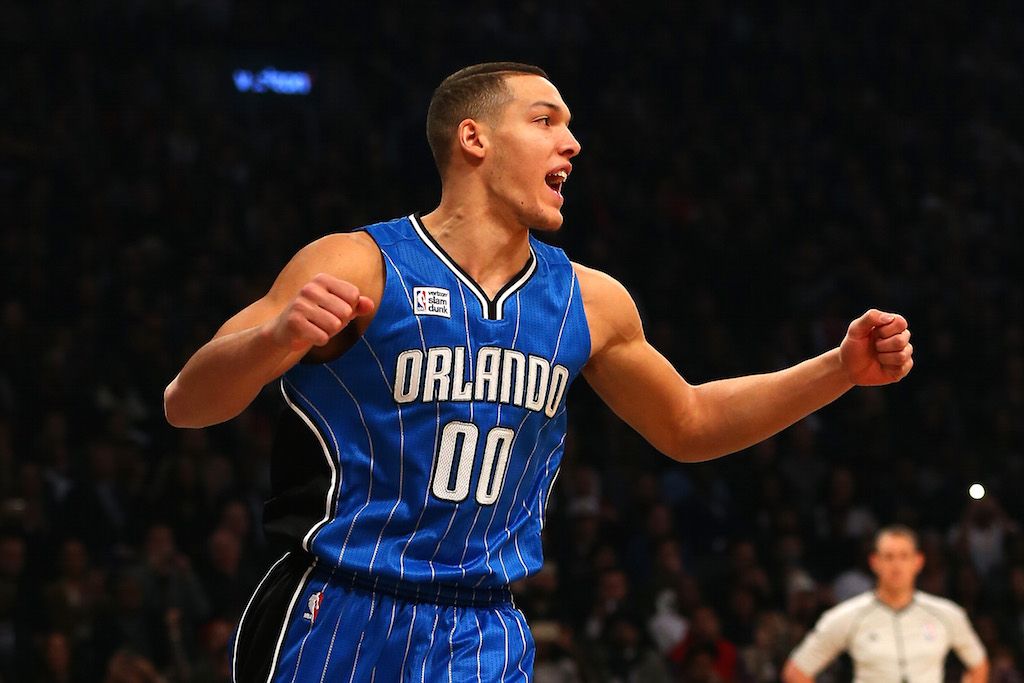 Again, LaVine entered the Dunk Contest in 2015–16. And yet again, he won. But that doesn't do any justice to how great this contest was between LaVine and his runner up, Orlando Magic forward Aaron Gordon. There are no words to describe how great this showdown was in reviving interest in the contest. Do yourself a favor and click the link to watch the video.
4. Kobe Bryant (2010
–

11

)
Despite the previously mentioned great game from LeBron James back in 2010–11, the West still won the game. That was in large part due to Kobe Bryant's outstanding performance; he dropped 37 points and grabbed 14 rebounds (10 of which came on the offensive end). Bryant also finished with three steals and three assists, coming away with the MVP award.
3. Paul George (2015
–

16

)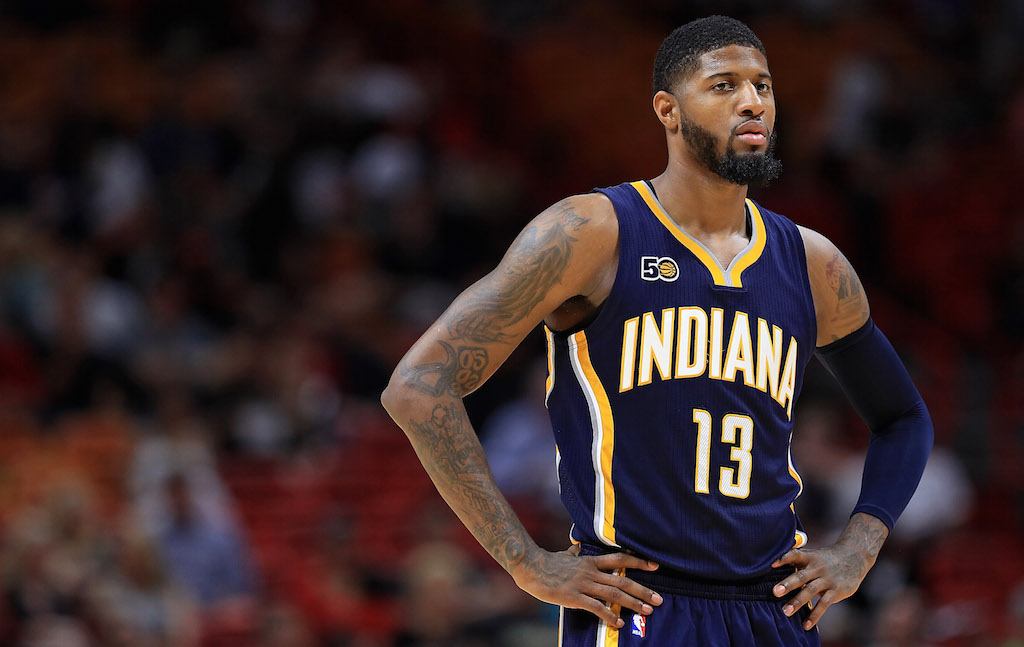 In what was the highest-scoring All-Star Game in the history of the NBA, Russell Westbrook took home the MVP behind a 196-173 victory for the West in 2015–16. But that's not the story of this game. In a performance we'll talk about forever, Indiana Pacers forward Paul George put on a show. He dropped 41 points, coming up just shy of Wilt Chamberlain's record of 42 — in 10 less minutes of action. How did he do that? George put up another All-Star Game record, hitting on 9-of-19 three-pointers.
2. Stephen Curry (2014
–

15 – three-point contest

)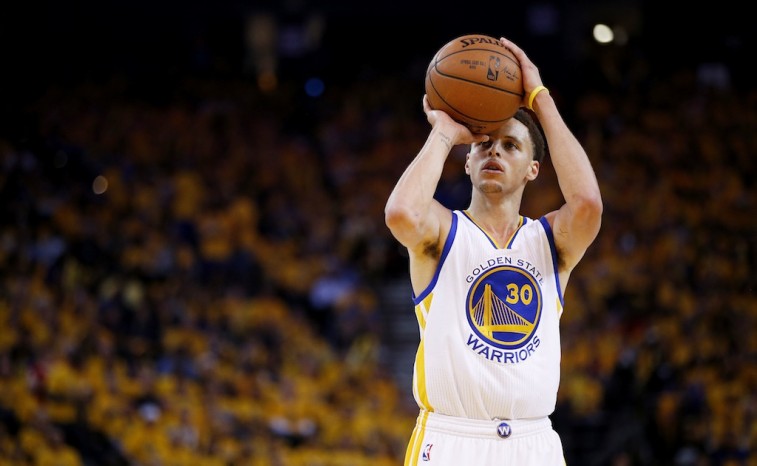 Golden State Warriors guard Stephen Curry put on a dazzling show during the Three-Point Contest in 2014–15. He missed his first two shots in the final round, but he knocked down 20 of the next 22 three-pointers and finished with a total of 27 points in the contest. It was good enough for him to beat out his teammate and fellow "Splash Brother" Klay Thompson and take home the trophy.
1. Magic Johnson (1991
–

92

)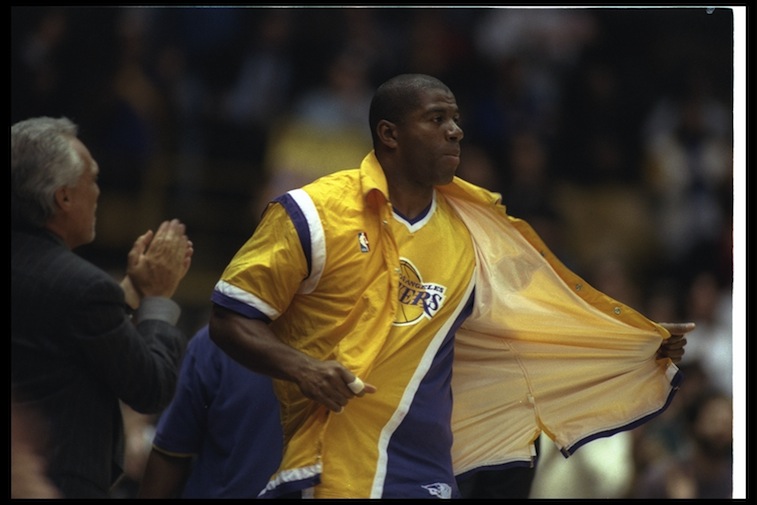 Los Angeles Lakers point guard Magic Johnson retired prior to the start of the 1991–92 season, despite only being 32 at the time, due to his diagnosis of HIV. But that didn't stop the fans from voting Johnson into the All-Star Game that year. With the blessing of the commissioner he decided to play despite being officially retired. What followed was a storybook ending, with the West winning the game behind Magic's performance. He put up 25 points on 9-for-12 shooting with nine assists, taking home the MVP award.
Statistics courtesy of ESPN and Basketball-Reference.