7 Best Performances of Kevin Garnett's Career
Try as they might, no athlete can play forever. Father Time is cruel and unfair, and eventually, he forces even the greatest of players to face their professional mortality. While it's difficult for us, the fans, to watch our favorite players call it a career, sometimes, you must applaud an individual for making the right decision at the right time. During this offseason, Kevin Garnett did just that, announcing his retirement from the NBA after 21 incredible seasons.
In a touching video posted on his Instagram account, the Big Ticket fittingly narrated his farewell:
I'm just thankful. I can't even put that into words. I'm just thankful. I'm just thankful for everybody and the love. I never would have thought that people love me like this. But, for it to be reality is just something else, man. Man.
In five years, the Hall of Fame will induct Garnett. This isn't a discussion; it's a fact. KG averaged 17.8 points and 10 rebounds per game, was a 15-time All-Star, was All-NBA nine times, made 12 All-Defensive teams, and earned Defensive Player of the Year and MVP honors. Yet, awards and accolades don't do Garnett justice.
In the end, fans will remember KG for his passion and competitive spirit, his intensity and his heart. He will be remembered as a player who successfully made the leap from high school to the NBA, and in doing so, inspired others to do the same. Garnett undeniably influenced the game of basketball, and it's safe to say we will never see another player like him. Therefore, as we bid adieu to the Big Ticket, here's a look at the seven greatest performances of his marvelous NBA career.
7. KG dominates the Hawks
Despite holding a three-games-to-two lead over the Atlanta Hawks in the first round of the 2012 playoffs, momentum appeared to shift away from the Boston Celtics. Following an 87-86 loss in Game 5, the C's returned home on May 10, 2012 for Game 6, desperately needing a player to step up and help them close out the series. Fortunately, these are the moments when KG shows his true colors.
In just over 38 minutes, Garnett had one of his most important games in a Boston uniform, going 10 for 19 from the field, knocking down eight of his 10 free throw attempts, and finishing the night with 28 points, 14 rebounds, two assists, three steals, and five blocks. The Celtics won the game 83-80, clinching the series in six games and dispatching a pesky Hawks team. Had Garnett not showed up with the heroics, who knows what could have happened.
6. KG overwhelms the Kings on the road
Although times have changed, it wasn't always easy to defeat the Sacramento Kings on their home court. During the 2003–04 season, the Timberwolves, in order to come out of ARCO on December 5, 2003 with the W, were forced to leave it all on the floor during an exciting overtime thriller. As was usually the case, no one showed more heart and desire than No. 21.
In a 112-109 Wolves victory, The Kid went 13 for 29 from the field, including three for three from behind the arc; knocked down four of seven freebies; and finished the contest with a ridiculous stat line of 33 points, 25 rebounds, six assists, one steal, and three blocks. This was vintage KG. Plain and simple.
5. KG goes for 47 against the Suns
On January 4, 2005, the Timberwolves hosted a high-powered Phoenix team led by Steve Nash and Amar'e Stoudemire. While Minnesota ended up falling to the then-26-4 Suns by the score of 122-115, KG managed to put together one of the top statistical games of his career. In 42 minutes, Garnett went 19 for 28, hit nine of 11 from the charity stripe, and ended the night with 47 points, 17 rebounds, four assists, and two steals. Knowing the way Garnett operates, however, we bet he would take a W over those gaudy stats in a heartbeat.
4. KG is the real Warrior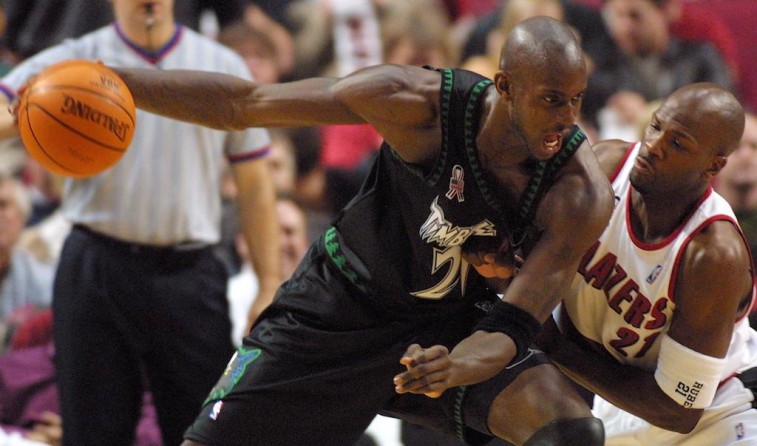 Don't let the above picture throw you off, this next masterful KG performance took place on February 16, 2003 in a showdown between the Minnesota Timberwolves and the Golden State Warriors. In a game that gave the T-Wolves their sixth victory in a row, Garnett was simply head and shoulders above the rest.
In 41 minutes, the 15-time All-Star hit all three of his free throws, went 17 for 27 from the field, and notched 37 points to go along with 22 boards, six assists, one steal, and five blocks. Like we said, KG was too much of a "warrior" for the Warriors.
3. KG lights up the Suns
Coming into this particular matchup with the Timberwolves, the Phoenix Suns were flying high, riding a crazy 17-game winning streak. Under normal circumstances, this game probably would've been a breeze for the superior Suns. However, that wasn't the case this time around.
In a little under 40 minutes, Garnett shot 18 for 29 from the field, knocked down eight of his 10 free throw attempts, and finished the game with 44 points, 11 rebounds, two assists, and three steals. Clearly, KG was hotter than Phoenix's hot streak.
2. KG comes up big against the Lakers in '03
After losing Game 1 in their first-round playoff matchup against the Los Angeles Lakers, Minnesota couldn't afford to come up short in Game 2. With Garnett leading the way, this wasn't a problem. KG missed just six shots, going 15 for 21 from the field; hit four of six from the charity stripe; and finished with 35 points, 20 rebounds, seven assists, two steals, and one block in a 119-91 Timberwolves victory. Although Minnesota ended up losing the series 4-2, this still remains one of the most memorable wins in franchise history.
1. KG lives for Game 7
On more than one occasion, we saw that no stage was ever too big for Kevin Garnett. Yet, on May 19, 2004, against the Sacramento Kings in Game 7 of the Western Conference Semifinals, "The Kid" took his game to an entirely different level, providing basketball fans with a performance they'll never forget.
In this deciding Game 7, KG played 46 minutes, hit 12 of 23 shots, went seven for 11 from the line, and finished the contest with 32 points, 21 rebounds, two assists, four steals, and five blocks. The Timberwolves won the game 83-80, and Garnett established himself as one of the greatest players of his generation.
Statistics courtesy of Basketball-Reference and ESPN.