5 Best Performances of Andre Johnson's NFL Career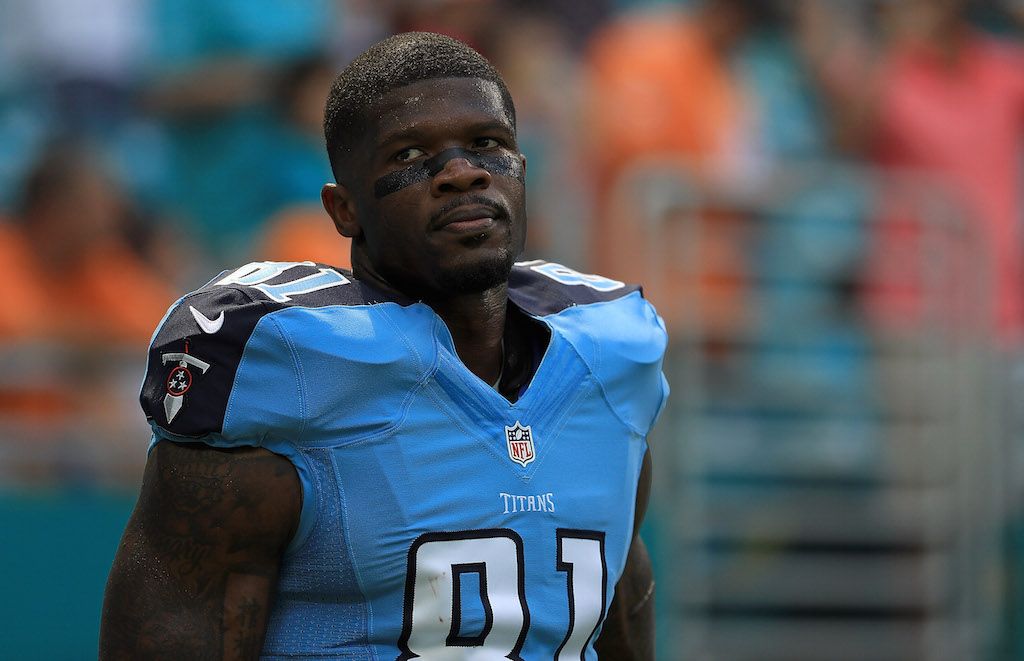 The National Football League has seen a lot of big-name players walk away from the game lately. And that list is about to get longer, as the Tennessee Titans announced that wide receiver Andre Johnson informed the club that he is retiring. In a statement discussing Johnson's outstanding 14-year career, Titans general manager John Robinson had this to say:
Going back to his days at the University of Miami, Andre was one of the most impressive wide receivers I've scouted. He had a professional approach to the game both on and off the field and in my opinion is one of the best to have played the game. I enjoyed getting to know and work with him in his time with our team.
It's hard to argue with Robinson's assessment. The way we see it, Johnson is all but destined to have his name enshrined in the Hall of Fame. After all, the stud wide receiver leaves the game with the following list of accomplishments: seven Pro Bowl appearances, 1,062 receptions, 14,185 receiving yards, and 70 touchdown receptions.
As sad as we are to see another all-time great walk away from the game, we're happy to know that Johnson won't join the long list of players who should've retired sooner. Therefore, in honor of this difficult yet wise decision, we've decided to honor Johnson's outstanding career by taking a look at some of his greatest performances. While there are plenty of games to choose from, in our opinion, these five are hard to catch (sorry, we couldn't help ourselves).
5. Johnson dominates Detroit in 2012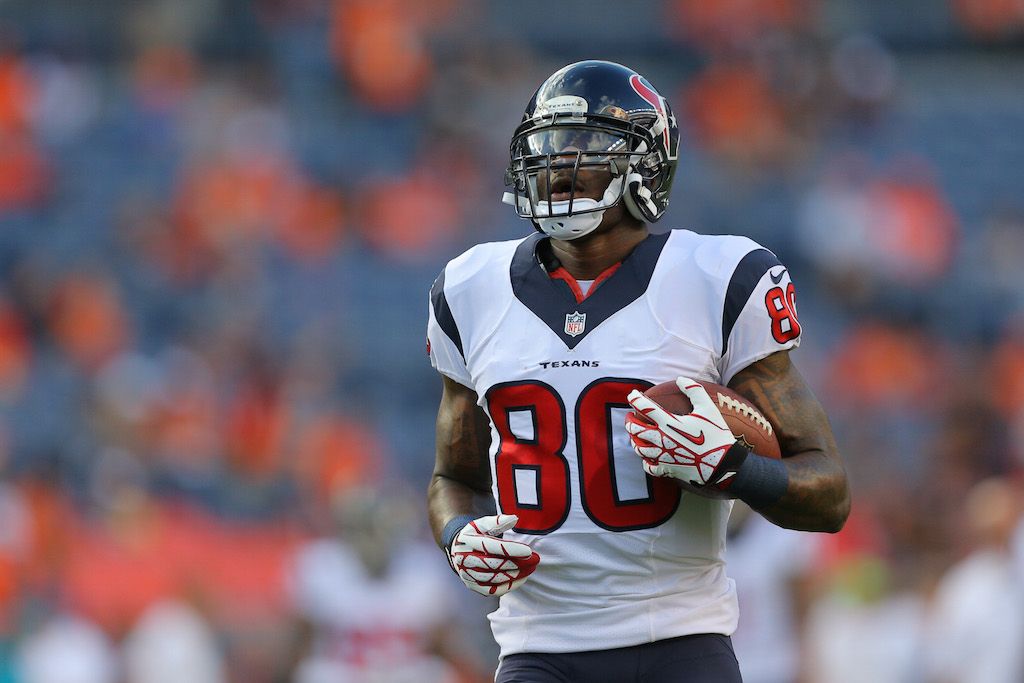 Against the Detroit Lions on November 22, 2012, Johnson looked pretty much unstoppable. Targeted by quarterback Matt Schaub 15 times, the superstar wideout caught nine passes for 188 yards, including a 43-yard reception (the longest by either team). In the end, the Texans needed overtime to defeat Lions by the score of 34-31; a victory that raised their record to 10-1 on the season. Without the dynamic play of Houston's No. 80, we could've seen a very different outcome.
4. Johnson has Seattle's number in 2009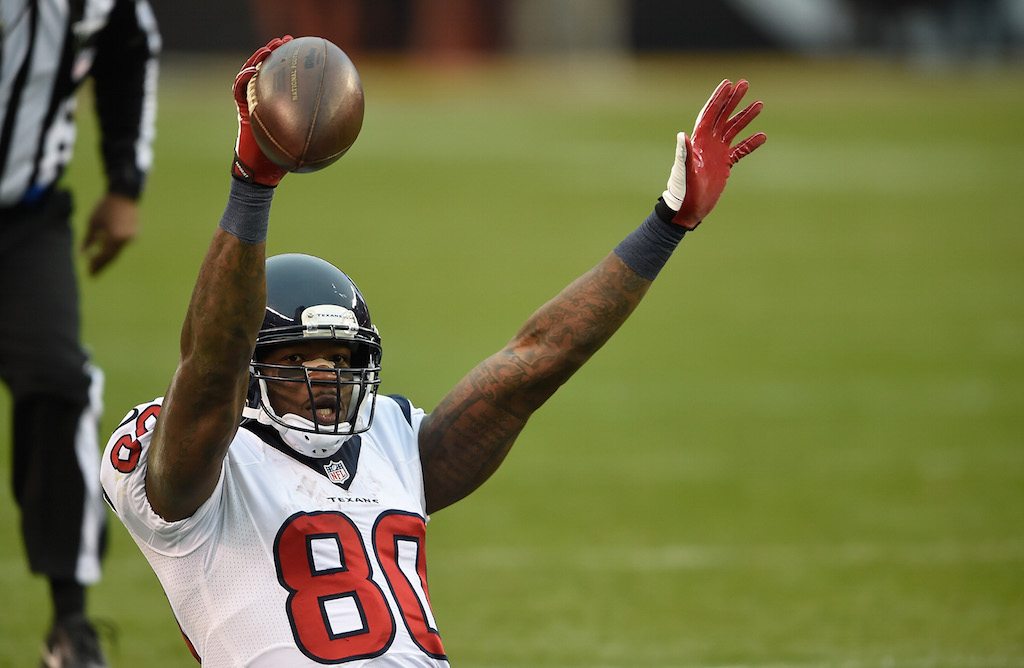 On December 13, 2009, in front of the Houston faithful at Reliant Stadium, Johnson absolutely destroyed the Seattle Seahawks defense. No. 80 caught 11 passes (he was targeted 15 times), had 193 receiving yards, and finished the contest with two touchdown receptions. Behind this offensive explosion, the Titans won convincingly 34-7. Oh, how things have changed since then.
3. Johnson overwhelms the Titans in 2008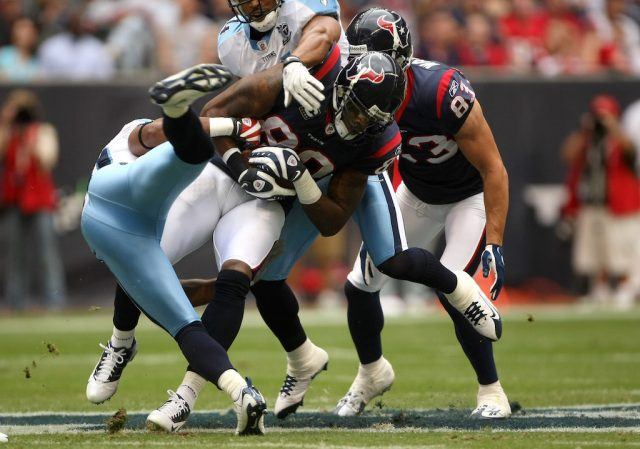 The Houston Texans pulled off a massive upset over the Tennessee Titans on December 14, 2008. As you probably guessed, Johnson played a major role in the victory. He caught 11 of the 15 passes thrown his way, amassed 207 receiving yards, and had the only touchdown catch of the day. Considering the Texans won the game by the score of 13-12, we'd say they were lucky to have the 6-foot-3 receiver on their side.
2. Johnson torches Indy in 2013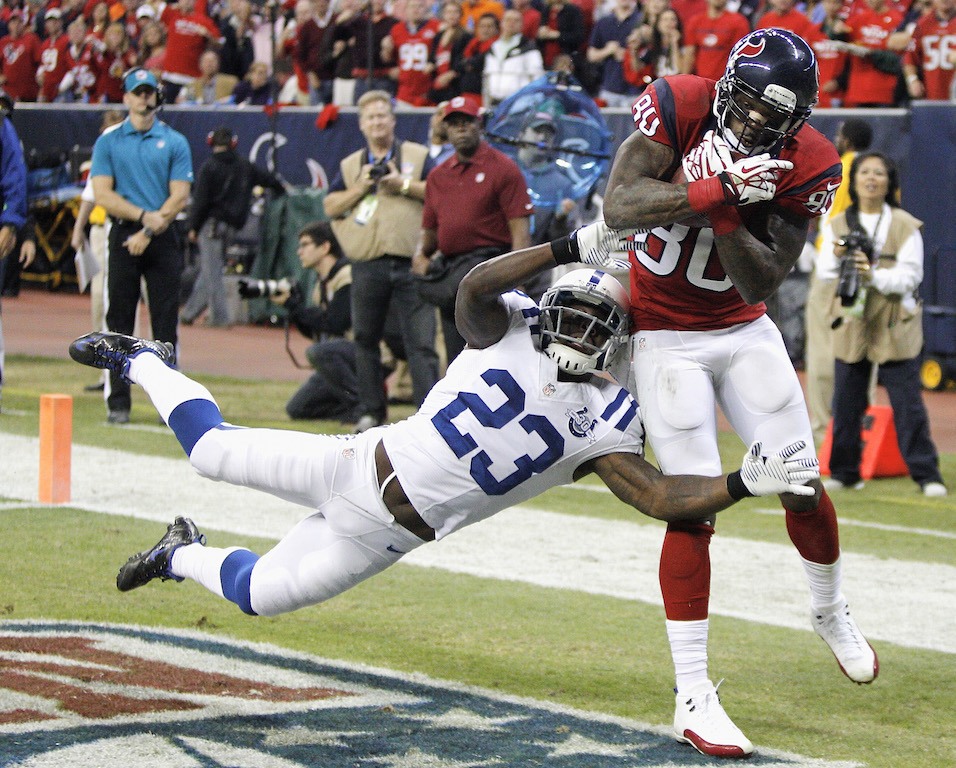 The Indianapolis Colts may have had the Texans' number on November 3, 2013, but that doesn't mean they had an answer for Johnson. In fact, it was actually quite the opposite. During this AFC South slugfest, one in which the Colts won 27-24, Houston's Pro Bowl wideout had nine catches, 229 receiving yards, and three touchdown receptions. Of course, Johnson probably would've rather walked away with the W.
1. Johnson has his way with the Jaguars in 2012
The greatest game of Johnson's career came in 2012 during a shootout against the Jacksonville Jaguars. In a contest that saw the Texans win 43-37, the star wideout had 14 catches (he was targeted 19 times), one touchdown reception, and a ridiculous 273 receiving yards. Even if Houston hadn't won this matchup, it'd be hard not to classify Johnson's showing as an all-time great performance. The guy was, in a word, unstoppable.
Statistics courtesy of Pro-Football-Reference and ESPN.