MLB: These 10 Players Are the Best Shortstops in Baseball in 2019
The shortstop position is one of the most important on the baseball field. Players manning short need to play top-notch defense, and these days they're expected to swing a good stick, too. As the 2019 season gets ready to begin, let's take a look at the 10 best shortstops in MLB in 2019.
10. Didi Gregorius, New York Yankees
Gregorius is out until at least June while recovering from an injury, with the Yankees expected to use Gleyber Torres and Troy Tulowitzki to replace him. Even he'll miss a large chunk of the season, Gregorius still earns a spot on this list based on his past production. Since replacing Derek Jeter in 2015, his home run numbers have increased every year. Gregorius hit 27 home runs with 86 RBIs in 2018.
9. Jean Segura, Philadelphia Phillies
Segura was brought in as part of the Phillies' offensive makeover this season. In a lineup featuring both JT Realmuto and Bryce Harper, Segura will have plenty of protection and his already stellar numbers are sure to improve. Segura posted batting averages of .300 or higher with 150 or more hits each of the last three seasons.
8. Xander Bogaerts, Boston Red Sox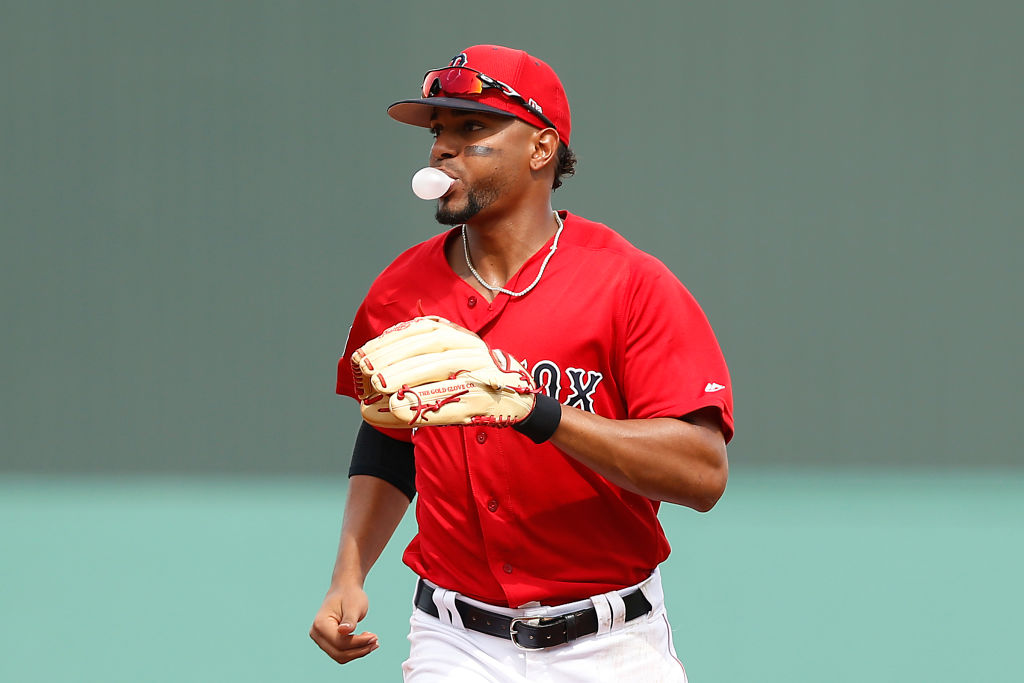 The Red Sox as a team had an outstanding year last year, and Bogaerts was no different. He had a breakout season in 2018, as he hit 23 home runs with 103 RBI. Look for Bogaerts to have another solid year at the plate with such a stellar Sox lineup around him. Bogaerts is also a career .978 fielder in the hole, and his bat coupled with his glove makes him one of the best shortstops in the game.
7. Corey Seager, Los Angeles Dodgers
Seager joins Didi Gregorius on this list as one of two top-10 shortstops who underwent Tommy John surgery last year. Seager only appeared in 26 games last season, but he performed well in that small sample size. He collected 27 hits, including eight for extra bases (two home runs). Seager is confident he'll return and be able to perform at a high level in 2019.
6. Andrelton Simmons, Los Angeles Angels
Andrelton Simmons has had a dependable bat for the Angels (.284 average in three seasons), and he's been an elite level defender for his entire career as well. He has four Gold Gloves and when it comes to advanced defensive metrics compiled by FanGraphs, he ranked first overall among shortstops last year.

In case you're not big on analytics, we'll put it this way: Simmons owns a .982 fielding percentage and has just 73 errors over seven big league seasons.
5. Carlos Correa, Houston Astros
Correa is one of the best shortstops in baseball, but it feels like he has yet to really scratch the surface. He's only played more than 120 games once in his first four big-league seasons. Still, he's closing in on 100 home runs, and he's coming off a season where he committed only six errors.

If Correa can put together a healthy season, then the sky is the limit at only age 24. Baseball Reference projects him at 17 home runs with 71 RBI this season.
4. Trevor Story, Colorado Rockies
Story had a sensational 2018. He hit a career-high 37 home runs, finished eighth overall in MVP voting, and was named an NL All-Star. Baseball Reference predicts 29 home runs and 90 RBI this year. If that holds up, he'll continue to ascend up the ranks of top shortstops in the league, especially if he maintains his sharp defense and .980 fielding percentage.

3. Manny Machado, San Diego Padres
Along with Bryce Harper, Machado was one of the biggest free agent acquisitions of the 2019 offseason. He's also versatile, able to play either at short or at third base. Machado is likely to log more time at third due to top Padres prospect Fernando Tatis, Jr. expecting to break through this year, but if he plays any significant amount of time at short it would be criminal to leave him off this list.

Machado's production last year was unreal in his free agent year: 37 home runs, 104 RBI, and a .367 on-base percentage. If he repeats anything close to those numbers, San Diego will consider his monster contract money well spent.
2. Javier Baez, Chicago Cubs
The Cubs' superstar's numbers have steadily increased over the last three seasons, but last year was a major breakout for the shortstop. Baez hit 34 homers with 111 RBIs to lead the NL. Those figures, plus a .290 batting average and .326 on-base percentage, netted Baez a runner up finish in the NL MVP race. Baez is only 26 and is expected to be a staple in Wrigley and one of the best shortstops in MLB for years to come.
1. Francisco Lindor, Cleveland Indians
Quite simply, Francisco Lindor is the cream of the crop and No. 1 on our list of the best shortstops in the game. His power numbers speak for themselves: 38 home runs, 92 RBIs, and a .512 slugging percentage. Lindor led the league in plate appearances, at-bats, and runs scored. Any player who leads these categories while playing for one of MLB's top teams and fielding the toughest position at a .980 rate should clearly be considered among its best players not just at his position, but overall among all players.