The Best Super Bowl MVPs of the Last 25 Years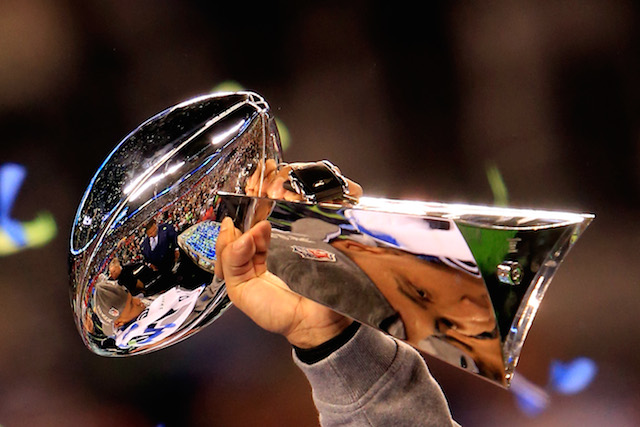 We're taking a look at Super Bowl MVPs from the last 25 years. Whether the games were close or a massive blowout, every Super Bowl featured a player who received the MVP award.
Sometimes the MVP players put up big numbers and really deserved the honor; other times a teammate should probably have received the nod. So, where does your favorite player fall? Here are some of the Super Bowl MVPs from the last 25 years, ranked from worst to best.
25. Tom Brady – XXXVI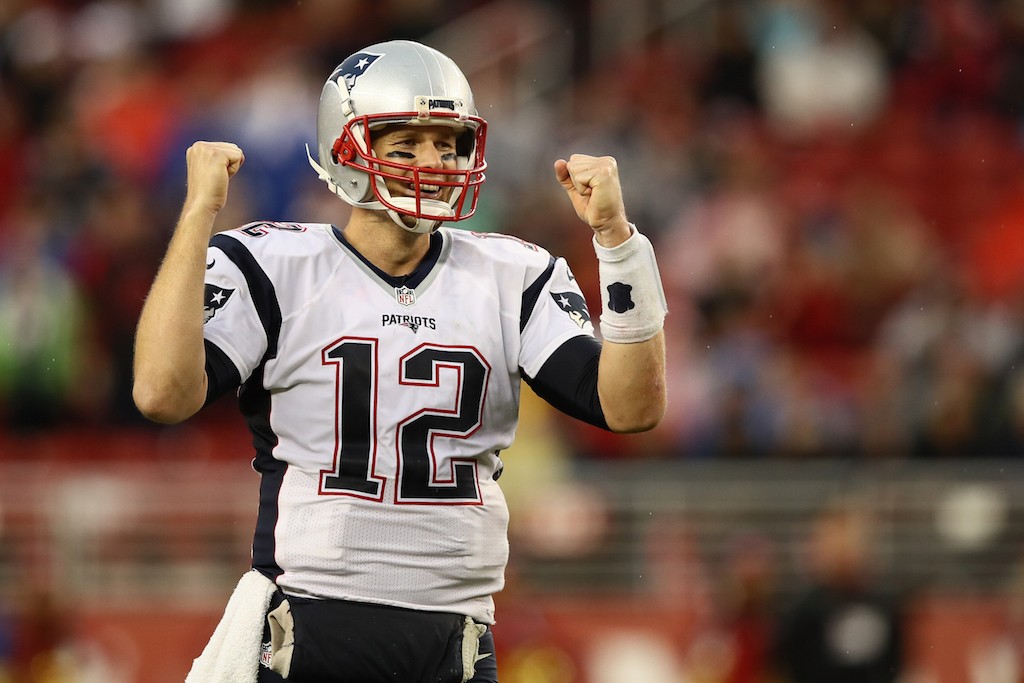 Statistics: 16-for-27, 145 passing yards, 1 TD
Back in 2002, nobody knew what kind of player Brady would be. However, when he led the New England Patriots to their first Super Bowl victory over the St. Louis Rams, he created a lot of hope. Brady didn't have a great game by any measure, passing for just 145 yards and completing less than 60% of his passes. He threw one touchdown, while the team scored another on a Ty Law pick-six and then two Adam Vinatieri field goals — including the game-winner. Brady kind of won this MVP by default.
24. Ray Lewis – XXXV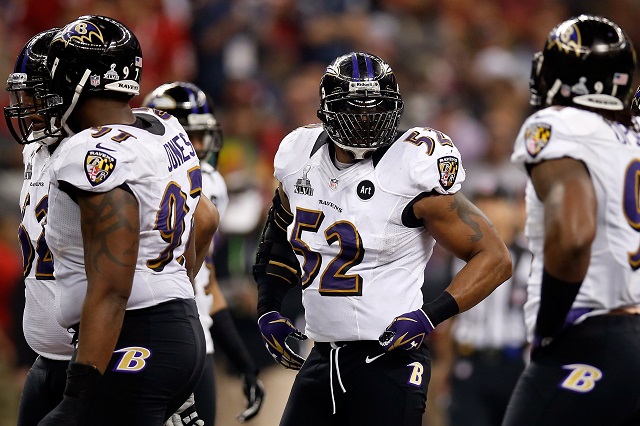 Statistics: 5 tackles
It's possible, however unlikely, that Ray Lewis's MVP award in Super Bowl XXXV is due to voters submitting the wrong Lewis. Baltimore Ravens running back Jamal Lewis rushed for 102 yards and a touchdown in their victory over the New York Giants and was the only player on the roster to distinguish himself during the game as a clear MVP choice.
Still, middle linebacker Ray Lewis received the honor, even though he had zero sacks, fumble recoveries, or interceptions; only a handful of tackles. The likely scenario is that the voters recognized him, regardless of his stats, as the heart and soul of the Ravens' defense.
23. Deion Branch – XXXIX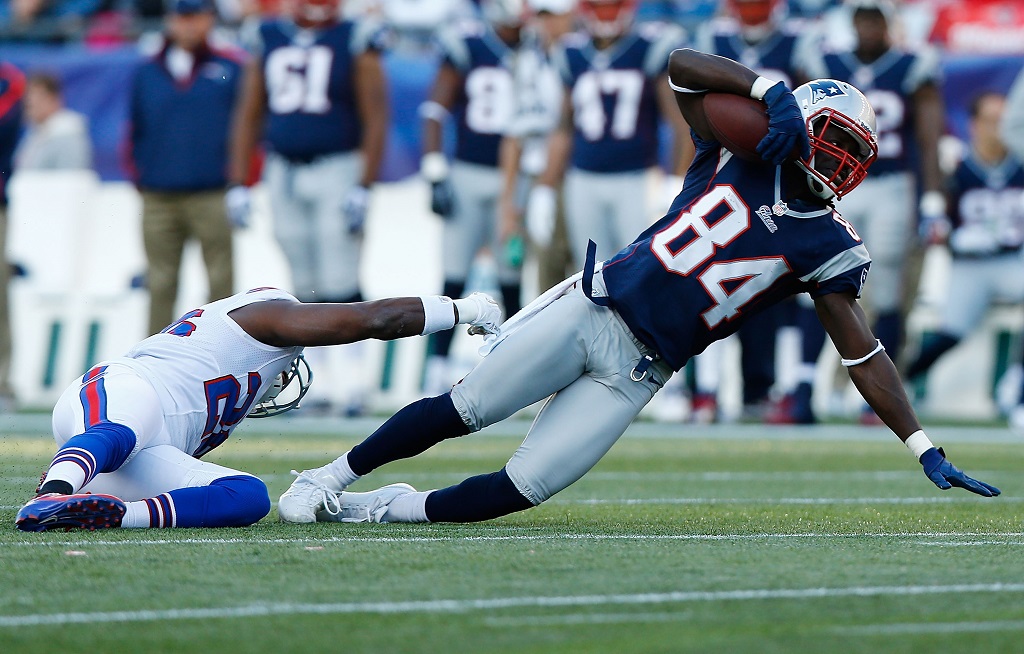 Statistics: 11 receptions, 133 yards
The New England Patriots wide receiver had an excellent game in Super Bowl XXXIX, with the Pats beating the Philadelphia Eagles 24-21. However, there's an argument that he probably shouldn't have been the MVP. Brady competed 23 of 33 passes for two touchdowns and no interceptions, while Branch wasn't the recipient of either of those TDs. He had a great game, but Brady was the one slinging the ball. This is where the bias that gives quarterbacks over half the Super Bowl MVPs comes from, but in this case it's pretty true.
22. Peyton Manning – XLI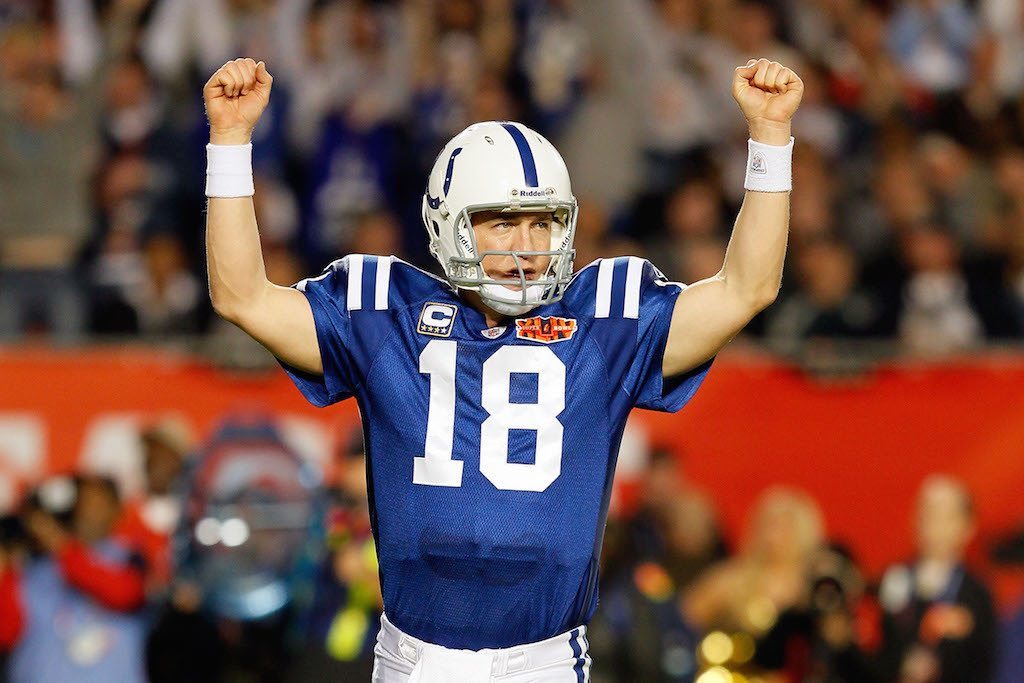 Statistics: 25-for-38, 247 yards, 1 TD, 1 INT
In Super Bowl XLI against the Chicago Bears, it wasn't so much Peyton Manning who won the Indianapolis Colts the game as it was Chicago quarterback Rex Grossman turning the ball over on a rain-soaked field. The Bears took a 14-6 lead into the second quarter, but Grossman fumbled the ball twice and threw two interceptions that helped seal the game for the Colts. Indianapolis won 29-17 despite a monumental effort from Chicago running back Thomas Jones, who had 112 rushing yards on 15 attempts.
21. Dexter Jackson – XXXVII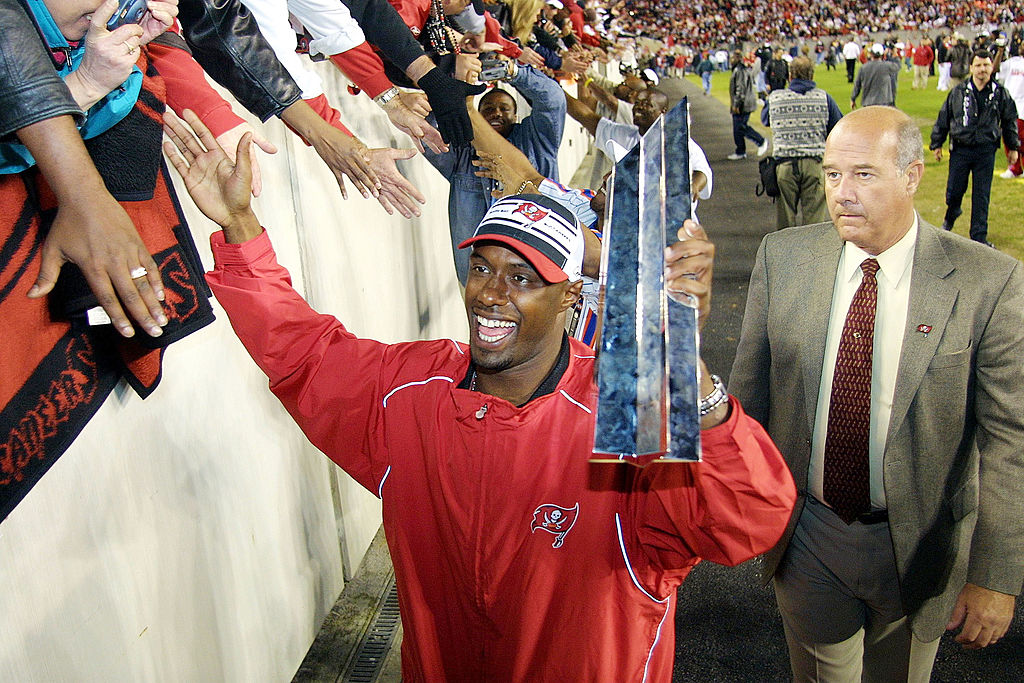 Statistics: 2 INT
Another case of the wrong guy receiving the MVP, Tampa Bay Buccaneers corner Dexter Jackson intercepted Oakland Raiders quarterback Rich Gannon twice in the Bucc's 48-21 victory in Super Bowl XXXVII. But if you give the MVP award to one of the players on defense, look no further than fellow defensive back and teammate Dwight Smith, who intercepted Gannon twice and returned both for touchdowns. Either way, Jackson got the nod for MVP, but you can't fault Smith if he felt a bit slighted.
20. Larry Brown – XXX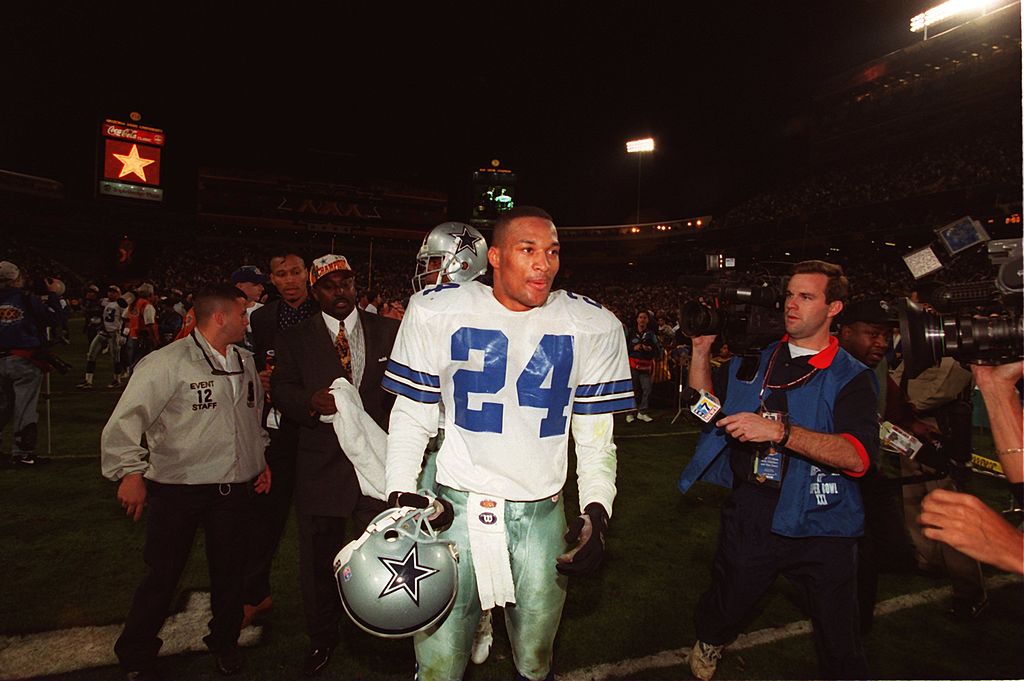 Statistics: 2 INT
In Super Bowl XXX, the Dallas Cowboys put away the Pittsburgh Steelers by a score of 27-17. Cowboys corner Larry Brown walked away with the MVP award, having caught two interceptions thrown by Steelers quarterback Neil O'Donnell.
In truth, there weren't a ton of obvious MVP candidates that year for the Cowboys. Troy Aikman was pretty pedestrian, going 15-for-23 with 209 yards and a touchdown. Emmitt Smith scored two touchdowns but ran for just 49 yards on 18 carries. As far as MVP picks go, Brown is a bit on the weaker side but there's not a huge argument against him. Meh.
19. Von Miller – 50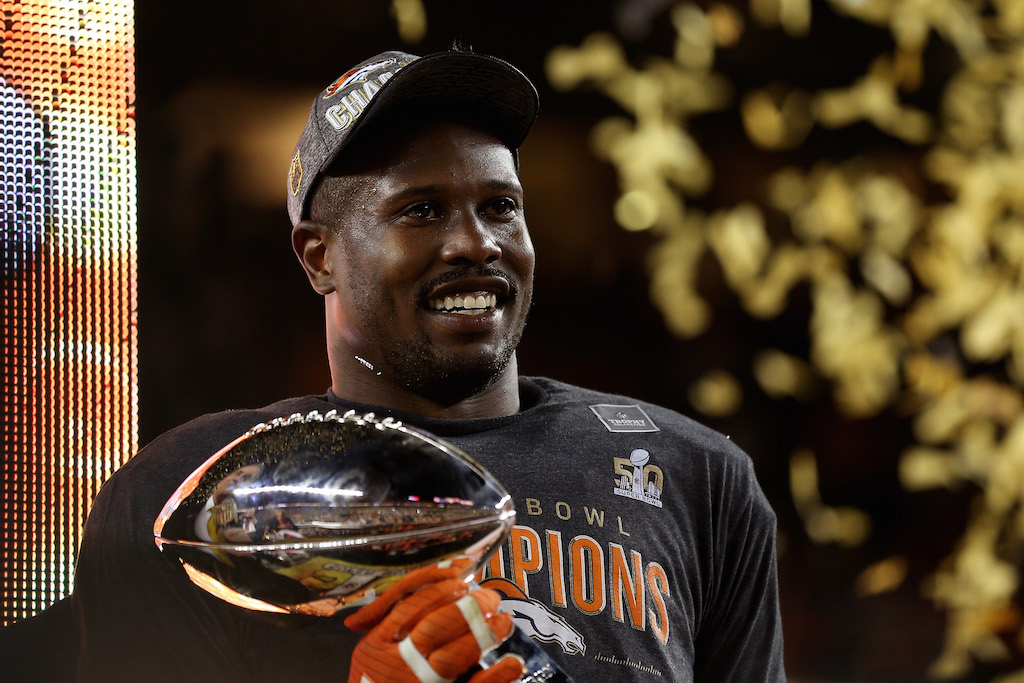 Statistics: 2.5 sacks, 2 forced fumbles, 5 tackles
Even though quarterbacks tend to win the Super Bowl MVP more often than not, Manning could not receive the honor in Super Bowl 50 — even if it was his last game in the NFL. Manning was just 13-for-23 passing for 141 yards and an interception in the Denver Broncos' 24-10 victory over the Carolina Panthers. Von Miller won the award on the back of his 2.5 sacks and two forced fumbles. Defensive players don't often win, but you can't argue that anybody was more valuable to the victory than Miller.
18. Mark Rypien – XXVI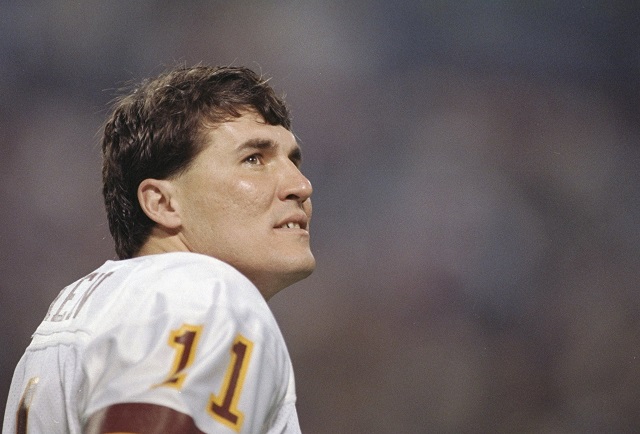 Statistics: 18-for-33, 292 yards, 2 TD, 1 INT
Washington Redskins quarterback Mark Rypien didn't have an extremely memorable career. He made two Pro Bowls and won a Super Bowl, walking away with the MVP award in that game. However, he didn't have the kind of career that puts him in the conversation for the best to ever play the game. Even still, Rypien played well enough against the Buffalo Bills — those poor Bills — in Super Bowl XXVI to earn the MVP honors with little argument. With a final score of 37-24, it won't go down as one of the greatest games ever played, but it's fitting for Rypien's career.
17. Hines Ward – XL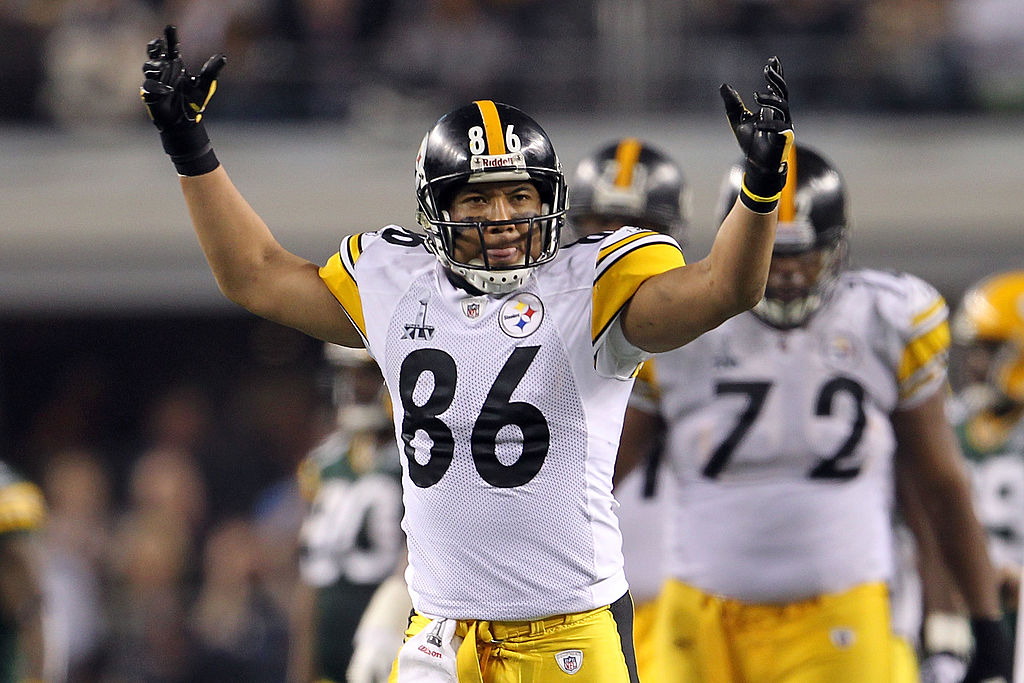 Statistics: 5 receptions, 123 yards, 1 TD
In Super Bowl XL, the Pittsburgh Steelers put away the Seattle Seahawks by a score of 21-10, with wide receiver Hines Ward taking home the MVP award. Quarterback Ben Roethlisberger was only 9-for-21 passing with 123 yards. Ward finished with five receptions, 123 yards, and a touchdown thanks to a trick play in which receiver Antwaan Randel-El threw a 43-yard touchdown pass to Ward. Randel-El might've been a decent pick for MVP had he performed better outside of that one play; he finished with just three receptions and 22 yards.
16. Malcolm Smith – XLVII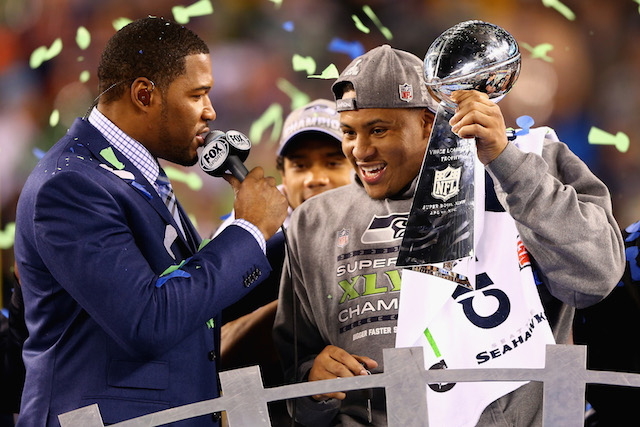 Statistics: 1 INT, 1 TD, 1 fumble return, 6 tackles
In a game featuring a safety on the opening play from scrimmage, the Seattle Seahawks led the Denver Broncos from the outset. With the offense spread around, the MVP award went to defensive back Malcolm Smith. He recovered a fumble, intercepted Manning, and scrambled 69 yards for a touchdown that made the score 22-0 going into halftime. The Broncos were never able to make a game of it, suffering a 43-8 loss in Super Bowl XLVII.
15. Eli Manning – XLII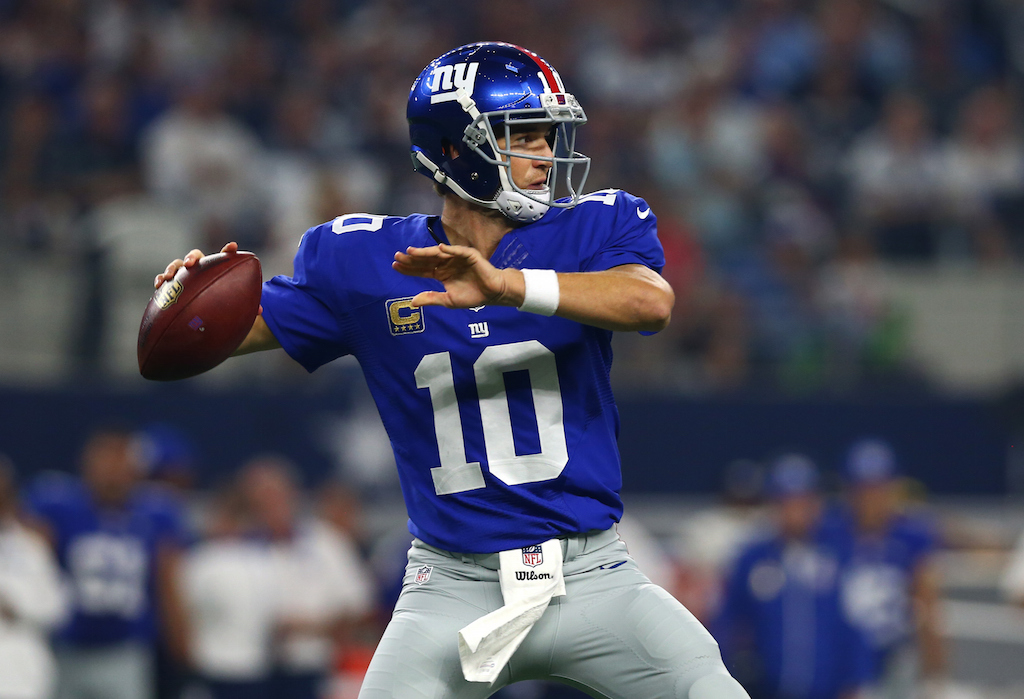 Statistics: 19-for-34, 255 yards, 2 TD, 1 INT
There's no way around it; Eli Manning had an awful game until the fourth quarter of Super Bowl XLVII. The New York Giants went into the final quarter trailing 7-3, but Manning marched the Giants down the field and take a 10-3 lead with a touchdown pass to David Tyree. After the Pats scored to take the lead, Manning again led the team down the field. This included an amazing, third-and-five, 32-yard pass that Tyree famously trapped against his helmet and caught. Manning hit Plaxico Burress for the game-winning score, taking in the MVP.
14. Emmitt Smith – XXVIII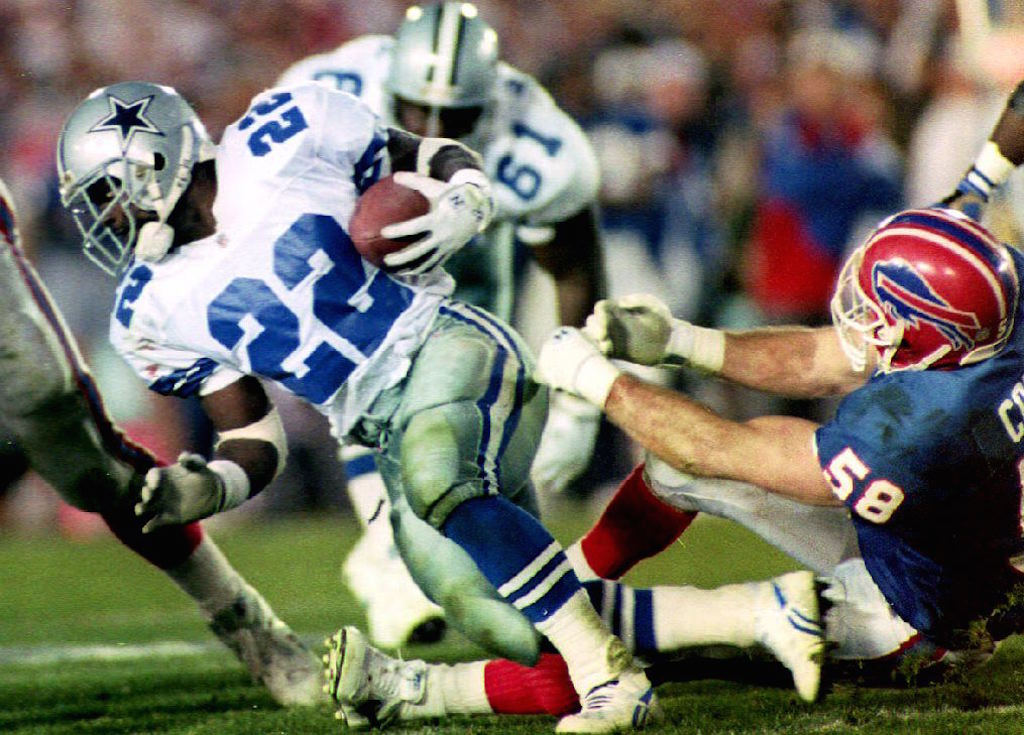 Statistics: 132 rushing yards, 2 TD, 4 receptions, 26 receiving yards
In Super Bowl XXVIII, quarterback Aikman was yet again pretty pedestrian. He finished the game with a line of 19-for-27, 207 yards, and one interception. But running back Smith led the Cowboys that day, rushing for 132 yards and two touchdowns against the Buffalo Bills. Dallas won the game, with Smith scoring two TDs in the third quarter and turning a 13-3 halftime deficit into a 30-13 victory.
13. Eli Manning – XLVI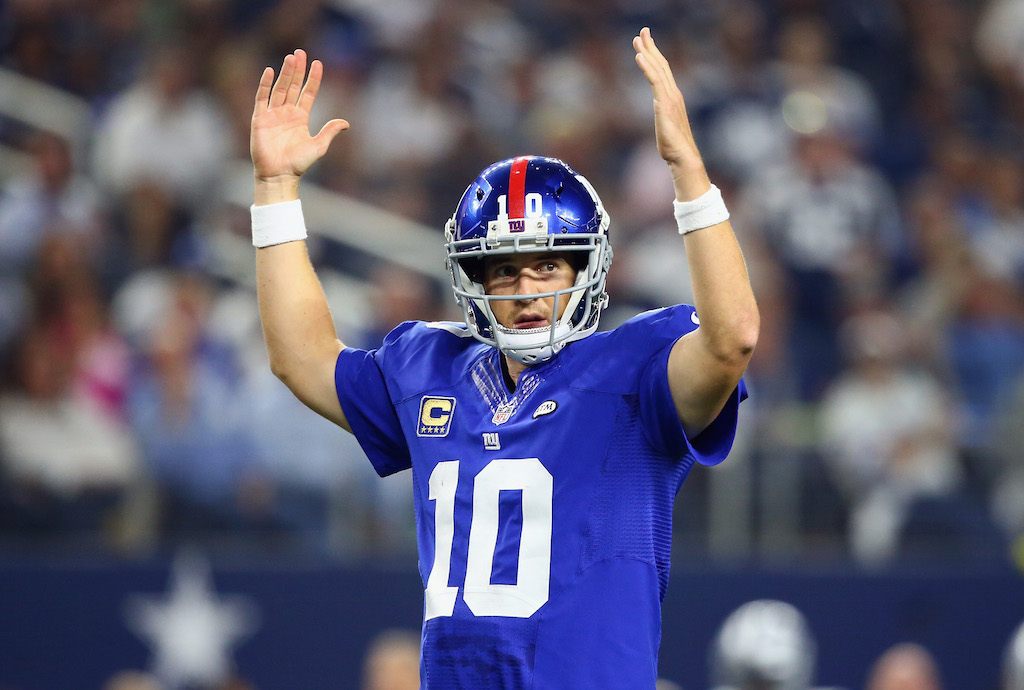 Statistics: 30-for-40, 296 yards, 1 TD
Manning was better in this performance, and he even threw in one spectacular throw late in the game. With the Giants trailing the Patriots, 17-15, and under four minutes left in the game, Manning threw a deep ball from near his own goal line to Mario Manningham on the sidelines. Manningham hauled in the 38-yard bomb, keeping both feet in-bounds, and helping set up the inevitable go-ahead rushing TD by Ahmad Bradshaw.
12. Santonio Holmes – XLIII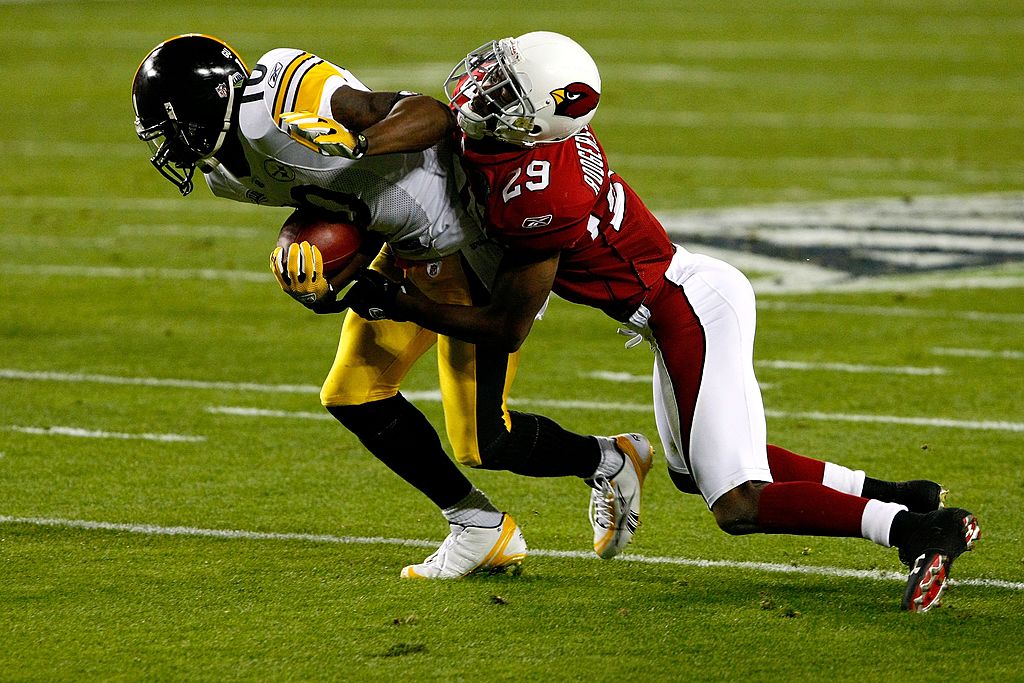 Statistics: 9 receptions, 131 yards, 1 TD
There's no arguing who the MVP of Super Bowl XLIII should've been. With the Arizona Cardinals leading 23-20 with just two minutes remaining in the fourth quarter, Pittsburgh Steelers quarterback Roethlisberger and wide receiver Santonio Holmes took the game away. On the final drive, Holmes caught four passes for 73 yards and the game-winning score with just 42 seconds remaining, giving him nine receptions and 131 yards for the game. The Steelers won, 27-23.
11. Desmond Howard – XXXI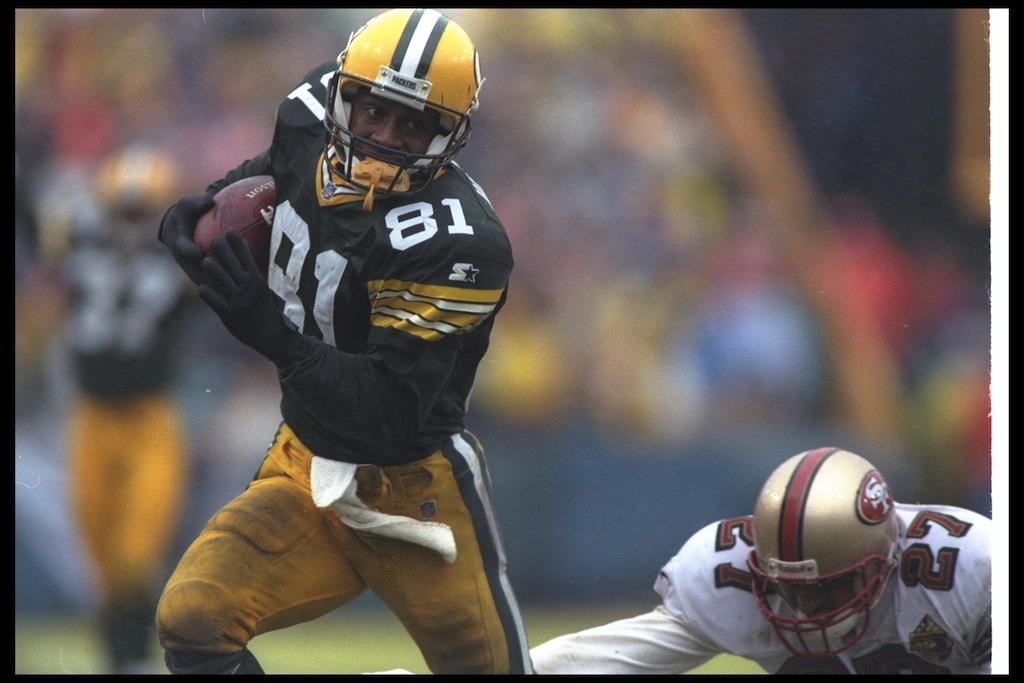 Statistics: 1 TD, 244 total return yards
Before there was Devin Hester — who returned the opening kick of the Super Bowl for a touchdown against the Colts for the Chicago Bears — there was Desmond Howard with the Green Bay Packers.
Howard led the NFL in punt return touchdowns and yards per return in 1996, and then he became the only kick returner to receive the Super Bowl MVP; something that Hester might've done, had the Bears beaten the Colts. In the third quarter of the Packers' 35-21 victory over the New England Patriots, Howard returned a kick 99 yards for a touchdown.
10. Joe Flacco – XLVII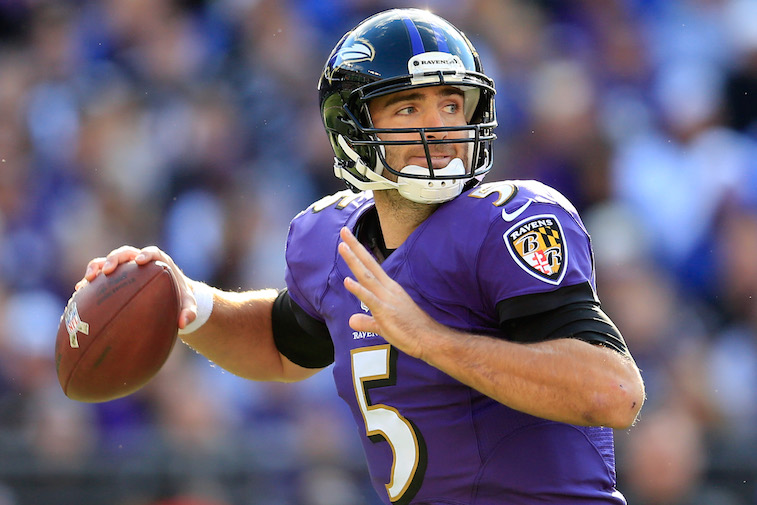 Statistics: 22-for-33, 287 yards, 3 TD
The Baltimore Ravens were back in the Super Bowl in Ray Lewis's final season, but this time he didn't walk away with the MVP award. It went to quarterback Joe Flacco, who had a playoff run for the ages that helped him earn a massive contract that he never lived up to. In this game, Flacco threw three touchdowns and was extremely efficient in the Ravens' 34-31 victory. He picked apart the San Francisco 49ers' vaunted defense all game, which also featured a weird blackout delay.
9. Drew Brees – XLIV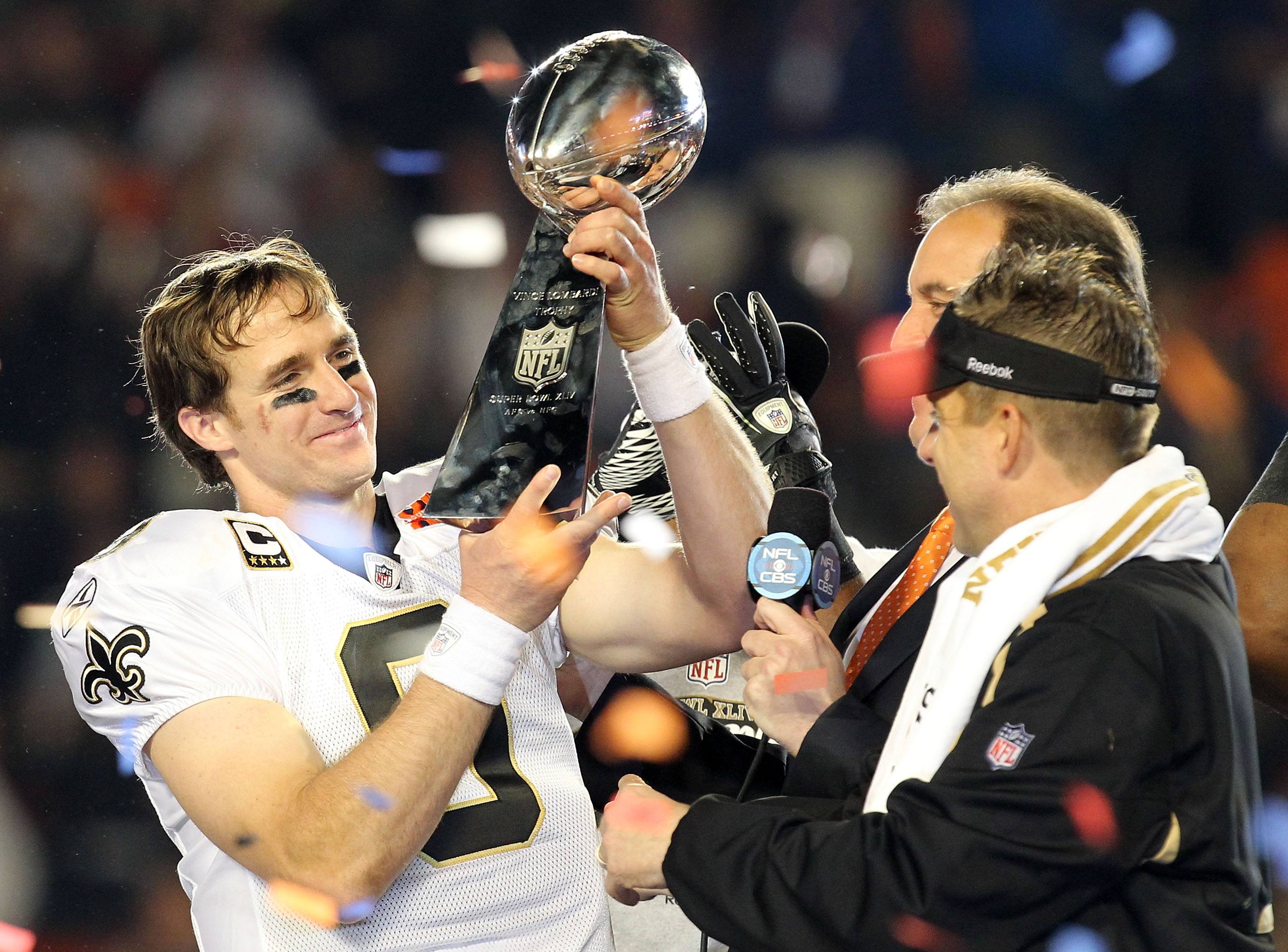 Statistics: 32-for-39, 288 yards, 2 TD
Playing against the Indianapolis Colts in Super Bowl XLIV, New Orleans Saints QB Drew Brees had himself quite a game. He had 32 complete passes to just seven incompletions, throwing for 288 yards and two touchdowns (one to Pierre Thomas and one to Jeremy Shockey). New Orleans led the game late, 24-17, when cornerback Tracy Porter intercepted Manning and returned it 74 yards to put the game away. It is both Brees and New Orleans' only Super Bowl victory to date.
8. Aaron Rodgers – XLV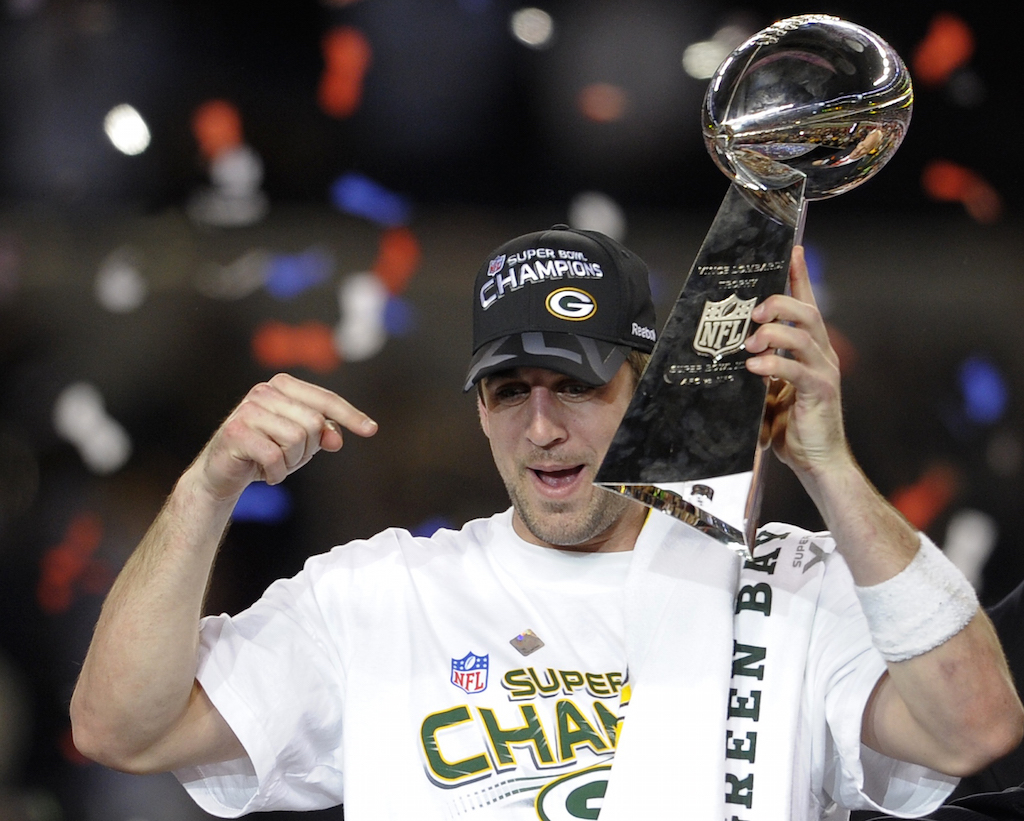 Statistics: 24-for-39, 304 yards, 3 TD
Against the Pittsburgh Steelers in Super Bowl XLV, Aaron Rodgers was on top of his game. The Packers won the game, 31-25, and Rodgers threw three touchdown passes (two to Greg Jennings, who had 64 yards, and one to Jordy Nelson). You could make an argument for Nelson — who had 140 yards — to be an MVP candidate. However, Rodgers stepped all over the Steelers' defense. In his only Super Bowl appearance to date, he sealed his fate as one of the best QBs to ever play.
7. Tom Brady – XLIX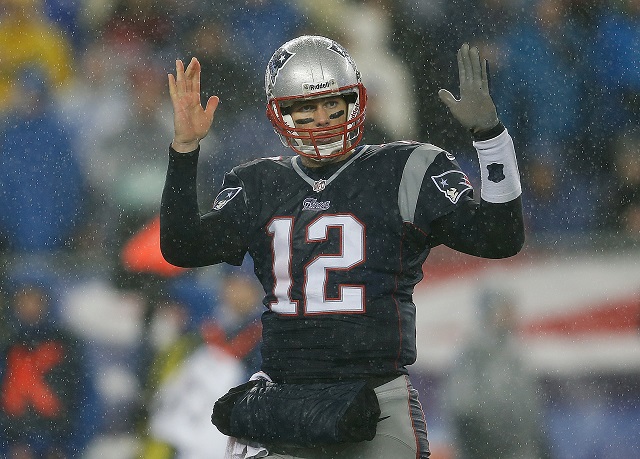 Statistics: 37-for-50, 328 yards, 4 TD, 2 INT
Brady would be a bit higher up on the list for this one, if not for his two interceptions against the Seattle Seahawks. The Patriots came from behind to steal this game away, trailing 24-21 before Brady hit wide receiver Julian Edelman for the go-ahead touchdown with 2:02 remaining in the game. The Seahawks got the ball all the way down the field, setting up an amazing chance to win the game. However, they inexplicably called a pass play from the one-yard line and Malcolm Butler intercepted Russell Wilson.
6. John Elway – XXXIII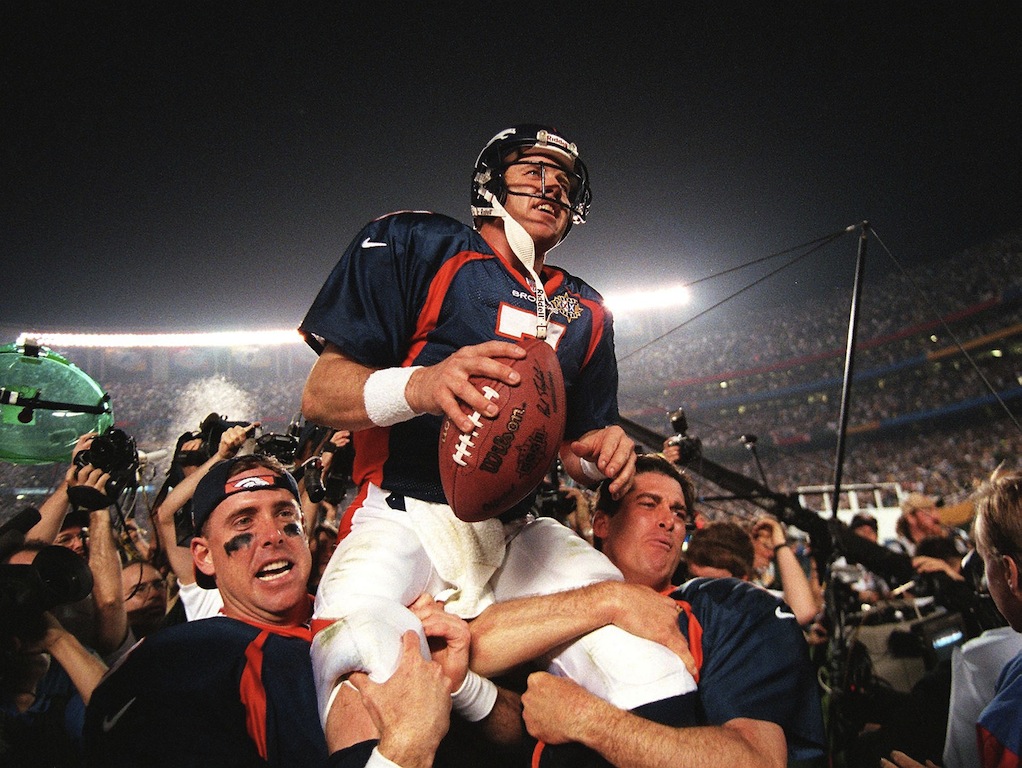 Statistics: 18-for-29, 336 yards, 1 TD, 1 INT
After losing three Super Bowls in four seasons early in his career, it seemed like Denver Broncos QB John Elway would never win. Even The Simpsons made jokes about the ineptitude of the team. But that all changed when Elway won a Super Bowl at age 37, and then returned at age 38 to get another one and receive his first Super Bowl MVP in what would be the final game of his career. Elway passed for 336 yards and a touchdown against the Atlanta Falcons, winning the game 34-19.
5. Troy Aikman – XXVII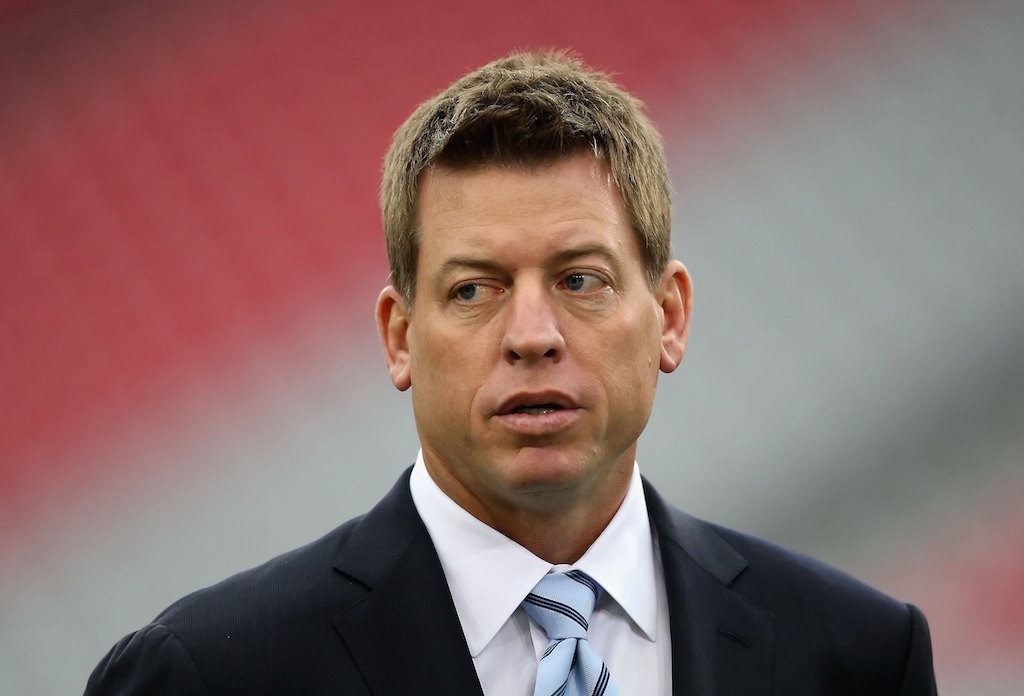 Statistics: 22-for-30, 273 yards, 4 TD
The best Super Bowl performance of Dallas Cowboys quarterback Troy Aikman's career ended up earning him an MVP award. Facing those same Buffalo Bills in Super Bowl XXVII, Aikman went for four touchdown passes in the 52-17 victory. Two of those TDs went to wide receiver Michael Irvin, while Aikman distributed the other two to Jay Novacek and Alvin Harper.
4. Tom Brady – XXXVIII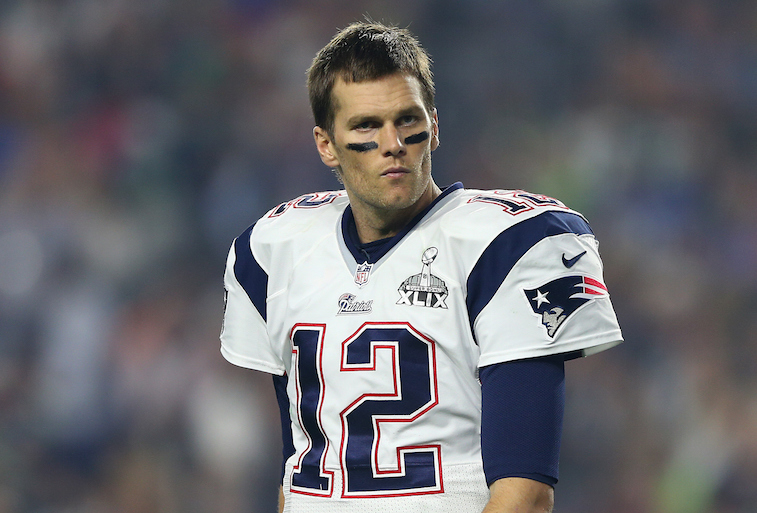 Statistics: 32-for-48, 354 yards, 3 TD, 1 INT
Brady had another good game against the Carolina Panthers to win his second Super Bowl. He helped the Pats to a 14-7 lead at the end of the first quarter by hitting Branch and David Givens for touchdowns, and later threw a touchdown to linebacker Mike Vrabel to take the lead late in the fourth quarter. After Jake Delhomme and the Panthers tied it again, Brady marched the team down the field and set up Vinatieri for another game-winner.
3. Kurt Warner – XXXIV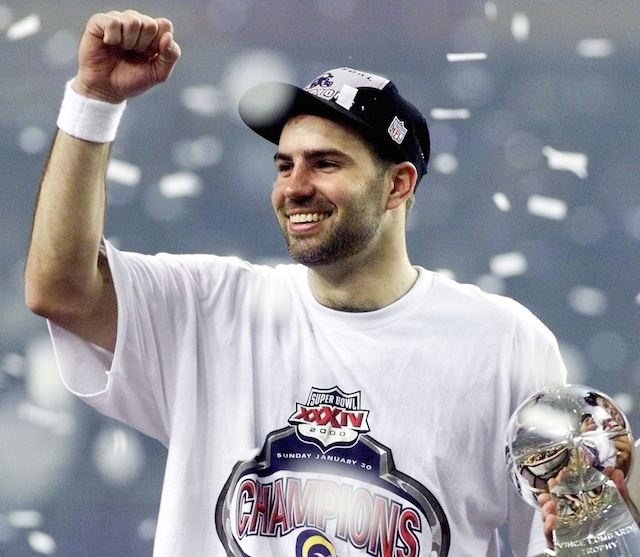 Statistics: 24-for-45, 414 yards, 2 TD
In 1998, St. Louis Rams quarterback came out of nowhere at the age of 28 to become one of the best in the game. He won the MVP that year, leading the Rams to a 13-3 record and all the way to Super Bowl XXXIV. Although he only threw two touchdowns in the game, Warner also put up 414 passing yards—the most in Super Bowl history. As a fun matter of fact, Warner also has the second- (377) and third-most (365) passing yards in a Super Bowl, coming in XLIII and XXXVI respectively. The Rams took this one by a score of 23-16.
2. Terrell Davis – XXXII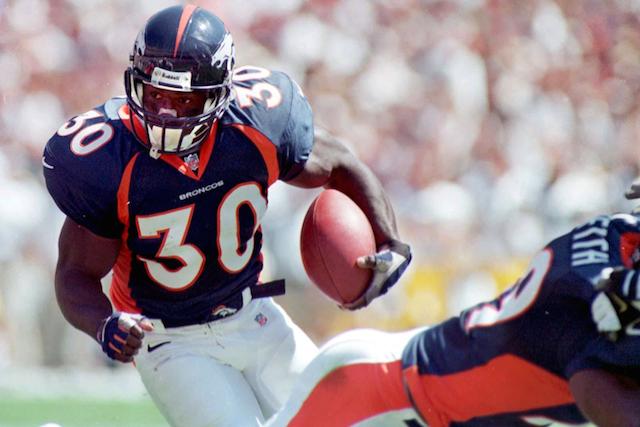 Statistics: 157 yards, 3 TD
Like so many running backs, Terrell Davis's great career burned out too quickly. He led the NFL with 15 rushing touchdowns in 1997, but his three consecutive seasons of 300-plus carries and the knee problems it caused really ruined the longevity of his career. But that doesn't take away the shining moment of his career, which was taking home the MVP of Super Bowl XXXII. Facing the Green Bay Packers, Davis rushed 30 times for 157 yards and three touchdowns. The Broncos won the game, 31-24.
1. Steve Young – XXIX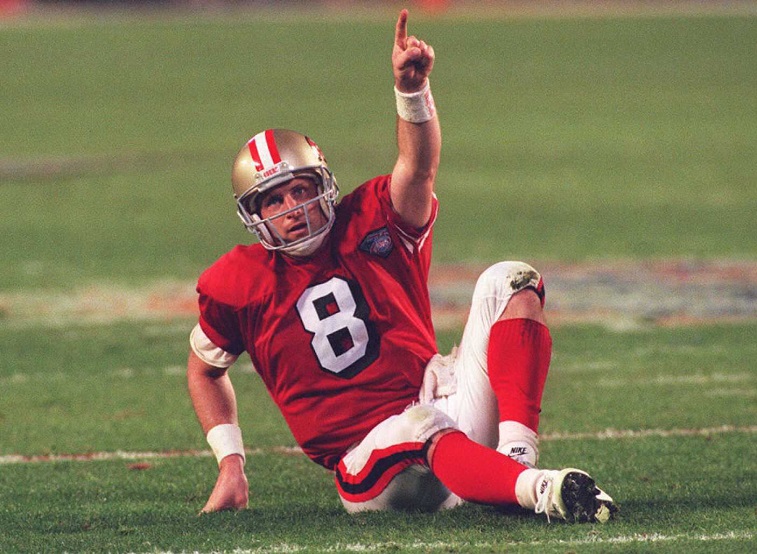 Statistics: 24-for-36, 325 yards, 6 TD
Hall of Fame quarterback Steve Young won three Super Bowls in his career, but none were more impressive than his effort against the San Diego Chargers in XXIX. Young threw six touchdowns in the game, a Super Bowl record, with three of them going to wide receiver Jerry Rice, who also had 149 yards.
Rice also would've had one of the better performances from a Super Bowl MVP had he been chosen in this game, but you just can't look past Young's performance. To top it all off, the QB scrambled for a 21-yard rush. He did everything in leading the 49ers to victory.
Statistics courtesy of ESPN and Pro-Football-Reference.