The 25 Best Three-Point Shooters in NBA History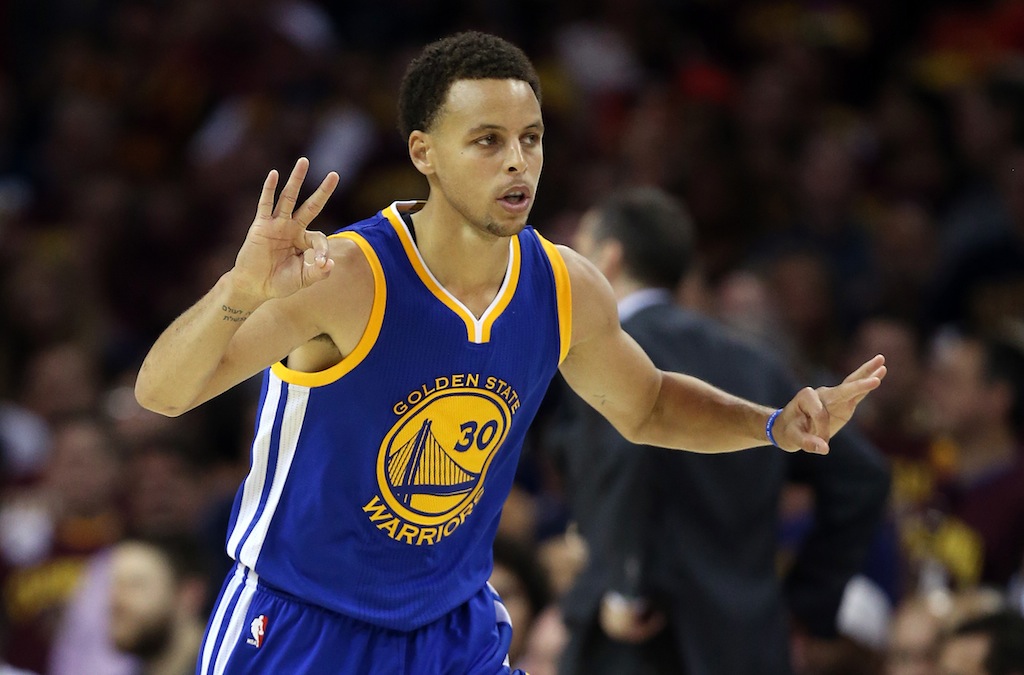 The NBA used to be a game for the biggest and strongest. Players such as George Mikan, Wilt Chamberlain, and Bill Russell dominated the hardwood. And while the game still rewards those who are big and strong, basketball has evolved. Nearly 40 years after the NBA accepted the three-point line, it's finally become a major part of how teams play.
Threes are being hoisted at record paces. With that in mind, we looked at the best three-point shooters in history. We used statistical objectives of at least 800 made threes and an average of four attempts per game.
25. O.J. Mayo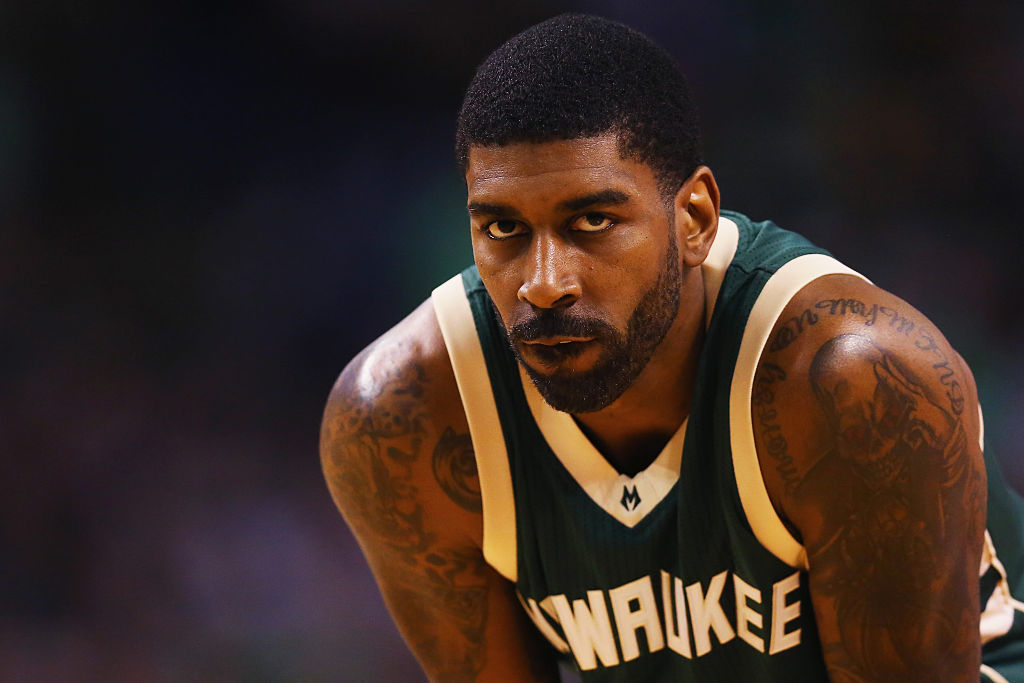 If you looked at O.J. Mayo right now, you'd probably wonder why he's on this list. After all, he's hitting just 32.1% of his three-pointers for the Milwaukee Bucks this season. But there was a time when Mayo not only hit at a high percentage, but also knocked them down at a high volume. For his career, Mayo is a 37.3% shooter from downtown on 4.2 attempts per game. His best season came in his one season with the Dallas Mavericks back in 2012–13; he hit on 40.7% from downtown.
24. Eddie Jones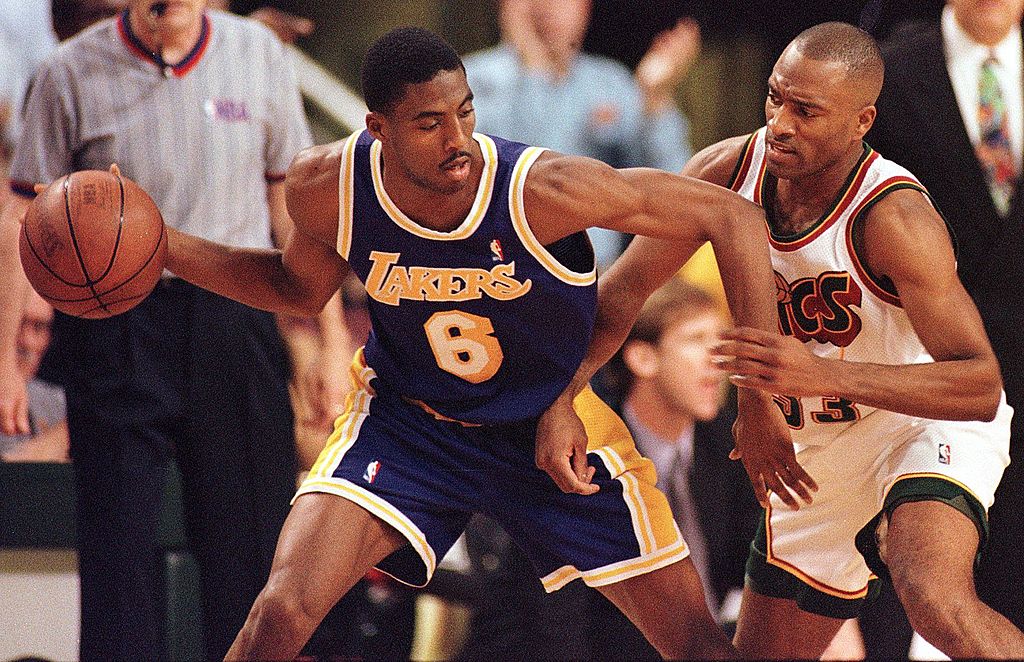 Shooting guard Eddie Jones is a former All-Star and a good three-point shooter. He hit on 37.3% of his threes throughout his 14-year career, which covered his time with the Los Angeles Lakers, Charlotte Hornets, Miami Heat, Memphis Grizzlies, and Dallas Mavericks. His best season shooting from three-point range is when he hoisted 5.1 shots per game in 2002–03 with the Heat, hitting on 40.7%. The following year, he knocked down a career-best 177 three-point shots.
23. Vince Carter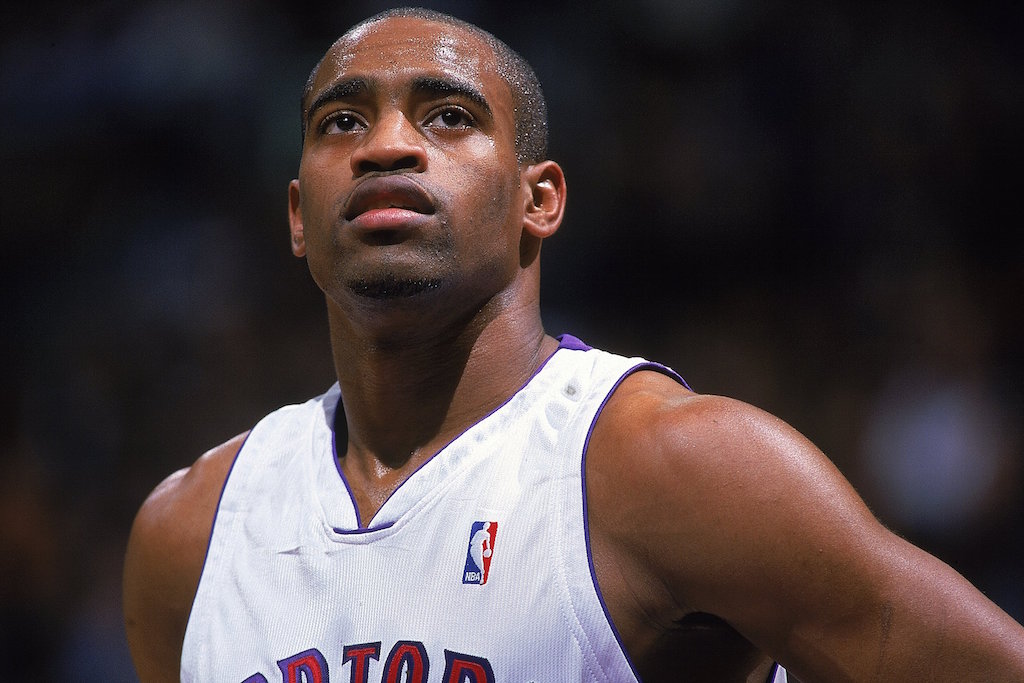 Still going strong in his 19th NBA season, former superstar Vince Carter is not only one of the best three-point shooters in history but also one of the most frequent three-point shooters. He's No. 5 in NBA history in made three-point field goals, and No. 3 among active players behind only Paul Pierce and Jason Terry. Carter has experienced three seasons in which he's hit better than 40% from downtown and 10 seasons in which he hit 100 or more three-pointers. He's not what he once was, but he still hits the threes for the Memphis Grizzlies.
22. J.R. Smith
Cleveland Cavaliers guard J.R. Smith is a bit of a free spirit, but he's also a good three-point shooter. He's hit on 37.5% for his career. It's impressive when you consider that his career started 81-for-281 (28.8%) from beyond the arc.
Since his second season, however, Smith has been a solid, high-volume, three-point shooter. He's had nine years in which he's hit more than 100 threes; two years in which he hit 40% or better; and set a career-best last season with 204 made baskets. On top of all this, Smith was a big part of the 2015–16 NBA championship in Cleveland.
21. Jason Terry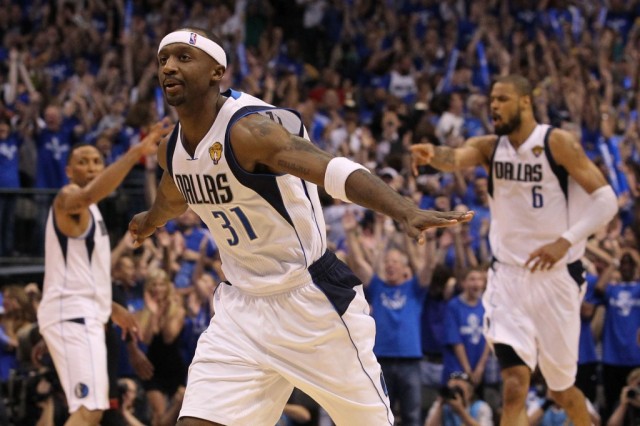 Previously mentioned guard Terry has also been around the NBA for a long time. Believe it or not, he's still active; Terry spent the 2016–17 season playing for the Milwaukee Bucks under former teammate and head coach Jason Kidd. He's hit on 37.9% of his three-point attempts throughout his career, which is good for 2,201 made baskets to date. Terry's best season came in 2006–07 with the Dallas Mavericks, when he made 43.8% from downtown while hitting 162 three-pointers.
20. Mike Bibby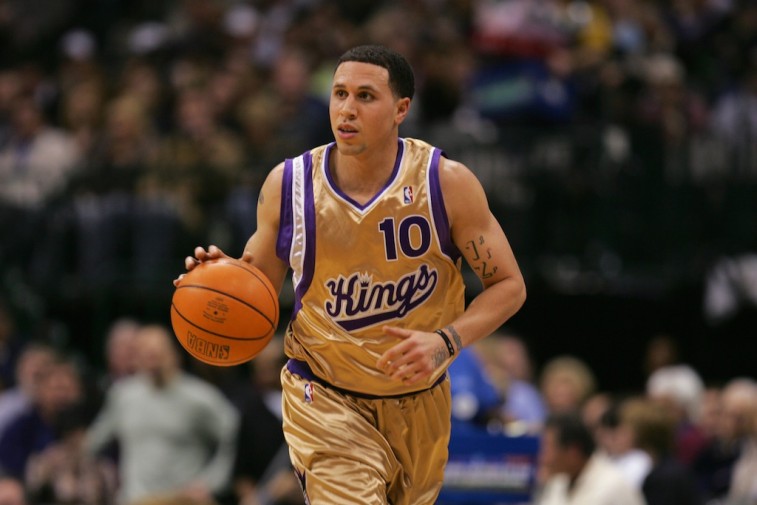 Originally drafted by the Vancouver Grizzlies in 1998, point guard Mike Bibby wasn't always one of the greatest three-point shooters — in volume or in percentage. In his first three seasons combined, Bibby averaged just 2.4 three-point shots per game while making 35.4% of those shots. But he improved, ending his career with four shots per game and a 37.9% accuracy. Bibby's best year came in his second-to-last season in the NBA in 2011–12, when he made 44% of his threes and knocked down 153 of them.
19. Ryan Anderson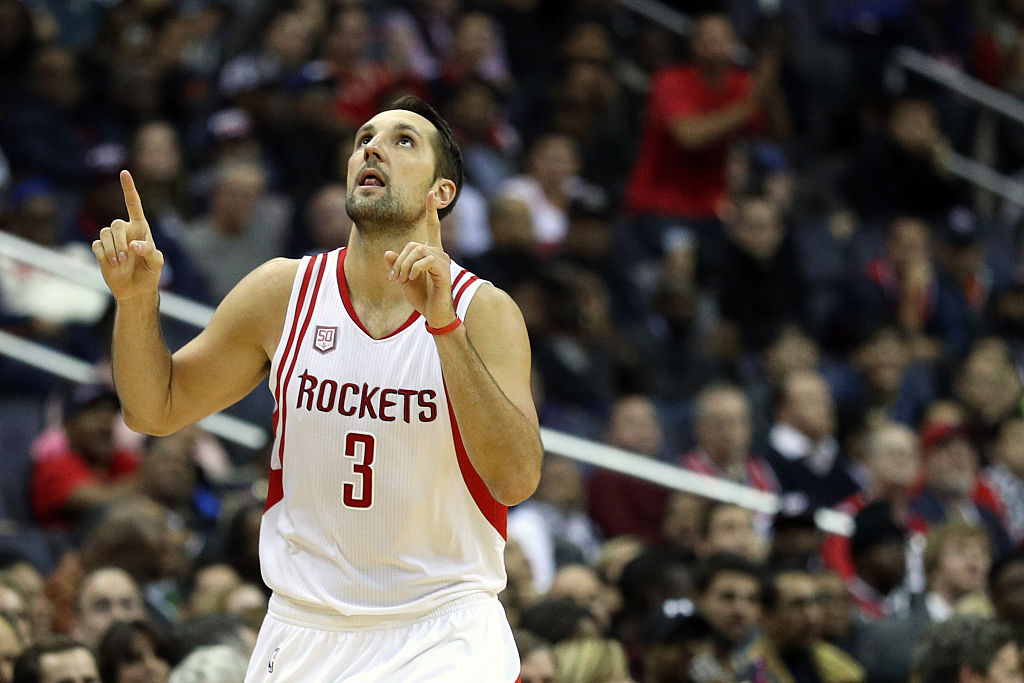 A 6-foot-10 power forward, Ryan Anderson has defined "stretch four" throughout his NBA career. He's only 28 years old, but he's put up 5.5 three-point shots per game and hit 37.9% of those shots in his nine-year career. His best season came as a 25-year-old with the New Orleans Pelicans back in 2013–14, when Anderson made a career-best 40.9% of his threes while putting up a career-high 7.5 of them per game. This season, with the Houston Rockets, Anderson has hit 40.3% so far on 6.7 attempts per game.
18. Michael Redd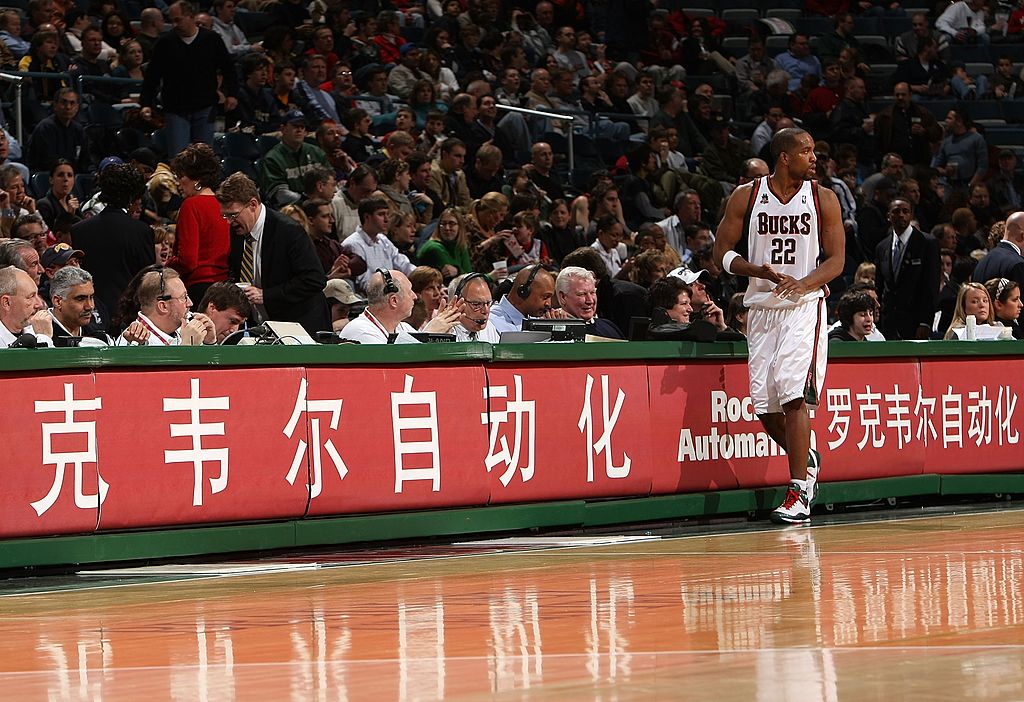 As good at hitting three-pointers as shooting guard Michael Redd was throughout his career — 38% to be precise — he was actually much better before those numbers declined the last few years of his career. Through the first seven years of his 12-year career, Redd was a 39.2% three-point shooter. A left-hander with a sweet stroke, Redd's best season from downtown was his first full year in the NBA when he was a role player off the bench for the Milwaukee Bucks. Redd hit 44.4% of his threes that year, going 88-for-198.
17. Danny Granger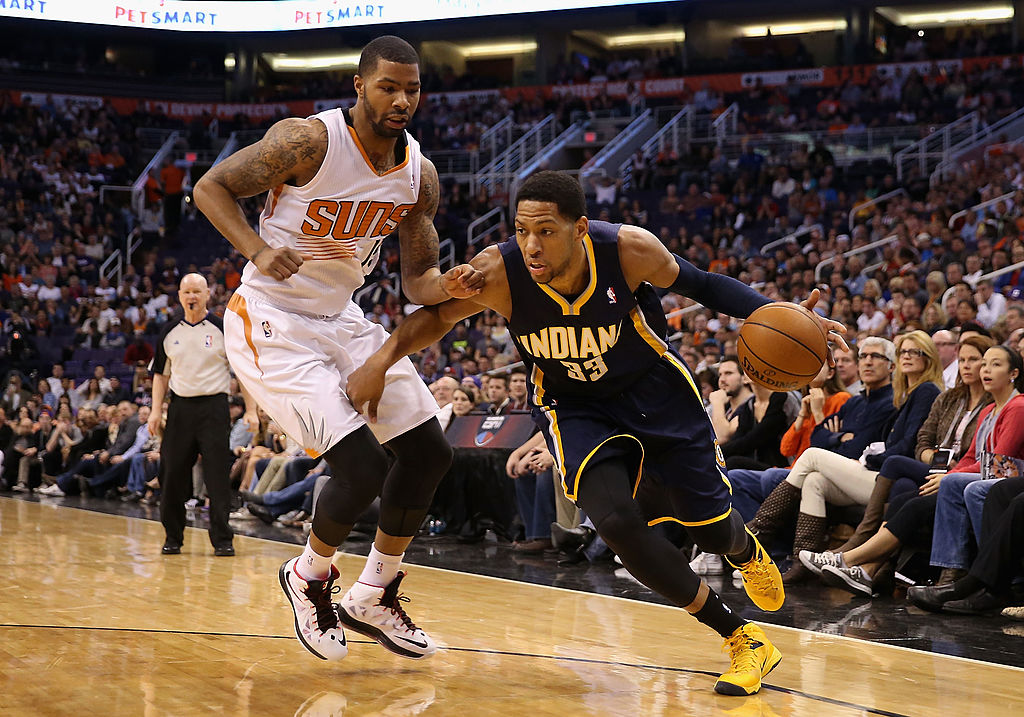 Former Indiana Pacer Danny Granger's career burnt out too quickly. Knee problems turned Granger from one of the best young stars in the game to nothing more than a role player. He left the league by 31. But there's one thing his legacy relies on, and that's the fact that he was an excellent three-point shooter. In 10 years as a pro, Granger hit 38% on threes and made 1,006 of them, with his best season seeing him hit 182 of them back in 2008–09.
16. Kevin Durant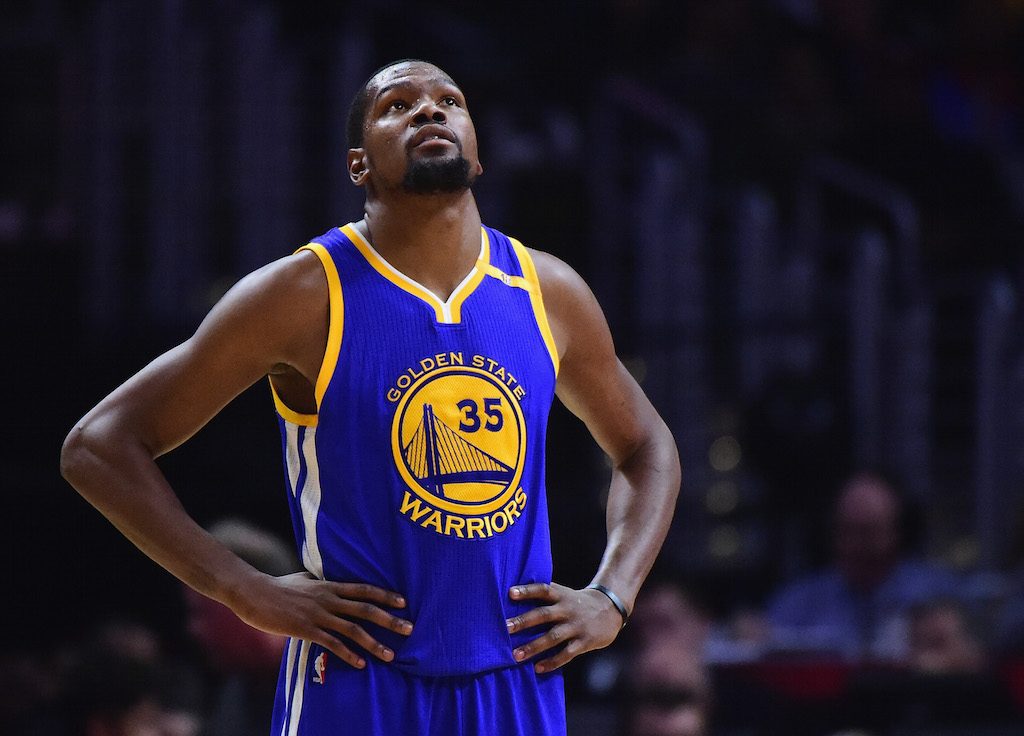 Like many players, Kevin Durant wasn't much of a three-point shooter when he first entered the league with the Seattle Sonics. But as the franchise transitioned from Seattle to Oklahoma City, Durant found his three-point shot. He's hit over 100 three-pointers in six of his last eight seasons. He's 11 threes away from making it seven of the last eight years. Durant is a 38.1% shooter in his career, putting up an average of 4.7 threes per game.
15. Kevin Martin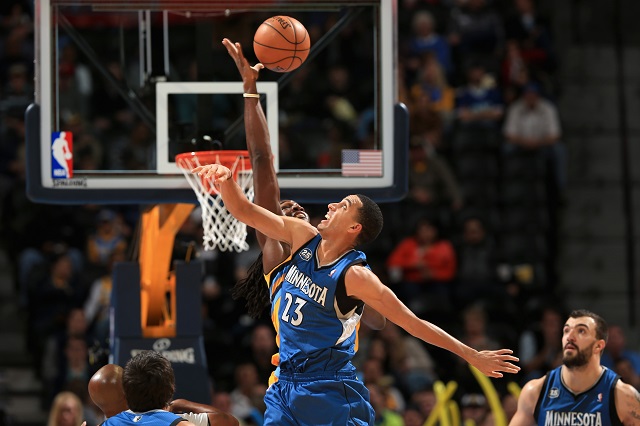 Guard Kevin Martin is one of the more underrated NBA scorers of the last 15 years. Drafted by the Sacramento Kings in 2004, Martin developed into not only a great scorer but a good three-point shooter. He finished his career in 2016 — assuming he doesn't pop up somewhere else — with a 38.4% from downtown on 4.6 attempts per game. His best season was in 2012–13 with the Oklahoma City Thunder, when he hit 158 threes on 42.6% accuracy.
14. Voshon Lenard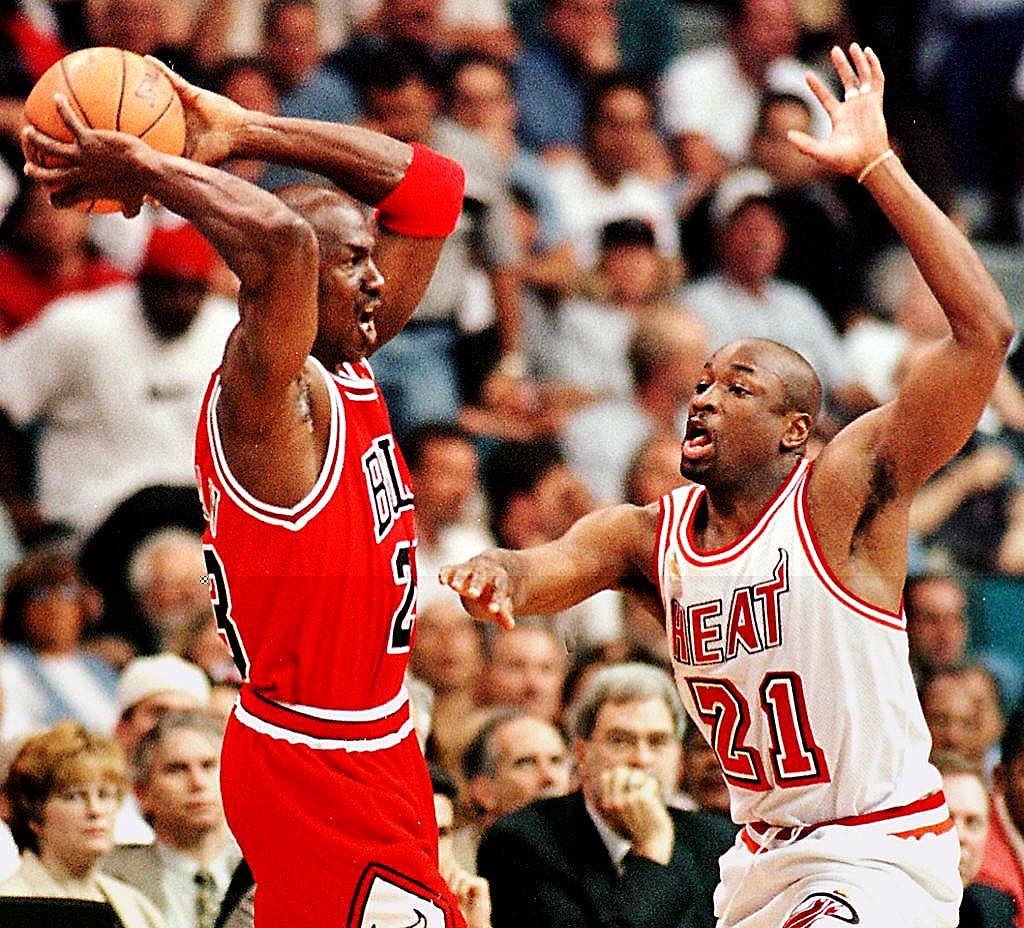 Although guard Voshon Lenard shot 38.4% from three-point range during his 11-year career, he had a nice early stretch in his career when he was one of the best in the game. From 1997–2001, Lenard hit at a 39.9% rate while putting up 4.9 three-point attempts per game.
Lenard's best season came in his second season in the league back in 1996–97, when he hit 41.1% while the NBA experimented with a slightly drawn-in three-point line. Despite being an excellent outside shooter, Lenard stepped away from the NBA at the age of 32 after hitting on just 32.1% of his three-pointers in 26 total games in 2005–06.
13. Eric Gordon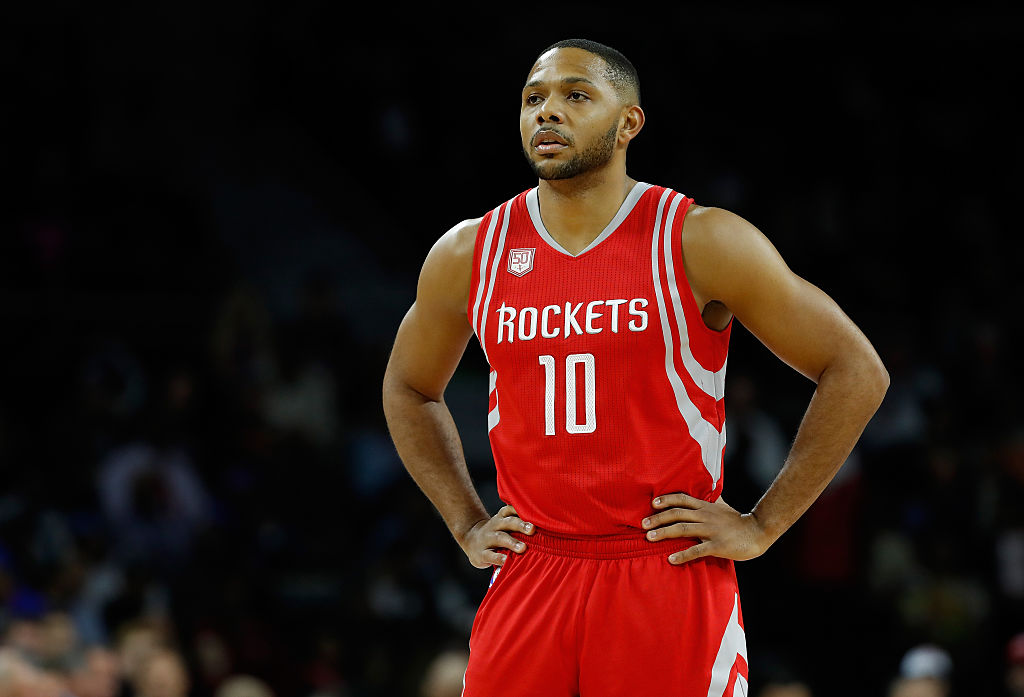 Although he's a career 38.5% three-point shooter, that number has gone up the last few years. Houston Rockets guard Eric Gordon is a 40.4% shooter from three-point range while shooting six threes per game over the last four years. He's even been more healthy lately, after missing a ton of games early in his career to injury. If he continues to stay healthy, he'll probably keep putting up big numbers playing on the court with James Harden in Mike D'Antoni's offensive system.
12. Rashard Lewis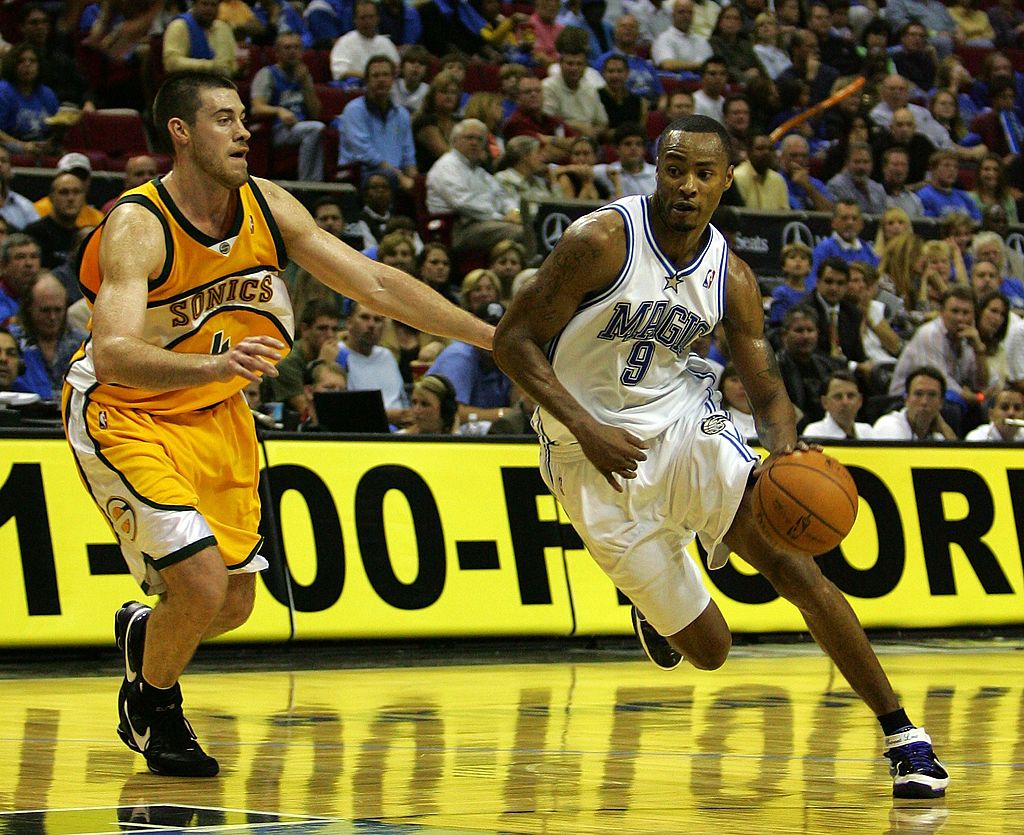 Originally drafted by the Seattle Sonics in the second round of the 1998 draft, Rashard Lewis developed into a star player who was an excellent long-distance shooter for a man of his height. By the time his 16-year career ended, Lewis had a 38.6% three-point percentage and 4.4 attempts per game. His best season came in 2008–09 while playing under Stan Van Gundy with the Orlando Magic, when Lewis shot 39.7% and led the league in both three-pointers made (220) and attempted (554).
11. Wesley Matthews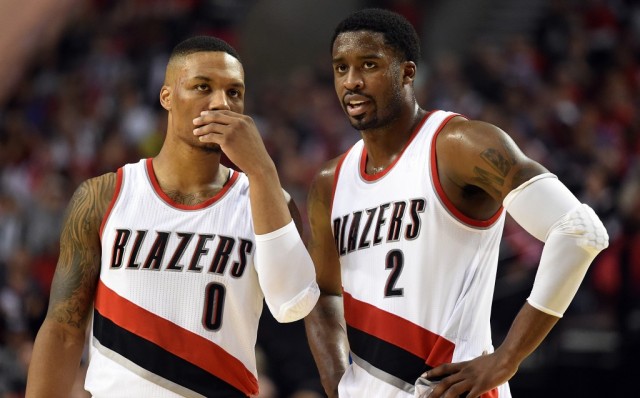 Coming in with a career three-point percentage of 38.7, Dallas Mavericks guard Wesley Matthews has been consistently one of the best from long-range since he joined the league as an undrafted rookie in 2009. It's kind of crazy, in retrospect, that no team wanted to burn even a late second-round draft pick on the athletic Matthews. In just eight seasons as a pro, Matthews has knocked down 1,202 threes and counting. His best season came in 2013–14 with the Portland Trail Blazers, when he hit a career-best 201 three-balls with 39.3% accuracy.
10. Chauncey Billups
Point guard Chauncey Billups had a long career in the NBA, spanning 17 years. His longevity helped him rack up threes at a high rate, while still shooting at a nice 38.7%. That's extra impressive when you realize that he didn't even become a decent shooter from long-range until his fourth year in the league, hitting on 33.1% of his threes in his first three seasons. His best season shooting from downtown came in 2005–06, when he hit a career-high 184 threes and shot a career-high 43.3%.
9. Reggie Miller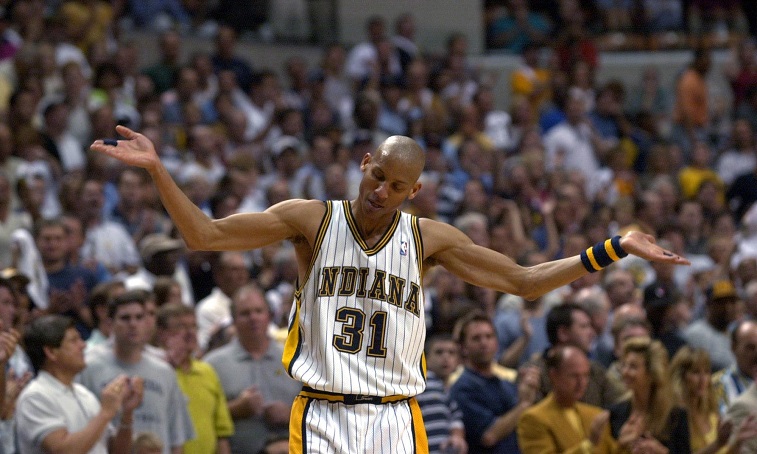 Could we complete any list of great three-point shooters without Indiana Pacers legend Reggie Miller? Miller shot 39.5% from deep in his career, hitting 2,560 three-pointers over 18 seasons and setting the record for the most threes in NBA history — until Ray Allen eventually stole it from him. Miller had two seasons leading the league in three-pointers made while he shot over 40% from deep in 10 of his 18 seasons. Miller would've been great in any era of basketball, but he would've really thrived in today's game.
8. Dennis Scott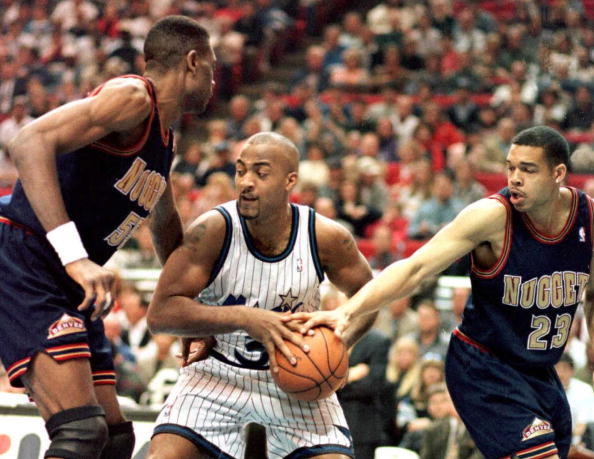 One of the players who benefited from the NBA moving the three-point line in back in the '90s was Orlando Magic forward Dennis Scott. The Magic moved him to the starting rotation full-time in 1995–96, and he saw his scoring average jump from 12.9 points to 17.5. That's in large part because he started shooting 7.7 three-pointers per game that year, hitting at 42.5%. He led the NBA with 267 threes that year, which was also the most anybody had knocked down in a single season in NBA history until Allen stole that record, too. For his career, Scott shot 39.7% from deep.
7. Peja Stojakovic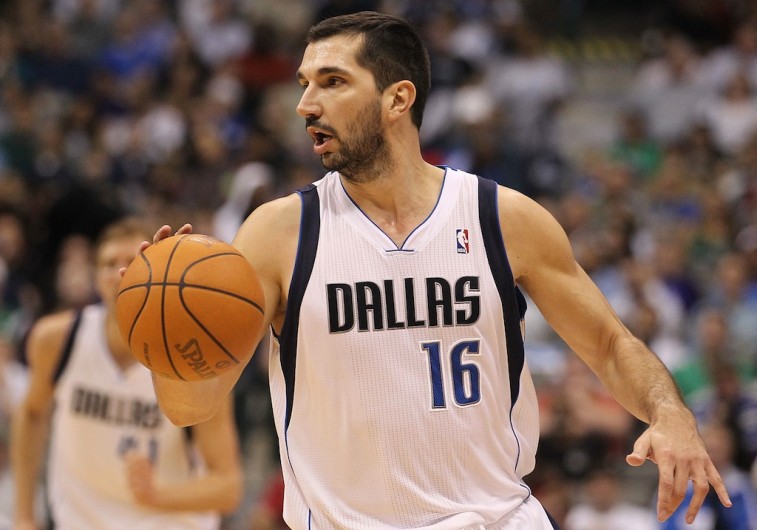 Forward Peja Stojakovic entered the NBA with the high-octane Sacramento Kings in 1998–99 when he was 21 years old. It wasn't long before his style of play meshed with the rest of the team. Stojakovic became one of the best catch-and-shoot, long-range shooters in the game, hitting 43.3% of his three-pointers in 2003–04 when he scored 24.2 points per game and led the league with 240 three-point shots made. For his career, Stojakovic shot 40% and hit 1,760 total three-pointers.
6. Ray Allen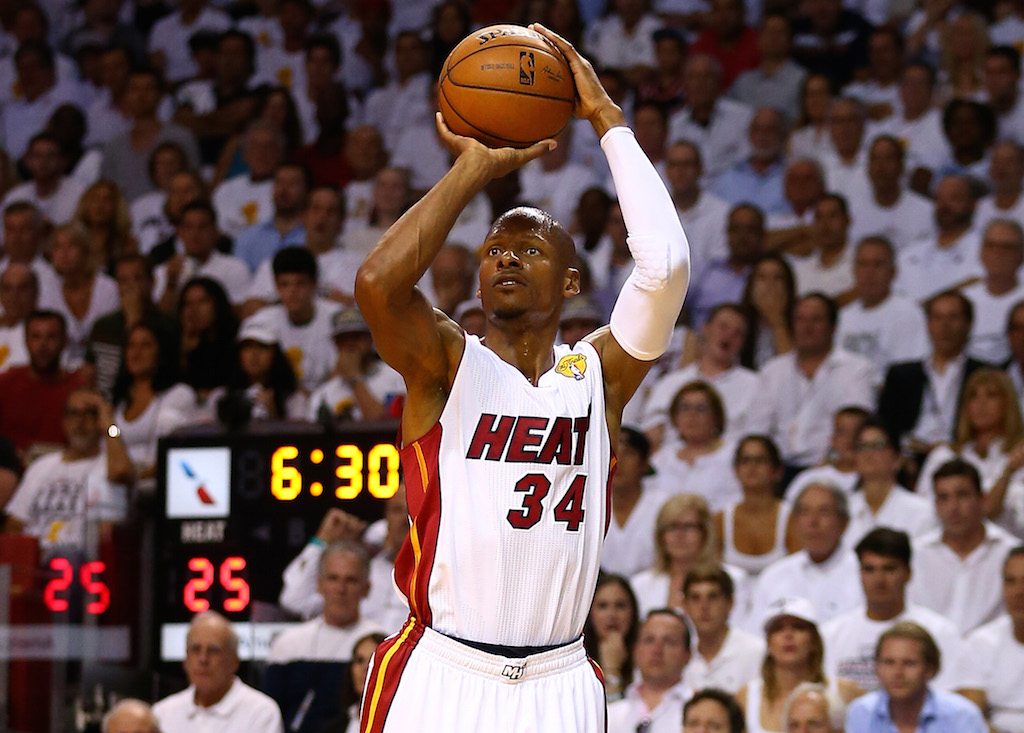 As great as Allen was at hitting three-balls, it wasn't until a few years into his NBA career before he perfected his craft. Over his first three seasons, Allen shot 37.2% from deep while averaging 4.1 threes attempted per game. Over the next 15 years, he shot 40.4% and averaged six attempts per game. That comes out to 40% and 5.7 attempts per game over 18 years, which saw him hit a total of 2,973 three-pointers — a record that will stand until Stephen Curry eventually takes it from him.
5. Danny Green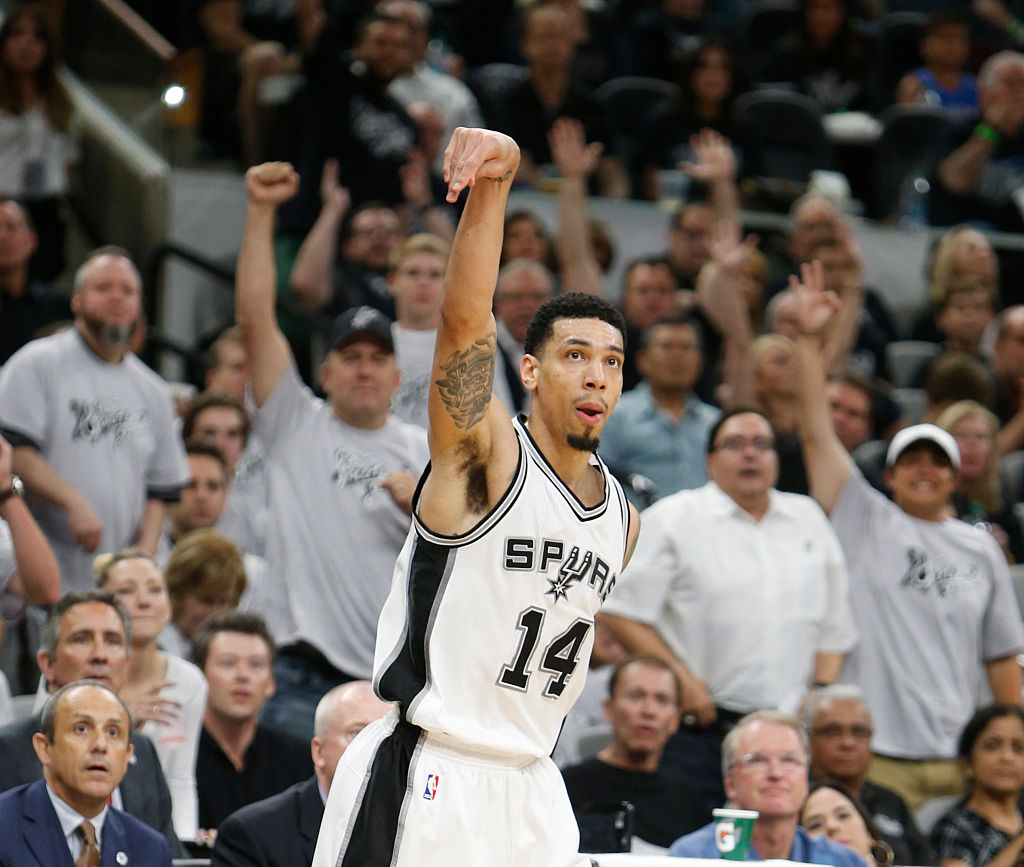 The Cleveland Cavaliers' second-round draft pick in 2009, Danny Green took some time to find his niche in the NBA. He played 28 total games in his first two seasons in the NBA, shooting 13-for-41 from three-point range in that time. But he hit his stride in his third season, with the San Antonio Spurs, upping his three-point percentage to 43.6%.
For his career, Green has hit 40.6% on shots from downtown — including a bad year in 2015–16 when he shot just 33.2% in 79 games. He's become one of the better long-range shooters in the NBA.
4. J.J. Redick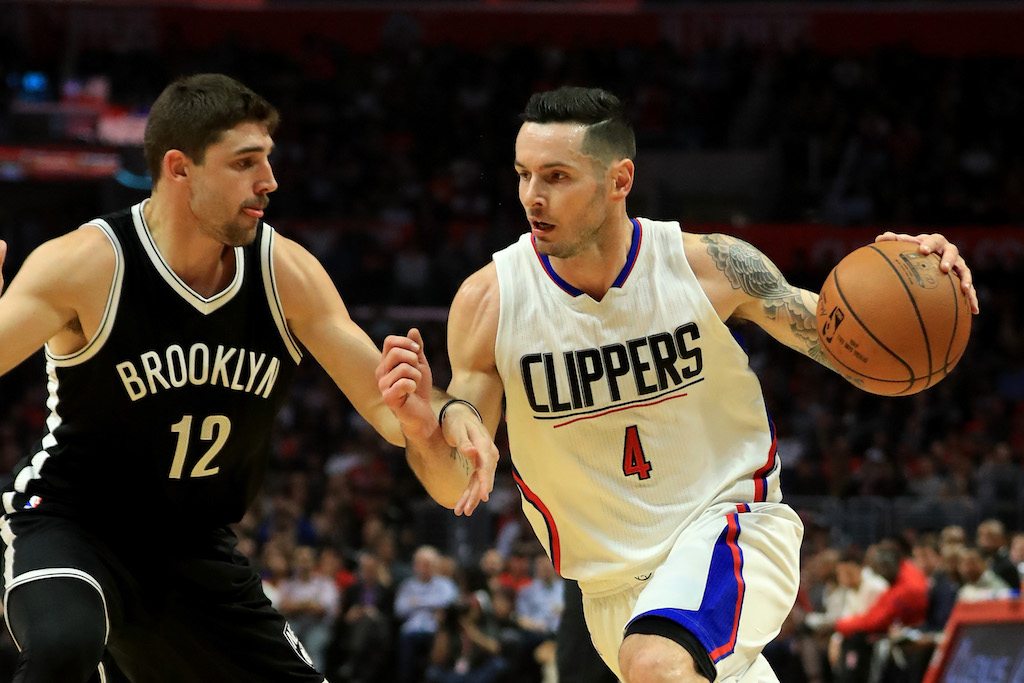 Coming out of Duke, career guard J.J. Redick caused many to wonder what kind of NBA career he might have. He was undersized and bad at just about everything but shooting, and it showed his first few years in the league. But he's worked on his game, becoming one of the best three-point shooters in NBA history.
Redick is shooting 41.4% from long-range in his career, even leading the league in that category in 2015–16 at 47.5%. In his 11-year career, Redick has hit 100 or more threes six times and 200 or more threes twice — and he's on pace to do it again this year.
3. Klay Thompson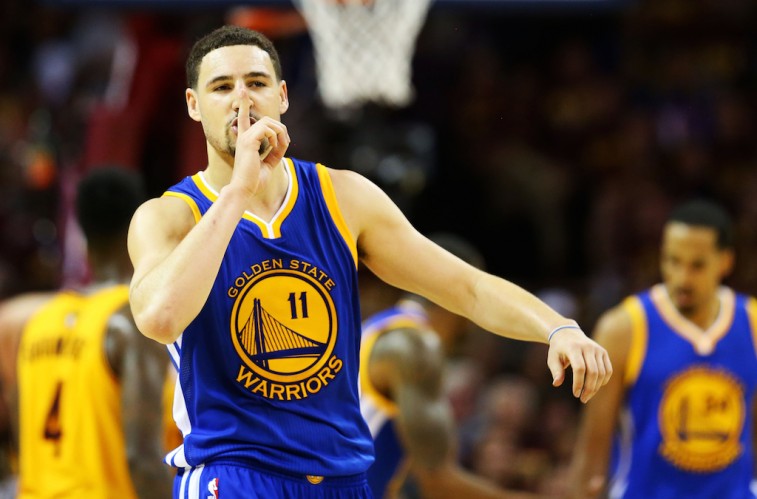 It's easy to overlook just how great of a three-point shooter Klay Thompson is because he plays in Golden State with Curry. However, Thompson has hoisted 6.7 three-pointers per game over his six-year career, which is the third-most in NBA history behind Damian Lillard and, you guessed it, Curry. Thompson is shooting 41.8% from downtown and has hit 200 or more threes in four consecutive years. If he stays healthy, he'll likely make it five straight years this season.
2. Kyle Korver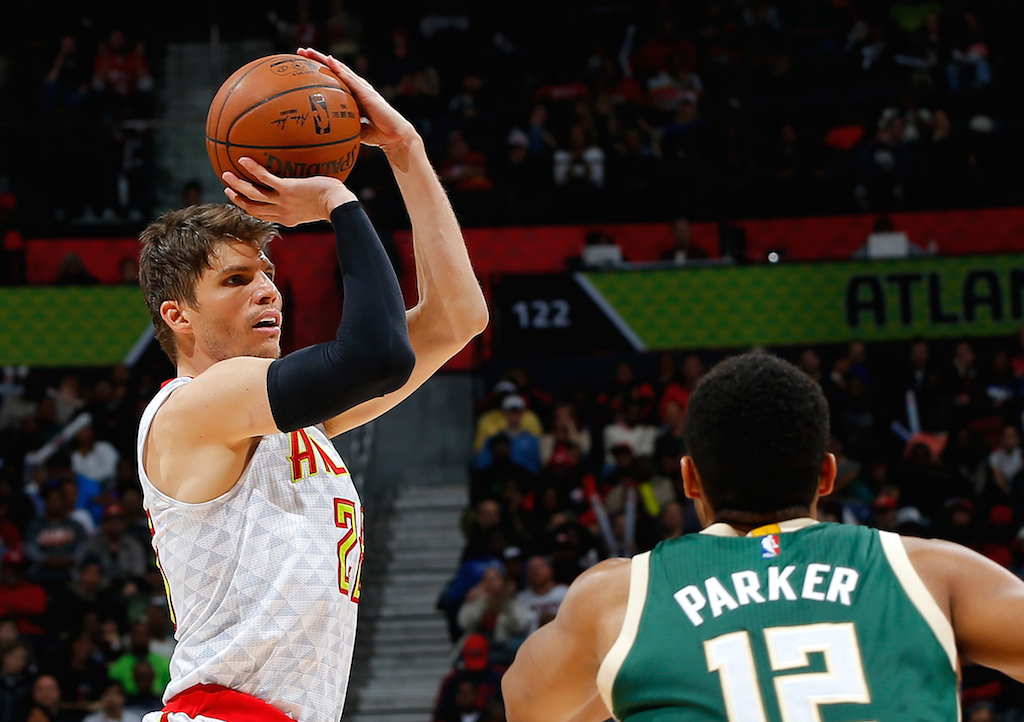 Kyle Korver doesn't shoot with the same kind of volume as some of the other players on this list, but he's one of the most accurate three-point shooters in NBA history. For his career, Korver has hit 42.8% of his three-pointers — a category he's led the league in three times in his career. In his 14-year career, Korver has hit 100 or more threes 11 times and 200 or more twice. When you remember that he was once just a role player and that he's only been a regular starter for the last few seasons, this is impressive.
1. Stephen Curry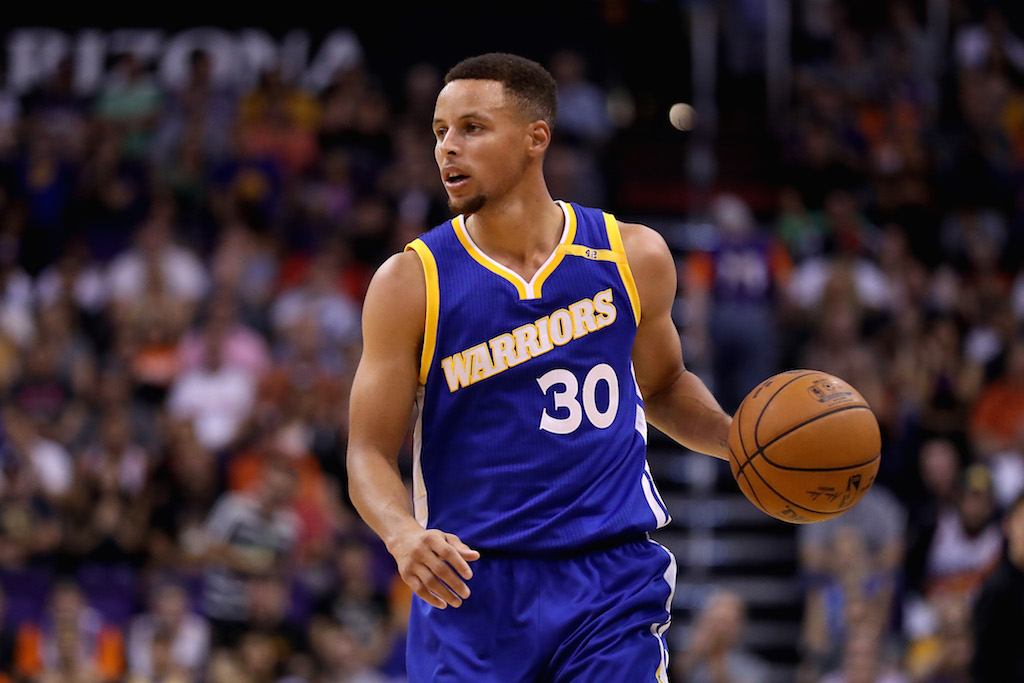 Of course, Curry is No. 1. He's not only shooting more three-pointers per game for his career than any other player in the history of the league, but he's also making them at a better rate than anybody else. Curry puts up 7.4 attempts per game while knocking them down at a 43.8% rate. His best season was in 2015–16, when he launched an insane 11.2 threes per game and hit at a 45.4% rate — crushing the record for most three-pointers in a season with 403.
There's not enough that we can say about Curry as a three-point shooter. At his current pace, he should pass Allen on the all-time made-three-pointers list before he turns 32.
Statistics courtesy of ESPN and Basketball-Reference.