Big Day: NASCAR Rising Star Ty Gibbs Making Grandfather, Boss Joe Gibbs Proud with Xfinity Series Victory During the Afternoon, Clinching ARCA Title at Night
NASCAR rising star Ty Gibbs opened Oct. 23 by passing Austin Cindric twice and outdueling the defending Xfinity Series champion for the Kansas Lottery 300 title at Kansas Speedway.
Grandfather and boss Joe Gibbs must have been proud.  
Ty Gibbs' big day was just getting started.
NASCAR rising star Ty Gibbs claims consecutive ARCA titles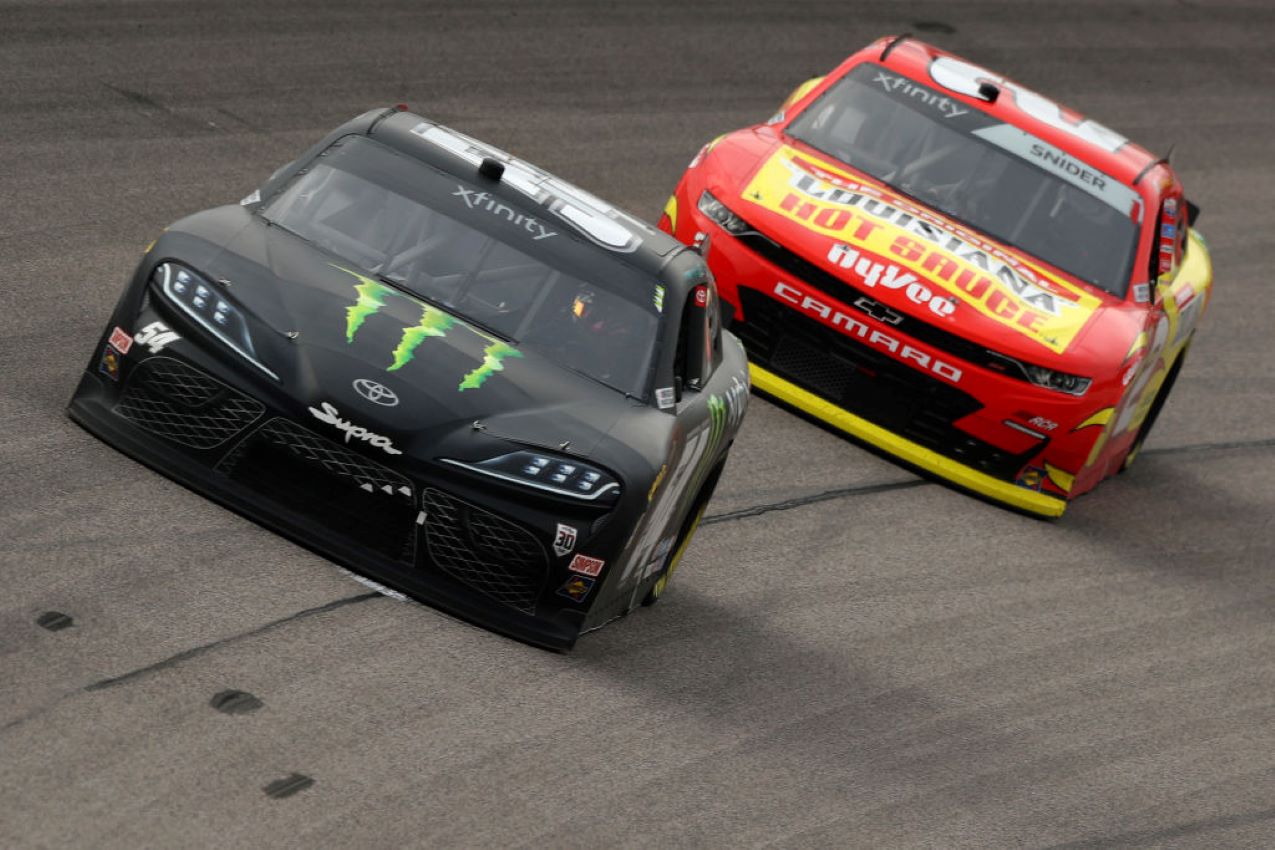 As soon as Gibbs took the opening flag that evening for the ARCA Menards Series race, he earned the series championship for a second straight season.  
Was he satisfied?
Hardly.
Gibbs pushed the field throughout the Reese's 150, placing second behind Nick Sanchez. Some might consider Sanchez's first ARCA win this season an upset.  
Piloting a machine owned by his father and ex-driver Coy Gibbs, Ty Gibbs dominated the series, winning half of the 20 events he entered. Of the 2,617 laps he executed, 1,590 were from the lead, according to racing-reference.info.com.
Last season in ARCA, Gibbs won six times in just 16 events.
Gibbs' grandfather knows title-making material. The NASCAR Hall of Fame owner and Super Bowl-winning coach apparently passed on his championship genes.
It didn't take long for Ty Gibbs to be recognized on the Xfinity tour for more than his lineage. In his first national series start in Feb. 2021, Gibbs won on the Daytona International Speedway Road Course.
The win at Kansas on Oct. 23 was his fourth as a first-year, part-time competitor.
Rookie Ty Gibbs captures his fourth Xfinity win, and it's 'unbelievable'
During the Kroger 300, Gibbs overwhelmed Cindric on Laps 190 and 200 and withstood his final charge at the finish. The 19-year-old showed veteran championship mettle.
Qualities his grandfather knows well.
"He got a little bit free and kind of slowed down in (Turns) 3 and 4, and I could get to his left rear and side-draft him and get away from him," Gibbs said, reported by NASCAR Wire Series. "To have four wins this year in the Xfinity Series is just unbelievable."
To Tom Cindric, it probably seemed unbelievable. He captured the second stage and paced the field a race-high 151 laps, compared to Gibbs' 14 laps led.  
But Cindric made a crucial mistake.  
"Maybe if I didn't enter (the corner) as high, I could have maybe air-blocked a little better," Cindric said. "We led a lot of laps but finished second, but it could have been a lot worse."
That's true. Cindric and AJ Allmendinger, who placed third on Oct. 23, enter the next event at Martinsville Speedway 47 points over the Championship 4 cutoff. They are virtual locks for the championship event at Phoenix Raceway on Nov. 6.
Young Ty Gibbs 'trying to give it my all' on climb up NASCAR's ranks
Gibbs, meanwhile, may be a two-time ARCA champion, but with a limited Xfinity schedule, he fell out of the playoff chase early, compiling just six points.
But he showed championship grit by beating Cindric to the checkered flag by .759 seconds, earning his ninth top five in 16 Xfinity starts.  
"I was just trying to give it my all," Gibbs said.
His grandfather must be proud. He's already showing off his genes with fluent coach-speak.
RELATED: Unhappy Ty Gibbs Calls A.J. Allmendinger 'Dirty' After Finishing Third at Mid-Ohio Xfinity Series Race