8 Big-Name NFL Players Having Terrible 2016 Seasons
In the words of Drew Bledsoe, the National Football League is a "replacement business." As a refresher, the former NFL quarterback was once one of the best players in the league, but twice lost his job to younger signal callers (Tom Brady and Tony Romo) when he played at a sub-standard level. Not every case is that extreme. However, the moral of the story here is that few (if any) players get a free pass if they underperform.
In today's ultra-competitive NFL, teams are constantly evaluating every player on their own roster in addition to every player on the 31 other rosters around the league. As history proves, relatively unknown players will emerge as Pro Bowl-caliber performers, and big-name players will play themselves into unemployment.
In today's article, we look at eight big-name NFL players who are all experiencing below-average seasons. None of the players we highlight are in danger of losing their jobs any time soon. But, there is no denying that they have yet to play at the level we expect from them in 2016. That said, if they continue their current trend of play, it will only be a matter of time before their respective franchises start to look at potential replacements. These eight big-name NFL players are having terrible 2016 seasons.
1. Brock Osweiler, QB, Houston Texans
The Texans may be 4-2, but they are likely experiencing buyer's remorse when it comes to Brock Osweiler. The team signed the 25-year-old to a four-year, $72 million deal this offseason. At this point, Osweiler is one of the worst starting quarterbacks in the league. The move demonstrates the Texans' desperation to improve at quarterback this past offseason.
Despite their massive investment, they are no better off than they were in 2015 with guys like Brian Hoyer, Ryan Mallett, T.J. Yates, and Brandon Weeden under center. To make matters even worse, reports surfaced that Osweiler and head coach Bill O'Brien got into a shouting match following a recent team meeting. This news shouldn't surprise us, though, considering the two didn't even speak over the phone until well after Osweiler signed his contract.
2. Darrelle Revis, CB, New York Jets
After playing at a Hall of Fame level for most of nine seasons, Darrelle Revis is learning that Father Time never loses in the National Football League. This big-name NFL player was once so dominant that he essentially took away half of the field. Now he is the 100th-best NFL cornerback according to Pro Football Focus. While we believe this ranking isn't truly indicative of the five-time All-Pro's current ability, we cannot overlook the fact that opposing wideouts scorched him on multiple occasions this year. Our guess is that the Jets will ask Revis to take a paycut and then move him to safety for the remainder of his illustrious career.
3. Aaron Rodgers, QB, Green Bay Packers
We just cannot figure out this situation; Aaron Rodgers simply doesn't look like himself in 2016. There could be an issue brewing between the two-time MVP and his head coach, Mike McCarthy. It could be a below-average supporting cast, or it could be possible that Rodgers' career is declining. Regardless, Rodgers is missing throws that used to be routine for him, and the Packers' offense is now mediocre at best.
4. DeAndre Hopkins, WR, Houston Texans
When the Texans shelled out big money for quarterback Osweiler, most people instantly thought DeAndre Hopkins would put up huge numbers in 2016. However, through six games, the 24-year-old wide receiver has yet to develop any kind of chemistry with his new quarterback. Hopkins is currently on pace to post significant decreases from his 2015 totals for receptions, yards, and touchdowns. As he closes in on a massive second contract, it couldn't be a worse time to experience a subpar year.
5. Cam Newton, QB, Carolina Panthers
To be fair, Cam Newton's struggles shouldn't land solely on the shoulders of the reigning NFL MVP. Carolina neglected to address their offensive line issues this past offseason — and they have unquestionably paid the price. Still, when you are the MVP and arguably the best overall player in the entire NFL, you have to play better than Newton has in 2016. The Panthers' 1-5 record is flat-out unacceptable.
6. Joe Flacco, QB, Baltimore Ravens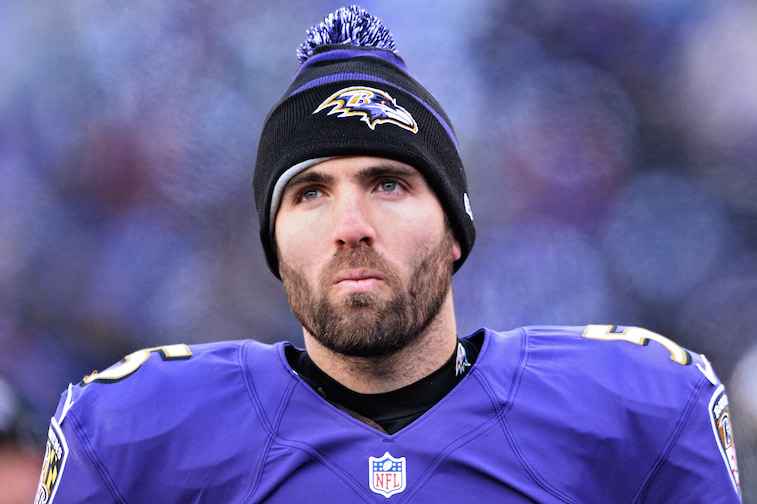 We have been among Joe Flacco's biggest critics over the last couple of years. Up to this point in 2016, the Super Bowl XLVII MVP has done nothing but prove us right. If you don't believe us, look at the fact that only one other full-time starting quarterback (Jameis Winston) has managed to post a lower quarterback rating than Flacco through the first six weeks of the season. When you make the kind of money Flacco does, this is just unacceptable.
7. Todd Gurley, RB, Los Angeles Rams
After winning the 2015 NFL Offensive Rookie of the Year award, it looked like Todd Gurley was well on his way to being one of the league's premier running backs for several years to come. However, through six weeks, the former Georgia Bulldog has yet to experience a 100-yard rushing game. That said, Gurley's struggles are not entirely his fault. Opposing defenses are loading up the box and forcing the Rams to throw the ball, and the Rams' offensive line has struggled mightily.
According to ESPN, Gurley is averaging a league-low 1.2 yards before being contacted, as well as just 2.9 total yards per carry. Moreover, he has yet to rip off a run of 20-plus yards this year (his longest run is only 16 yards). There is still plenty of time for him to turn his season around, but as of today, Gurley is a major disappointment.
8. Stephen Gostkowski, K, New England Patriots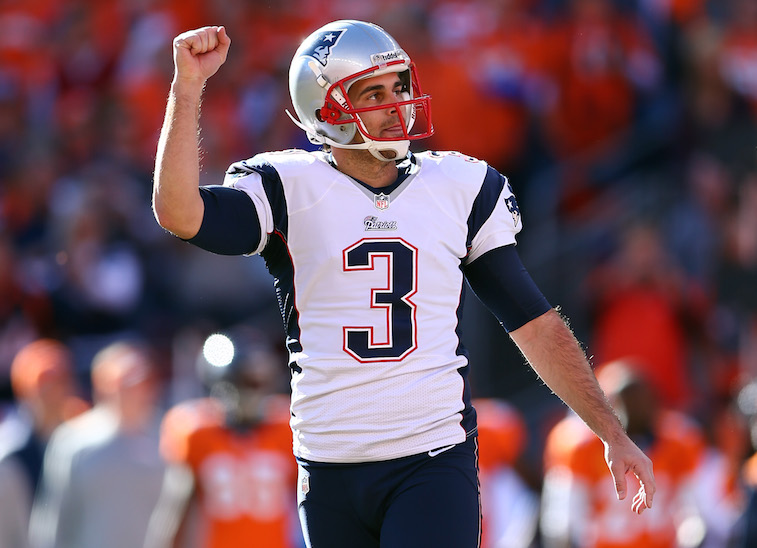 From 2013 through 2015, Stephen Gostkowski converted 92.98% (106/114) of his field-goal attempts. In 2016, he has connected on just 75% (9/12). On top of that, the three-time All-Pro also suffered his first regular-season missed extra point attempt since his rookie year (2006). While we are used to Gostkowski being automatic, he looks human in 2016. That said, we fully expect him to turn things around. There isn't another kicker in the league we would rather put on the field with a game on the line.
Statistics courtesy of Pro-Football-Reference and ESPN.