NBA
The 5 Biggest Snubs of the 2017 NBA All-Star Game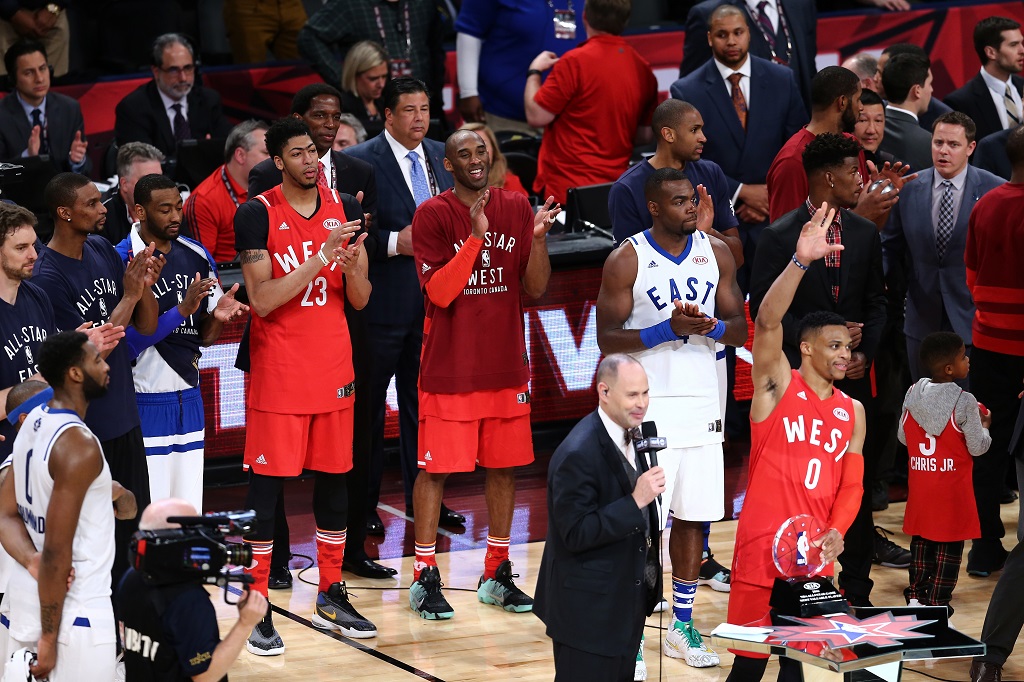 For 2017, the NBA finally reconfigured its All-Star voting format, with NBA players and select media member votes both weighted at 25%. This new system of checks and balances direct counters what had degenerated into an annual popularity contest. In back-to-back recent seasons, legions of Chinese fans threw their support behind Yao Ming as the top vote-receiver. Last year, a broken down Kobe Bryant was named an All-Star starter; he collected more than 1.8 million votes to lead the competition.
The new voting format, however, is not without its quirks. Steve Kerr went so far as to rip players for making a "mockery" out of the process. From the results, it was obvious that many of the players took the liberty to vote for themselves. Meanwhile, Zaza Pachulia somehow managed to pick up 1,528,941 fan votes, which was fifth best in the West. Against this backdrop, it goes without saying that some talented athletes slipped through the cracks.
The biggest snubs of the 2017 NBA All-Star Game mostly lack the highlight reel dunks, viral social media campaigns, and established brand appeal of the leading vote-receivers. Winning, of course, does cure all, and many of the following names, admittedly, perform for mediocre teams at best. Cleveland and Golden State, for their part, combined to send seven players to the All-Star Game.
5. Mike Conley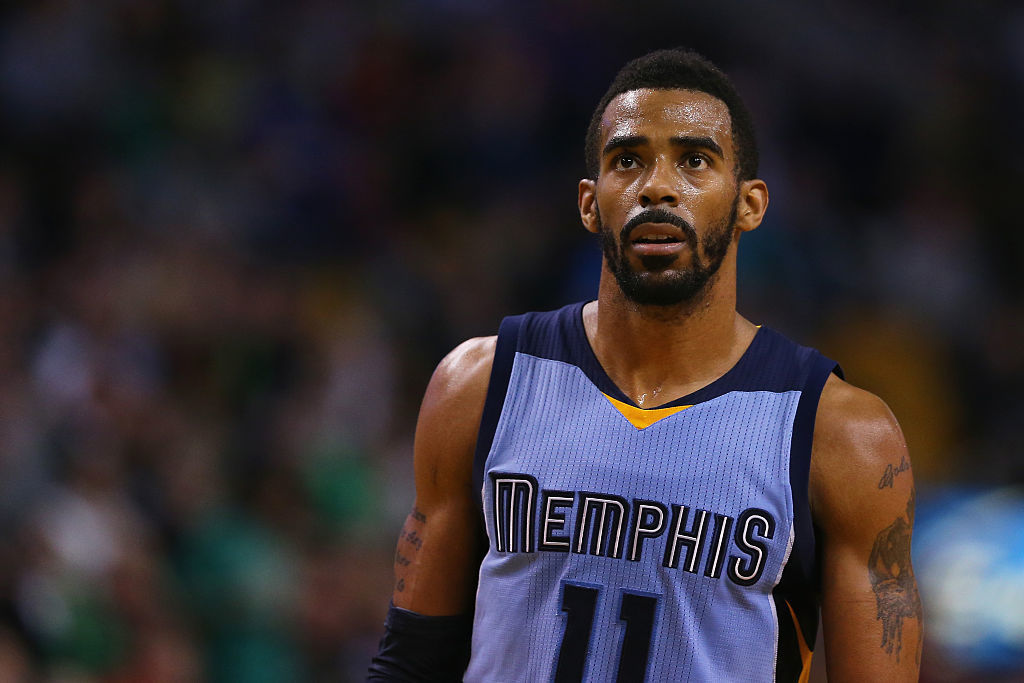 Last summer, the Memphis Grizzlies and Mike Conley raised eyebrows, immediately after the media reported that the point guard signed a massive five-year, $152 million contract. Conley now owns the richest contract in NBA history. But he's never made the All-Star Game through 10 seasons in the league.
Conley will remain largely overlooked, due to the renaissance at his position out West. The headline acts include Stephen Curry, James Harden, Russell Westbrook, and Chris Paul. Next, Damian Lillard is putting up 26 points per game, while Eric Bledsoe and Devin Booker are both rapidly emerging as electric combo guards in the Valley of the Sun.
Conley, in effect, is now the leading man for the Al Jefferson All-Stars. Like Jefferson before him, Conley is good, but not great, at all skills. Neither player will wow anybody behind his deliberate style and lack of raw athleticism. Instead, both Conley and Jefferson worked to master textbook fundamentals, as a special treat for long-winded coaches about "playing the game the right way."
Conley is having the best season of his career. He's chipping in 19 points, six assists, and three rebounds per game for a gritty 34-23 Memphis club that is now sixth in the Western Conference. At this point in his career, Conley should hope that Memphis hosts the All-Star Game, before he ultimately hangs it up. Last year, Kyle Lowry had his own coming out party in front of the hometown faithful at All-Star Weekend in Toronto.
4. Karl-Anthony Towns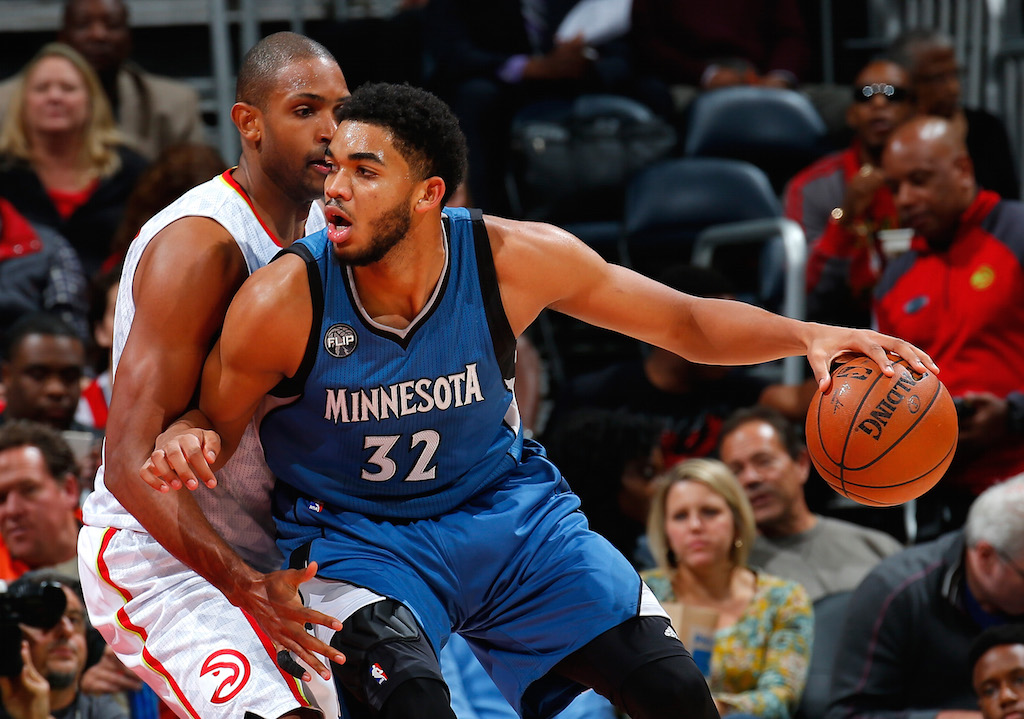 To put things into perspective, Karl-Anthony Towns versus Anthony Davis is quickly emerging as one of the fiercest one-on-one battles in the NBA. Davis, of course, is often hailed as the best big man in all of basketball. He's destroying all comers for 28 points, 12 rebounds, two assists, two blocks, and one steal per game this season. As fellow Wildcats, Towns, Davis, and DeMarcus Cousins represent the future of basketball, where a versatile big can run the offense and stretch the floor.
As a seven-foot center, KAT is often the best shooter on the court. He is all but automatic from 15 feet and in, and is growing ever more comfortable stepping back beyond the three-point arc. For 2016–17, Towns is hitting on 34% of his three-point shot attempts, for at least one triple per game. This skill set makes for a devastating two-man game, where KAT can either set a pick and roll to the basket, or pop out in space for an open jump-shot.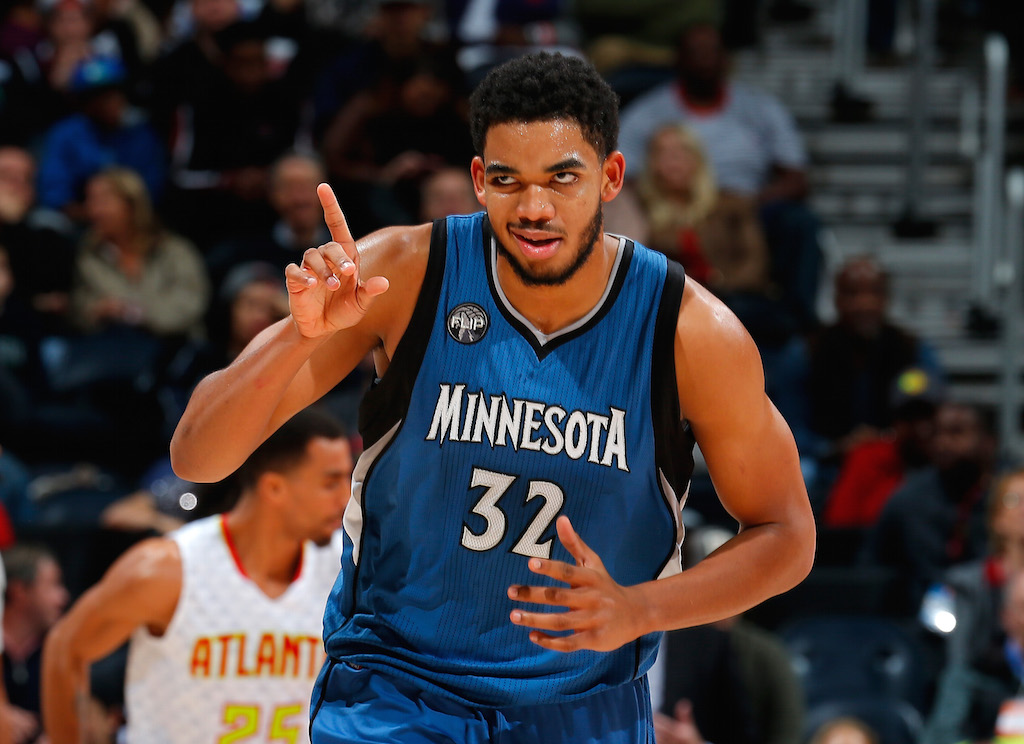 Towns has already developed into one of the more polished scorers on the low block. To set his man up, Towns will go to a series of drop step, spin, and up-and-under moves to clear out space in the key. From there, KAT can power his way to the basket, where he can finish with either hand. As a countermove, he does have a soft touch on his turnaround jumpers and hook shots, when the defense over commits and packs the paint.
The 2016–17 Minnesota Timberwolves, however, are a disappointing 21-35, and far removed from real playoff contention. This young team is quite prone to maddening lapses in judgment and effort, despite the offseason hire of taskmaster Tom Thibodeau to stalk the sidelines. Also, in terms of popularity, Towns often gets lost in the shuffle on his own team, especially when Andrew Wiggins and Zach LaVine are out in the open floor, electrifying crowds with their high-wire act. KAT, at 21 years old, must pay his dues in full, before earning real respect as a perennial All Star.
3. Damian Lillard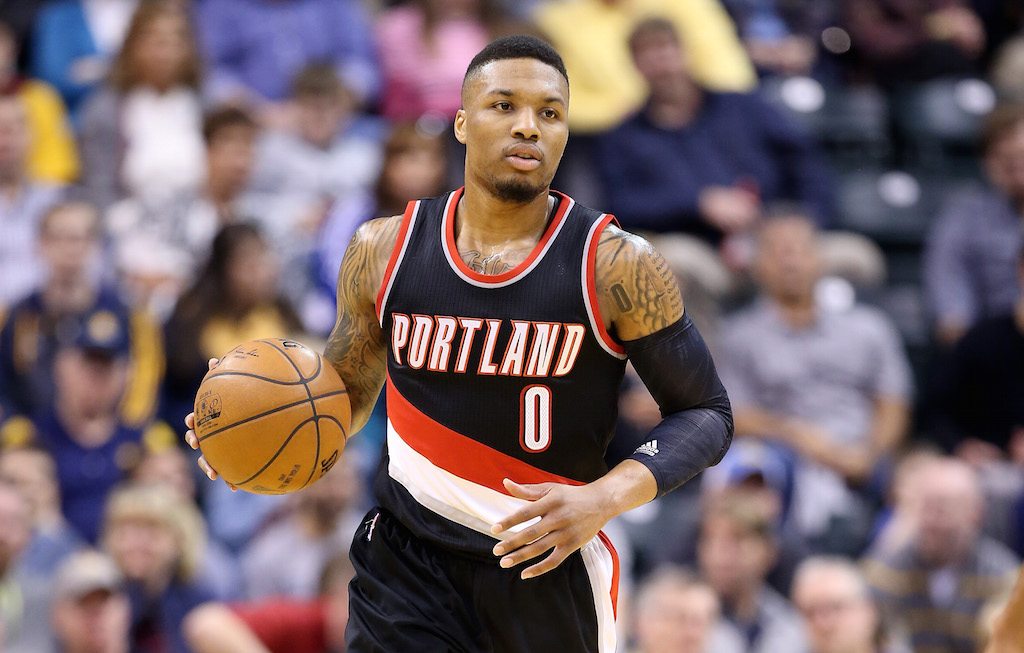 Damian Lillard is the latest sensation out of the Pacific Northwest who is grossly underrated and all but completely ignored. Portland is a geographic outpost, where the closest other NBA city is in Oakland, more than 630 miles to the south. Beyond that, fans in major East Coast media markets are 3,000 miles away and often fast asleep when Dame Dollar goes to work.
For 2016–17, Lillard is averaging a career-high 26 points, while also picking up five boards and dishing out six assists per game. He is a matchup nightmare out on the perimeter, where he can blow by the defense and relentlessly attack the rim. Lillard is unstoppable once he gets things going from three, and he's dropped 40 on three separate occasions this season.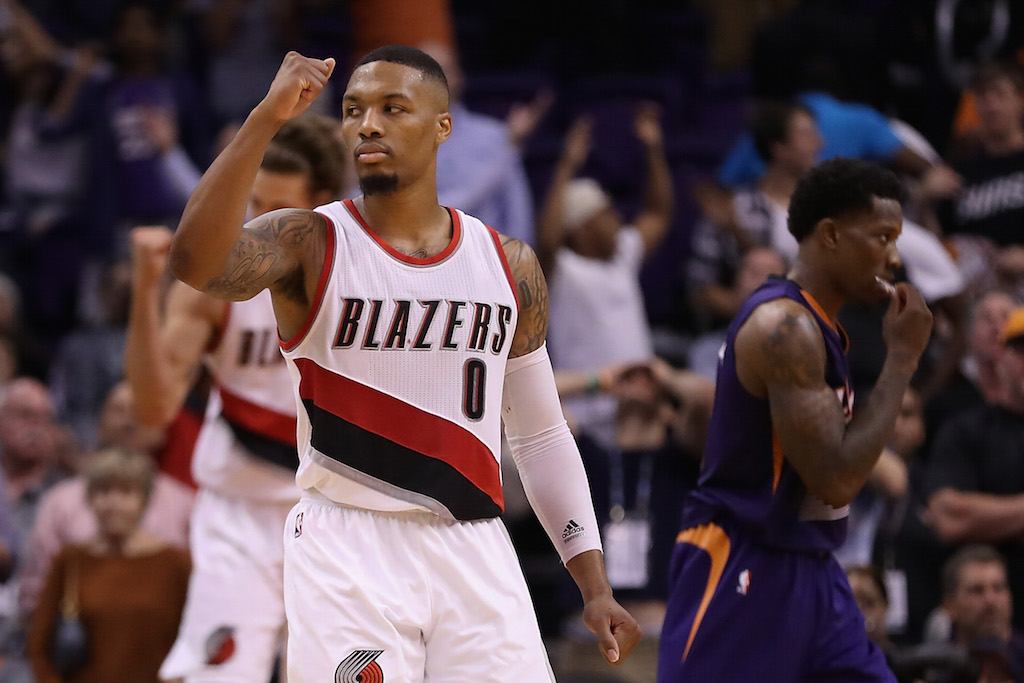 Lillard, like Conley, does suffer somewhat from the logjam at point guard out West. Again, Curry, Westbrook, and Harden headline the position. Also, the rapid emergence of two-guard C.J. McCollum in Portland will siphon votes and attention away from Dame Dollar. McCollum and Lillard are all but interchangeable as score-first guards. The latter athlete is a two-time All-Star, making the exhibition in 2014 and 2015 with lesser numbers.
In 2014, Lillard was the first player ever to participate in five separate events at All-Star Weekend (Rising Stars, Skills, Three-Point, Dunk, All-Star Game). The next year, he came on as an alternate for an injured Blake Griffin and dropped in 11 points. Certainly, Lillard, a feisty guard out of Weber State, will use this latest slight as further motivation.
2. Joel Embiid
Joel Embiid took on the name "The Process," paying homage to former general manager Sam Hinkie. Irate fans ran Hinkie out of town last year, as they'd grown impatient with an embarrassing 10-72 ball club. Hinkie took the idea of tanking to an entirely new level, issuing direct orders to bench starters and trading away promising young talent in exchange for numerous draft picks. As an added bonus, Hinkie drafted centers at the top of the order through three straight offseasons, in Nerlens Noel (2013), Embiid (2014), and Jahlil Okafor (2015).
Apparently, this plan was far too complex for us mere mortals to understand. Embiid, of course, missed two full seasons with a broken foot. For those years, Philadelphia fans were left to sate themselves with grainy footage of Embiid shooting threes and throwing down windmill dunks, while wearing sweatpants in an empty gym. The ghosts of talented big men, Kevin McHale, Bill Walton, Arvydas Sabonis, and Yao Ming — who had their careers derailed by foot and ankle injuries — promptly tempered any and all expectations.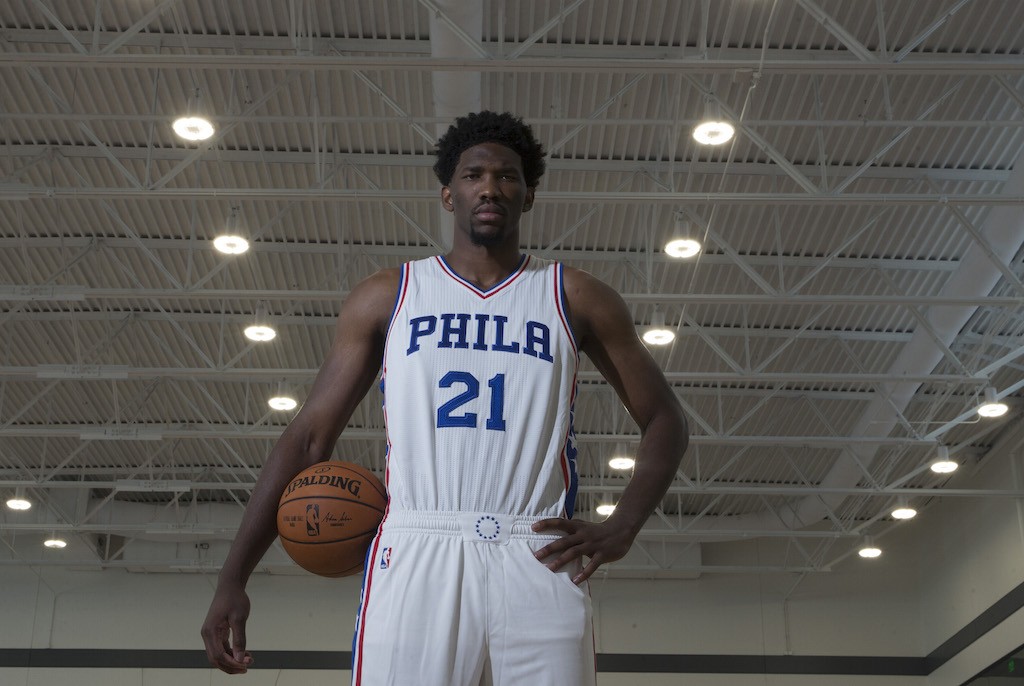 Embiid finally made his professional debut last October, and put up a strong 20 points, seven rebounds, and two blocks through only 22 minutes of playing time. By his sixth game in the league, he owned the paint for 25 points through a close win over the Indiana Pacers. For the year, Embiid is averaging 20 points, eight rebounds, two assists, and three blocks, while still remaining limited to 25 minutes per game. These numbers are far more efficient than those of both Kevin Love and Paul Millsap, the two lone big men named to the original Eastern Conference All-Star roster.
Embiid is already compared directly against Hakeem Olajuwon, with serviceable three-point range. His version of The Dream Shake calls for the big man to face, go triple threat, put the ball on the floor, and fake a layup at the front of the rim. With the defense on its heels, Embiid will whip the ball back down, spin, and convert the easy two. Like Towns out West, he's still just a young kid, carrying bags and paying his dues.
1. Russell Westbrook
Russell Westbrook is all but set to join the Oscar Robertson club as one of two players to ever average a triple double through an entire season. For this year, so far, Westbrook is averaging 31 points, 11 rebounds, and 10 assists per game. Amazingly, the fact that Russ is set to also close out the season as the league's scoring champion comes off as a throw-in. For many, the question of league MVP will be answered by a two-man race between Westbrook and James Harden.
Still, Westbrook come off the bench behind Harden and Curry in this 2017 All-Star Game. The former player is having somewhat of an off-year, picking his spots within the offense to accommodate new running mate Kevin Durant. Curry is now averaging 25 points, four rebounds, and six assists for a Warriors team that is 47-9. For the sake of comparison, Curry put up 30 a game last season, on three more shots for a club that went 73-9.
To add insult to injury, Westbrook is left to sit and sulk on a Western Conference All-Star roster that features four Warriors, in Curry, Klay Thompson, Draymond Green, and Durant. Last week, Westbrook and Durant finally seemed back on speaking terms in Oklahoma City, with the guard screaming, "I'm coming," through a third-quarter rally. Moments later, Andre Roberson started to mouth off and go toe-to-toe with KD beneath the basket.
Last year, Westbrook went off for 31 points, eight rebounds, five assists, and five steals to claim 2016 All-Star Game MVP hardware. The fiery Russell Westbrook will not take this latest snub lightly.
Statistics courtesy of ESPN and Pro-Basketball-Reference.