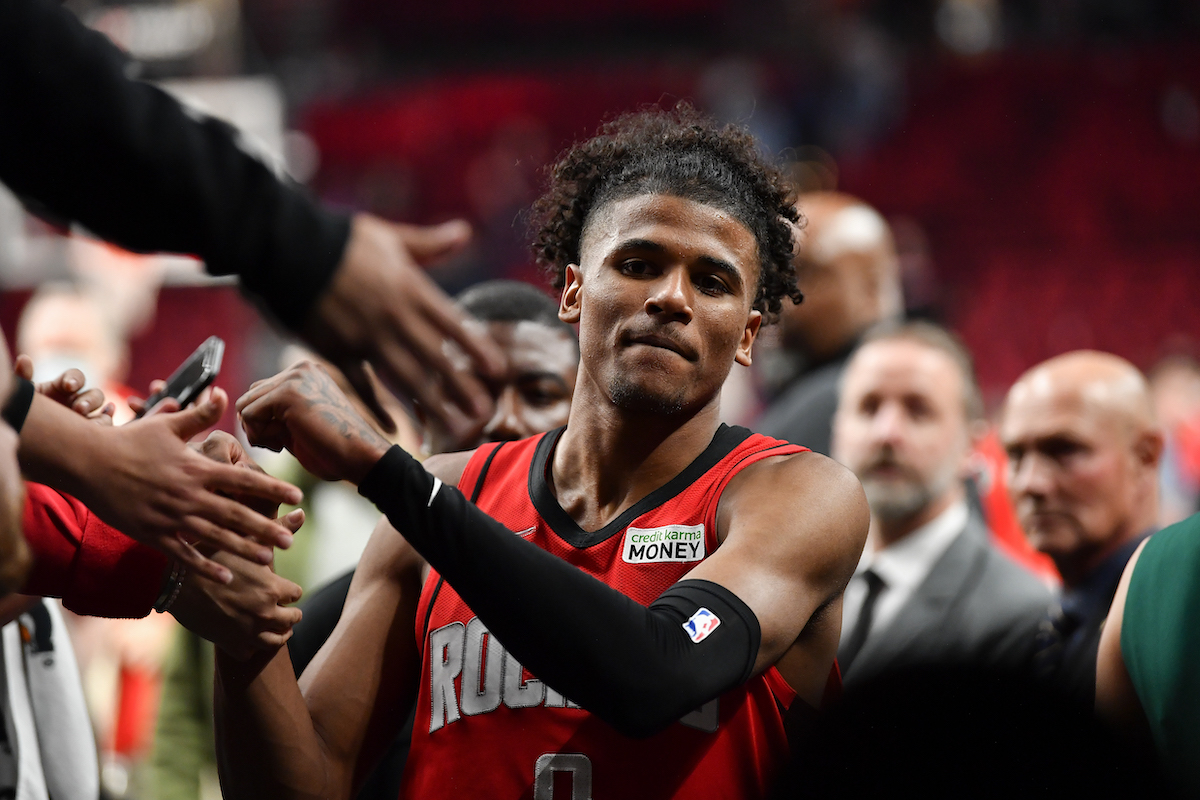 The 2 Biggest Takeaways From Jalen Green's Rookie Year With the Rockets
Jalen Green had a respectable rookie season with the Houston Rockets. At the same time, if the shooting guard is going to be a star, he has a ways to go.
Jalen Green is one of, if not the face of the Houston Rockets' rebuild. Selected with the No. 2 pick in the 2021 NBA Draft, Green started in all 67 games he appeared in for the Rockets, averaging 31.9 minutes per game.
Across those contests, Green averaged 17.3 points, 3.4 rebounds, and 2.6 assists per game while shooting 42.6/34.3/79.7. As Houston's second-leading scorer, he gradually picked up steam as the season progressed.
Here are two takeaways from Green's rookie season:
Jalen Green can be an explosive scorer for the Houston Rockets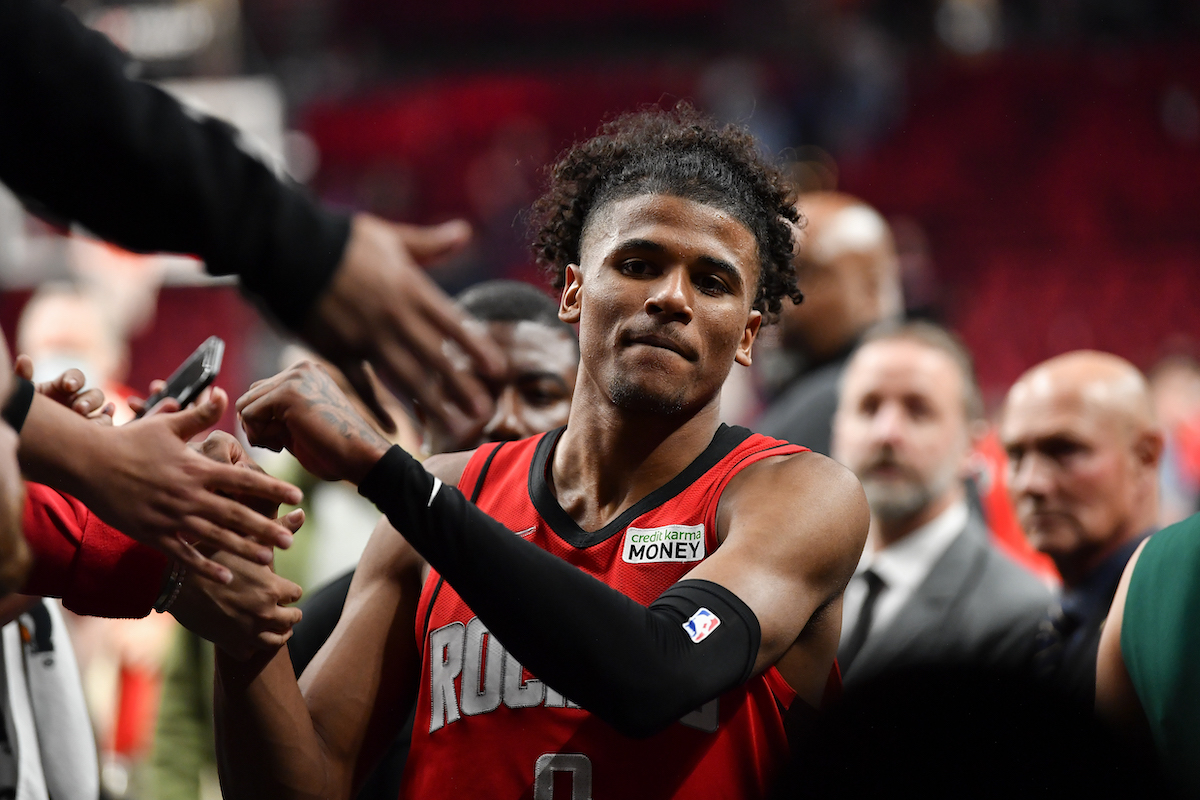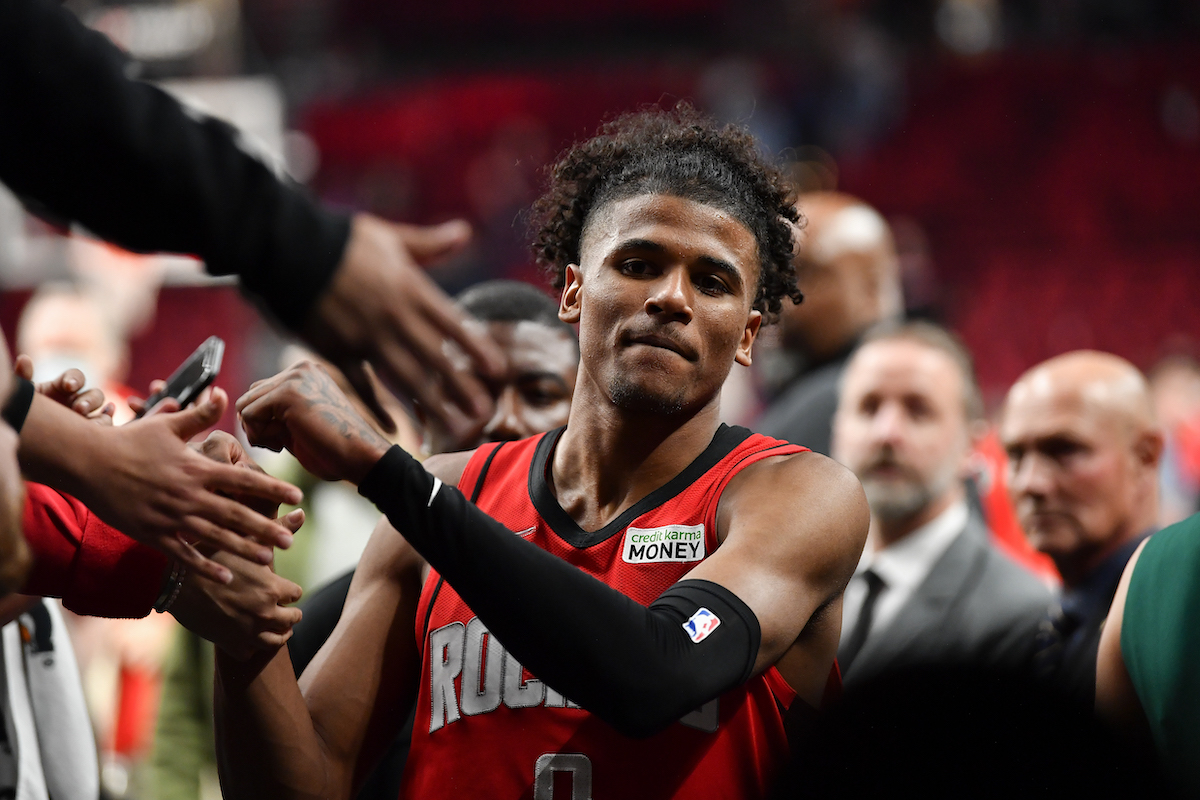 The distinct part of Green's road to the NBA is that he chose to play in the NBA G-League, as opposed to enrolling in a collegiate program. Green's forte in the G-League was his ability to attack the rack. He continued to exhibit that trait in his rookie season with the Rockets. 
Green got inside off the dribble with ease, finished emphatically in the paint, and was able to stretch the floor a bit. Head coach Stephen Silas needs an offensive focal point if the Rockets' rebuild is going to gain traction. Green is their best bet to be such a player.
Long-term, as soon as next season for that matter, teams will game-plan for Green when they face the Rockets. He's electric with the ball in his hands and was productive as a consistent starter in his rookie season. Sure, Christian Wood is a versatile scorer and Kevin Porter Jr. is a plausible playmaker. That said, neither player is as dynamic in their respective role as Green. 
It's still difficult to get a gauge on what precisely Green is going to be in the NBA, which is partially due to his decision to play in the G-League. Was that the best choice for his NBA career, or would playing for a blue-chip college program have been better from the perspective of competing against other premier programs?
It is clear, however, that there's untapped potential in Green. Speed is the featured element of the California native's game. It generates his ability to sky above the rim, create separation, draw fouls and go off on any given night. Moving forward, it's a matter of fine-tuning the loose ends in Green's game. 
Jalen Green must develop a consistent jump shot to be an elite guard
Yes, Green had his moments and an overall respectable rookie season. At the same time, if the 20-year-old is going to be a star, he has a ways to go. The immediate way for Green to enhance his game is by becoming a more efficient shooter. 
Green can only be so effective as an attacking scorer. Why? There are countless young guards in the NBA who are adept at getting to the rim. Green would simply grow into that parity. He has to be able to sink jump shots in crunch time from both within and behind the three-point line.
One of the constants from Green's transition to the NBA was his tendency to hoist up three-pointers. While getting clean looks plays a role, Green settling for perimeter shots given him being a newbie also played a role.
Green has shown that he can be a force to be reckoned with off the dribble. Now he has to go from being a high-volume shooter to a reputable threat from that part of the floor. If and when playing with assertiveness becomes a habit for Green, defenders will have to be careful when he has the ball in his hands. They'll be cautious to play too close to Green, as he has the speed to blow by them. 
If Green sinks three-pointers at a higher clip, though, he will force defenders to come closer, allowing Green to pump fake his defender and get an easy layup. He'll also get a handful of clean looks in transition.
The Rockets are a raw team with little experience and an unknown future. They need fixtures and Green to become their offensive centerpiece. He has the talent to be an impact player, but there's work to be done. Getting defenders to second-guess themselves will go a long way for Green. That comes from a more stable jump shot.
All stats courtesy of Basketball-Reference.