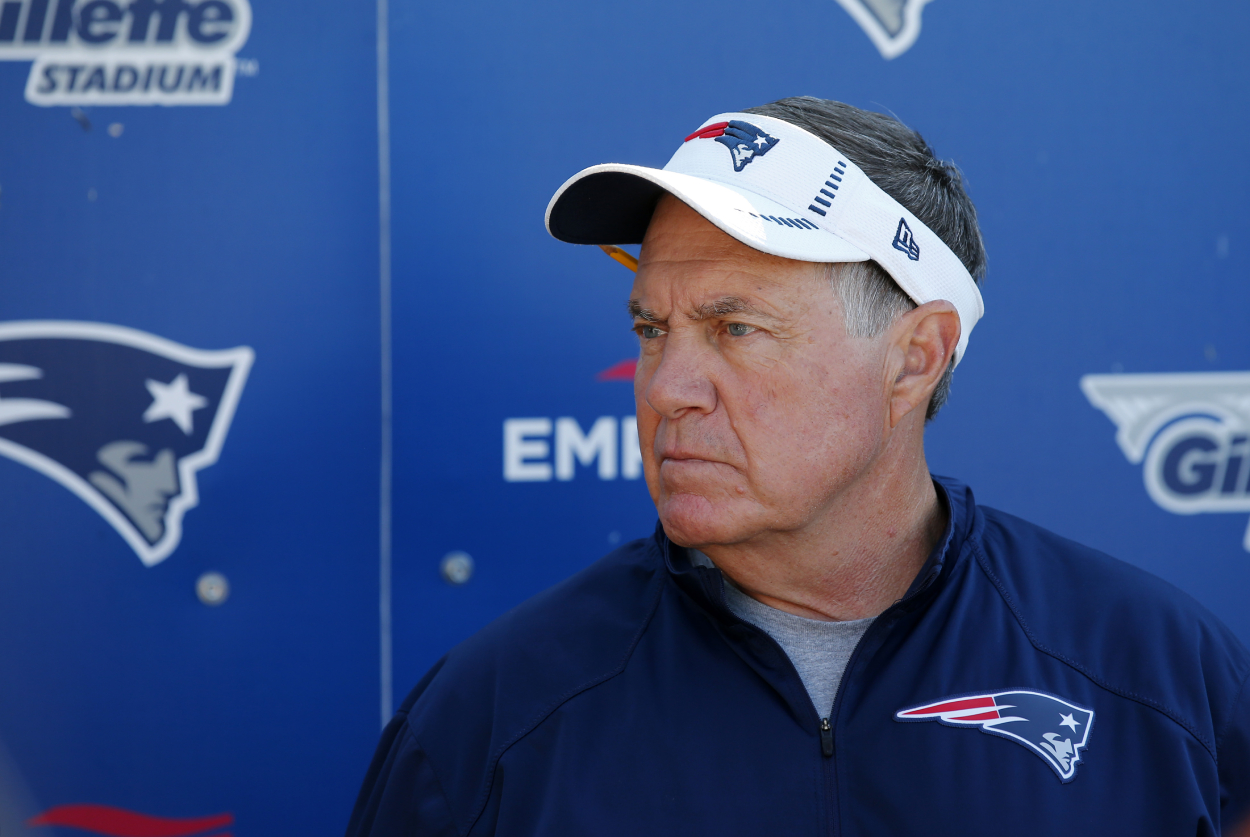 Bill Belichick's $7.5 Million Pro Bowler Is Getting Recruited by Another Team's Star
The 2019 Defensive Player of the Year, Stephon Gilmore, is one of Bill Belichick and the New England Patriots' best players. However, the star cornerback, who is not at mandatory minicamp because of what is assumed to be for contract reasons, is currently getting recruited by a star from another team.
Bill Belichick has a pretty significant problem with the New England Patriots, and, no, it's not that he still doesn't have Tom Brady. Belichick has started mandatory minicamp without one of the Patriots' best players: 2019 Defensive Player of the Year, Stephon Gilmore.
It appears Gilmore is hoping to get a new contract from the Pats, and he has proven he is worth it. However, no new contract has led to Gilmore already getting recruited by another star: Jalen Ramsey.
Bill Belichick and his Patriots players are at camp without Stephon Gilmore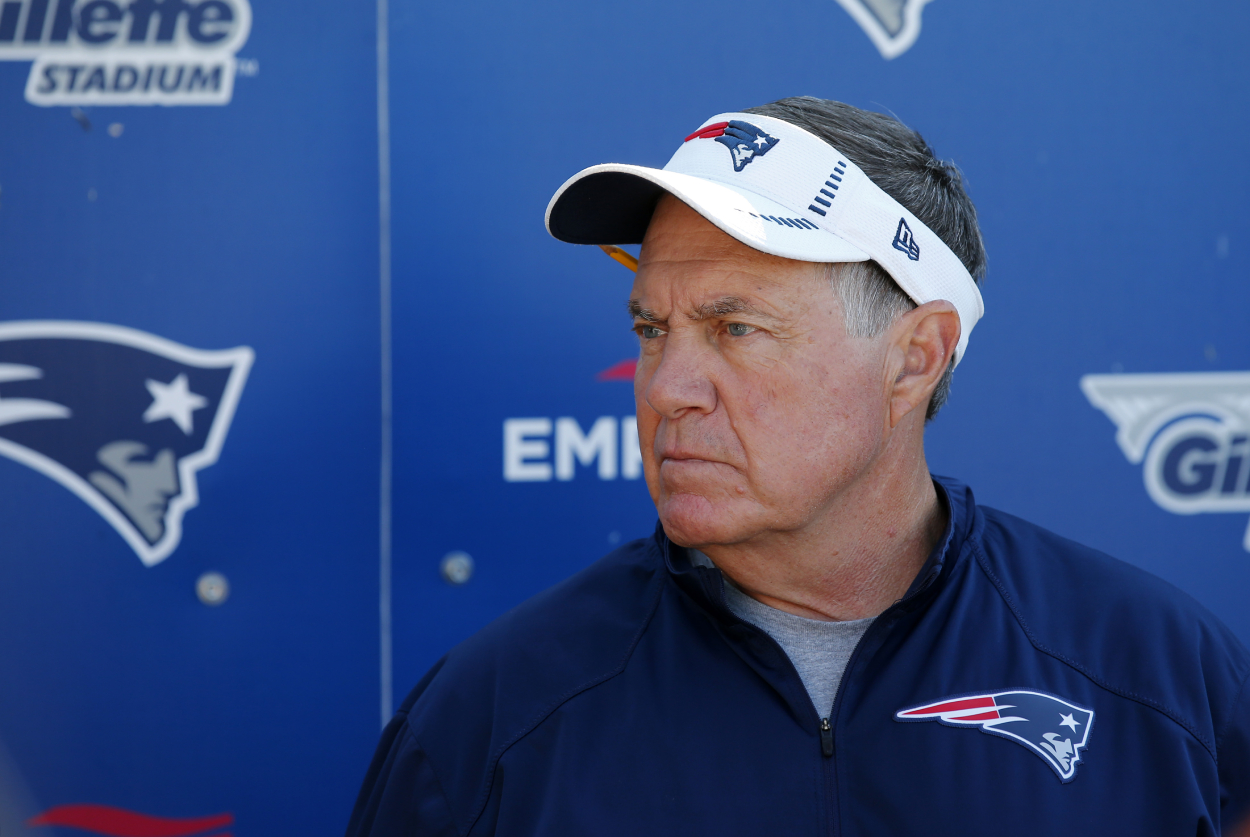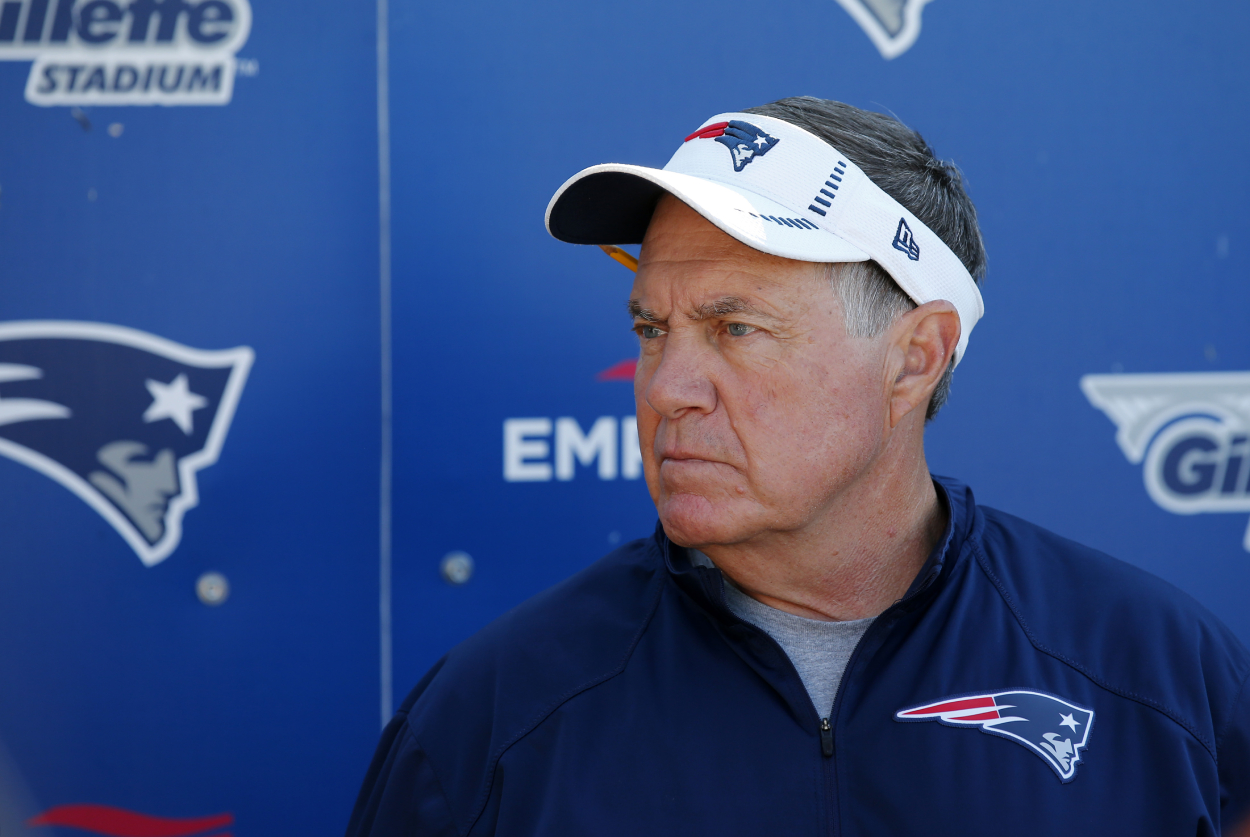 Belichick and the Patriots' mandatory minicamp kicked off on June 14, and while many Patriots players showed up, Gilmore wasn't one of them.
"I don't expect him to be here," Belichick said, per ESPN. "We'll just focus on the guys that are here."
Gilmore is in the final year of his five-year, $65 million deal. However, he is only supposed to make $7.5 million in 2021. According to ESPN, the Patriots advanced $4.5 million of his 2021 salary to 2020.
Gilmore's contract averages out to $13 million a year, which was strong when he signed it in 2017. But now, it ranks tied for 12th among NFL cornerbacks, as Jalen Ramsey earns the most per year at $20 million, and Marlon Humphrey is right behind him at $19.5 million.
Prior to his comment about Gilmore, Belichick deflected questions about the corner during the previous day, per ESPN. So, it's unknown whether the team intends to pay him or not.
Jalen Ramsey is already recruiting the star Patriots player
If the Patriots don't want to give Gilmore the money he hopes to earn, Belichick could ultimately trade him for some strong assets. With that in mind, Ramsey, the Los Angeles Rams star who was a first-team All-Pro in 2020, sent a couple of tweets to the 2019 Defensive Player of the Year.
"Yo [Gilmore], what's good my dawg?" Ramsey tweeted.
He added: "[Mookie Betts] got traded from Boston to LA and won a ring! That was nice. What you think?"
Of course, some people were quick to point out that Gilmore already won a ring with the Patriots, as did Betts with the Red Sox before going to the Los Angeles Dodgers. To those people, Ramsey tweeted: "To all the smart a–es, I know he has a ring. He can want 2 tho lol."
If Belichick does trade Gilmore, it would most likely not be to the Rams.
As ProFootballTalk pointed out, LA no longer has high-value draft assets for the next two seasons after trading for quarterback Matthew Stafford. Stafford, Ramsey, Aaron Donald, and a few others have some hefty future cap charges, too, which could make it hard for the Rams to not only trade for Gilmore but also give him the contract he wants.
No matter what Gilmore has in store for his future, though, he deserves to get paid.
Stephon Gilmore deserves to get paid by Bill Belichick and the Patriots … or another team
Whether it's by Belichick or someone else, Gilmore deserves to get paid.
Ramsey, Humphrey, Tre'Davious White, Darius Slay, and Byron Jones are all in the top five among the highest average salary made by cornerbacks in 2021, meaning, on average, they all make more than Gilmore.
None of these guys have won a Defensive Player of the Year award like Gilmore has, and only one has earned four Pro Bowl and two first-team All-Pro selections like Gilmore, and that's Ramsey.
While he has been in the league longer, Gilmore also has more career tackles and interceptions than all of these guys mentioned above.
Take a look:
Stephon Gilmore: 411 total tackles and 25 interceptions in 124 games
Jalen Ramsey: 287 total tackles and 11 interceptions in 75 games
Marlon Humphrey: 218 total tackles and 8 interceptions in 61 games
Tre'Davious White: 238 total tackles and 15 interceptions in 61 games
Darius Slay: 406 total tackles and 20 interceptions in 118 games
Byron Jones: 386 total tackles and four interceptions in 93 games
No, given the total number of games played, this isn't an apples-to-apples comparison, but it proves that Gilmore, the only Super Bowl champion of the bunch, deserves his money.
We'll see if Belichick and the Patriots pay him. If not, there's probably another team out there that would love to take him off their hands.
Stats courtesy of Pro Football Reference; Contract numbers courtesy of Spotrac