Bill Belichick Can Rewrite His Legacy by Taking a Bold $14.8 Million Risk in the 2021 NFL Draft
Bill Belichick is among the NFL's greatest coaches, but he and the New England Patriots have a problem.
After so many years on top, the Patriots no longer run the show in the AFC East Division. Josh Allen and the Bills are now the top dogs, and one shouldn't dismiss Tua Tagovailoa and the Miami Dolphins, either.
Belichick already made a splash in free agency. Now, his next step should involve taking a significant risk in the 2021 NFL draft.
Bill Belichick and the Patriots still have a quarterback problem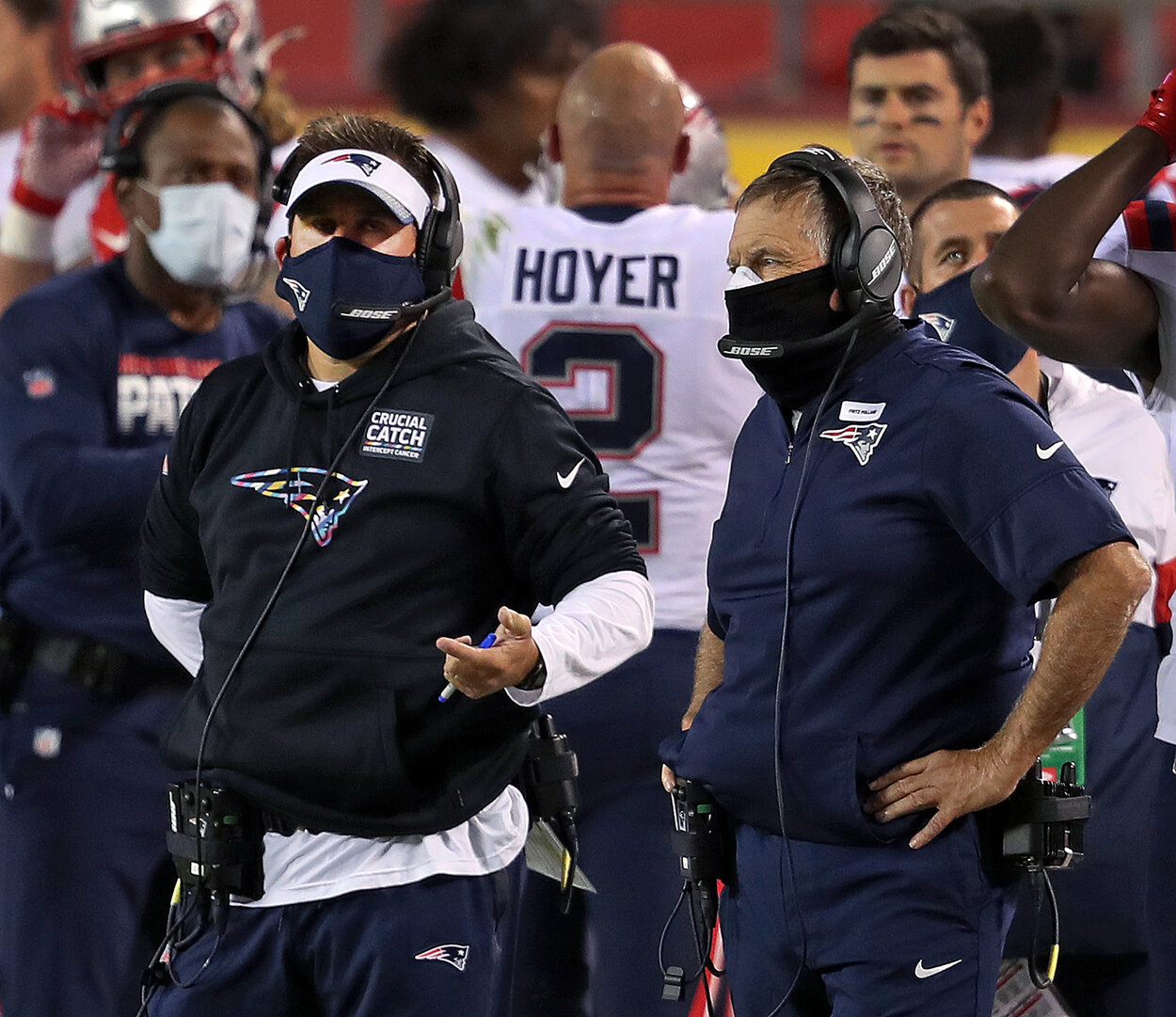 Bill Belichick has given the New England Patriots' quarterback room plenty of new toys.
The problem? No one is quite sure who the starting quarterback is yet. Although the Patriots re-signed Cam Newton, his injury history and lack of passing success last year shouldn't help create too much optimism about his future.
Jarrett Stidham, the former Auburn quarterback, didn't impress in limited action last year. As of publication, the Patriots had not re-signed veteran backup Brian Hoyer.
At this point, it seems reasonable to believe the Patriots' 2021 quarterback battle will mostly involve Newton and a rookie, one who almost certainly won't be Trevor Lawrence or Zach Wilson.
Belichick needs to take a risk and draft Kellen Mond
Bill Belichick hasn't drafted well in recent years, and those failures played a major role in New England missing the playoffs in 2020.
Sometimes, the best way to break out of a streak is to overhaul the method completely. What seems like the safe choices — in Belichick's case, potentially trading up from the 15th overall selection for Justin Fields or waiting to add a quarterback in later rounds — may not be the answer.
Belichick needs to take a risk, and the opportunity should present itself in Texas A&M quarterback Kellen Mond. A four-year starter for the Aggies, Mond completed 59% of his passes for 9,661 yards, 71 touchdowns, and 27 interceptions across 46 games.
Mond is currently projected as a mid-round prospect. However, his stock has climbed considerably in recent weeks, enough to where it wouldn't be a surprise if Mond snuck into the first round.
Kellen Mond will make the New England Patriots very happy
According to Spotrac, the 15th overall selection in the 2021 NFL draft is worth $14.8 million in total value.
Why should Bill Belichick and the Patriots invest that much money into a projected mid-round prospect? The simple answer is because everything that the Patriots have tried when it comes to drafting, especially for a potential successor to Brady, hasn't worked.
Kellen Mond's stock is rapidly climbing, and the quarterback carousel is always moving. Nothing is stopping the New Orleans Saints from drafting Mond at No. 28. The Pittsburgh Steelers, who pick at No. 24, could always add Mond as Ben Roethlisberger's successor.
NFL Media's Lance Zierlein compared Mond's skillset to that of former 49ers quarterback Colin Kaepernick. Zierlein especially likes Mond's confidence and accuracy while throwing on the move. 
"[Mond] doesn't often get antsy working from the pocket and throws with solid ball placement underneath. Issues with touch and anticipation create erratic completion numbers when asked to throw down the field and outside the numbers, which will concern evaluators."
Kellen Mond isn't a perfect quarterback prospect, but the New England Patriots just need him to be competent and ready to work. The confidence that Zierlein cited should especially appeal to the Patriots as they try finding Tom Brady's replacement.
Another reason to believe that the Patriots could make a swing for Mond? The quarterback prospect has publicly acknowledged that he's already exchanged text messages with Patriots offensive coordinator Josh McDaniels.
All contract figures courtesy of Spotrac.