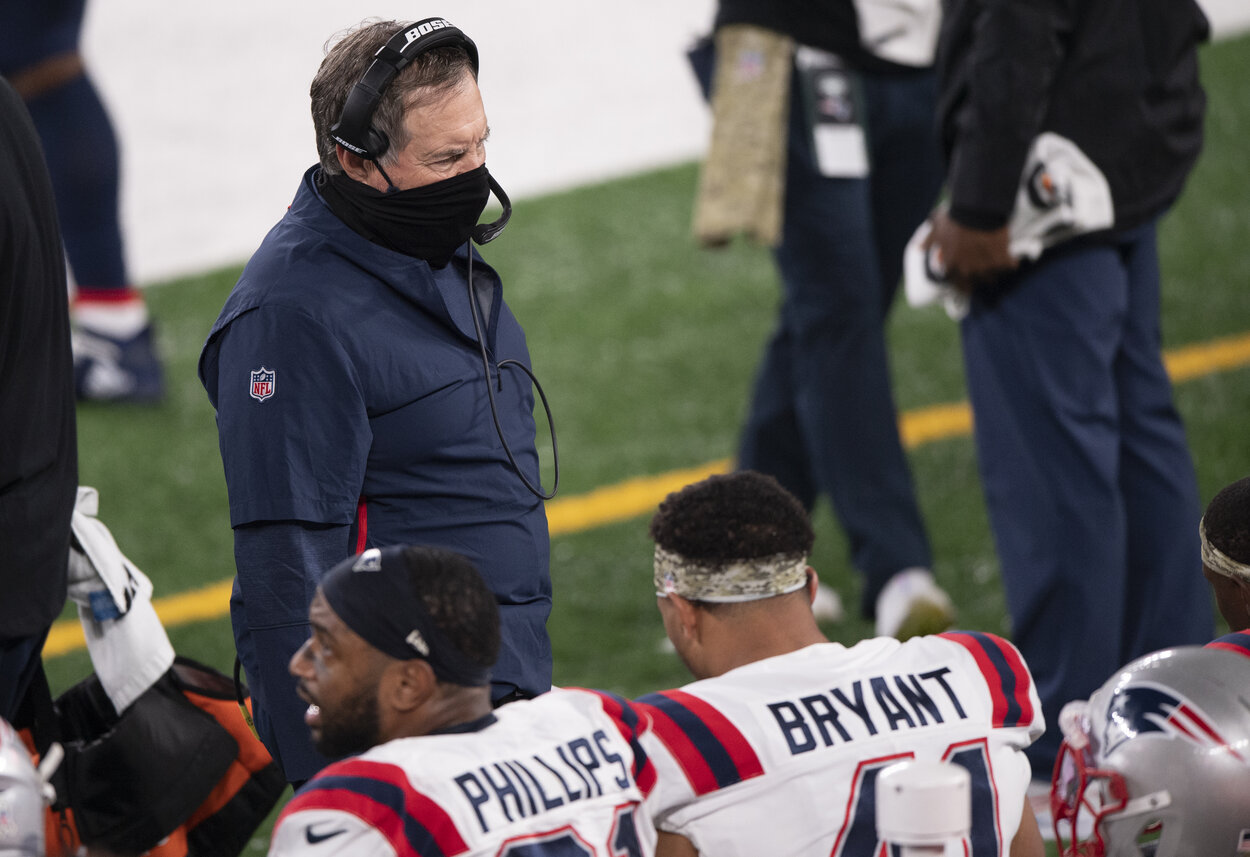 Bill Belichick Needs to Fight His Greatest Temptation in Finding Tom Brady's Replacement
Veteran quarterback Marcus Mariota has been linked to the New England Patriots, and Bill Belichick needs to avoid trading for the former No. 2 overall pick.
Bill Belichick and the New England Patriots need to find a quarterback, and his name could be Marcus Mariota.
Mariota, the former No. 2 overall pick, has been linked to the Patriots in recent weeks. New England would likely need to trade for Mariota, who is backing up Derek Carr on the Las Vegas Raiders.
If Belichick knows what's good for him, he'll fully avoid the temptation to replace Cam Newton — and, by extension, Tom Brady — with Mariota.
Bill Belichick needs to avoid trading for Marcus Mariota
Bill Belichick and the New England Patriots' decision to part ways with Tom Brady is stil hurting nearly a year later.
Brady, who signed with Tampa Bay, is the reigning Super Bowl MVP. The Patriots, with Cam Newton starting most games at quarterback, missed the postseason for the first time since 2008.
Newton struggled with a weak group of supporting weapons around him. Media members, including ESPN's Field Yates, have suggested the Patriots try acquiring Marcus Mariota this offseason.
The pairing really doesn't make sense. Although Mariota — the former No. 2 selection — has plenty of starting experience from his five seasons with the Tennessee Titans, he isn't a fit for what the Patriots need.
Bill Belichick needs to learn from the Cam Newton experiment
If Cam Newton wasn't the New England Patriots' answer at quarterback, neither is Marcus Mariota.
That's not a personal knock on Mariota, a Heisman Trophy-winning quarterback at Oregon. Mariota displayed flashes of greatness in his five years with the Tennessee Titans but didn't earn a second contract.
The Patriots need a game-manager in Josh McDaniels' system, — or, for the unfamiliar, someone who can be a competent passer and avoid turnovers. Mariota struggled with interceptions in 2017 and 2018, his final two seasons as the Titans' full-time starter, and his completion percentage has mostly been middle of the road.
Only the 2018 season, when he completed 68.9% of his passes in 14 games and 13 starts, is a positive outlier in that regard.
Newton struggled with turnovers in Carolina, averaging 15 interceptions per year from 2016-18. The former MVP also completed just 59.6% of his passes in nine years with the Panthers.
As of now, Mariota is under contract with the Las Vegas Raiders for the upcoming season. Even if the Patriots only have to give up a late-round pick for Mariota, there's too many reasons for the Patriots to instead pursue someone like Jacoby Brissett in free agency.
Marcus Mariota would benefit from landing somewhere else
Marcus Mariota will almost certainly have a job in 2021, whether with the Raiders or another team.
If Mariota has any leverage, he'll try to land with Ron Rivera and the Washington Football Team. If Washington doesn't bring Alex Smith back, Mariota could compete for the starting role with Kyle Allen and, potentially, a rookie.
Rivera found great success when he had Cam Newton in Carolina. The Panthers overcame Newton's turnover issues and found ways to maximize his talent, even after parting ways with Steve Smith following the 2013 season.
The Dallas Cowboys should also try to be in play for Mariota if the team doesn't bring Dak Prescott back. Prescott is a far superior player to Mariota, but it wouldn't hurt the Cowboys to add an experienced starter.
Like Sportscasting on Facebook. Follow us on Twitter @sportscasting19.